Hottest Webcam Girls
Webcam girls are taking over the online adult industry.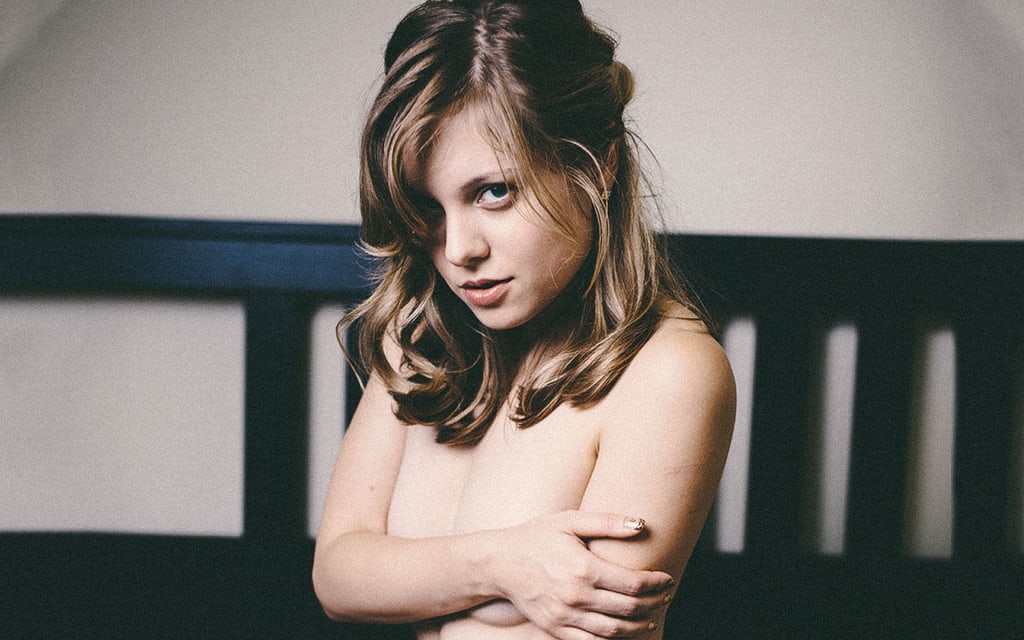 The New York Times reported that the webcam industry brings in around $1 billion in annual revenue. Yes, BILLION. Whoever said people don't pay for porn anymore has been seriously misinformed, though cams are believed to be the only materially profitable segment of the industry. Websites like Chaturbate and WeCamGirls use a "tipping" system that lets viewers pay to see certain sex acts. See, those were the days when people stood around and read lines and had terrible scripts that killed time till the fucking. Now? Like Bill Maher on crank, it's real time all the time. You pay your bitcoin and you take your chances—getting a real-time moment with some orgasm junkie on the other side of the planet somewhere: it's a Skype-esque Girlfriend Experience.
Web cam girls like Kendra Sunderland and Missy Rhodes have taken over, recognized by AVN. Some of these girls are making over $1000 an hour, while creating names for themselves. In a world of virtual reality and Snapchat porn stars, "camming" isn't going anywhere anytime soon.
AubriLee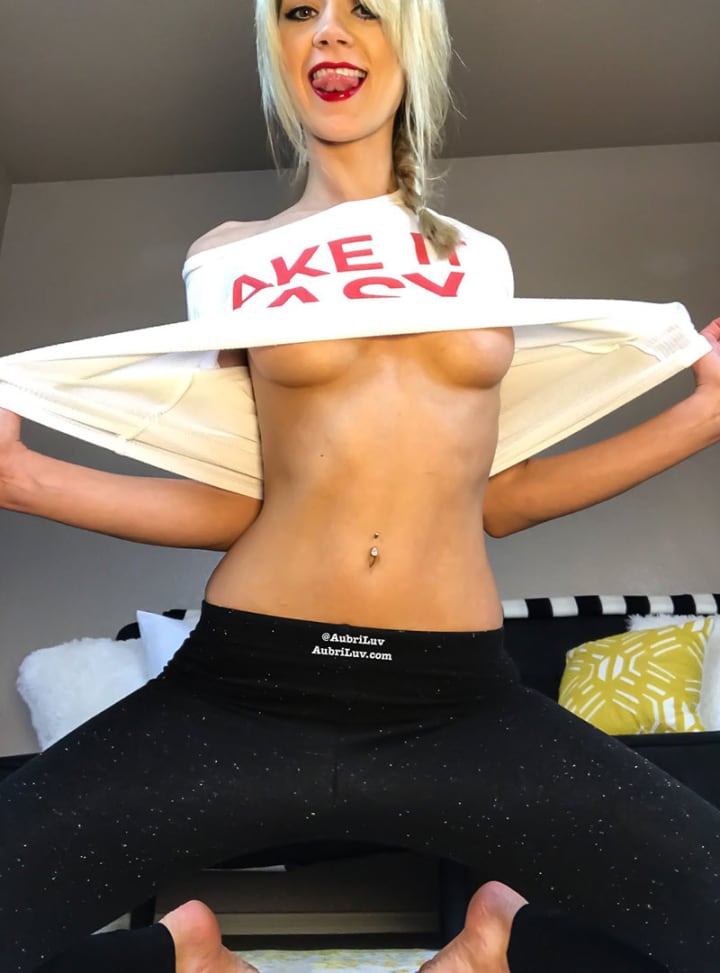 AubriLee is one of those models that you really have to see to believe. She's a sexy webcam girl who has a little bit of ravery spunk, a lot of flexibility, and a quirky personality that makes her a smash hit with fans. This webcam girl is basically a real-life version of Harley Quinn, so if you love a lot of laughs with your sexytime, AubriLee will definitely be the girl you want to start chatting with.
Ady Sweet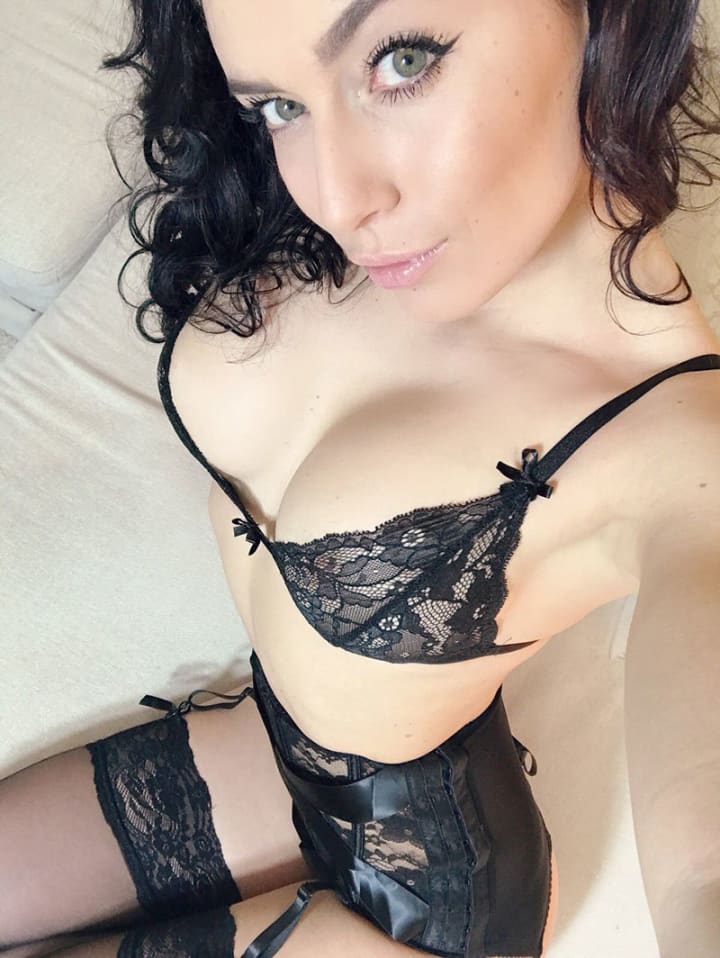 Ady Sweet has the gorgeous bombshell face of an A-list celebrity with the approachable attitude of a girl next door. Though she definitely has her edgy side to her, it's safe to say that she still manages to keep things just a little innocent while she's getting sexually explicit.
Allexya Hot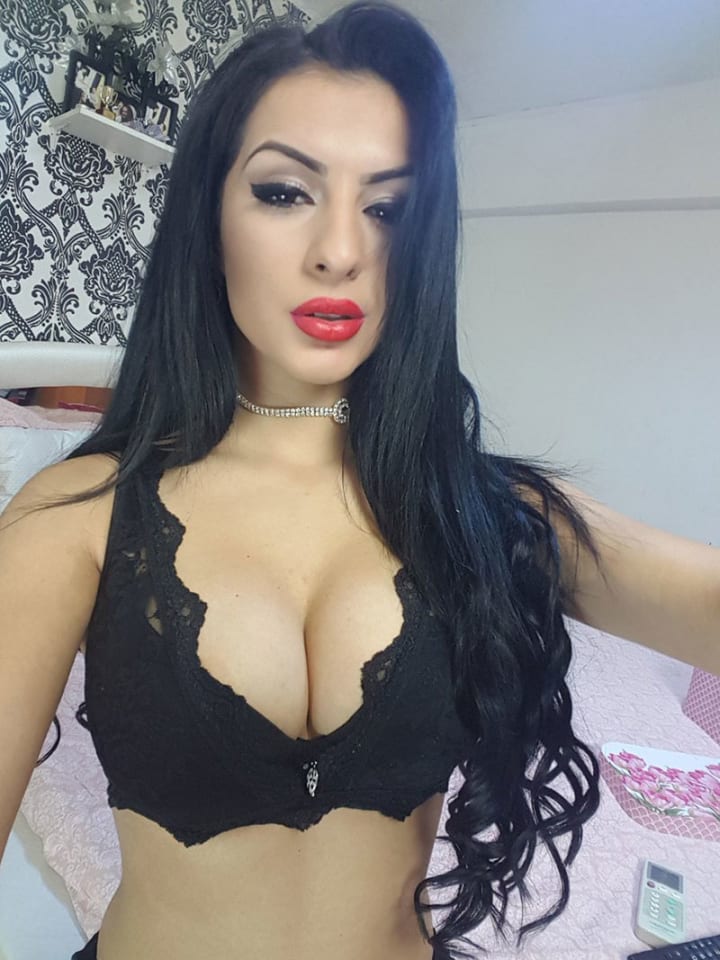 Allexya Hot definitely does live up to her name, especially if you check out her XXX-rated Twitter profile. Make no mistake about it, Allexya Hot's sexually explicit chat skill lives up to just about every fantasy you could have - and she's always ready to be imaginative with her fans. If you're a fan of busty brunettes, she's going to charm you for quite some time.
Angel Kiuty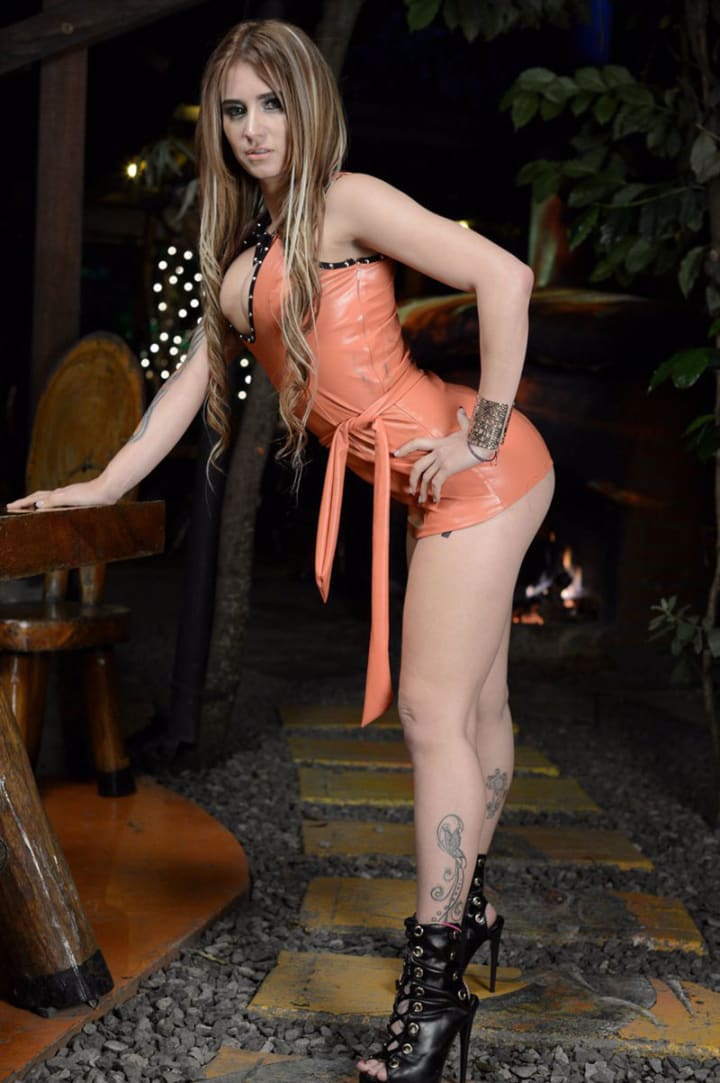 Angel Kiuty definitely has as very innocent look to her, even though she's very explicit in her videos, chats, and photos. With those large, gorgeous hazel eyes and that sweet little pout, it's kind of easy to forget that she's actually a webcam star. She's a sweetheart, and if you love exotic features, she's your new favorite model.
Aruba Jasmine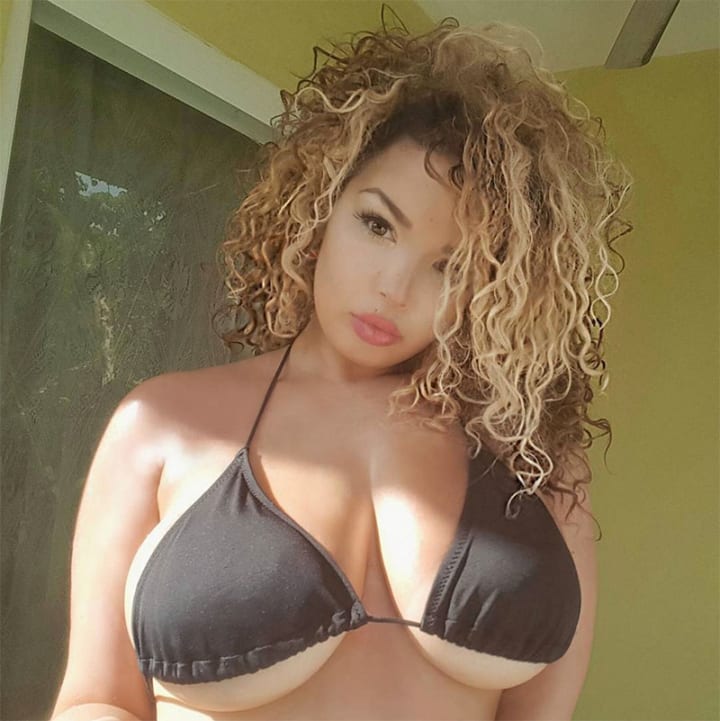 Aruba Jasmine, more commonly just known as Aruba, brings that glitzy, sexy, and glamorous video vixen vibe to the webcam modeling world. Her beautiful bombshell style and her thick curves can make any guy drool - and as a result, it's not too shocking that she has a ton of fans on her webcam site. That being said, she's pretty awesome to chat with, and if you want to get a sneak peek at the explicit content she has online, you can look at her Twitter handle in a pinch.
Ashe Maree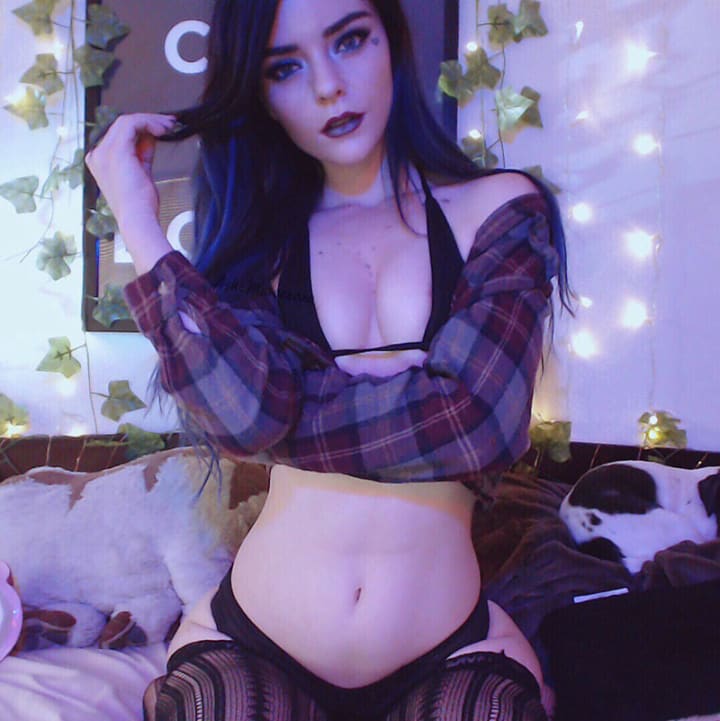 Everyone has had at least one crush who looked a lot like Ashe Maree. Her ethereal beauty and crisp blue eyes tend to put a spell over people - even when she's webcam modeling. Her slight punk leanings and sensual shots on Twitter say it all: she's smoking hot, and she definitely knows how to work her sex appeal.
Aspen Rae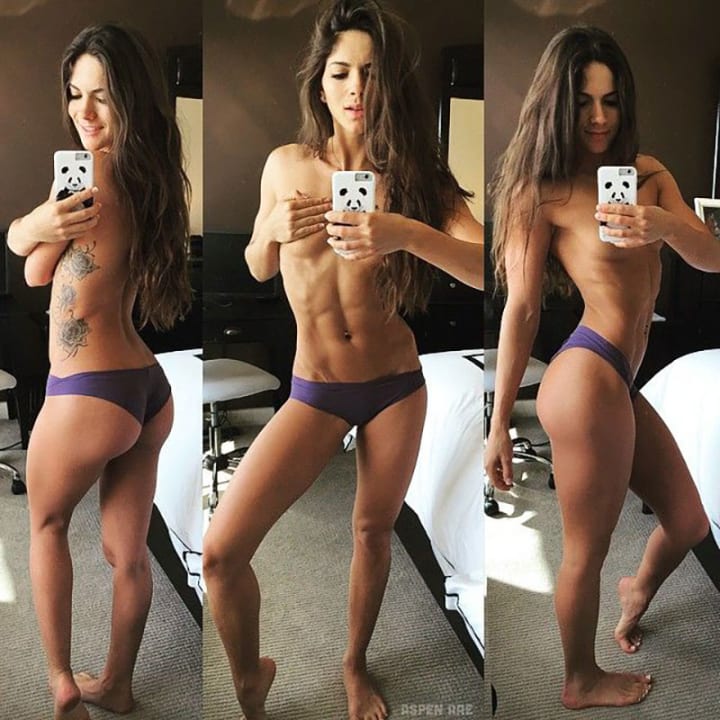 Aspen Rae has a lot of accolades under her belt, even though she's very young. She's an AVN co-host, a former Penthouse Pet, and also has been named as one of the top webcam models on a number of sites. You don't get those kinds of notes without having some seriously sexy skills on video and having an amazing body to follow suit. Needless to say, she deserves every single bit of applause she gets, and once you see her, you'll get why.
Brielle Day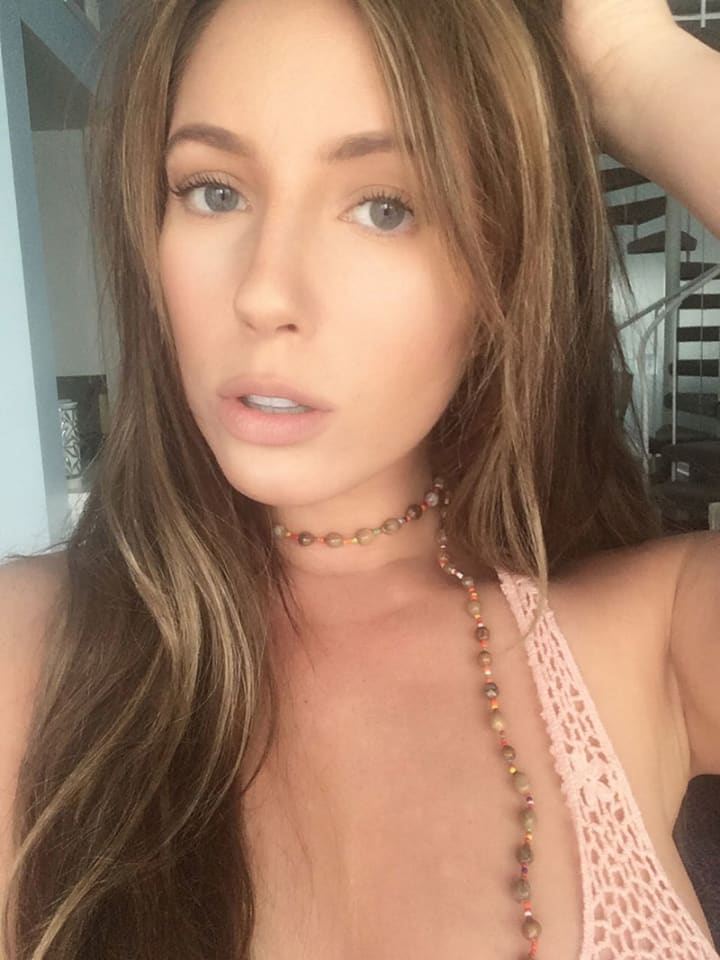 Brielle Day has that sexy "girl next door" vibe mixed in with that "busty beach babe" look that makes both men and women melt. If you're a fan of geek girls with a beautiful face and stunning body, you'll fall in love with this model. Brielle Day also is a bit of an activist - and has been known to use her sexually explicit content and views to raise money for worthy organizations like the ASPCA. Awesome? Absolutely, and it's all the more reason to check her out.
Carmina Hot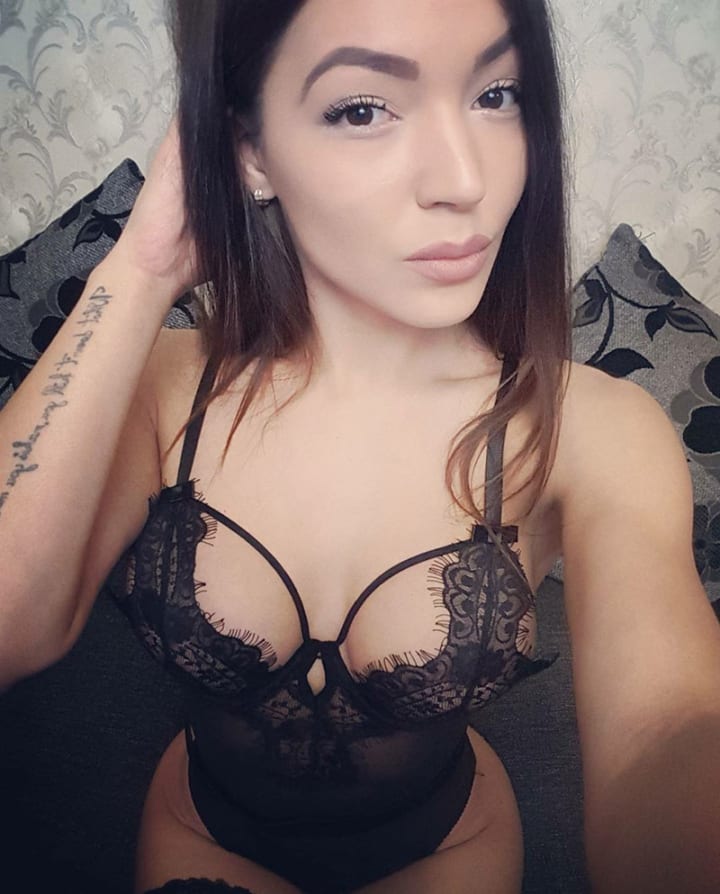 Carmina Hot is the petite dreamgirl you've always wanted to talk to, but never actually had the courage to approach. She's sweet, she's seductive, and she definitely knows how to work it in front of the camera. What more can we say? Once you watch explicit videos with her, you'll understand why.
Caylin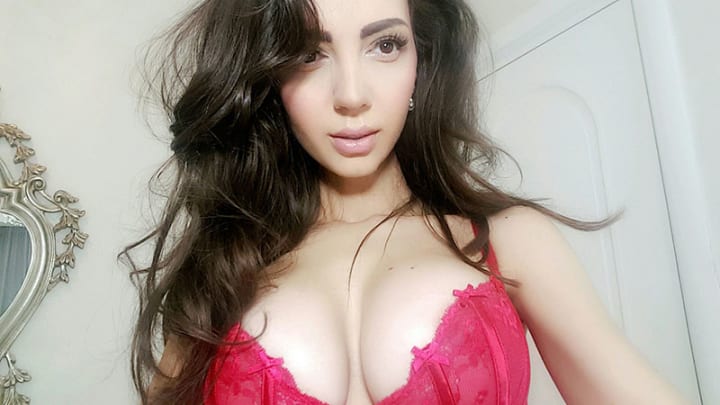 Caylin is one of those webcam models that constantly has a light, fresh, and sweet vibe around her. She's the kind of internet personality who will post sexy nudes of her one minute, then will reshare a post she saw of a kitten that made her heart melt. If you've ever wanted a super hot girlfriend who had that all-American appeal, then chances are that you'd fantasize about Caylin in a heartbeat.
Cherry Devivre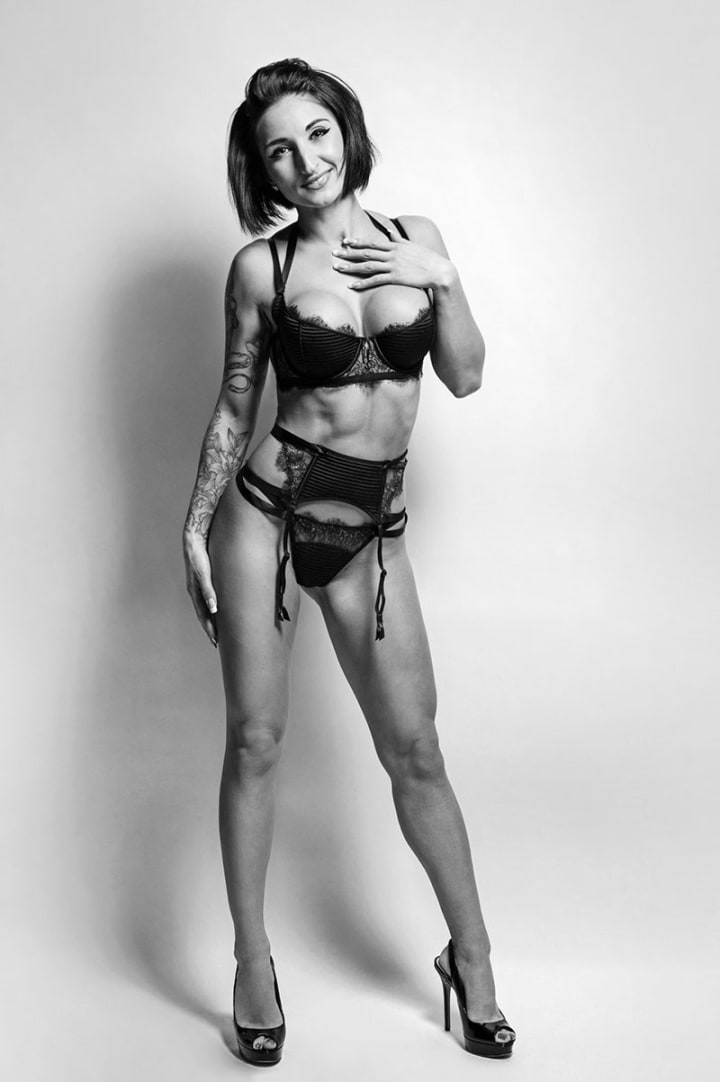 Cherry Devivre, as a webcam model, is one of those very few ladies that can channel her inner femme fatale, create insanely x-rated flicks, and still make it look classy. If you don't believe it, feel free to check out her Twitter for an idea of why this pinup-inspired webcam girl might just be one of the most elegant adult stars on the net right now. She's gorgeous, she's got a little edge to her, and she still keeps it classy. We're in love!
Chronic Love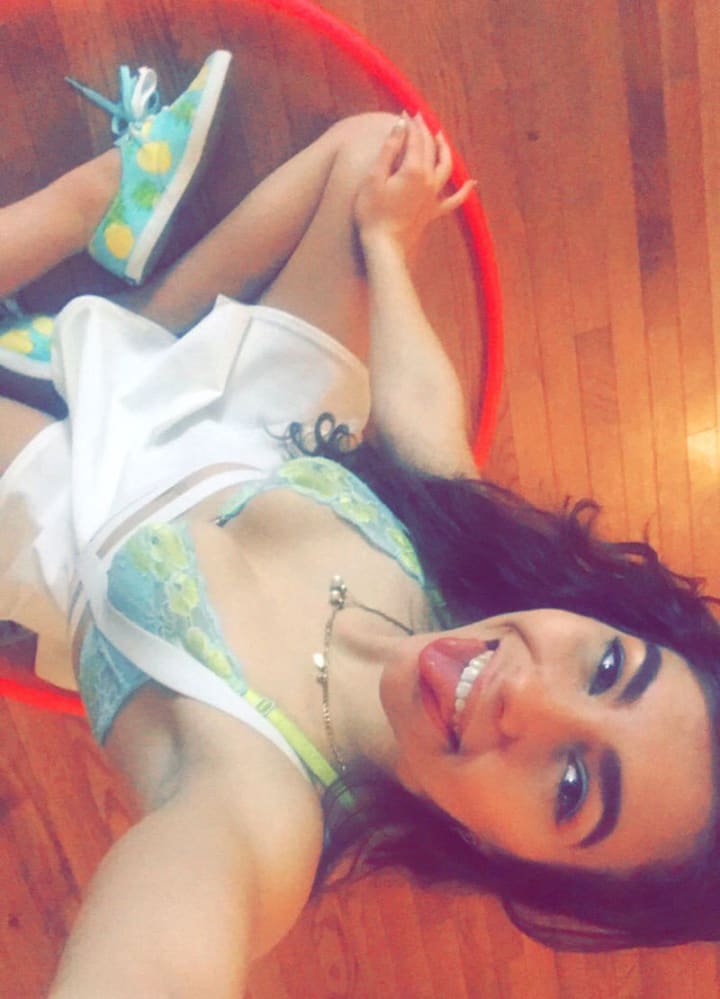 Fans of hippie hotties will love stoner sex goddess, Chronic Love. With her festival-ready attire, her stunning body, and her long, luxurious hippie hair, Chronic Love has earned a number of awards for her super sexy webcam shows. In fact, she even had gotten Chaturbate's award for being the Most Outstanding Webcam Model on their site. Adding to the awesomness is her hula hooping skills, which we're sure she'll show if you ask!
Dawn Willow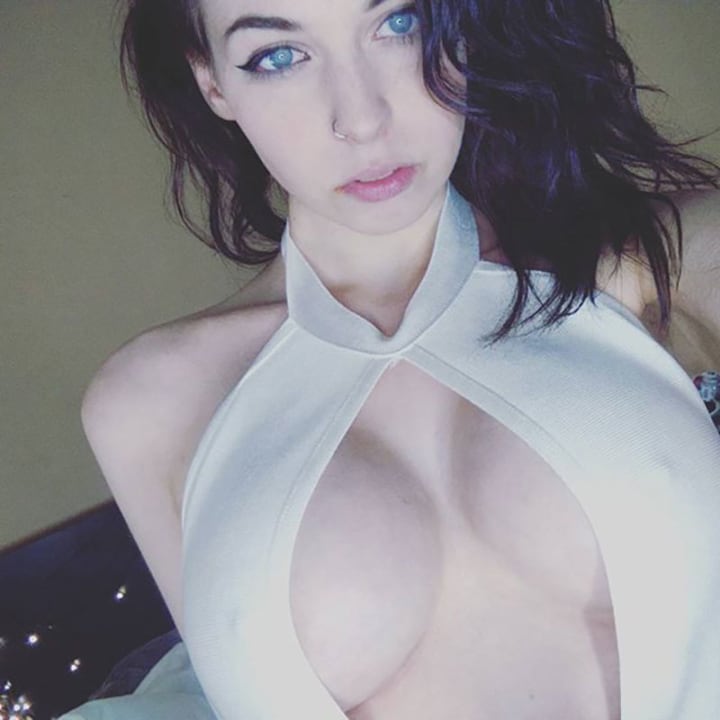 Winner of the Adult Webcam Awards in 2017, Dawn Willow has that sexy-cute look that you'd expect of a webcam model who has a catgirl on her Twitter banner. That being said, you shouldn't be fooled by the innocent looks she shoots cameras. If you're a fan of large chested ladies who have a fun personality and great show skills, you're going to love Dawn Willow.
Devious Angel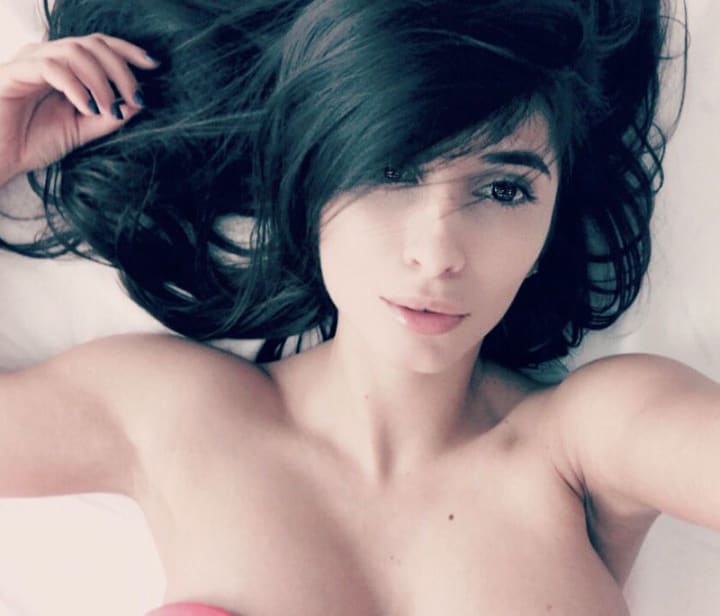 Devious Angel has received the Camgirl of the Year award several times over - and it's easy to see why. She looks like she may have been a lost member of the Kardashian family, complete with the same curves, same beautiful pouts, and same beach-ready hair. It's not her Kardashian-like looks that make her slay, though. Her content is incredibly hot, and that's why so many people will go on sites to see her.
Emily Grey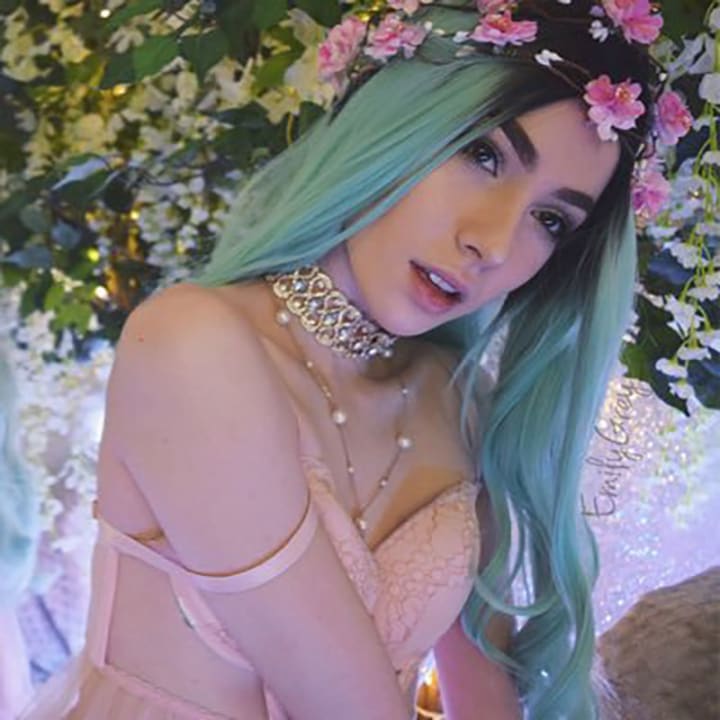 Emily Grey is a girl who loves Tumblr fashion, cosplay, and kinky sex - and that's exactly why she has such an absolutely massive following. The petite, fairy-like webcam model has become famous for her multicolored hair and for the fact that her explicit photosets often tend to look surreal. Even though she's a webcam, she makes getting down and dirty look like high art. We're okay with that.
Harli Lott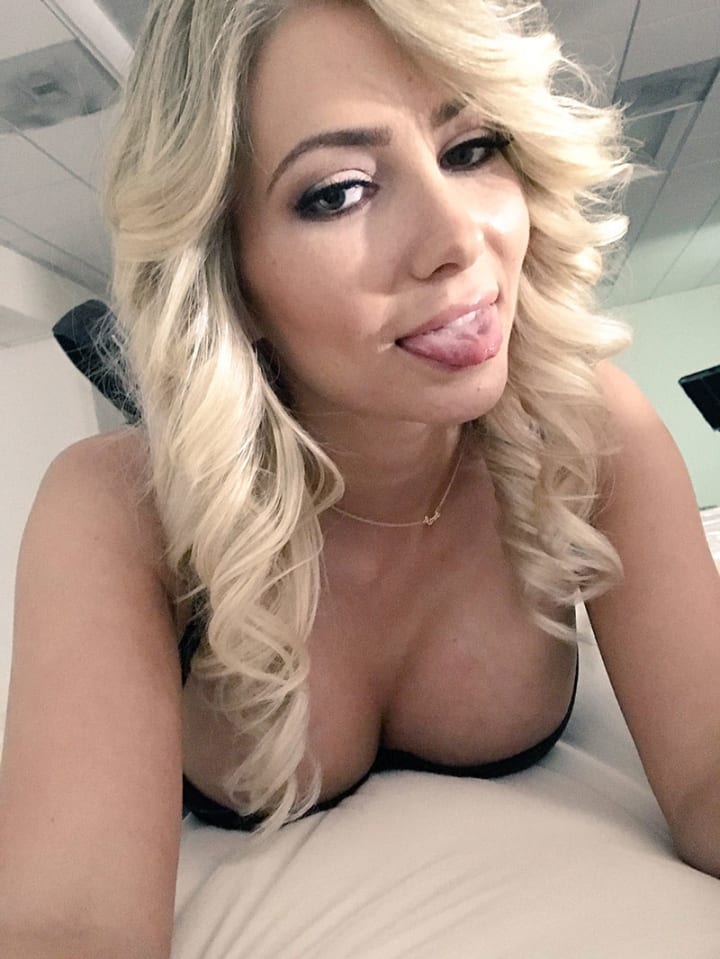 Harli Lott is an adult film star who's a little bit edgy and a little bit classic "sorority girl gone bad." Unlike many other adult stars you'll see on this list, she's incredibly muscular. If you're a fan of webcam models who have flat, chiseled tummies and a little bit of augmentation, you're going to love her unique brand of sweet and spicy.
Malibu Bomb
In many ways, Malibu Bomb has that sultry, seductive video vixen look that guys go wild for. She's glamorous. She's wild. She's occasionally got blinged out girl bits. Between her Kardashian-like facial features and her beautiful curvy body, it's easy to see why she's such a popular webcam model on so many different sites.
Jessy Stars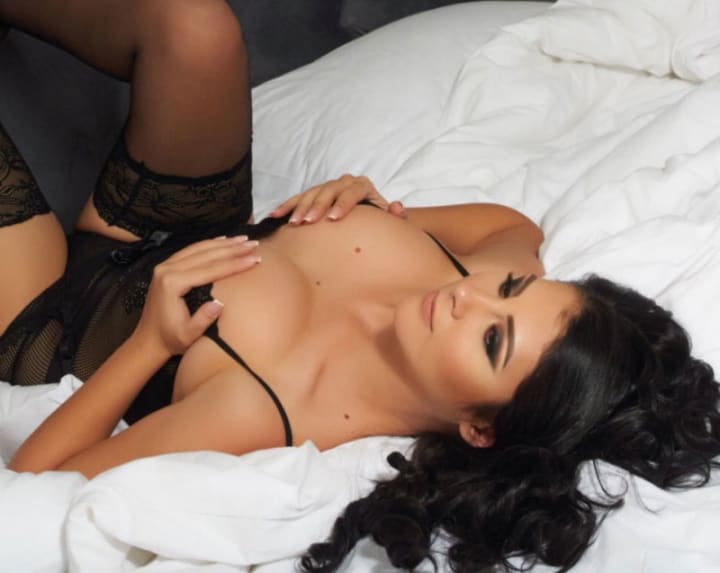 Jessy Stars, also known as SeductiveGoddes1, is a fetish model who has slowly transitioned into mainstream cam modeling. She's been given awards by the AVN, YNOT, as well as a number of top quality cam sites. Once you check out her videos, you'll see why this buxom brunette is such a popular webcam model.
Pocket Tease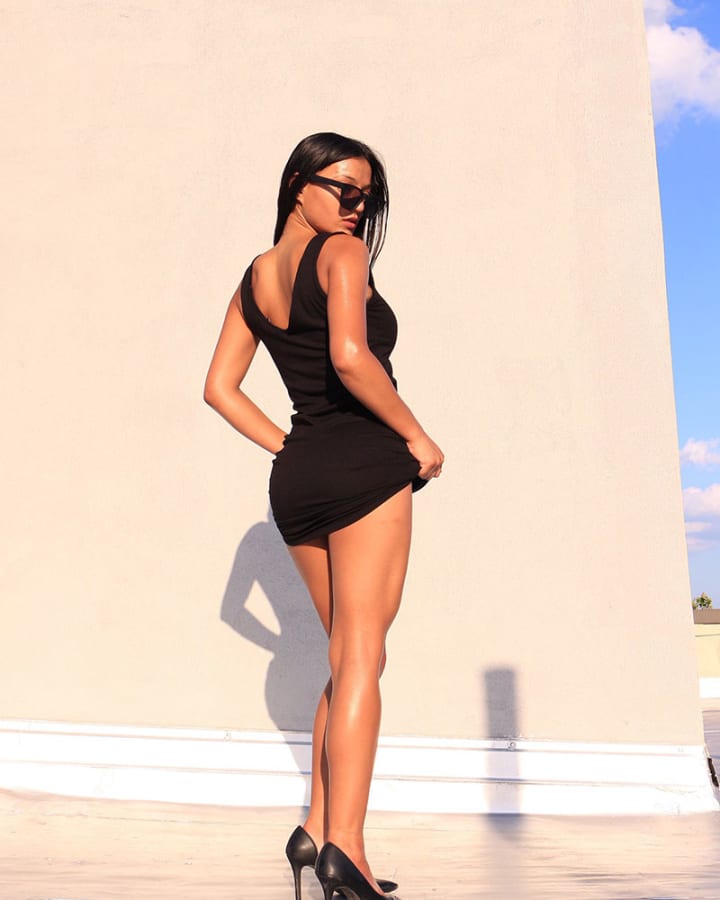 Pocket Tease, with her beautiful large brown eyes and exotic features, is the kind of model that makes you feel like she'd be perfectly at home right next door to you. She's sweet, demure, and petite - and that makes her a webcam model who's rapidly gaining followers, fans, and attention. If you love girls who have that "intelligent but sexy" vibe, you'll love Pocket Tease.
Mariah Leonne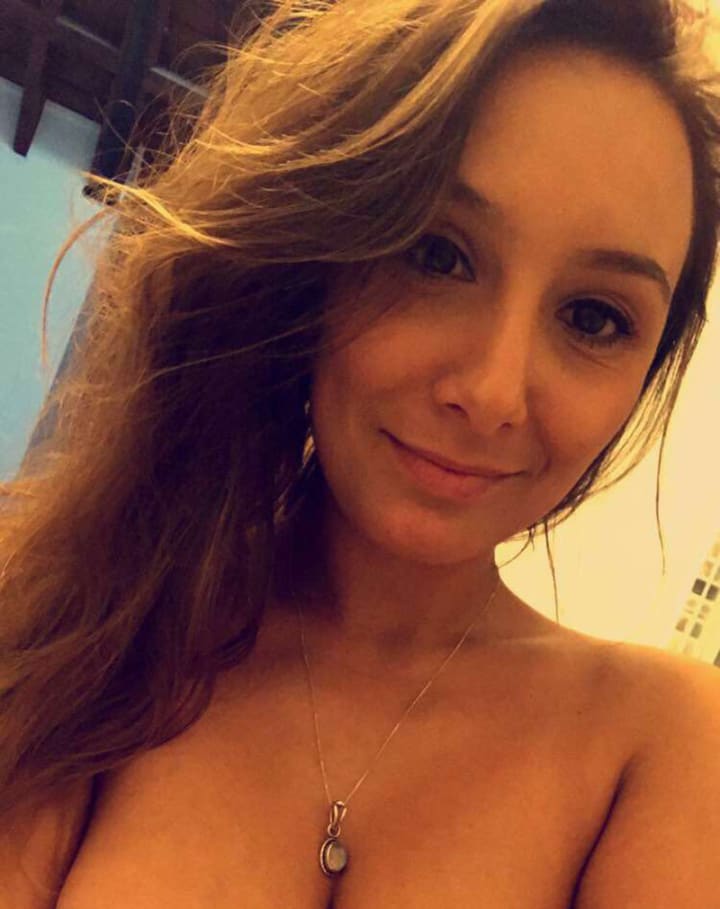 Mariah Leonne is an odd character indeed. Unlike most other webcam models, she doesn't have any qualms about calling guys out on their bull. But, at the same time, she has a ton of fun doing live web performances, looking sexy, and also just being an overall chat-worthy chick. This wild brunette tends to work with her beau, so it's definitely as realistic as you can get.
Valentina Arango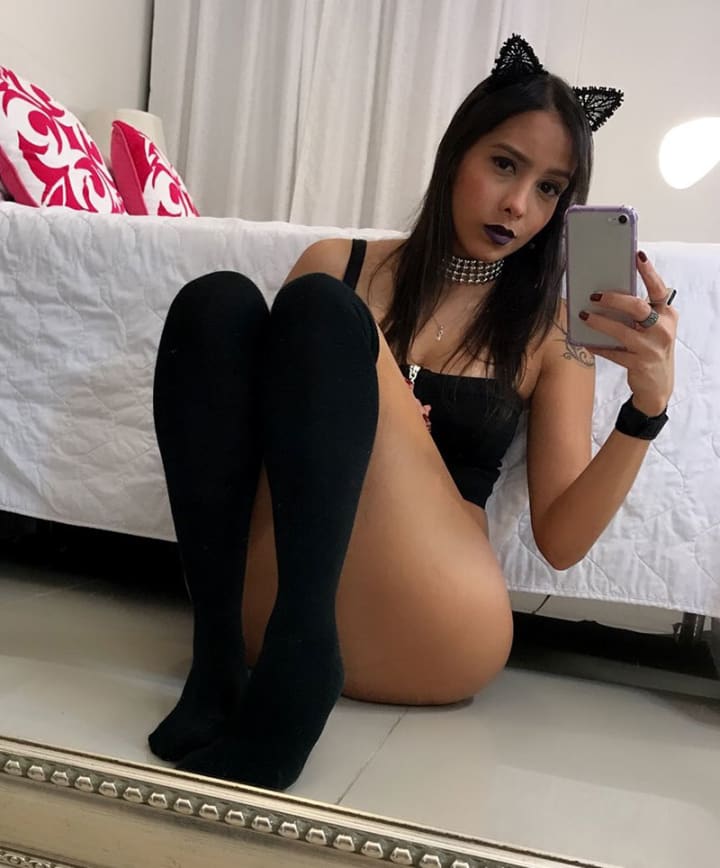 Valentina Arango is one of those women who was blessed with striking beauty. Her thick black hair, dewy skin, and cocoa brown eyes could make anyone melt. And, when you pair her amazing features with her smoking hot web performances, it's hard to deny that this webcam model can really work it.
Sassha Red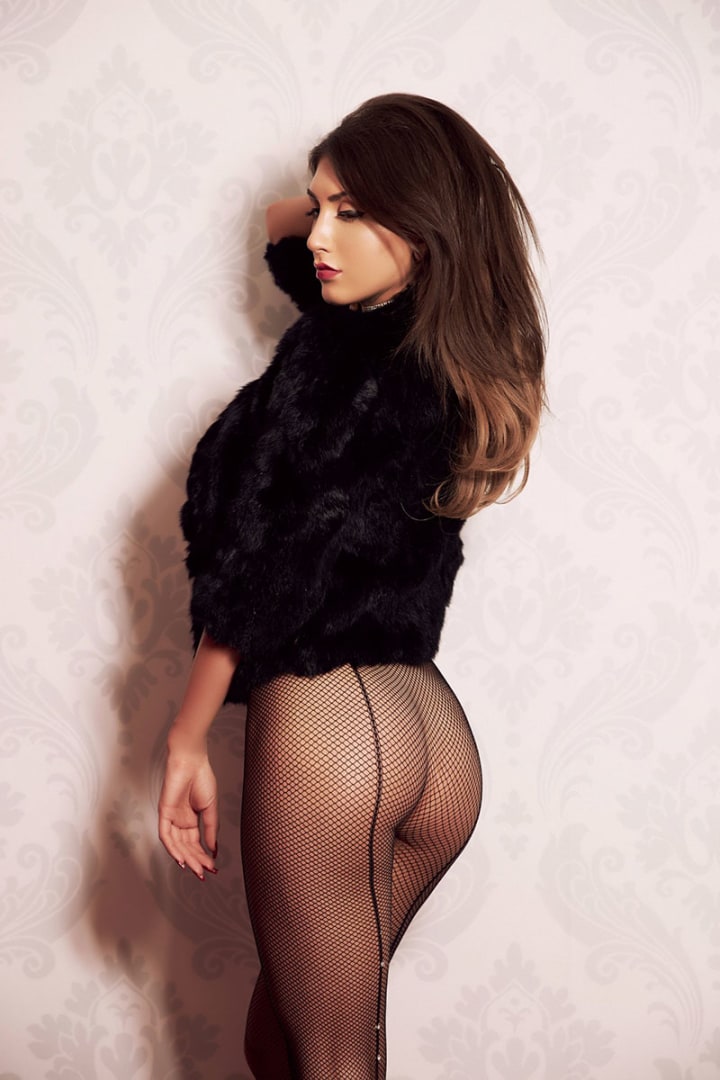 Sassha Red has recently gotten awarded for being Europe's best webcam model by the YNot Awards - and we're inclined to agree. Her gorgeous body, model-like face, and incredible behind have made her a fan favorite for years. It's really hard to find adult actresses that make webcamming seem so elegant, but the fact is that she manages to do it in droves.
Stefanie Joy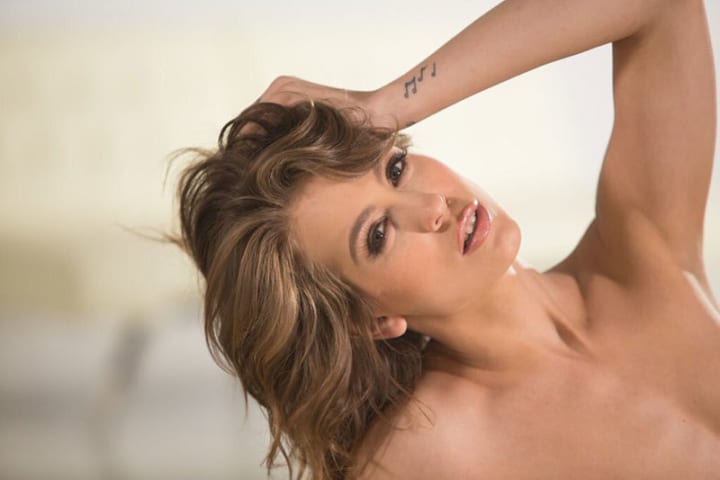 When it comes to having that cute, all-American charisma, it's really hard to beat Stefanie Joy. Her personality is warm, her body is hot, and her ability to interact with her fans makes her an all-over cool cat. Her webcam content tends to be very varied, with the occasional girl-girl scene available, too. If you love webcam girls who have a lot of personality and realism, she's a great pick.
Rebecca000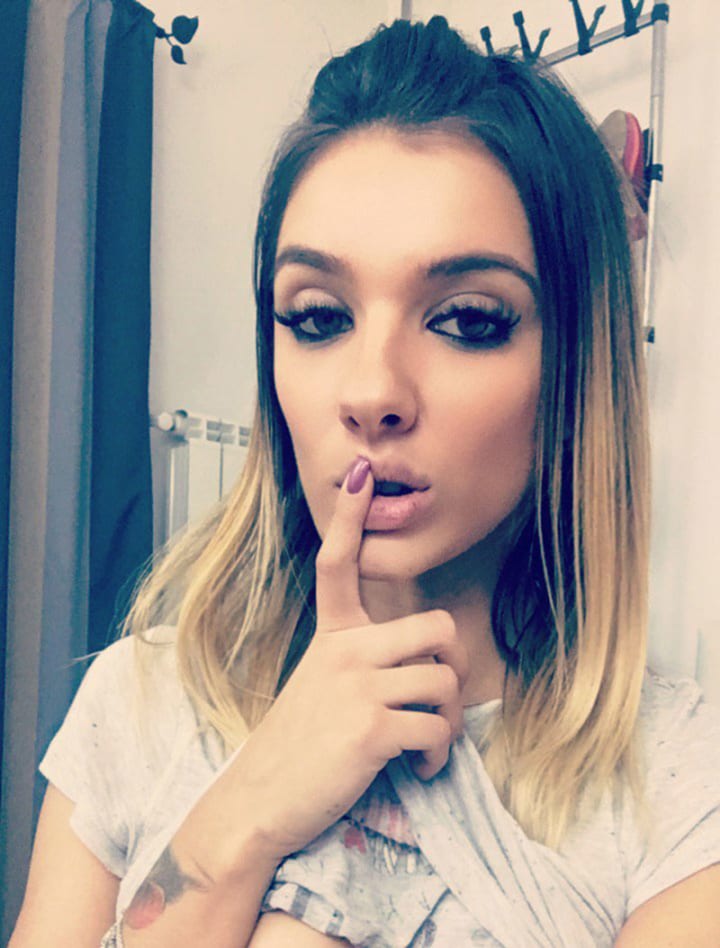 Rebecca000 is the kind of webcam model that has a vibe that's equal parts sex bomb, joker, and clubkid. She's seductive, but she's not fake about it. She has her funny moments, but she can also turn you on in a matter of seconds. Between her sexy photosets, her humorous Twitter posts, and her wild webcam moments, it's safe to say she's one of the hottest cam models out there right now.
Kendra Sunderland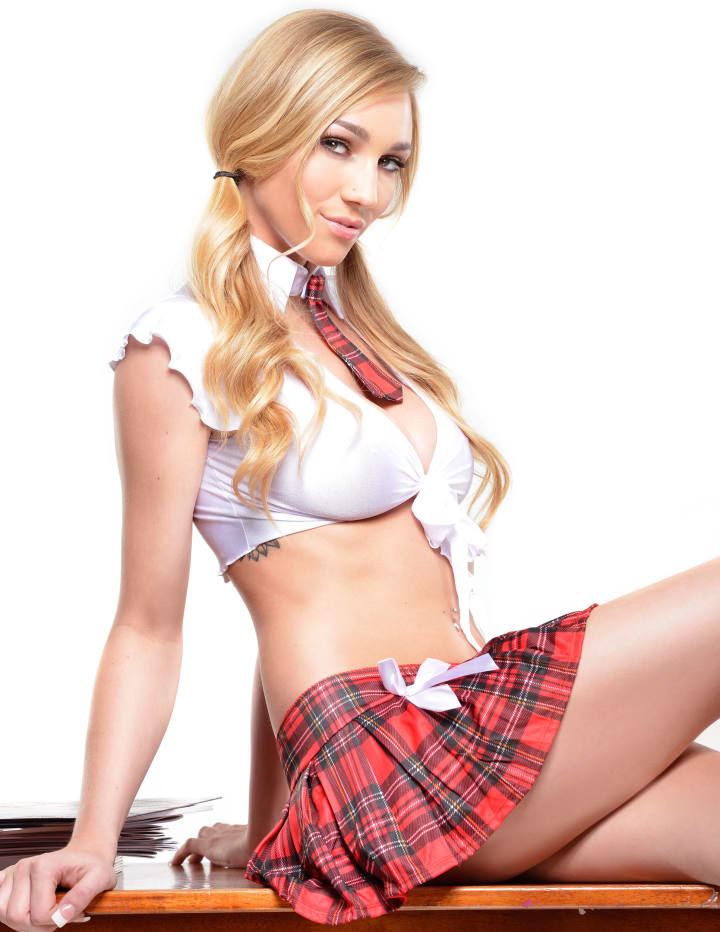 Library Girl Kendra Sunderland is known for doing more than just reading Moby Dick in the library. As a former student at Oregon State University, she was launched into the spotlight when she filmed a MyFreeCams video in her college library. That video catapulted her into the spotlight which is turn lead her to be featured in Playboy and Penthouse, two of the most well-known men's magazines, as well as landing deals with adult industry companies. But while she's been receiving all this attention from her new fans, she has also received the same attention from the law. Sunderland was arrested following her library video and was charged with a hefty fine. But that hasn't stopped Kendra from making the best of her situation. She turned her library video into business opportunities which include several sex toys that are a big hit for college aged males and older guys who dig college aged girls.
My Cherry Crush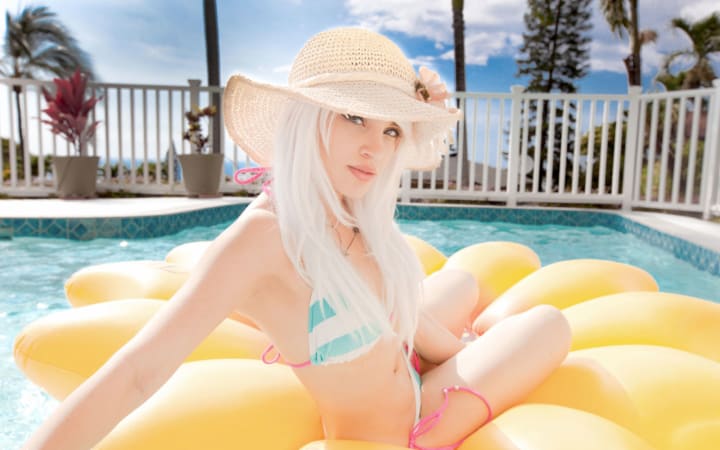 To me, My Cherry Crush is the most fascinating of all the web cam artistes I have found. Her signature photo is of her diminutive form seated on a stool, her pink-dyed hair a-flopsy over her eyes, bra peeled down to reveal some teenybopper-ish pink-nipped smallish boobies peeking out…raw whitish (bordering on a-little-too-indoor) skin on her thighs…down to black boots so intimidating you can almost hear the crinkle. From head to toe, Lolita morphs to Ilse She Wolf of the SS. On the cam, Cherry is all about that most popular of cam genres: deep throating. Then she has little poetic, mumbly interludes between. Absolutely bloody fascinating!
Missy Rhodes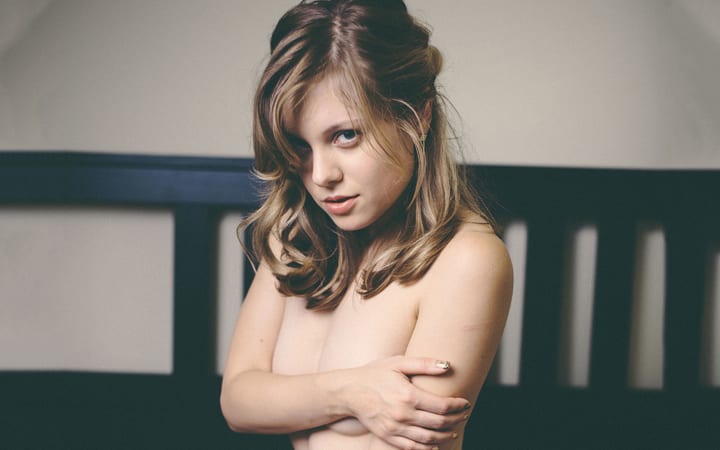 Missy Rhodes is like a tinkling, bossy Rachel McAdams. She is also a brilliant student of literary and philosophical theory in Chicago and her cam scenes, rather than klutzy, improvised masturbation, which so often looks like a junkie-stumblebum Andy Warhol movie, Missy's scenes are superbly polished, suspenseful, teasing…not to mention she is hot as the barely-legal-lookin' dickens.
LittleRedBunny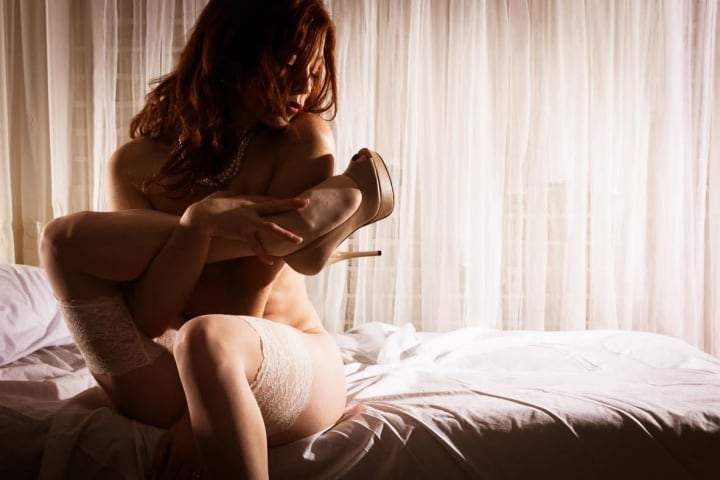 Winner of this year's AVN Award for Best WebCam Girl, LittleRedBunny is my particular poison and I suspect yours as well. If the half-coy, half-knowing French sensuality of BLUE IS THE WARMEST COLOR drives you to drink, LittleRedBunny is it for you. She is, simply put, the most French of all webcam girls. She is not pretending to be a giggling little scrunchie. She deigns her room to be "like a twenties speakeasy" and has the knowing dirtiness of an early sound-film starlet—the tartiness of Jean Harlow or Carole Lombard. There is a reason she won an award in a big-scale, corporate environment like the AVN's….her appeal is broad, and giant.
Skin Diamond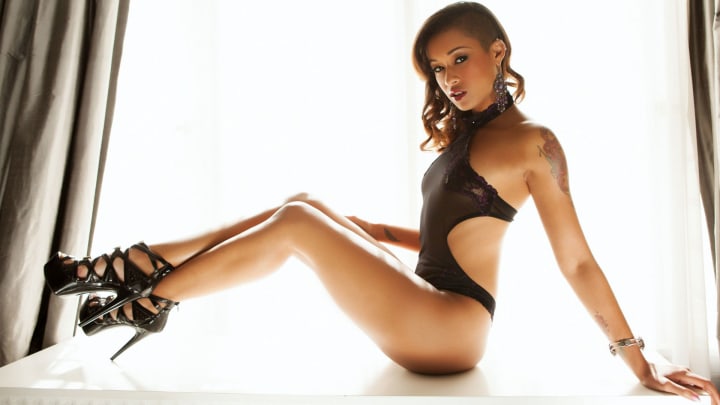 Why are there so few black actresses whenever you look at these porn rundowns? I read a recent report that says that black women still under-earn what their white counterparts make. There is are a handful of beautiful black porn stars making it in this field, and Skin Diamond is leading the pack. Her style is generally described as "of a style similar to Rihanna's." I don't see that—she is much more badass. A favorite and a true entertainer, Skin Diamond is hands down one of the best in the industry.
Angela Sommers
Angela Sommers is a self-proclaimed "All American Dream Girl", and we have to give it to her, she is living the American Dream! You know why Angela Sommers is a bloody genius? Because she bases her entire Web Cam business on the concept of giving you a virtual lapdance! Talk about virtual reality. Blond and beautiful, she tops the list as one of the top webcam girls on the internet. I have to respect someone who pins their entire persona on a single narrow shtik. The best part? She does it really, really well.
Janessa Brazil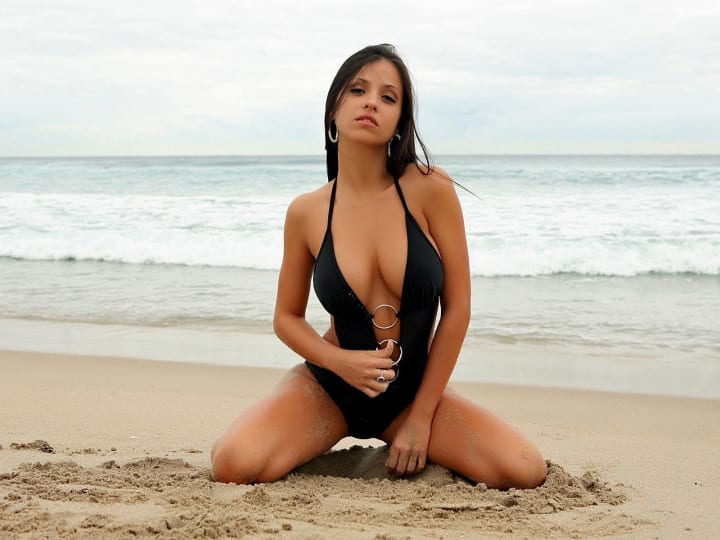 She gave herself that name no doubt because her web pages touts her "100% BRAZILIAN ASS!!!" Hey, I wasn't suggesting that it was a part-mixed arse! Brazil is absolutely delectable, and can brag of something very few of these cam-slatterns can: eight-pack abs. She has a tummy that can go up against Jessica Biel's. But now that you have gone down this roster of cam vixens, can you promise to tell me one thing, if you ever find it? Is there anyone in this universe with modest, natural breasts? If you can find someone, email me. I may try to nominate them for a Nobel Prize—or at least give them a slow clap as at the end of a Jerry Bruckheimer inspirational sports movie.
About the Creator
A group of inappropriate, unconventional & disruptive professionals. Some are women, some are men, some are straight, some are gay. All are Filthy.
Reader insights
Be the first to share your insights about this piece.
Add your insights