History of Tentacle Porn
Yes, this is a thing, and before you go searching the web, you should first understand the history of tentacle porn.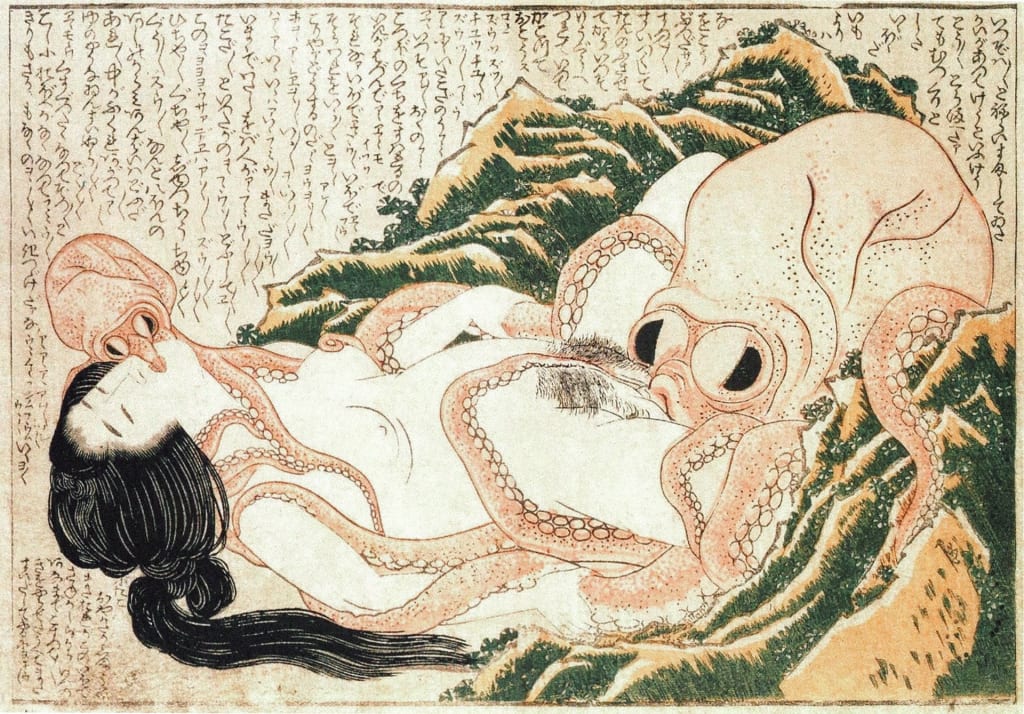 Of all the subgenres of science fiction and horror, and of all the varieties that erotic content can come in, it may seem a little absurd that tentacle porn is even a thing. To the normal viewer – hell, anyone with a stable grasp on reality – the idea of squiggly squid tentacles plunging into one's body does not arouse sexual pleasure, but rather a genuine sense of horror.
And, indeed, it is horrific.
But horror and eroticism seem to go hand in hand. Take the appeal of the vampire, who drains a subject of blood. Or Clive Barker's Cenobites, leather-bound pain fetishists. Maybe it's not surprising that the idea of being violated by a tentacled freak has become so prevalent that it's actually become a subject of satire.
Tentacle porn has a shockingly long and disturbingly logical history that makes sense when you see how events unfolded. Yet, it's unnerving how much people seemed to like it. I'm a little concerned about you guys.
The Dreams of the Fisherman's Wife
The earliest example of tentacle erotica appeared in 1814. The now-famous Japanese woodblock-print by artist Hokusai (yes, just Hokusai) "The Dreams of the Fisherman's Wife," sometimes shortened to "The Fisherman's Wife" and sometimes known as "Girl Diver and Two Octopuses," depicts a naked woman being orally pleasured by two octopi – one small one going into her mouth, and one human-sized octopus performing cunnilingus.
Now, many people know this particular image, but they don't know that this was actually part of a larger volume of work by Hokusai called Kinoe no Komatsu. This collection of woodblock-print art adapts the legend of Tamatori-Hime, a princess who dived into the sea, and stole a diamond from the underwater Dragon-King. The Dragon-King, logically pissed off, sent his army of aquatic creatures after Tamatori, which included, yes, octopi.
The Japanese kanji in the background further indicate that this intercourse is actually mutually pleasurable for all parties, making this a reinterpretation of a legendary figure in a more exploitative way. In many respects, this is similar to how the story of "Little Red Riding Hood" is often deconstructed to become a more sexually subversive story, as seen in either erotic novels depicting the characters, the sexy "Little Red" outfits you see everywhere, and the horror film Hard Candy.
So, taken in context, this artwork isn't so odd, and the Japanese understood this. But Americans, without understanding of the story this piece drew from and unable to read the text in the background... didn't get it. In fact, many leading critics who saw this thought "Oh God, this woman's being raped by tentacles! What in God's name is in the water over there in Japan? Christ Almighty, what the fuck?"
It should also be noted that other artists seemed to get on the cephalopod sexy-time bandwagon, too. There are actually a few paintings and woodblock-prints of women being pleasured by octopus, most likely inspired by "The Fisherman's Wife."
Japanese Censorship Laws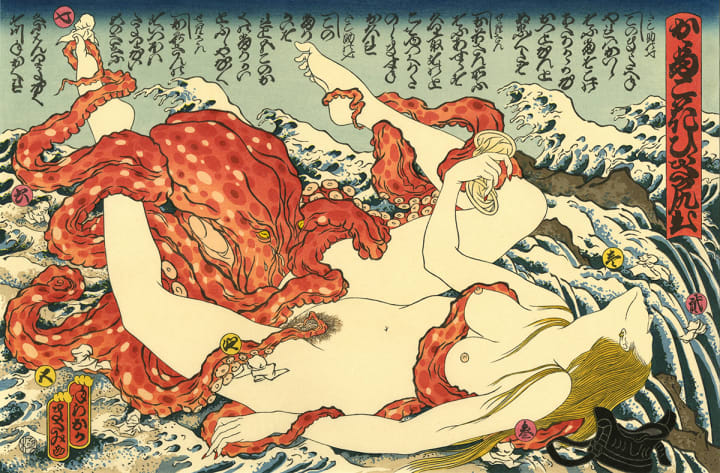 Now, it should be noted that, while cultural influences like old woodblock-prints played a role in tentacle porn's development, it is not the real causation. Ironically enough, the biggest reason why one of the strangest, most perverted forms of erotica ever materialized happened because of censorship laws.
In Japan, from the Meiji Period in the mid-1800s to modern day, there are various rules as to what cannot be depicted in art. The Meiji Restoration was an era of Japanese culture that saw the end of the Tokugawa Shogunate that had dominated the country since the 1600s. It was an attempt to modernize Nippon (Japan) by westernizing it. As such, they began incorporating censorship laws as a means to bring some (Western) decency into Japanese art. This was compounded even further when the Allied Forces occupied Japan in the immediate aftermath of WWII.
At the time – and, to an extent, still – Japanese illustrators, animators, and artists could not depict genitals. After WWII, they could depict lovemaking, but at no point would genitals or pubic hair be shown.
Now, as time passed, the erotic art medium of Japan began to play with the limitations as to what could be shown. Many manga artists would cover the genitals with large black bars – which, as the laws became less enforced, shrank smaller and smaller until, so long as one strip of black covered part of the penis or vagina, it would be okay.
Oddly enough, Japan had no limitations as to what sort of sex could be depicted. Didn't matter if the sex was consensual or not, or what part of the body was being penetrated or touch. Just no penises, or at least not in any detail.
There is an old phrase that "art emerges from adversity." Classic films like Jaws and Star Wars were plagued with problems, and, from the limitations pressed upon them, art was created.
I didn't expect to compare Jaws to Guyver: Out of Control.
Playing With Taboo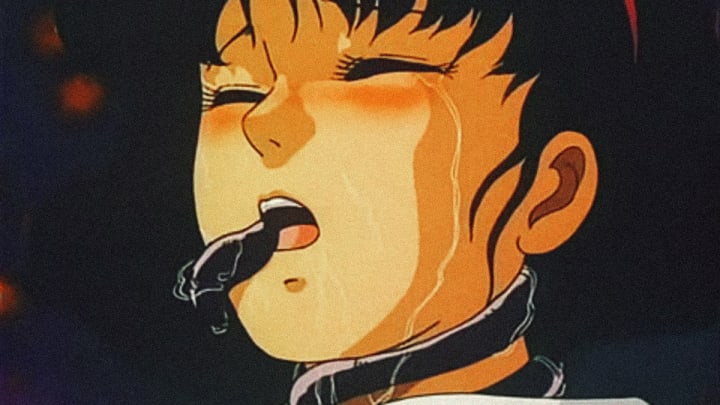 The first depiction of tentacle sex in Japanese animation is commonly accepted to occur in Guyver: Out of Control. This animation was an adaptation of the manga Bio Booster Armor Guyver, a highly popular manga that has received numerous animation and live-action adaptations, including two Western films.
Guyver is known for combining sci-fi action with body horror, so this first depiction of tentacle sex was entirely done for horror purposes. A character is enveloped by a Guyver suit – an organic bio-tech unit comparable to the Venom symbiote from Spider-Man comics – that penetrates her in every orifice.
Japanese censors saw this, and were, logically, horrified. However, because it didn't break any of their censorship laws, they couldn't ban the scene, and, thus, it went out into the world.
And thus, the spark of an idea.
In 1989, Toshio Maeda illustrated the hentai manga Demon Beast Invasion. Maeda, like many other hentai artists, were fed up with Japanese censorship laws preventing them from depicting sex on page. It was apparent that a penis could not be shown in its entirety. However, a tentacle – a phallic tentacle, even a penis-shaped tentacle – could easily be shown penetrating a woman's body in a sexual manner, and the Japanese censors would do nothing.
In Demon Beast Invasion, giants inhabited the Earth millions of years ago, but, as the environment changed, they left Earth. Now, they return, with weird tentacle growths, with the intention of creating human-giant hybrids to better live on Earth. It's essentially smut of the cheapest, schlockiest order, and was so obscene that a comic book clerk in 1999 in America actually was fined $4000 for selling it, and almost sentenced to six months in prison.
But it was published and adapted to an anime, and no one could say a word.
Establishing a Genre
Arguably the two most famous tentacle porn hentai anime are Urotsukidoji (or Legend of the Overfiend) and La Blue Girl. Both would establish the two means that tentacle hentai would take from that point onward.
Honestly, it's almost hard to categorize Legend of the Overfiend as hentai, since it really flows more like a perverted horror story. The story features a three-way war between humanity, man-beasts, and demons from Hell. Apparently, mankind has grown proud, and demons are going to punish humanity for their pride by dominating their society – a societal rape. There are numerous scenes of disturbing sexual violence, including a grotesque scene where the main character transforms into a demon, and sprouts tentacles that impales – then assimilates – everyone inside a hospital, as well as a scene where a kid murders his family, stuffs them in a refrigerator, before cutting off his penis, and replacing it with a demonic construct that whey could actually show without censors knocking at their door.
Again, I'd like to point out that mass murder, castration, and demon penises passed Japanese censors, but healthy sex between two people (which is depicted in this anime) is concealed by strategic framing.
By the way, this proved so successful in the underground animation scene that it spawned numerous other sequels.
La Blue Girl is mercifully less fucked-up. Oh, it's still demented, but it is far more playful and light-hearted. The series depicts a legion of ninjas who must combat an army of perverted sex demons. The hero, Mido, uses her "sexcraft" ninjitsu to combat the demons, who, yes, use tentacles to violate people. Surprisingly, La Blue Girl proved to be something of a hit, as it spawned sequels and spin-offs for years to come.
From here, the genre diverges. There are tentacle hentai more in line with La Blue Girl, which plays up the ridiculousness of the situation in an attempt to be both erotic and funny. Hell, most parodies tend to poke fun at La Blue Girl and its ilk. And other people draw inspiration from Legend of the Overfiend's oppressive atmosphere and horrific scenes of sexual brutality.
You're probably saying "Wow, Japan sure is weird! You'd never see something that weird in America. Especially not that screwed-up Legend of the Overfiend nonsense." Hahaha...
Yeah, actually, America did tentacle porn horror long before Japan.
The Dunwich Horror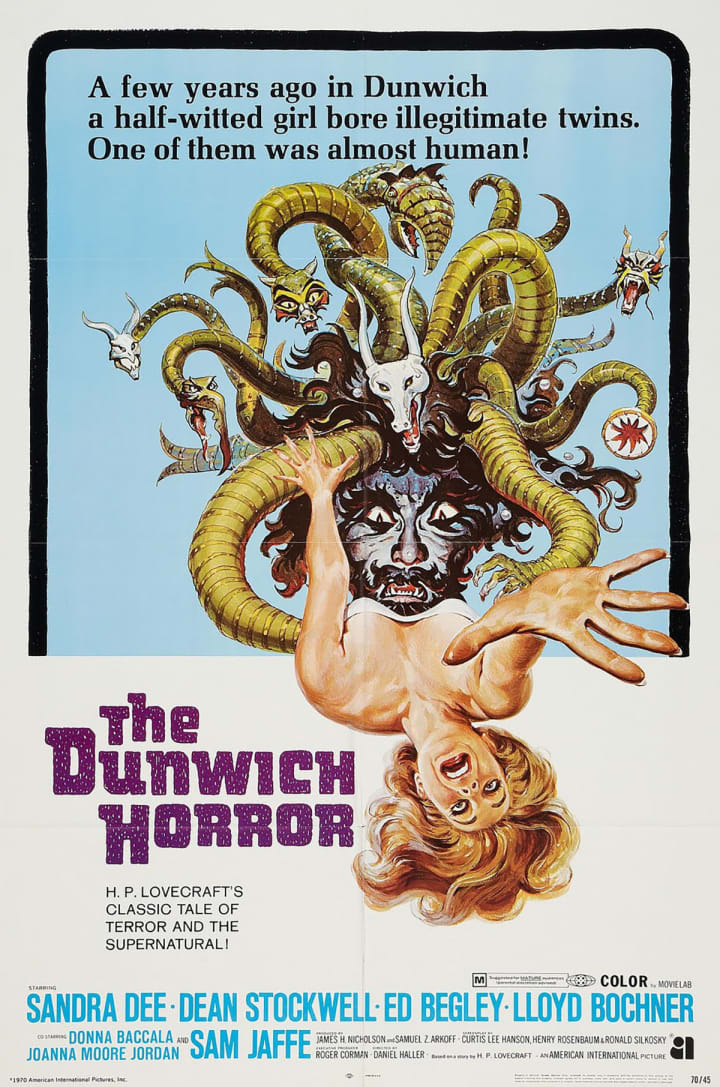 While Legend of the Overfiend is certainly a demented horror story, it follows in tune with a long history of Western horror, that, yes, also involved people being raped by tentacle monsters. And yes, it's an old American tradition, too.
In 1928, Howard Phillips Lovecraft wrote the classic horror novella The Dunwich Horror. It is one of the most popular and famous entries in Lovecraft's Cthulhu Mythos, where otherworldly creatures of extraordinary power lurk just out of sight, reminding humanity that, for all their progress, they are insignificant in the face of existence, and that, at any moment, everything they worked for can be eradicated by entities far grander and more powerful than them.
Sound familiar?
In The Dunwich Horror, Old Whateley, an aging self-fashioned sorcerer, allows the Outer God Yog-Sothoth to impregnate his daughter Lavinia with half-God creatures in order to ravage the planet. Though Yog-Sothoth is never depicted, we understand that, judging from what the Outer God's sons look like, that he's essentially a mass of unknowable tentacles and eyes.
Filmmaker Roger Corman would later adapt the novel into a movie of the same name. While Japan really has established the history of tentacle porn, America holds claim to first depicting tentacle erotica in motion picture.
Corman would later depict tentacle rape again in his film Galaxy of Terror, where an astronaut is raped to death by a giant alien worm creature. The scene was so horrific that both the director and actress playing the astronaut refused to do it, so Corman did it himself. Unlike Japan, American censors did oppose to this, and gave the film an X-Rating. But Corman managed to cut a few frames of the scene, which somehow convinced the MPAA to make the film R-rated.
And, arguably, the horror classic Evil Dead depicts some variation of tentacle rape when the hero Ash's sister is raped by a demon-possessed tree.
In all cases, Western tentacle rape is indeed rape, and played entirely for horror. Legend of the Overfiend, while following in line with Japanese tentacle rape history, feels very much a product of western tentacle rape. Many of the scenes of brutality would fit right at home in a cult-classic 80s horror film. (Trivia: metal band White Zombie, led by Rob Zombie, used a sound clip from the anime in their songs "Welcome to Planet Motherfucker" and "Thrust!")
Today
It is safe to say that very few people actually derive any semblance of erotic pleasure from watching tentacle porn. There appear to be two primary audiences for this material. One audience finds it so ridiculous and goofy that they glorify it as a form of sometimes unintentional comedy (if you don't laugh, you cringe). Another finds it so horrific and dehumanizing that it's, in many respects, entertaining from a horror standpoint.
Regardless, this bizarrely prevalent subgenre of pornography and erotic art has a long, storied history. It may not make sense as to why anyone would actually seek this material out, but at least hopefully there remains an established understanding as to why this stuff exists.
About the Creator
I love three things: books with yellowed pages, long walks on beaches with my german shepard Dany, and dishes incorporating fried onions.
Reader insights
Be the first to share your insights about this piece.
Add your insights