Gbemi's Marriage
Would it be so bad to have her twin sister's husband?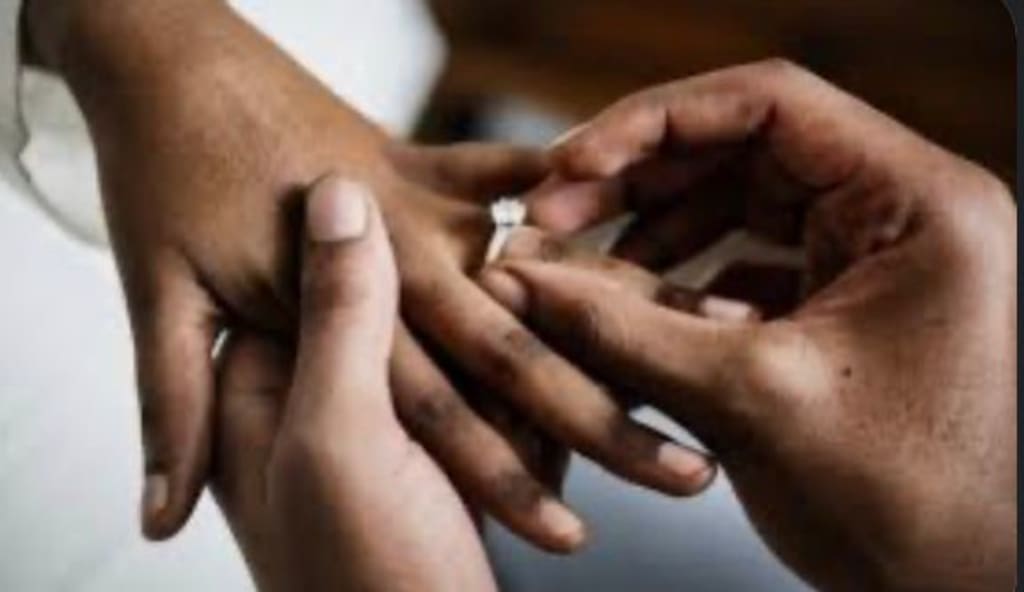 Picture from Google
Adanne and Gbemi had been married for over three years and lived in a six-bedroom duplex tucked in the middle of Sangotedo, Ajah. Their relatives were mostly in Gboko, Benue State and scattered all over Northern Nigeria. Adanne's twin sister, Adaeze lived in Victoria Island with her husband but as an international consultant for Apple Music, he was hardly in the country and the last time they had seen was two years ago after Ada had her son, Ebubenna, Ebubz as she fondly called him.
Adaeze had now been separated from her husband Chris and they were awaiting the conclusion of their divorce in the Ikoyi High Court. Although Nne (Adanne) was sad to know Dazy's (Adaeze) marriage had failed, it was inevitable. Chris was a high flier, who operated businesses in Nairobi, New York, Mexico and Nigeria and was hardly in the country more than 30 days in a year. Dazy was the same, a bit of a gadfly, seeking talent for Apple! Music and offering exclusive advice on their other interests and collaborations worldwide. She loved the air and nowhere was Dazy freer than when on the move. So how exactly were two people who were roving demons expected to settle down and play house?
Nne and Gbemi were lovebirds since high school and although none of them expected to get cuffed, fate was kind and brought them together after NYSC. Gbemi, a biotechnologist, interning with May & Baker in Lagos was single at the time and Ada had just been dumped two weeks ago by Femi, her boyfriend of five years in Ahmadu Bello University, Zaria, and was seeking a post-NYSC placement. Although they reconnected almost seamlessly, Ada wasn't the dewy-eyed thirteen-year-old, that Gbemi had stuttered his way into asking out after assembly one morning in 1995.
She was a woman now and no longer into church stuff per se. She was a woman of her own, a deep thinker and very sexually active. Gbemi, had still maintained his quietness, his research focus and a love for jazz.
They decided to have a date to see if they could still work out. Gbemi turned up in a pink tee-shirt with "INSPIRE" emblazoned on the chest in white, blue fitted jeans and white Nike sneakers and gold encrusted Gucci frames. He certainly wasn't out to play. Nne, couldn't be bothered and turned up in a white crop top showing off her flat tummy and caramel skin and a blue denim mini skirt with jagged edges and white slippers. She wasn't expecting much of the date but after two hours of topics twisting from science to fashion, hotels, politics, destination spots, relationships, romance and sex, at 9 pm, she was on her knees at Gbemi's flat on Allen with his fat cock being crammed into her throat as he choked her.
Nne had underestimated Gbemi. He was a bedroom demon, who after fucking Nne's throat, had dumped her face flat into his bed, putting her legs around his neck and proceeded to eat her pink depths voraciously. He licked her clitoris up and down, like a kid absent-mindedly flicking on and off a light switch and seemed to be more encouraged as Nne's screams pierced the stillness of the room. He dropped her legs carefully off his shoulders onto the bed, looking admiringly at Nne's pulsing pussy and smiling devilishly after she begged him to fuck her. He rammed into her, filling her up and his hips holding her in place but before he began his thrusts in and out of her, he dipped his thumb into her anus and began to pound her mercilessly.
Nne loved to fuck but every thrust of Gbemi meant that she lost control of her senses and approached delirium, she was cumming breathlessly within five minutes of Gbemi being in her. She must have cum three times in thirty minutes and by the time Gbemi laid down and she rode on top, she must have climaxed violently many times that, she could remember nothing but waking up on Sunday morning in his oversized white tees and no panties.
It didn't surprise her that she married him within six months. He ticked all her boxes and had her body on total lockdown. She could remember many times in her office in Gartland and Co, in Maryland as an administrative assistant thinking of him and her nipples would harden, her mouth go dry and her pussy throb and begin to get wet. She loved the man that he was and his dreams, but her body was his total possession. She couldn't shake it free.
Dazy had just recently returned from a trip to Italy and had rung her at 2am, half-excited and half-weary, and told her that she was at the Muritala Mohammed International Airport. She hurriedly got into her pyjamas from her naked state and woke Gbemi and hurriedly they got into their 2011 Mercedes C300 and drove to the airport to pick her up.
Gbemi, by now was beefier than when they had reconnected and at 6ft 2, was shaped like a boxer and as Nne told her close friends, beats up her pussy every night.
Well, they whisked Dazy away from the cold arrivals hall and took her to the guest room in their home and for the next five days, Dazy was the centre of Nne's world: gists, gossip, catch-up, bits of talk on the impending divorce and bits and pieces about their cousins and parents.
Gbemi was fascinated by it all, being an only child and enjoyed it as much as possible. The kids: Ebube and Shola were also thrilled to have aunty Dazy around. Dazy worked from her room and apart from occasional forays from her room for meals and chats with her sister and nephews, made herself very unnoticeable.
One evening after the Nne-Dazy merger, Gbemi finally had his wife to himself. The kids had gone to spend the night at a family friend's house and after watching an installment of the series: Jackasses, Gbemi got into bed and readied himself to sleep, only for Nne to rest on top of him and put her moist lips around his dick and begin to trace the lines of his shaft hungrily. He was about to ask her to stop, only for Nne to swallow his gigantic cock. He trembled as she deepthroated him expertly and as if on autopilot began to rim him and occasionally suck his balls.
He was out of control: muttering, salivating, moaning and speaking gibberish. He moaned loudly as she began to lick his dick cap and suck him slowly, like someone who had all the time in the world. She tied her loose hair and sucked him more, with one hand violently fingering herself. When she couldn't take it any more, she tore off her cream top, exposing hardened and protruding nipples. She pushed him into the bed and began riding his erect member, only for Gbemi to sit up and begin munching her rock-hard nipples leaving Nne screaming as she slammed her wet pussy into his cock.
She needed him to go deeper and clasped her hands around his shoulder and pushed deeper into his waist, bouncing like a kid on a trampoline. She creamed his shaft and he sucked her nipples even more hungrily, swallowing it in his mouth and flicking it with his tongue. A fire lit up in her pussy and she was determined to quench it with his vibrant juice.
She flung her head backwards and fucked him harder and Gbemi responded with deeper and quicker thrusts. She jerked, became uncontrollable and with slack jaws screamed and half cried "I'm cumming for you Gbemi….the pussy is yours, yours and yours alone" as she bathed him in her juice and collapsed into his knees.
Gbemi was seconds from cumming himself but froze because shortly after Nne came, he swore he heard another voice outside his room saying "Oh shit, oh shit, I'm cumming" and it went quiet. He waited a few seconds and with his wife in tow, went to the door of their room and there lay Dazy, fingers on top of her pussy sprawled on the floor.
"Dazy! Dazy!!" Nne screamed. Dazy looked up and instantly looked down and attempted to cover herself. It was too late.
She had only come upstairs to get some ketchup for her cold hotdogs when the sound of Gbemi's moans made blood rush into her veins and paralysed her with horniness. It had been since six months since she got fucked (after breaking up with Alex, her boyfriend, in the heat of the divorce battle) and as she tore off her buttons and finger fucked her demanding mound to the sounds and the rhythmic humping of Nne and Gbemi which she could see, (without them seeing her) away from the light at the entrance of the bedroom, she got closer and closer to the edge of the cliff, but Nne's guttural scream as she came violently on Gbemi, took her to the precipice. Her juice became a puddle and she drowned in them and came like a vixen.
She wanted to explain but looking up, she had caught sight of Gbemi's member and imagined it weeding her pussy and planting his hot cum deep within her. She hurriedly got to her feet and scurried into her room and locked the door. She could not eat her hotdog anymore. All she thought about was leaning across the balcony at night, in two days' time when Nne travelled to New Zealand, while Gbemi probed deep into her and discovered the whore that she was. That they were sisters mattered little because a girl must have what a girl must have.
And apart from work, Gbemi's dick was her number one priority: bowing to it, it possessing her, devouring her and discovering her till she left in five days back to Milan for more work. They were twins after all and nothing wrong with sharing since they entered the world in a sharing mode.
Forty-eight hours... Tola
About the Creator
Hi there,
I am Jekey and you're welcome to my profile.
I am a creative storyteller with a wild imagination. I create Opinion Pieces on Love, Romance fiction, Life & other Trending issues curated from my everyday life experiences.
Reader insights
Be the first to share your insights about this piece.
Add your insights