Friendly Fantasy
Surprise guest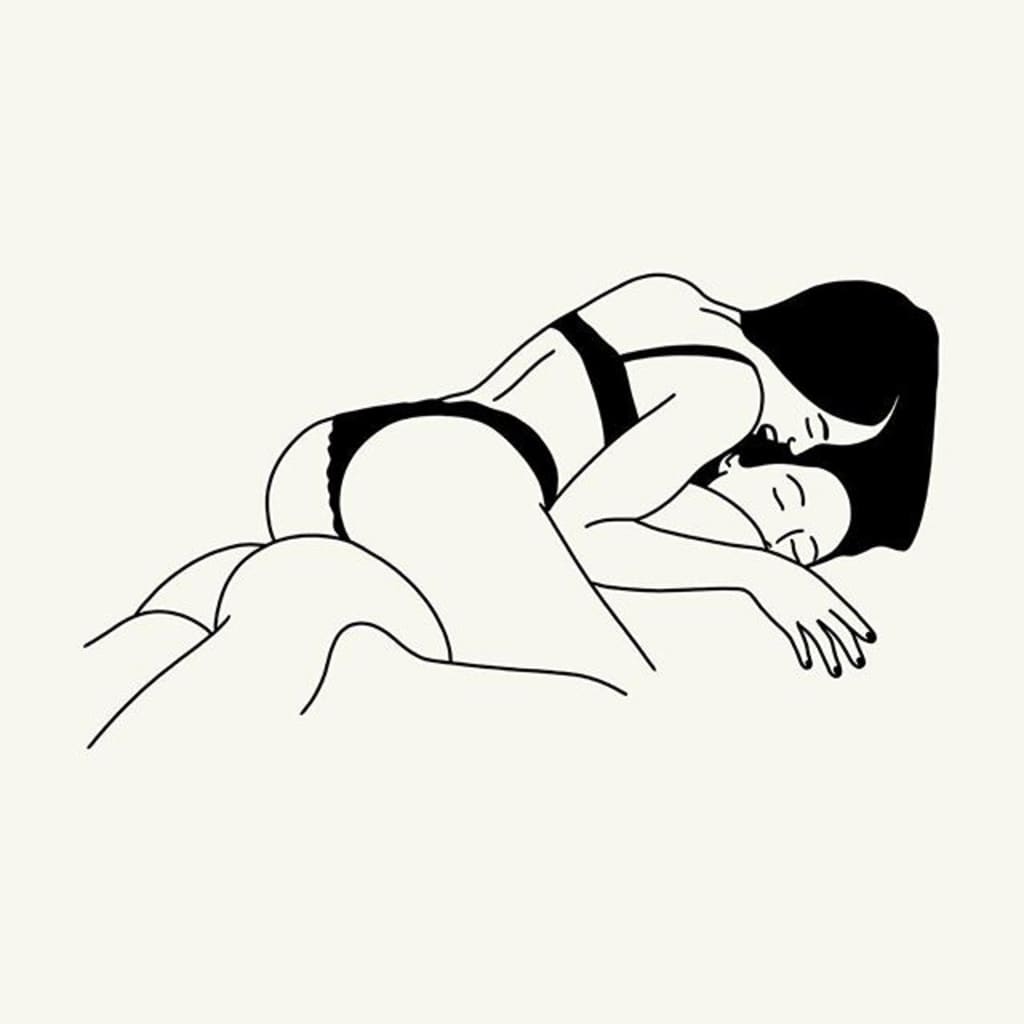 While laying in bed, fantasizing is becoming a common occurrence. These fantasies are not what I long for, they are only fantasies. As my husband lay slumbering on the other side of our king size bed, I lay here pondering what if's. Do not mistake 'what if's' for wants or needs. Simply call them fantasies.
Two hours away is the woman I fantasize about in my self-pleasure. Playfully flirting while honestly wondering if she is only playing, secretly I am not playing. Texting and phone calls are becoming a daily occurrence. I happily married, and her experiencing the turmoil of a horrendous divorce, I feel the need to keep her head above the depression that floods her emotions.
Boundaries is a new word in my vocabulary. The only boundaries I seem to practice are with my husband. Though I am joyful he still wants me after so many years, I still push him away. My love for him is still strong, but I can only look forward to Friday nights, a glass (let's be honest, a bottle) of wine, and an amazing two hours of passionate sex.
Life seems to get in the way of a sex life between two parents. The four-year-old sleeps between us most nights, my attention is always spread between three children, and my husband works too hard. I love him so much. I miss the honeymoon stage, but I am happy we are still together after 8 years.
Most days I want nothing more than a few hours to myself. No children wanting my affection, no husband reminding me that he wants me, and just binge-watching my favorite shows. I even enjoy the time I spend with myself gratifying my own desires.
I am the expert of my own body. I know what I require to satisfy my carnal needs better than anyone. I enjoy making love to my husband, don't misunderstand me. I have known how to do this since my early teens.
While carefully moving my daughter back to her own room, I fear she might wake up and put an end to my plans. I want to dance my way out of her room, I settle for silent celebration.
Quietly searching for my favorite toy, I knock over my makeup bag spilling everything into the floor. The feeling of defeat comes over me as my husband awakens to relieve himself. To my relief, he goes back to bed and begins to snore. After quietly putting everything back, I tiptoe with my toy back into bed.
While my sound is muted, I watch lesbian porn on my phone. I feel the warmth of desire between my legs. I resist the urge to touch myself as long as I can. Oh how I enjoy watching beautiful women ravaging each other. My favorite genre includes a massage of an unsuspecting client.
I watch as the beautiful brunette with amazingly large breasts removes her clothes during the beginning of the massage. She occasionally rubs the oils onto her breasts with one hand while innocently massaging her client's back. She offers to massage the client's nice round ass, promising that it will alleviate any stress in her muscles.
The client reluctantly gives permission to this trespassing of her body. While the masseuse begins rubbing her client's nether regions, I cannot resist rubbing my own large breasts. I can feel hot desire between my own legs becoming very wet. I resist the urge to pleasure myself, I want to be at the peak of my desire.
While the client is becoming more comfortable with the masseuse massaging her derrière, I notice the client begins to raise it up. I barely resist touching myself when I can see the client's wet mound. To my surprise the client has been rubbing her clit with her manicured fingers.
The client is a perfect balance of fitness and thickness. She is tan, oiled, and blonde hair but her pussy is bare. I imagine running my tongue from her clit to her ass as I pinch my nipples hard. It has been so long since I have tasted another woman. I am unable to resist my hand as it begins to pull on my thong.
I fantasize that my friend is next to me tugging on my thong. Since I enjoy the rush of the one I'm with being rough, I pull until I feel a little pain as the cloth of the thong tightens to my ass and into my wet mound. I stifle a moan so that I don't wake up my husband. I feel a rush as I realize he might catch me in the act. Sometimes I wish he would wake up and punish me.
Now the masseuse has buried her face into the wet mound of the client. I taste my fingers after I rubbed my own wet and shaved mound. I fantasize the taste is of my friend. I wish it was my friend sleeping next to me. Oh how I would enjoy waking her up to my tongue invading her pussy.
I can't resist it anymore so I turn my toy on the lowest setting of vibration. I pull my thong aside and slowly insert the pink vibrating toy inside. I make sure the rabbit ears vibrate against my clit as the beginnings of an earth-shanking orgasm overtake me.
I begin to feel my body tremble as an earthquake takes hold of my entire body. My hips begin to gyrate to the rhythm of my uncontrollable orgasm. I turn the setting up to the highest setting and I bury my face into my pillow to stifle my moans of ecstasy. These waves of erotic satisfaction continued. My husband awoke and began to realize my convulsions were self-inflicted.
I felt his hand grab my ass and turn my body over. He pushed my mouth into his growing cock while his hands were grasping my hair. This forced fellation intensified the earthquake that took over me. Even while occasionally gagging on his large cock, I rocked my hips against my toy.
I felt his hand running down my back toward my unoccupied back door. He asked, "Are you ready for your punishment?" Since I'm unable to answer because of the large cock in my mouth, he spanked my ass hard enough to make me moan in excitement. He lightly rubs his finger against my hole, intensifying my pleasure. He pulled my head up by my hair, releasing his cock from my mouth and asked, "you want it don't you?" Unable to deny him I replied, "yes please!"
He forced his cock inside my mouth and began to push his finger inside my ass. An earth-shattering orgasm once again took over my body, and I started rocking my hips back against his finger. I began to moan louder with his cock inside my mouth.
He once again pulled my face away from his cock and said, "that was close, I'm not ready to come yet." He laid down and pulled me on top of him, my toy left vibrating on the bed. His face beneath my wet pussy, he pulled my hips down to his mouth.
He ran his tongue hard against my clit, back and forth, flicking fast. Both hands on my breast, I began pinching hard on my nipples. I rocked my hips to the rhythm of my orgasm. I heard our front door open then close. My heart jumped to this surprise.
"Who is that?" I whispered. A devious grin spread across his face. As fast as I got out of bed, he was behind me. He quickly pulled my arms behind me and pushed me face first into the bed. He then tied my arms and blindfolded me. After setting me onto a chair he whispered in my ear, "I have a surprise for you."
My heart jumped up to my throat as I heard our bedroom door open then close. As I was asking who it was I felt soft lips caress my neck and the smell of a familiar perfume filled the air around me.
"I'll sit over here and watch," I heard my devious husband say from across the bedroom. I felt a tug on my hair as I was pulled up from the chair. I was turned onto my stomach and then my legs were pulled apart then tied to the bedposts.
I felt so exposed as I knew my pussy was on display for my husband to enjoy. I felt hot liquid dripping onto my back, the burn sent waves of pleasure to my already swollen pussy. I felt the wax being poured onto my legs and arms. I begged for this mysterious intruder to pleasure me, I needed some relief.
I felt them crawl onto the bed then pull my head up by my hair. Before I could resist I had a face full of the most amazing pussy I have ever tasted. I heard my husband get up to get a closer look. I heard her moan to the pleasure of my tongue exploring her juicy mound.
I felt my husbands hand cup my ass then he slapped it so hard I moaned into her juicy mound. I wish she would free my hands so that I can find her breasts and explore her body for a clue as to who she is. Then I felt my husband's finger begin to explore my wet mound and he roughly pushed them in and out fast, which released another orgasm. Again I moaned into her mound, this excited her into an orgasm. I felt her juices all over my mouth and dripping off my chin.
Again I felt my hair pulled while my husband pulled my arm toward him. He pushed his throbbing cock into my mouth once again. I felt her untie my legs then raise my hind end to her face. I felt her tongue against my throbbing pussy. As I moaned onto my husbands cock he shoved it in deeper. I enjoyed that so much that I began to rock my hips in rhythm with another overwhelming orgasm.
She untied my hands and pulled me away from my husband's throbbing cock. She then pulled my face into her delicious mound. My hands were now free to explore her body and how I longed for the soft skin of another woman. One hand fingering her pussy and her ass, I pinched her nipple. I felt her body tense as she was taken over by pleasure once again.
I felt my husband's cock against my ass, teasing me with the impending thrust I expected. He once again spanked my ass hard, not one, but five times. I pushed back against him hoping for his cock. He resisted then began to lick my ass. He isn't ready to cum yet, so he pushed his thumb into my ass as he began to ravage my pussy with his mouth.
I rocked my hips once again to the rhythm of my orgasm. I felt her hands tighten the grip on my hair as she moved my head from side to side. In her excitement she came onto my face and into my mouth. When she was done, for now, I kissed her mouth, allowing her to taste the pleasure I brought her to.
I told my husband to please go sit down and record what me and my new adventurous friend were about to do. He obeyed and retrieved the camera from the dresser. As I untied the blindfold, I felt the anticipation of seeing who she was.
Before me was the friend I fantasized about during my husband's slumber. I realized he planned this and wasn't really sleeping. She must have realized my shock, and in an attempt to distract me from this shock, she pulled my face back to her wet pussy.
To give my husband something to record, I raised my ass toward the camera. Then I reached my fingers down to my throbbing mound and fingered myself. This voyeurism really turns me on, which brought me into another orgasm.
I took a break from eating her out to out to kiss her large breasts, taking time to suck and nibble each one. I retrieved my toy and turned it on low. I teased her a little before I began slowly thrusting it into her throbbing pussy. As she began to moan, I thrust harder and turned up the vibration.
I felt her body began to tense and shake, her head leaned back. Her hips began to rock side to side and up and down against the toy in my hand. I took the opportunity to show her the anal pleasure I enjoy. I began to rub her ass then tease the tight and unexplored back door. She began to rock faster and moan in pleasure. Then I pushed my finger inside, I whispered in her ear, "is this what you want?" She said yes and I pushed in further then thrust in and out.
She had admitted in conversation that she never really enjoyed toy play, but she must really like the way I do it. Then I kissed her passionately for the camera. I removed the toy, began rubbing my own mound against hers, both of us rocking hard against each other.
I looked back toward my anxious husband. He sat the camera down as to still record the show. He grabbed my head by my hair and forced his throbbing cock hard into my mouth. While she and I were fucking hard, he was fucking my mouth. Oh how I enjoyed this. My fantasy intensified tenfold. I am overcome by the best orgasm of my life. My friend moaned with pleasure as I felt our hot juices running between us.
The moment overcame my husband, and he pulled me away from her and he bent me over the bed. He motioned for her to join us. She crawled over and displayed her pussy for me. My husband pulled my hair hard then pushed my face into her juicy folds. I could taste both our juices and was overcome by another orgasm as my husband thrust his cock deep inside me.
I felt his thumb push into my ass, and he thrust harder and harder. While I face fucked my friend into orgasm, I felt my husband tense and we all came simultaneously into bliss. For about a minute we all moaned and thrust our hips. I felt my husband's hot load come inside me as I came onto him. The hot juices flowed onto my face as I furiously licked and finger fucked her ass.
We all collapsed onto the bed and slept soundly through the night. When I awoke in the morning, she had left. My husband brought me a breakfast in bed as my reward. I had fulfilled his fantasy, while also secretly fulfilling my own. I wonder if she would come back for more.