Finding and Practicing Your Inner Dominant
A Basic Female Domination Starter Guide to Performing Dominant Webcam Sessions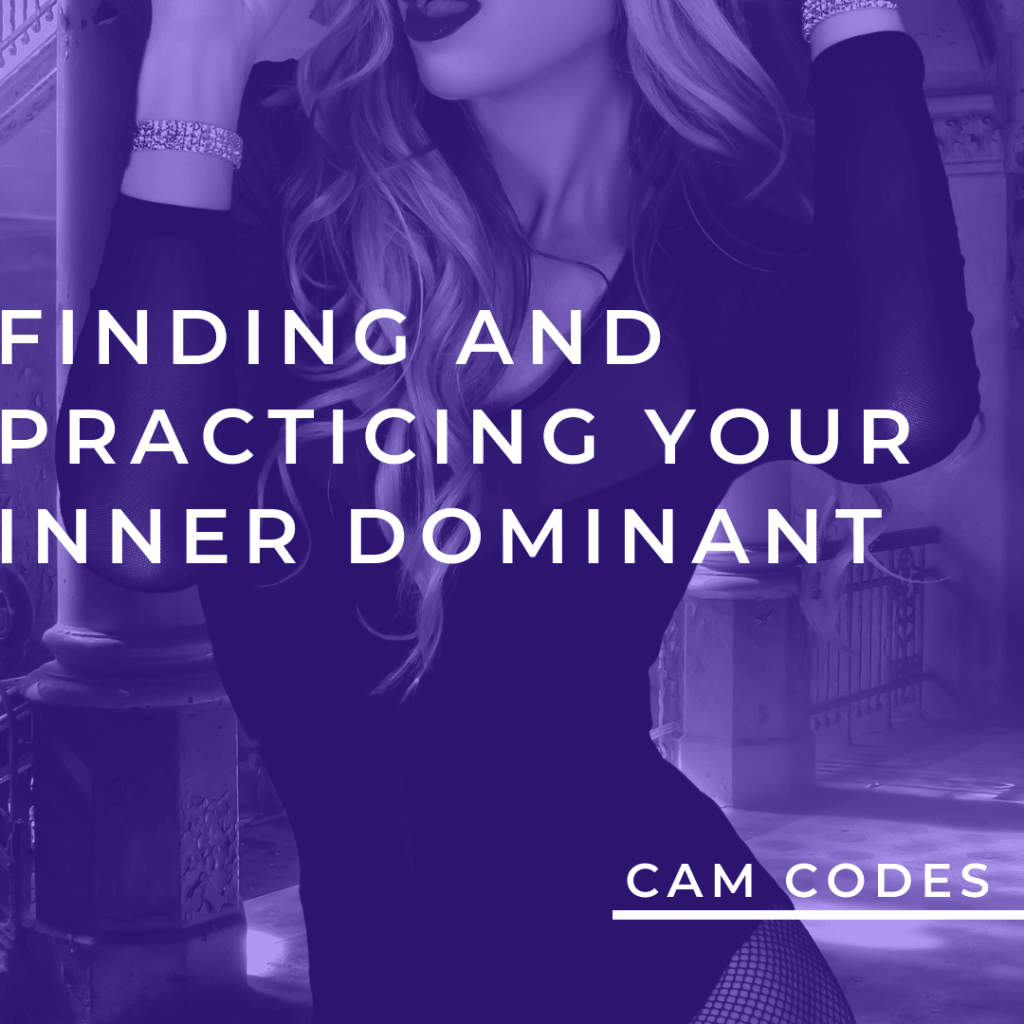 Let me start off by saying that if you feel uncomfortable or unhappy with performing dominant sessions on cam, then you don't have to. You have the freedom to decide what you do and do not do in this job. If someone asks you, all you have to say is something along the lines of, "I'm sorry I do not cater to this however, there are lots of girls on the site that do. Good luck!" Of course you might lose out on a customer and some extra income, but it is more important to be happy within your job and what you do.
However, if you are keen to bring out your inner dominant or maybe just be able to cater to as much as possible and provide sessions for vanilla, submissive and dominant customers, then here is my advice on catering to the submissive customer.
Always find out more.
I can't stress how important this part is, it's all very well being the boss and in control. If you're not actually aware of what they do and don't enjoy, then you could end up pushing boundaries too far or just simply not heading in the right direction with the session. Find out their kinks and find out their limits. Maybe they love to be humiliated but don't like any sissification or pain.
Confidence
You want to be instructive and directive but most importantly be confident within yourself. Do they think you're a perfect mistress? Tell them you damn well are, tell them they wont be able to get you out of their mind, tell them that they will keep coming back for more. Don't mistake this for cockiness, it's not quite the same thing. Submissive's like to look at you as an empowered female; strong, beautiful and capable. Make sure you show them that you are.
Domination vs. Humiliation
I recently saw a documentary on Youtube about cam girls it was called, "DOCS: Webcam Girls." However in this, the narrator described sissy's as "Men that love being treated badly" this is a really inaccurate, generalised and if anything quite an offensive definition. First of all, it is important to remember that not all submissive's actually want you to be mean or humiliate them, that is actually only a very small percentage of domination.
This is also not at all the definition of a sissy, the google definition of a sissy is "a person regarded as effeminate or cowardly." Within domination and the sex work community this becomes more specific to the effeminate side of things but this doesn't mean they want to be humiliated or "treated badly." If they do, they will say that their kink is "sissy humiliation," but it does not mean the two things automatically go hand it hand. This is relative to all domination, do not assume that domination and humiliation are the same thing.
Don't ask it, state it.
Once you've found out your customers kinks AND limits, you shouldn't really need to ask many questions. Don't ask them to do something, tell them to do something without any hesitation or uncertainty in your voice. However this doesn't mean you shouldn't "check in" with a sub, especially if it is an extreme session or involving pain but this can be done subtly in between your demands and statements.
Finding Your Inner Dominant
Be the most coherent, confident version of yourself. Be sure of yourself and your decisions. I honestly found all these things a little hard at first, especially decisions but then it just flicked like a switch. If you're really struggling, why not dress up in some bondage and leather gear, listen to some sassy and empowering music and maybe even role play your demands in the mirror if you want to. Honestly, I've found the best way to become confident with your inner dominant is through practicing sessions.
After Care
This cant always be provided if your customer is in a rush once the fun bit is all done, but sometimes subs will want after care, or may even come back for after care in a future session. After care is particularly important if you've just finished a heavy humiliation session. Once the play is over, the nurturing side of the dominant comes out a little more and checks in with the customer to see how they found the session and what direction you'd both like to head in for future. This can also simply be having a chat, a laugh, talking about your favourite TV shows and simply just providing human connection.
The Four Archetypes—Mistress Damiana
Mistress Damiana has a phD in psychology and as well as being a professional dominatrix with her own personal experience she created the four archetypes for being a dominatrix; The Authoritarian, The Seductress, The Mother and The Goddess. I discovered this research through a short Vice Documentary called, "I Became a Dominatrix to Control My Anxiety" and I highly recommend you watch it (link will be at the bottom) not only to find out a little more about what these archetypes mean, but its a very interesting documentary.
Domination might not be for you but if it is, then it can be a very empowering and confidence building route to go on through out your time as a webcam model. If this is something you think you will enjoy and feel comfortable doing, then hopefully this can guide you towards your journey of finding your inner dominant.
Read more for definitions, kinks explained and resources.
Domination Definition
BDSM—Bondage Discipline Sadism and Masochism
Sadist—One gets pleasure from inflicting pain upon others.
Masochist—Gets pleasure from being in pain.
---------------------------------------------------------------------------------------------------------------
Kinks Within Domination
Definitions and explanations: Please keep in mind that these are not all the kinks and fetishes within domination. These are just some of the most common.
JOI (Jerk Off Instructions) - Please read "JOI - The Basics & Beyond" for more.
SPH (Small Penis Humiliation)- Please read "JOI - The Basics & Beyond" for more.
CEI (Cum Eating Instructions) - Please read "JOI - The Basics & Beyond" for more.
CBT (Cock and Ball Torture) - Please make sure you do a lot of research before performing this kink for safety reasons.
Smoking Fetish - This may just be watching you smoke, but can also include the human ashtray role play
Foot Fetish - I don't really need to say much about this one, do I?
Leather/Latex/PVC/Vinyl/Shiny Fetish - Any of these materials are popular as long as its got that black shine or leather look to it but latex is definitely the most popular and evidently the most expensive, most difficult to get on and the hardest to keep in good condition.
Boot Fetish - Most often black leather boots of all heights but particularly knee and thigh high. I have seen Doc Martens floating about the clip scene once or twice, but I don't think they're as popular.
Trampling Fetish - Often combined with boot fetish or foot fetish AND even sploshing (getting messy with food) but this is literally trampling on things this might be trampling on another person (safely) or squishing a banana between your toes or trampling a Ferrero Rocher underneath your high heel, which if you ask me is just way too delicious to destroy.
Body Worship (ass, boobs, legs, feet) - Just show off your body, your customer may want to focus on a particular part, feet and ass are the most common.
Tease and Denial - This is teasing at its highest level you can play with this both in a stripping sense but mostly denying him to cum.
Edging - This is very similar if not the same as tease and denial... Edging is when you bring your customer right to the edge of orgasm and then not allow him to cum. You can get creative with this, bring it into JOI and tell him to stop stroking and play games.
Confession - Plain and simple, customers like to confess things to you, these are often taboo subjects or is humiliating about themselves.
Cuckolding - A cuckold is someone who enjoys to watch his girlfriend/wife have sex with another man, usually an alpha man. This can be considered both mockery and like most kinks within domination, giving away control. When a customer talks about cuckolding in a session, he usually wants to talk about his current partner sleeping with another man or he might even want to discuss the idea of you cucking him with an alpha male and showing your customer he is inferior.
Humiliation - This is usually verbally humiliating or setting tasks and they're usually very extreme but always ensure your customer will be safe.
Sissification - Names, dress ups, tasks. How can you effeminate them? What can they wear? Can they wear make up? Nail polish? Shave their legs? Whats their perfect sissy name?
Pet Play - This is where the collar and leash tends to come into play, a little puppy pet sub who wants love, but also wants to be led around and commanded and know its place. Dog food bowls, beds and toys are also good props for this kink.
Chastity - Lock it up, cage it up, don't let that thing out. It doesn't deserve to be touched. This is also where key holding will come into play, a sub may want you to hold ownership of their chastity key so that you can tease and torment him with it as well as own it.
Financial Domination - This is where subs get pleasure from giving you money, it sounds crazy to most but it really does exist, if you think about it, money is the ultimate exchange of power. Of course fin-subs are like needles in a haystack so try not to focus too much on this fetish but it is definitely a fun one when it comes along. You can make lots of games out of this one.
Ignore - They don't deserve your attention, they aren't worthy. Get on with your daily life, drink your cup of tea or your glass of wine, take some selfies on your phone.
Homewrecker - This is a taboo infidelity fetish where the customer wants you to tell them that you are better than his wife in every way. That they should leave her for you because only you can truly please him.