Fat Folks Guide to Pleasure
Fat Liberation and Sex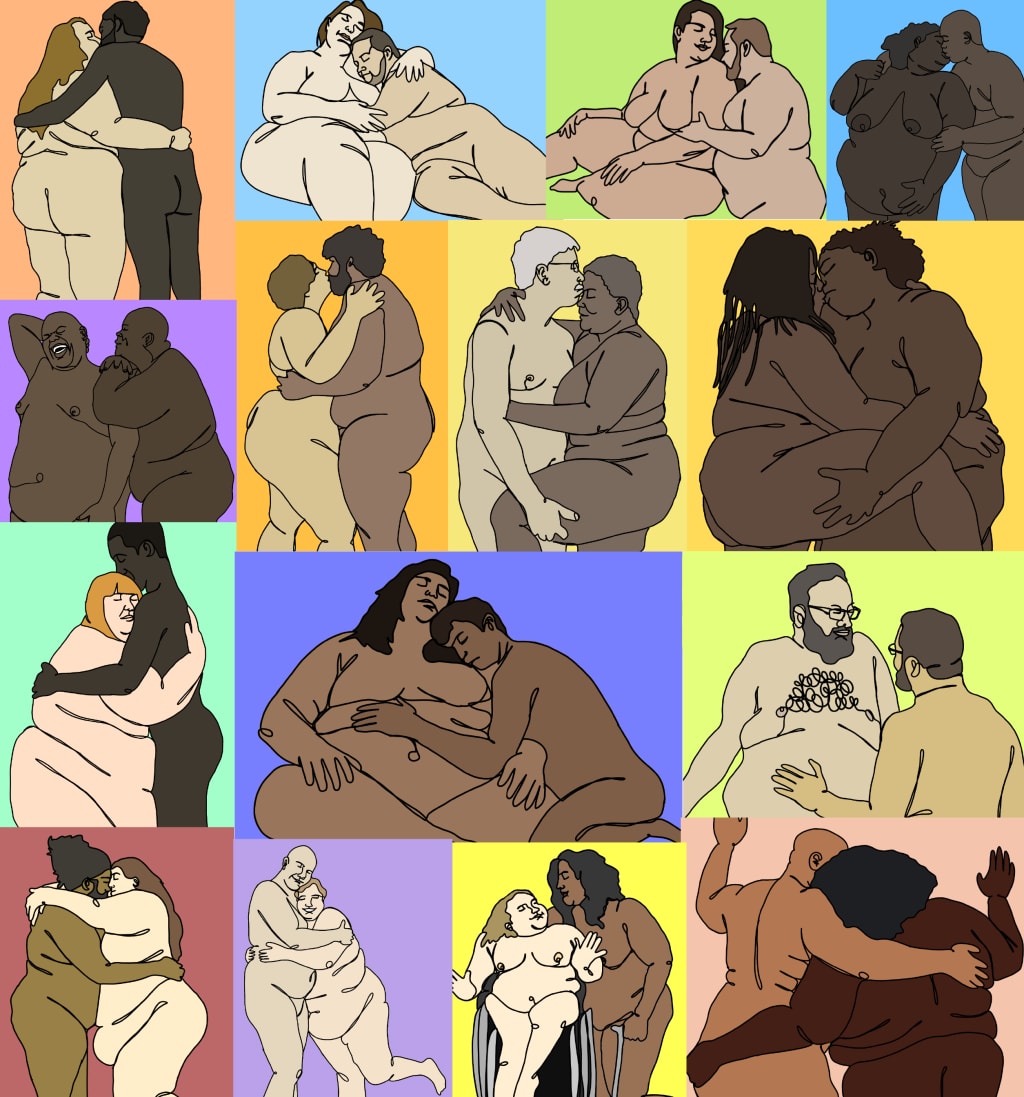 Creator: Livie Hollander
Being in a bigger body is a beautiful thing. But, unfortunately, not all of society is caught up yet. Learning to love your body in all its glory can be tricky, especially when exploring your sexuality and pleasure. Those of us in fat bodies often receive the message that we don't deserve to love our bodies or aren't 'sexy,' which is RIDICULOUS! Sexy knows no size, and neither does pleasure. So, wherever you are on your pleasure journey, here are some tips and tricks to help from your fellow fat friend. (This article is may be geared more toward people with vulvas.)
1. Creating a safe place to explore your body.
Creating a safe and relaxing space will look different for everyone. Whatever it looks like for you, make sure you feel safe, comfortable and relaxed. This is your time, so get comfy, set up some pillows, dim the lights or light a candle; seduce yourself! Give yourself time and patience, and try not to rush or pressure yourself; the goal is to become comfortable and find things that feel good. As you explore, whether with yourself of others, remember, feeling good doesn't mean you need to finish every time. Focus on exploring your body and being in the moment instead of pressure or possible frustration you may feel if you don't get to the finish line. Find positions that are comfortable for your body. Explore lying down, sitting up, leaning to one side, kneeling, etc.
2. Don't be afraid of the belly!
All bellies are beautiful bellies. Don't be afraid to make adjustments and move your belly as you need to. Sometimes, reaching certain areas over a big, beautiful belly is hard, so try moving your belly around for easier access.
3. Books.
Information about sex for fat bodies can be hard to find. The key to fat-oriented sex education is finding content made by other people living in fat bodies. A great book to start with is Curvy Girl Sex by Elle Chase. She celebrates fat bodies of all genders and sexual orientations. She specifically discusses some of the challenges one may face as a plus-size person, like having a bigger belly or limited mobility. She writes about solo and partner sex, toys and other accessories and includes very cute and helpful illustrations along the way.
4. Exploring the world of toys, aids and accessories.
Exploring the world of sex toys and accessories is really exciting. As we discussed before, comfort is essential. Whether solo or with partners, pillows are your best friend. Pillows can provide comfort and support and help prop you up for easier access. Wedge pillows are an excellent aid for limited mobility challenges, one of the most popular being the Liberator Wedge. This is a sturdy foam triangle-shaped pillow with less give than ordinary pillows, meaning it can provide more support. The Liberator Wedge specifically can be pretty pricey and this style of pillow is used for mnay things. Try doing a Google search for wedge pillows and you may find more afforable options. The type of toys you enjoy is very individualistic. A helpful thing to consider might be items with a longer handle, making them easier to maneuver while staying comfortable.
Everyone deserves to feel good in their bodies, and exploring your sexuality can significantly improve your connection with your body. Learning how to pleasure your body is fantastic and empowering! Knowing what makes you feel good can vastly improve your sexual experiences. When you know what you like, you can communicate that to your partners, making sex better for everyone involved.
Best of luck on all your pleasure endeavours!
Reader insights
Be the first to share your insights about this piece.
Add your insights