Fantasies
Is this the real life? Is this just fantasy?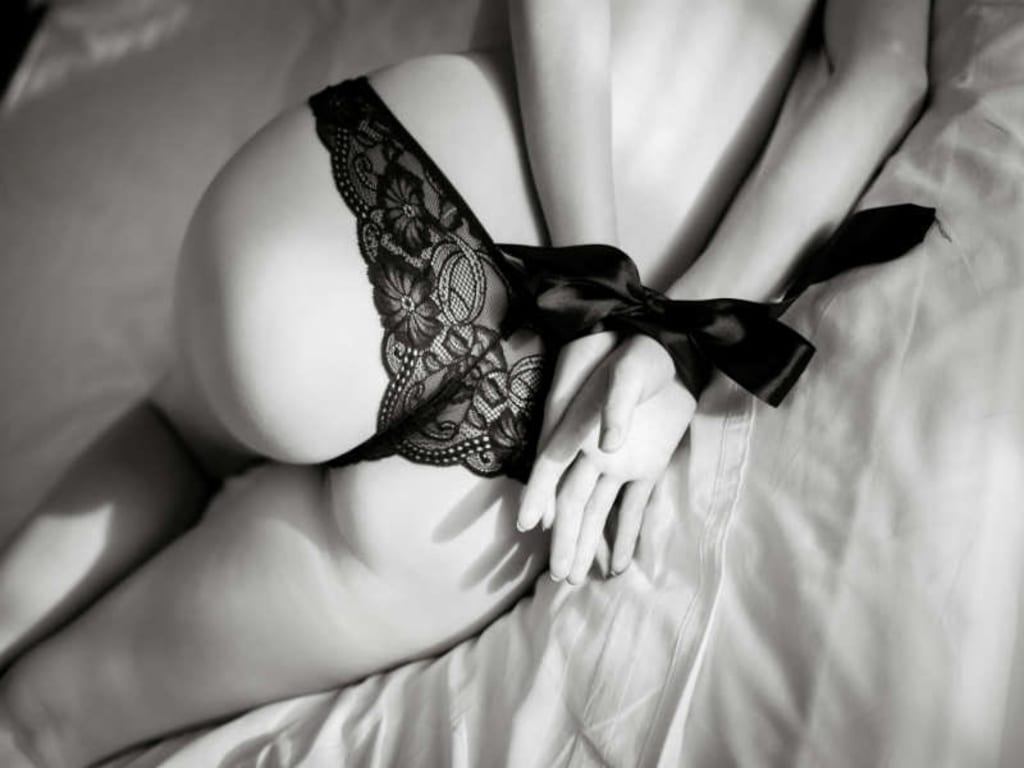 Do you seriously want to try something new?
Or is it just a fantasy?
Today we are going to debunk myths surrounding common (and not so common) fantasies. I'm not really going to talk about "vanilla" fantasies (i.e. sex with a hot man/woman whilst the sun is setting), although these are great too, if that's what you're into.
To start with, let's get this clear: it's ok to fantasise about things… it's NORMAL. You don't need to feel ashamed about fantasising. Also, in most cases, the difference between fantasies becoming reality is communication with your partner, trust and confidence.
I've been lucky enough to be able to live out most people's wildest fantasies, so I've decided to share some of my experiences. Hopefully, this will either help to convince you to go and try new things or even give you naughty ideas that you hadn't thought about before. Just before we start... today's post may be explicit and contain scenes of a sexual nature. :p
Threesome (FFM)
Many men and women have this fantasy. Usually it's a couple who want another female to join them for fun. These single females have a name: Unicorns. The reason why they are called unicorns is because they are the rarest of creatures, a single, bisexual female who is willing to play with both halves of a couple. Having said that, they are not impossible to find. My main tip for finding a single bi female is to use a swinging site and be respectful. Don't use language that implies the female will basically be a new toy for you and your partner, it's a massive turnoff. And remember most women will only play with a couple if they are attracted to both halves of the couple.
This fantasy is also common among men. A lot of men fantasise about having two women to themselves, and as far as I'm concerned, this is a normal male fantasy, but the majority of men either don't know how to achieve this or don't have the confidence to ask. The easiest way to go about this would be to attend a swinger's club. The sites are great, but if you think two women are going to jump into bed with someone they potentially haven't met before, then think again. It's really hard to achieve this fantasy by searching online (unless you are paying, which I would say is cheating really). It is much easier to do it in person, and I have known several guys to achieve this in swinger's clubs. My tips for you guys: be polite, not pushy, and make friends, as this will get you a long way. If you just ask for sex, you are not going to get it. You still have to be flirty, show respect and have a good time.
Threesome (MMF)
A lot easier to come across, there are lots of single guys who will happily join a couple to share the women of the couple. When seen as an MMF, it usually refers to two straight men sharing a woman. This usually involves a spit roast, double penetration or even double vaginal penetration. These are very easy to arrange, but you might even be able to just ask a male friend if they want to join in. You never know, you might get lucky.
Some women have this fantasy too, two men satisfying her, because what's not to love? The same principle goes for finding men, it shouldn't be too difficult. Not many men will say no to a threesome if they are interested in you.
Threesome (BI MMF)
I have separated this one as a lot of men are adamant that they are straight and therefore won't participate in a BI MMF. This is more of a niche fantasy. An MMF where the men fuck each other as well as the woman. It can be highly erotic and a massive turn-on for some. This is one I still need to fulfill.
It is ok for men, women or couples to have this fantasy, more common among the gay/bi community. But some straight people do have this fantasy. Does that make them gay? NO it does not, it doesn't even make you bi. It might mean you are a little bi-curious, but there is nothing wrong with that, and in fact, a lot of women find bi men a turn on, so it is definitely nothing to be ashamed about.
Gangbang
A gangbang is a common fantasy for both men and women. It is normally where one or two women have sex with five or more men at the same time. So commonly, a woman would be fucked whilst also sucking dick and having dicks in her hands all at the same time. The guys will swap around to different positions as desired. It can be an erotic experience all around when done correctly. Personally, I would make sure that the woman trusted a couple of the guys there. This is for safety purposes. Make the rules clear before you start, such as making sure everyone wears condoms and designating any acts that are off-limits. There are different ways to organise a gangbang. It's is common to hear of hotels being used to arrange gangbangs or swinger's clubs. If you don't know where to find people for your gangbang, you should post up the event on a swinging site or an adult sex site. Trust me, you should get plenty of offers. Always invite more guys that you require, as there are sadly always a few that change their mind. My gangbang was in a swinger's club on my second visit. I met a gentleman there, we played alone for a bit, and then he took me upstairs onto the four-poster bed, which is open for everyone to see. We agreed that if guys asked to join in, then we would let them, and it very quickly became a five-guy gangbang. It was very safe, as I was looked after, and it was very erotic. The bed also had a cool mirror one the ceiling so it was like watching myself in a porn film. Very fun.
Remember to always be safe. Some people even have a trusted friend as a bodyguard-type person to make sure nothing goes wrong.
Hareem
This is the standard fantasy for a lot of men where a single man has multiple beautiful women to play with at the same time. It also usually involves some bi female play. These are a lot harder to come across. However, have no fear, I've seen it happen, but I have only ever seen it happen at a club when a regular guy at the club has made friends with several women and gets the opportunity for them all to join him at the same time. Yes, it is rare, but it does happen on the odd occasion. I have taken part in a couple, and it's a lot of fun seeing how much pleasure the guy gets from it.
Roleplay
A common fantasy involving dressing up and assuming another identity for a session. Some ideas include cops and robbers, superheroes and villains, aliens, handymen, teachers and school girls, secretaries, maids, and many more. It's important to plan your costume to help you get into character and just have fun with it. This is something you can easily do in the comfort of your own home, and you don't have to worry about finding other participants or being seen. Have fun with it; some people even act out a whole scene. It's not my thing, but people who are into it love it.
Domination
I will cover this in more depth in another post, as I want to do it justice. Both men and women fantasise about being dominated/controlled or being the dominator. Where the fun begins is when you start to introduce this in the bedroom setting. Again, this is something that can be done in private or in a club setting or fetish club.
Watersports
This is a slightly less common fantasy. Watersports involves urination: either urinating on someone or being urinated on. People interested in this find the thought of it a massive turn-on, but it's not for everyone. It can also involve drinking urine.
Squirting
Sometimes squirting is tied in with watersports and sometimes it's separated. This depends on people's view on squirting, and also their view on what squirting is. I will cover this in more depth at some point. Some people fantasise about a woman squirting over them. Again, this can be highly erotic. If you are one of the lucky people to find a squirter, then you will know what I'm talking about.
Orgy
An orgy is where a group of people all have sex together. Expect there to be hands everywhere, dicks in mouths, clits being licked, boobs being sucked, swapping partners and much more. The orgies I have been involved in have been more spontaneous orgies at clubs rather than organised, and they were a lot of fun to take part in. As with the gangbang, I would make sure there are some people there that you trust or that you are in a safe environment such as a club.
Rough sex and rape fantasies
Now people do have these fantasies, and I've no doubt there are people willing to partake in them. However, I must warn you that if you bring them to reality, they can put you at extreme risk. You are at risk of being hurt, and if using strangers, they may very easily go too far. Please, please, be careful. I recommend leaving this as a fantasy.
Bareback sex
This can be applied to all the above, however, this is one that I would keep as a fantasy. It is one thing to experiment and have fun, but you should always be cautious of the risks. I would not recommend putting yourself at risk by playing bareback in a group situation. Save that for your regular partner, because it's just not worth it.
I hope this inspires lots of naughty fantasies. Just remember to always stay safe. If you are wondering how to get your partner interested in making these fantasies a reality, then talk to them. The only way you can do this as a couple is to communicate with each other and be completely honest with each other. If you are single, crack on and have fun.
**Tip—Never try to fulfill a fantasy without involving your partner. It will only lead to distrust and broken relationships.**
Don't forget, there is nothing wrong with playing with others, as sex and love are two different things, but communication is the difference between a bit of fun and cheating.
Kink x