Erotic Fantasy
Lost In Thought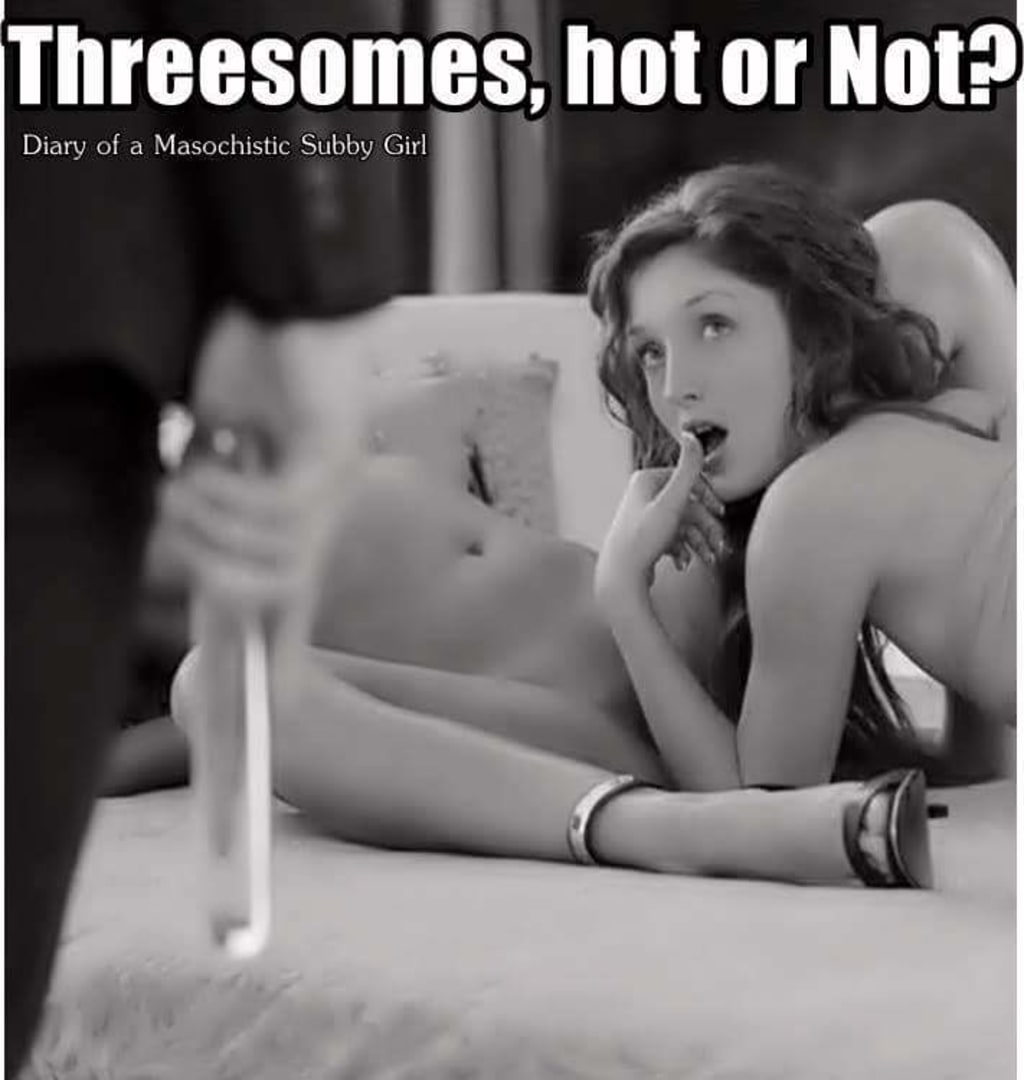 He starts rubbing me with this oil as my shirt is lifted over my titties just a quick assessing I couldn't take the shirt restricting me....so i take it off. My top is off and my pants of a thong are on with my legs spread as he sit behind me. Rubbing and caressing my lubed up titties perky as ever getting really turned on and hot for him...He starts to get his fingers across the top of my thong just rubbing my vulva and clit as his hands rub over my thong I start to get soaking wet for him. The girl walks in surprised with a nice size dildo in her hands and another man walks in behind her with blindfold and ties...What's going on her I wonder was one of my fantasies about to be fulfilled by this beautiful tattooed woman and this hot man she stood beside with. My man behind me persuades to still rub my pussy over my thong and the woman tends to kneel down right in front of my pussy. The other man holding a camera automatically start to hit record. I had no idea this was one of man's fantasy was to have a foursome...either way the couple was very hot and fuck-able as I would put it...my man suddenly holds my legs from behind, bringing my thighs up to my chest exposing pussy in front of this beautiful woman he restrains me. The camera man start to pull his 9 inch dick out and puts it in front of the girl as she starts to suck his long thick cock he records her slowly her taking him in her mouth then she takes the excessive spit moves my thong to side and spits it on my clit and has it run all the down to anus. I moaned load as she adjusted her mouth toward my pussy as she even became anything. The sex energy was hot from her mouth to my pussy. My thong moved to the side exposed my wet juicy pussy glistening and shimmered of the camera lens. The woman spreads my lips as she explained how "Wet my pussy was and how beautiful it was" " I can't wait to have you in my mouth baby girl" I thrust my position up toward her mouth as the anticipation killed me...to wait for her mouth to reach my pussy...she turns toward the camera and presents to suck her man as I watched and being uncomfortable in this position my man starts to rub my chest and nipples so perky and hard. He starts to get hard underneath me...I quickly adjust myself and try to get out of this position and she sees me jerk...She once again spits on my pussy again...Leaving a string of spit from her mouth to my pussy...I speak "Come on!" getting ready irritable of this sexual tension building up. She starts to run the jelly type of textured dildo up and down my pussy starting with my clit to my anus getting the line all lubed up even more....she starts to circle the dildo around the opening of my pussy slowly inching it in there and out again...My pupils dilate in delight of the pleasure that waits for me...She then puts her tongue at the side of my thigh and bites my inner thigh as my heart rate and breath start to pick up...I begin moan just so little that I didn't want to surrender my pleasure to her. Feeling like it wasn't except-able to let her have it...she only has the dildo half way in where my pleasure begins to heighten of the fact my man is watching this all go down. Me giving up my pleasure and surrender to this woman I just met not so long ago, I let her in.. I'm getting my clit slowly licked as I let out a long interesting moan that seemed to be let go from so long tension built up. I let go a long breath of built up anticipation.
As my thighs are hung at my chest...my man seems to be so turned on that the fact this woman and man are involved our bedroom...The woman is beautiful with red hair and tattoos on her chest..with mixed skin and dimples piercings. I'm so attracted to her I never found myself so attracted to a woman in my life. Especially one that knows how to lick pussy the way she's doing to mine..is she bisexual? A lesbian? Who cares the way she giving me attention I don't want this to ever go away? Where did they come from though? I don't know but apparently my fiance found them somewhere and they've seemed to be down for this sexual favor I'm receiving. She beings to twist the dildo in and out of this special pattern she thought of. Leaving some nice clumps of white thick cum already on the side of the dildo I see when she thrusts it out of me...she begins to pick up the paste giving my body a type of momentum as I bounce back on the dildo....sucking it in. She takes out the dildo and put it on my floor and then puts her face into my pussy. I feel her thick lips over my clitoris as she hums in a great rythum I flex in a reaction of a vibration she putting through my body. I put my hand over her head to keep her doing it...As my moans become so load my voice starts going in and out from the exhaustion of trying to scream....My voice becomes hoarsy in way of my moans..." Eat that pussy baby....she start moaning as her fingers enter me and start stroking my G-Spot and her tongue raising up and down all over my clit...Sucking and sucking with her mouth over my clit. I feel my finger nails digging into her sculp as she moving me up and down on the bed from finger-fucking me so hard on the bed. My man is still holding my thighs to my chest as he playing with my nipples which is really turning me on. I look directly in the camera as it's on my O face for whomever to see I don't care she's doing work. I begin to start squirting a little as she puts her tongue over the stream as it get higher....I start screaming in pleasure as the stream shoots across the room and I ejaculate all over her face as she takes it still finger fucking the shit out of me. She starts to swollen my shooting cum into her mouth as she's been my girlfriend this whole time..I groan in the sight of seeing her take me in....and then have her man come over to flip me on my stomach and take my fiance in my mouth as I'm so horny and I love to suck my man....My man has never been so big in my mouth as I feel a slap on my ass at the same time I'm knelled over my man to give such amazing blow job...Her man entered my pussy from the back as I gasp from the feeling of him enter me and she start to eat my anus with my cheeks spread as far as they can go.... I'm taking on this task of being fucked and my asshole ate out at the same time I'm sucking the shit of my man cock as he fills my mouth and gag's me so good.... I come up for breath and moaning in such greatness of his cock in my pussy and her tongue surprising my asshole as she conducts the back side of what she likes...Giving me oral circles of her tongue and conducting to take his penis out as she wanted to put her tongue where his dick was in my pussy hole...Licking the shit out of my entrance of where his dick was just trusting the shit out of my she directing it back inside of me as I gasp even loader for how long and hard it went in....I want her...her body was beautiful with this brown lips and brown nipples I want her bad.
To share my man I knew there had to be risking so I had her lay with her head off the bed to give my man head as I wanted to give to her....but, I thought of something different. I wanted my man to fuck her while I ate her out and that was always a fantasy. Talk about sharing is caring. This would be my first time ever touching a woman like this...man she was a woman...Beautiful pierced nipples with that mixed skin and oval glow. I loved this woman whom was now going to be one of my lovers as well as my girlfriend..A god sent was coming just to make sure I made her cum was all about me showing appreciation for what she did for me. Not even knowing me. She wasn't the jealous type either she wanted to share pleasure too. Her dirty talk to me was actually what I wanted to and for her to call me baby girl that's right...I was. Her eyes being almost aqua/greenish made me melt just as much as I told her to lay back...Her pussy was already dripping from wetness when I got down there. Explaining to her this was my first time...I begin to separate her outer lips and take the tip of tongue and nick her clit gently just barley getting it...she squirms immediate her moan of "Oh my" she expressed..I take my tongue and flatten it as I lick from her opening to her clit nice and slowly. Giving her a whole wet variety of love. I curl my tongue and start going in and out of her pussy hole and rub her clitoris in a circular motion and then slapping it with the wetness I provided. I grab some oil and she's taking on my man's cock down her throat like she can't take it. Gagging. I have him sit back so it's easy on her and have her lick his balls. Gracefully she thanks me...the lube I supplied all over her chest and down her stomach to her pussy...as she quivers in ecstasy. She stops licking him to rest herself as if she's never got this type of attention before she seemed distraught, emotional. I start to rub her chest and caressing my fingernails along the sides of her body. My move my hands up toward her breasts and massage her beautiful boobs in my fingers...taking the tips of her nipples through my fingertips and pinch them gently...I move my hand down her stomach and over her vulva as I spread her wide. Taking her in mouth again with a slow approach. Humming her in my mouth I taste her as she tastes of something sweet like a pineapple. I flick my tongue against her clit and I insert 2 fingers just about 2 inches deep in her wet, tight pussy. Her pussy sucks my fingers in further wanting me. I stroke the ridged spot of her feeling the dime sized G-spot..I start to tap the upside of her G-spot as I suck her deliciously in my mouth. The boys have stood back to watch this erotic pleasure for her. Her man is still filming as he's drooling in his spot. My man has his hands over his mouth stroking his chin in concentration like he was directing or wanting to. Watching us in erotic movie we seems to take these men back to an education video if you will on how to perform oral and give an erotic massage at the same time type of lecture. In offering her the most present pussy massage ever.