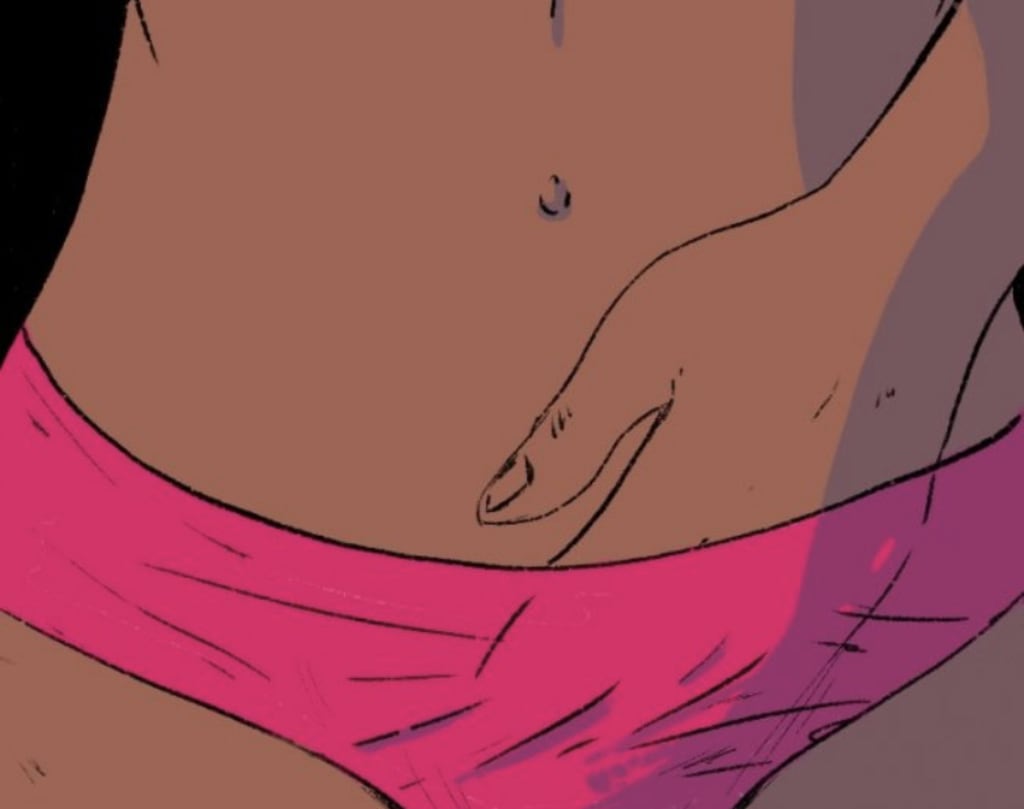 Edging involves cycles of increasing sexual stimulation and stopping just before the point of orgasm. People can perform edging alone or with others. The "edge" is the point just before orgasm. People practice edging to reach this point multiple times during sexual activities.
So is it for you?! That is the question! You can do it solo, or with someone else, it is totally up to you! Let's tackle Solo edging first!
You can do this a few different ways! I will tackle how I like to do it last! The first way, is to simply, fantasize, getting yourself aroused and begin to play with yourself, starting off slowly then get increasing the tempo until you get to that point of no return and stop, don't allow yourself to cum! Hands off, relax and do not release! After you have calmed down, begin again! Start slowly again and speed up again until you find yourself close again, then stop! At this point the tension between your legs is building up! Do this a few more times untl you just can't take it anymore at that point, Release, Let it go! I promise you that it will be one of the most intense orgasms that you will ever experience!
The next way that you can this on the solo tip is to watch a video on pornhub or your porn channel of choice that actually instructs you through your edge routine! It is called a JOI, which stands for jack off instructional or Jill off Instruction for females! They will tell you how to stroke or play with what is inbetween your legs, normally while they are playing with themselves as well! They will tell you when to stop, start again, the tempo to go! The control factor is sexy as hell and seeing if you can last through the video adds a certain level of fun and excitement as well! There are 5 minute videos and ones that last up to around 45 minutes! I have actually made it through a 35 minute one! Trust me it is not as easy as it seems, but again, when that release finally happens it is amazing! Make sure that you are prepared for the mess you are about to make, because ladies you will be wetter than a normal solo session and men you will shoot your load everywhere and more than before!
The next way is my favorite! Actually do it together as a couple! You can't touch each other, but you talk each other through this edging session! Watching each other and telling each other when to start and stop adds another level to the action! Remember the longer you last, the more intense the orgasm! When you finally cum, watching the other cum intensifies matters as well!
The last way of edging is probably the hardest, no pun intended, but as you engage in sex with your partner, Do business as usual, but when either of you feel like you are about to cum, you stop all activity, do enough to keep each other aroused, and once the feeling of your release has gone away, get back to it, but switch up the position! Do this a few times until it just isnt possible to hold back and then fuck each other as hard as you can and release! Your will cum hard as hell! So try it out you wont regret it, in fact you will thank me for it! Matter of fact, I think I am about to find a long video and see how long I can last! A 45 minute one sounds good to me, what do you think?
Oh I forgot there is one more way to do this one, actually have your partner play with you and you tell them when to stop and start and stop and start again until you can't hold it back anymore! Then let them allow you to take you over the edge, and as an added bonus let them clean it up with thier mouth! Then return the favor!