Dwayne's Tongue & Andre's Stamina
A Part of Four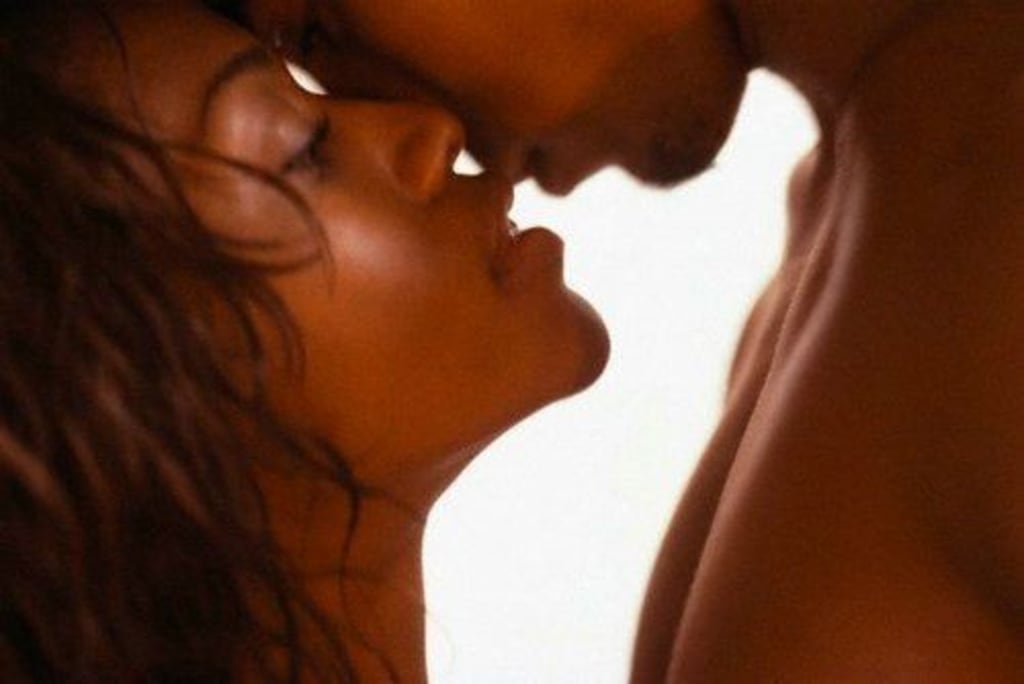 Source: Unknown
Regina and Camille have been friends for 15 years. They navigated the rigors of adolescence, college, and early adulthood together. Even now, as mature women, they are just as close as when they were teenagers. It would be underselling to say that they are just friends. They are life partners in the truest sense, but their relationship is platonic.
Tonight, they sit at their favorite bar. The crowd is mature. The music is slow and effuses baby-making energy. Not just for them, but everyone there. Club Lux is known for its Friday nights. People go there for the 90s and 2000s slow jams. Imagine the atmosphere when the DJ is playing Ginuwine's Pony and Keith Sweat's Nobody.
Yeah! That's the vibe.
One of Regina's favorite songs comes on and prompts her to put her glass of Long Island Iced Tea on the counter. "Watch my drink. I'll be right back," she tells Camille.
Camille didn't need the instruction. She knew where Regina was going. Silk's Freak Me was playing; Regina was going to dance. They liked to joke about how that song always activated Regina's alter ego: Lexi. Lexi is a great dancer, and she's even more bold and confident than Regina. But even more interesting, when she dances, Lexi's body moves like that of a contortionist in heels. It's sexy. And to most -- men and women -- it's unshakably alluring. Once she captivates your attention, there is no looking away. When she dances, her body dominates the room as all gazes are directed at her.
To watch a woman dance the way she does is supremely attractive. She is unapologetic and loses all concern for the world.
As Silk's melody bounces off the walls, so Lexi's body becomes the center of attention. Everyone's dancing, but they can't help looking at her. It's hard not to fall under the spell of her hips and the curves of her body.
The song ends and she smiles her way back to Camille.
"Hi Lexi," laughs Camille.
Regina takes her seat. "I really don't know why I love that song so much. It brings out something in me."
"Yeah, I know. It's fun to watch, and to watch all the people watching you," says Camille.
Regina sips her drink just before two strange men approach her and Camille.
One of them smiles at Regina. "That was a great show. You're a great dancer."
"Thanks," Regina responds.
"I'm Dwayne," he says. "This is Andre," he points at his friend.
"Nice to meet y'all," says Regina. Camille and Andre exchange smiles.
"I'm Regina."
"And I'm Camille."
"Would you like to dance, Camille?" Andre asks with his arm outstretched and inviting.
Camille downs the rest of her Long Island Iced Tea before grabbing his hand and walking to the dance floor. Camille has a more gentle appeal to her. She's attractive in a way that will never fade. Her walk is graceful and light. Her body is lean but full. Her thighs, bust, and hips fill out her halter mini-dress to showcase her round figure. Her dress exposes her back and looks inviting to touch. If you saw her walk down the street, you might stop just to let her pass. Her appeal demanded everyone's respect. And they gladly gave it to her.
Andre's eyes wash over her quickly when she stands up from her bar stool. He allows her to walk ahead of him so he can properly observe her and her mannerisms. He becomes only more captivated by her. Her hair is twisted into a sleek bun, leaving her neck exposed. Andre loves a nice neck. And Camille's was just right.
As they dance, his hands rest on her waist. He doesn't do much else because he doesn't want to overstep any boundaries. His hands beg him to reach for her bum or to even run his hand across her back, but he's terrified of ruining whatever chances he might have with her.
Meanwhile, Regina and Dwayne are talking and dancing by the bar. They are enjoying each other the way Camille and Andre are.
Camille is more comfortable now. You can tell by her moving closer to Andre while they dance. Andre is Camille's type. He has great style as told by his red, buttoned-down shirt, grey plaid pants, and black boots. His ass looks bulletproof, and she feels the strength in his arms as she holds him. His height is comfortable for her: It feels good to grind her butt on him. And she appreciates his grip of her waist; it's secure and respectful. She likes that he is actively trying not to grab below the waist. It makes her want him.
Andre looks toward the bar to find Dwayne waving at them. He and Camille walk toward them, and just then, the DJ starts playing the "Go Home" song.
"Camille, I live three blocks from here so I suggested to Regina that we go there to cook up something to eat. Is that cool with you?"
They'd never done anything like that before. She looks toward Regina for reassurance. Regina gives her a slight nod.
"Yeah sure, that's fine," she agrees.
~~~~~
In his loft, Dwayne, Regina, Camille, and Andre cook and chat as if they hadn't just met. It is easy, and the girls feel safe. They were able to relax into the air of the night. Their bodies draw closer to their men. Andre and Dwayne feel their ease.
Camille and her man have disappeared into their little world, laughing and flirting like teenagers. Their energies pervade the air. It is undeniable. Camille reaches one of her hands toward Andre to cup his face. She wants to feel his skin in her hands. Now that she has, she wants to feel his lips on her lips. Andre senses her desire and leans into her face to offer his lips for a kiss.
Without hesitation, Camille invades his mouth with her tongue. She licks his lips and looks at his face while he enjoys the caress of her tongue. Noticing the sharpness of his jawline, she moves her lips to kiss along it.
As they settle into an intimate embrace, their kisses grow more passionate. Their lust intensifies with each suck of the lips. Andre craves the taste of her skin and decides to grab her neck gently with his teeth, earning a soft moan from her.
Regina and Dwayne are still in the room, but Camille and Andre have forgotten about them. Or maybe they didn't care, Dwayne wonders. He looks at Regina with quizzical eyes, unsure of what to do or say. Regina appeases him by climbing onto the kitchen counter where they're standing and spreads her legs, inviting him.
"Come here," she calls. And he obliges.
She aims her lips at his and licks them gently before sucking on his bottom lip. Dwayne doesn't need much more encouragement. He claims her by wrapping his arms around her waist and pulling her closer to him to deepen their kiss. "I've wanted to do this all night," he professes as he kisses her. He is a great kisser: teasing her lips and sucking her tongue. Regina can't help but roll her waist against him as she did when she was on the dance floor. Lexi always got excited when a man knew what he was doing.
Dwayne holds her by her neck and squeezes gently before he nibbles her chin and kisses her neck. Regina didn't know that a gentle bite of the chin could erupt so much desire in her. Dwayne releases his hold of her neck, and she releases her body onto the counter. She is on her back.
Her itty bitty dress gave Dwayne easy access. He bends over to kiss her thighs before he lifts one of her legs so he can see her pussy. She is wearing a sheer, red thong. Through it, he can see that she is wet.
Andre is excavating Camille's pussy with his dick and tongue, and he can't get enough of her. He bends her over the couch, spreads her ass cheeks and pussy lips for his tongue to invade her pussy and dance over her clit. She is moaning and squeezing the shoulder of the couch. He is relentless as he tantalizes her clit. All the while, Camille is begging for more.
"Don't stop!"
Within a minute, Camille is nearing her first orgasm.
Dwayne is attentive and curious to learn the flavor of Regina's pussy. He buries his face between her thighs to nibble on her vulva without shifting her panty. "So meaty," he moans. He teases her through the fabric, admiring how her pussy looks in the thong. Regina is hungry for more from him; she wants to feel his tongue against her bare pussy. Dwayne lifts his head to look at her, and he is pleased to see the yearning in her eyes. She wants him.
He shifts her panty with his right thumb before using his abnormally long tongue to lick her for real. He is tasting her juice as it oozes from her. With his expert and agile tongue, Dwayne catapults Regina to a climax. No one ever helped her to such an intense orgasm with just their tongue.
"Yes! Yes! Yes!" she moans across the room. He moans with her; loud, but faint. Regina is a slave to his tongue, and Dwayne is captive to the taste of her pussy. Her clit is dancing and prancing in orgasm. Dwayne doesn't wait on her to finish. He raises her off the counter mid-climax, bends her over, and slides his dick inside of her. He reaches his hand around her waist and twiddles her clit. Regina's orgasm intensifies, and she begins squirting. Her body is trembling uncontrollably against Dwayne's, but he continues fucking her as she rings his name through the loft.
After sucking his dick to extreme sloppiness, Camille lies on her back with her legs over Andre's shoulders. He is getting ready to plummet inside of her. But just before he does, she orders him: "Don't be gentle."
With such stern instruction, Andre is compelled to plunge deep inside her warm, wet walls -- not gentle, but smooth and effortless. Stroke after stroke, he reminds her how much she needs him inside of her. His dick suits her tight pussy just right. She can't get enough of him. As he thrusts into her, she pushes her pelvis towards him. Their bodies are in sync. Camille's body is in submission to his dick, and after more fulfilling strokes, Camille feels an energy rush toward her G-spot. She is cumming again. Andre leans over to kiss her. "Bomb ass pussy!"
"Backshots?" she smiles, licking her lips.
Dwayne has Regina against the wall. One of her legs is raised over his arm. Slowly, he thrusts his dick inside her as he kisses her neck. Regina is squirting like a hose. Dwayne is doing her body the justice she knew it deserved. He is fucking her hard. He is fucking her slow. He is kissing her lips, her neck, her breasts, her chin, and her pussy. Dwayne is doing everything a man could ever do to a woman to leave her weak and dick-whipped.
As he dives into her over and over again, he lifts his face from her neck to look into her eyes. He enjoys watching her wince in response to each of his strokes. Her body has taken him to new heights. As he fucks her against the wall, he knows he can't hold out any longer. She feels so good, and he wants to stay inside of her as long as he can. But the cum is building up inside of him.
He looks into her eyes. "Regina, I'm going to cum."
His final strokes are deeper as he injects his lust and pleasure inside of her.
Andre has the stamina to match all Camille's needs and wants. He has ravaged Camille's pussy at her request, and her final request is to sit on his face. Andre lies on his back as Camille climbs onto his face. She's bouncing her ass on his face while he sucks her clit and makes all the noises that indicate he is doing it right. Camille leans over to house his dick in her mouth. She licks the rim of his dick and gargles his balls. His manhood in her mouth, and his tongue against her clit motivates her to moan in expression of pleasure.
Camille is relentless as she sucks the cum out of his dick. She swirls her tongue around his wood without ceasing. Andre curls his toes and bellows her name as he releases his cum inside her welcoming mouth.
That isn't the end of it. Regina goes to Dwayne's room to explore each other further. Andre and Camille are talking about taking a nap before round two. It's an all-night thing.
Camille and Regina have never done anything like this before. This was the start of something new for them.
The End
----------
Follow me on Twitter to let me know what you think of my story, and to get updates on when stories are published. :D
~~~
Another story you may enjoy is Sex Depreived or Just a Nympho?