Don't Allow Negative Self-Image to Affect Your Sex Life
Your sexual performance and pleasure shouldn't be affected by your body image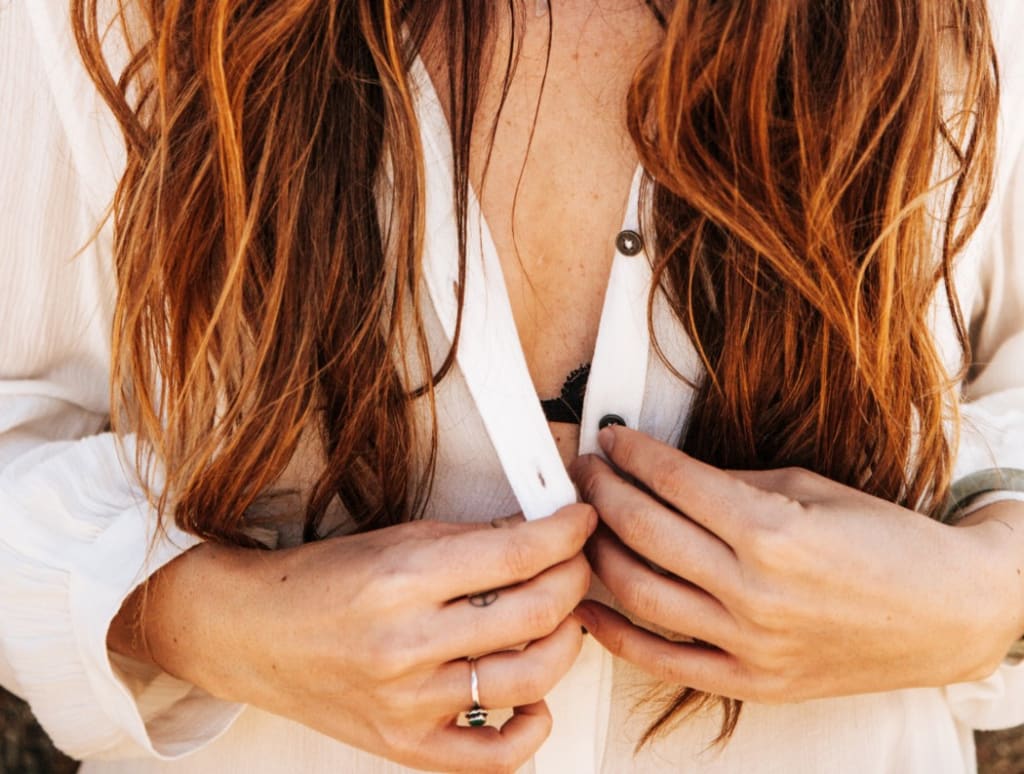 Photo by Pete Johnson, in Canva
I never met a person who doesn't have body issues. My friends have it, I have it, and sometimes I hear random conversations of women talking negatively about their bodies. A negative body image is not exclusive to women: men also suffer from it, but they are less expressive about it, they don't communicate their self-image issues openly.
In my past, I went a couple of years overweight, because of illness (and subsequent medication.) Because I couldn't recognise myself in that body, I never accepted it; I was angry at it. I'd hide it under large clothing, I avoided mirrors, and I didn't enjoy sexuality at its most because I was always alert to my body, on how I could hide my extra pounds. Even with my then-husband telling me he loved me as I was, and that I had a beautiful body, I wasn't able to relax.
Being self-conscious with your body is not the same as being a harsh self-critic
Last year, just before the pandemic started, I had a trapped nerve on my spine, which prevented me to work for months. Then quarantine came. I wasn't able to exercise and being all day in rest, made me gain weight.
I'm not going to be a hypocrite and say I loved my body as it was — I didn't. I hate cellulitis and not having a flat belly, and I wanted my body back. But what I do say is that I don't allow the changes in my body to disturb my sex life, like it did in the past.
My partner, Mr P. loves to see me naked with boots. One day, after having sex on the sofa, he started to get ready for work. I was gathering my things, wearing my boots, a top tank and panties (I couldn't find my jeans and seeing his reaction to my outfit, I stopped looking for it.) I had become a bit self-conscious about the new format of my belly and my reborn cellulitis, but I had promised myself not to let stupid things interfere with my sex life — like body image.
When Mr P. picked up a phone call, and I realised it wasn't a work call, I did the obvious: I went down on him. It's the obvious, right? Mr P. was still naked, sat on the sofa. When he saw me approaching, he knew what was coming. I saw his eyes going through my body, from top to bottom. His smile — while trying to maintain a serious voice on the phone - was delicious: he wanted me. As I am.
At that moment, standing up in front of my lover, I got conscious of my body. But I chose to let go of the absurdity of hiding myself because of it. In front of me, I had a man getting hard just looking at me, hunger for the pleasure I was about to give him. I said to my inner-critic voice to go fuck itself, and I brought my focus to what was happening. I seduced Mr P.; I did a slow dance for him, on my boots, I teased him, and I went down on him, while he was trying to respond to whatever his friend was asking him on the phone. He hung up a moment later, excusing himself with work.
I don't have a "perfect body" (whatever that is), but what does it matter? It's what I do with the body I have that matters! I'm sure that if I had that "perfect body" and wouldn't engage in stripteases or dominating my lover, or having great laughs and seduce Mr P. as I do — with this imperfect body — he wouldn't be so happy in our relationship as he is.
Accept yourself as you are
Self-love is essential in your life, in a holistic way. It affects your self-confidence, your intimacy, the way you relate with friends, lovers and co-workers.
Your body image shouldn't affect the love you have for yourself as a person. Who you are is the only thing that matters.
This doesn't mean you must accept everything regarding your physics, passively. After I healed my back, I started to exercise again and now I have the body I'm used to have. But until I got here, I loved and respected it as it was. I didn't deserve less than that. And I refused to let it affect my sex life.
Negative self-image impacts negatively your sex life
When you have sex, you use all your senses, but sight might be the one more active. Studies show that the majority of women aren't satisfied with their overall appearance. This means that they are probably hiding their bodies from their lovers; that they are thinking about their "imperfections" during sex, when they should do anything but!
I've been there; I know what I'm talking about! When I was overweight, while having sex with my then-husband, I was always alert to the position my body was, choosing ones that wouldn't enhance my extra pounds in the waist, I'd pull the sheets to cover my stretch marks and my cellulitis. Then, after sex, I'd hide my body. From my husband!
There are several reasons so many women can't achieve orgasm, but I have no doubts that a negative self-image is one of them. I know it was for me.
And the curious thing is that men don't mind about women's bodies as much as women do — they aren't so critical as we are. I have no scientific data to prove my statement, only my male friends' perspective and some male writers, like these two examples:
This might shock some of the women out there, but a lot of men, nay, I say most men, like our women to have some physical imperfections.

Those stretch marks that you ladies obsess over? That extra bit of bum fat that you can't get rid of at the gym? You c-section scar? Cellulite on your thighs? Your slightly bushier pubes because you were busy doing 10,000 other things that need to be done and didn't get around to trimming?
We men, like that stuff.
By Average Don Juan.
I personally think that this is when she's at her most beautiful, still until this day — when her beauty is untarnished by the additions of cover-up and lipstick, when her hair isn't quite perfect — when she's beautifully human.
By Joe Duncan
I don't have a "perfect" body, and not long ago I wasn't in total acceptance with my physic, but I refused to let it affect my personal life, in particular sex. I won't hide my body ever again. I am a self-confident, powerful woman; I love sex, and I please my lover, a lot — with the body I have, in whatever shape or form it is.
© 2021 Emma London. All Rights Reserved.
sexual wellness
Writer of many things, thinker of a thousand more. An advocate for positive sexuality.
Her heart is owned by a rescued staffie and by a kinky man.
Twitter @EmmaLondonWrite