Cam Model Diaries
Opening Night...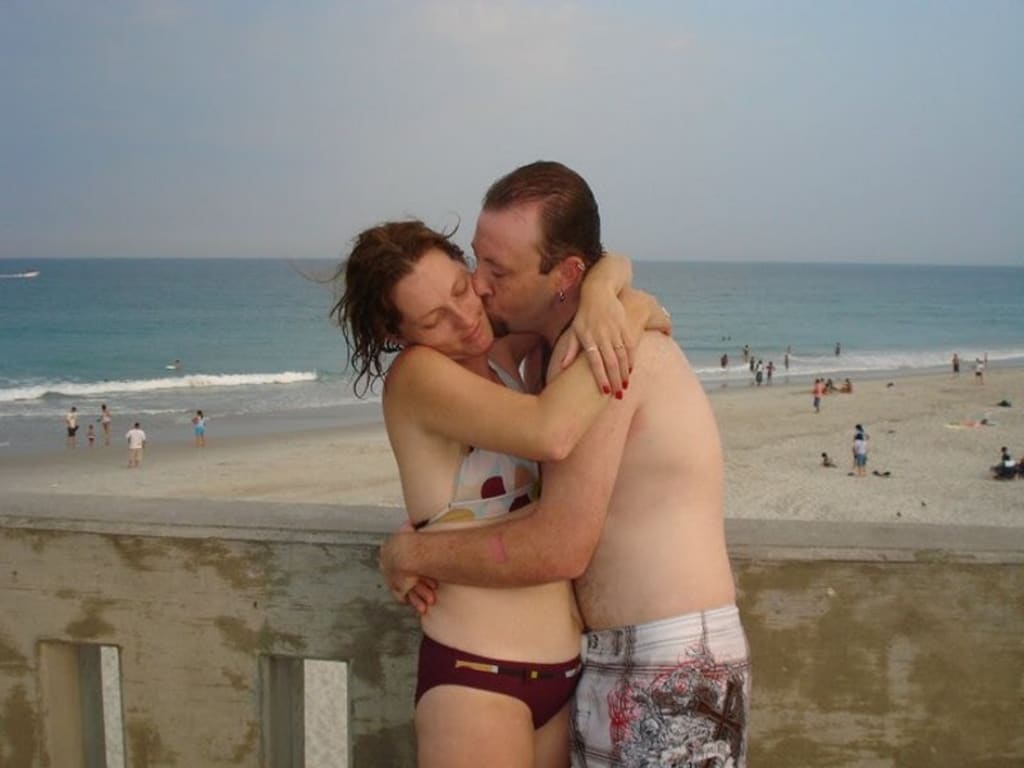 That adorable couple in the picture above is my husband and I. We are just like every other couple. We work hard to pay for our home and take care of our kids. We both work full time 40 hour a week jobs, we are both college educated. Average, respectable people living an average and respectable life. There is just one small difference, we are also online sex cam models. Yeah, you read that right; hard working, college graduate parents are working nights in the adult industry. I want to share the experience with people. It's not at all what I thought it would be like.
For starters I thought it would be simple; fill out a couple online forms, pick a "screen name," upload a pic or two and boom, viewers and dollars roll in. Not that easy at all. There is a lot of behind the scenes work that goes into this, more than I ever realized. There is identity and age verification that is required to be processed fully before you can ever sign into an account. My husband and I had to provide two forms of ID each and wait up to 5 days for that information to be fully processed. There is a lot to learn about how payment is processed, what to charge, what site allows what, and when it's allowed.
There are multiple platforms that a person or couple can stream on, hundreds in fact. The amount of research we put in before ever signing up for a site took a week alone! At first, I thought that all the business might decrease some of the fun my husband and I have together, but to my surprise, it didn't. After combing through the sites, some of which I don't think I'd ever be comfortable being on, we finally decided on a few. We went through a studio to cut out some of the guesswork and they offer a daily payout which is nice. Work tonight and get paid out tomorrow. This really excited us because well, we need money! I believe that was the right decision.
So last night we are finally ready to go live for the first time. We both expected to be sitting there staring at the cam waiting for people to show up for at least an hour. Nope. Within a couple minutes, we had over 30 viewers in our free live chat. By the time we hit the 10-minute mark, we were talking to almost 100 people! You might be thinking we were raking in the cash, but no. This particular site runs the free chat on tips, and we were a little too excited to wait for decent tips. Everyone was very nice. I expected more sleazy comments than we got. There were plenty of nice boob comments but for the most part, people were very polite. We were live about 30 minutes and were tipped 39 tokens. 20 tokens is one actual dollar so not a job quitting night by any means!
Even though we didn't really make much on night one, I am not discouraged. For me it was like ripping off a band-aid, and a learning experience. Tonight I will be more patient and wait for the tips to add up a little more before any of the real fun begins. Can't give away what they want, it kinda ruins the whole point. I was surprised at how comfortable we both were knowing that at the peak there were 157 people watching us live and commenting the entire time, dings going off every time someone tipped us! It wasn't even distracting really.
I guess the question that most will have is what led us to this option in the first place. If you guessed money, you would be correct. We work hard at jobs that we truly enjoy, but those jobs barely keep the bills paid and with four kids' mouths to keep fed we figured we might as well get paid to do something we are doing anyway (we didn't get four kids by accident). This is a multi-billion dollar a year industry so why not get a piece of the pie? We want a life that we enjoy. We want the ability to spend time with our kids and live. Right now we work to maintain. There are no extras, no vacations, light birthdays and Christmases. We want to change that. Doing the math, being live with 10 paying viewers for 30 minutes pays us $270. For one night, less than one hour, that is insane. If you math that over say 25 nights (gotta have some personal time... right) that is an astonishing $6,750 in a single month in trade for being live about 13 hours ( in paid chat). That's one hell of a payout, but it is a payout that you work for. We might be in the live paid room for 13 hours but there is the waiting for those customers, maintaining the customer relationship, checking on the followers, and replying to the emails. That is the tip of the iceberg. Right now I'm actively putting about 5 hours a day into this and we have only been live 30ish minutes. It is by no means a get rich quick thing. That being said if you put in the work, I believe you will see the benefit. There are millions of people doing it right now.
I think that there are a lot of misconceptions about who does this and why they do it. We are not sexual deviants, we are just people. People who want to create a better life for their family. People who want to be their own boss and live a life of their choosing. Isn't that what life is all about anyway? Living the way you want, creating a life you want with the people you want? I say yes, and we do only live once. Shouldn't it be the best experience?