BDSM Erotica: Blind and Bruised
Pain and More Pain: Toy Play, Rope Play, Sensation Play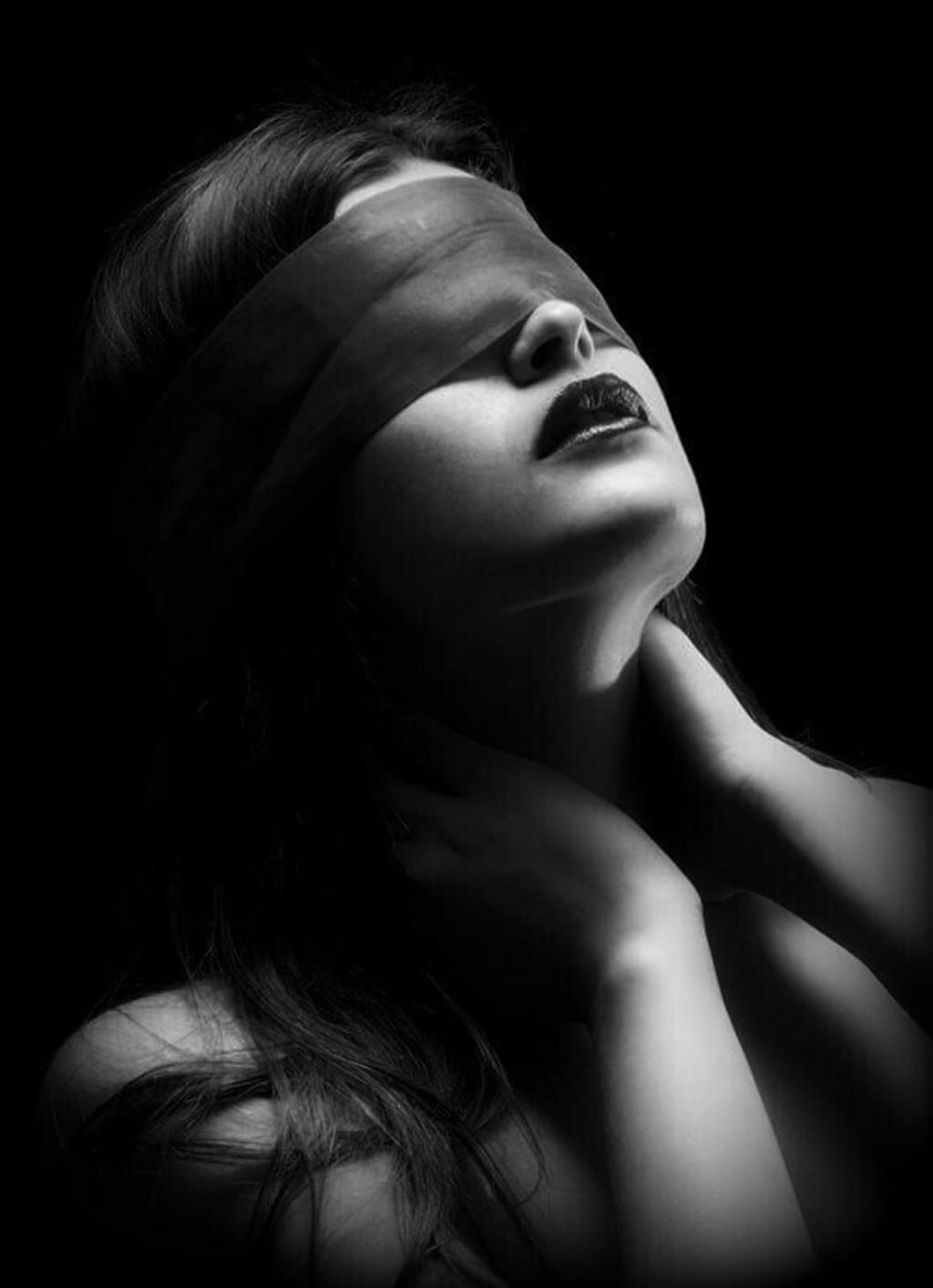 C/o pinterest
I can hear my breathing. I can feel the rise and fall of my chest. There's rope tied around my body, rising and falling in time with the expanding of my lungs, rubbing against my skin. But I can't see, and I can't move my mouth.
Sir had left the room, saying that He would be going to get His toys and be right back. Before He left, He placed a large black ball gag in my mouth, the kind with all the holes so that drool can slip right out of it and onto my chest, and a blindfold around my eyes. My hands were already tied up above my head after Sir had created a simple harness around my chest, neck and hips, with a tie strategically sitting on my clit. I knew this harness, He likes to do it often.
I can feel the smooth, cool hardwood against the soles of my feet, which are about double shoulder width apart due to a large metal spreader bar attached to cuffs at my ankles. I can move my hands to touch the cool chain that I'm attached to by two black cuffs on my wrists, allowing me to hang from the ceiling. He always knows how much I'm into sensation play, and even simply waiting here all tied up like this is making me want Him to hurry up and come back down with His favorite implements for the scene.
I'm craving His pain as I hang here naked. I crave to feel the sweet sting of His favorite riding crop, the swoosh and thud of my favorite flogger, the terrible crack of His oak paddle. I crave to see the look in His eyes after He takes a strike, that look never fails to get me completely soake-
I can hear movement on the stairs. My breath catches in my chest.
Sir's now walking beside me on the left, stopping probably to admire His work, and then He continues walking three more steps forward. I hear soft clanging and soft contact between His toys and the wooden coffee table that I know is about two meters in front of me.
"Are you ready, lover?" He asks, and I hear two more footsteps of Him coming closer to me. I feel His hand lightly graze down the length of my spine, sending shivers through my whole body. His hand cups my ass and gives it three playful smacks. I grin despite the ball gag occupying my mouth and gently nod to indicate that I am ready.
He comes around to the front of me, standing over me probably with the brooding Dom glare that He knows I love so much. A gentle finger under my chin to tip me up to be what I would expect as face-to-face with him. "I like it when you can't speak or see, makes for a good surprise," He says, and I can almost sense how wide His smile is.
"Check yourself before we begin, please," He says. I know the protocol for this. Before a scene starts with Sir, I am to check my comfort with the restraints He's given me — move my wrists and my ankles, move my body back and forth to make sure no circulation's going to be cut off and actually cause me harm.
Teasingly, I arch my back towards him first, showing off my breasts that I know are completely immobile with rope. I feel that rope tighten around them, pinching at the sides of my body. I rise up onto my tip toes and back down again a few times, move my wrists in their cuffs to find the best position to hold onto the chain, tilt my head all the way back and all the way forward to make sure I won't give myself whiplash, move my hips back and forth, feeling the movement of the harsh, coarse rope against my clit, ass, and hips.
I stand still, head looking forward and take my power stance, ready for the oncoming pain. Sir puts his fingertips on the side of my face, making me flinch, and takes the ball gag out of my mouth. "Are you ready?" He asks.
"Yes, Sir," I respond with a huge smile.
He smacks me across the right side of my face, the left side, the right side again with His bare hand. I gasp for air. Coming as close as possible to my ear, He growls, "that's my girl." I shiver as the air passes my ear.
A hard bare handed slap on my ass. I take a sharp breath in through the holes in the ball gag. He lets out a low chuckle at the surprise He's just caused me.
Then I don't hear anything. I count to fifteen. I wiggle my toes.
CRACK – the sound that ensued when the large oak paddle came into contact with my ass. Red hot pain seared through the skin on my lower ass, vibrating through every tendon, muscle and nerve in the back of my legs and up my spine. I gasped. How did He manage to get that without making a noise? I curse in my head.
Catching my breath, I heard another weird sound. Kind of like the flicking of a lighter. Then the bubbling sound of a bong. I hear Sir light a bowl, slowly inhale, then rapidly take the rest of the thick smoke into His lungs.
"Shotgun," He commands, quickly taking the ball gag from my mouth and pressing His lips to mine. I inhale as He exhales, my body feeling the smoke transferring from His lungs and filling up mine. He removes His lips, and I take a little more air in, feeling the coarse rope tighten against my extended lungs and stomach. I breathe out, angling the smoke downward incase Sir was right infront of me.
"Good girl," He says, and I smile, "Thank You, Sir."
He places the ball gag back in my mouth and fixes the blindfold around my eyes. I can hear Him taking three steps backwards, my guess is that He's grabbing something off the coffee table, but He's being SO cunning and slow about every single movement that it's absolutely killing me.
People have always said that I have no patience anyways.
I hear a flogger being shaken, and I can tell by the sound that it's the one I like the best. It's not a stingy flogger, just a nice thuddy one that warms me up and never fails to make me extremely wet. I smile, knowing which toy He's chosen to warm me up with first.
"Flogger," He says, and begins working it around my body. He isn't taunting me with it whatsoever, He's just giving me a lovely warm up. How considerate. I can feel the extensions of the flogger hitting individually, as if every piece of fabric is sending shock waves through my system on contact. I take a big breath in and receive the pain as the flogging becomes harder, more primal.
I arch my back a little bit more as He moves around to the backside of me. One, two, three, four, five, six, seven, eight, nine, ten hits on my upper back and shoulder blades. One loud hit for each ass cheek, then one, two, three, four, five, six, seven, eight, nine, ten hits on each thigh. Ten more hits for my thighs. Ten more hits for my shoulders.
He moves around to the front side of me, where my breath has quickened and my face is pointed towards the floor. I can feel the weed in my head now. It's started at the front of my forehead, but now it's filled my entire head and neck. I smile despite the ball gag.
"Having fun, love?" He asks, to which I raise my head and nod. "Good," He says, and kisses my top lip around the ball gag.
"Riding crop," He states, and the blood falls from my face. I hate that thing. Sir has this riding crop that feels more like a whip and it's made of actual good leather. It's the only thing that can leave a bruise that will last for two weeks.
I brace for impact. Head down, bum out and presenting, hands grasping chain, feet planted on the floor. CRACK, against one ass cheek, to which I sharply inhale. CRACK against the other ass cheek, to another sharp inhale.
I try to catch my breath as I feel the roaring, fiery pain that followed each hit. My poor ass's going to be so bruised tomorrow, I can already feel the blood pooling under my skin.
Three more cracks for each ass cheek. I can feel everything. I can feel every nerve ending in my ass, every warm spot from a flogger, every part of my body vibrating with every hit. Three cracks for each lower thigh, for which I rise up onto my tip toes. My thighs hurt the most, and are the easiest for Sir to bruise.
Take the pain, take the pain, take the pain. Takeittakeittakeittakeit.
Then the crop disappeared. I whistle-breathe through the ball gag. I hear Sir walk three steps. "Thank you," He says, and CRACKS the riding crop against my left nipple, causing me to throw my head back in complete body-taking, mind-numbing pain. Pleasure ensues when the warmth from the hit radiates through my breast. I brace for the other nipple, which I know is coming… CRACK. Head goes back again, big, sharp breath in.
I'm panting. So much pain. I crave more. I crave more of his pain.
I can hear Him walking to the coffee table once more to pick something else up. I then hear Him walking back up to me, then sinking to the floor. Shit, He can probably smell how wet I am from right there.
"Look at the mess I've made already," He says, and I feel two gentle fingers stroking the rope that is running through my legs. Moving the rope down a tiny bit, he feels the small puddle I've managed to create in these twenty minutes of play. "Mmmm, good girl," He says again, I smile.
"Relax for me," He says, and I loosen all my pelvic muscles. My legs are already apart with the bar, so thankfully I don't have to put too much effort in. I hear a "click," and I instantly know what He's doing. He has my Kegel beads with the weights inside that roll around with movement. I know them well from memory. It's a string of two black beads about the size of a ping pong ball, with small, gumball-sized weights inside that roll around. They're covered in silicone with a drawstring to pull them out after.
I take a breath in as Sir inserts one, then two of the balls inside of me. He wiggles them a little bit with the cord that's now sticking out of me, and I can feel the weights shifts around inside. This is going to absolutely kill me. I let out a soft moan and move my head to one side, resting it on my arm.
I straighten up, knowing that every hit from now on will move my body even more and cause the balls and the beads inside of them to roll around inside of me. I brace for impact.
"Ribbed paddle," says Sir, as He walks around to my backside and hits lightly with what I assumed was His black paddle with ridges on one side and flat on the other. One, two, three, four, five light taps, SIX a hard hit, seven, eight, nine light taps, TEN a hard hit. My knees bend from the impact, pussy throbbing while working to support the weight of the balls inside me. Three more footsteps towards the front of me, CRACK a hard hit in the middle of my chest that knocks the breath out of me. I'm panting, trying to fill my lungs with as much air as possible before the next hit.
CRACK a hard hit with the ribbed paddle across my nipple, CRACK the other nipple. My knees are shaking. I hear Sir place the paddle down and take a step back towards me. One hand is on one of my breasts, the other one is slapping the nipple back and forth with a bare hand. He switches to the other nipple.
I can't breathe. So much pain. DEAR GOD every move is moving the balls.
I can almost feel Him becoming a primal animal, hunting his prey. He starts walking around me with the flogger again, and I can almost feel His brooding eyes surveying His territory. Thinking of where to strike next, knowing that He's going to drive me to the point of sheer madness.
More cracks with the flogger. He's rotating now. I know the riding crop's next.
More hits to the breasts and buttocks. More hits. More hits. More hits please more more more please please please give me more hits.
He stops moving infront of my face, and I'm sure He can feel the breath coming in and out through my mouth. He takes the ball gag out of my mouth and undoes the clasp behind my neck. "Thank you," He says, and kisses me deeply, moaning into my mouth.
"You're… welcome.. Sir," I manage to get out between breaths.
Before I could think anything else, He swiftly grabs a tie near my naval and yanks upwards, causing the coarse rope to tighten on my clit and move the beads inside of me. I gasp sharply, He laughs.
"Oh, are these bothering you?" He asks.
"No, Sir." I say quickly.
"Good, because you'll be wearing them for the rest of the night." He tells me. "Yes, Sir." I respond quickly.
"We're going to get you down, get you to shake yourself off and regain feeling in your hands, then you can have your aftercare blanket and sit with me before the next scene. Is that okay with you?" He asks. "Yes, please, Sir." I say with a smile.
I love my aftercare blanket; it's the softest thing ever and feel so nice on my bruised and warm parts.
...also my knees are hardly supporting my weight and my ass is probably five different shades of blue, so there's that. Sir kisses me passionately on the mouth, grabbing my ass from the front and lifting me so the balls move inside me again. I gasp against His mouth and he laughs once more.
"You're absolutely beautiful," He says. I smile so wide. I am His.