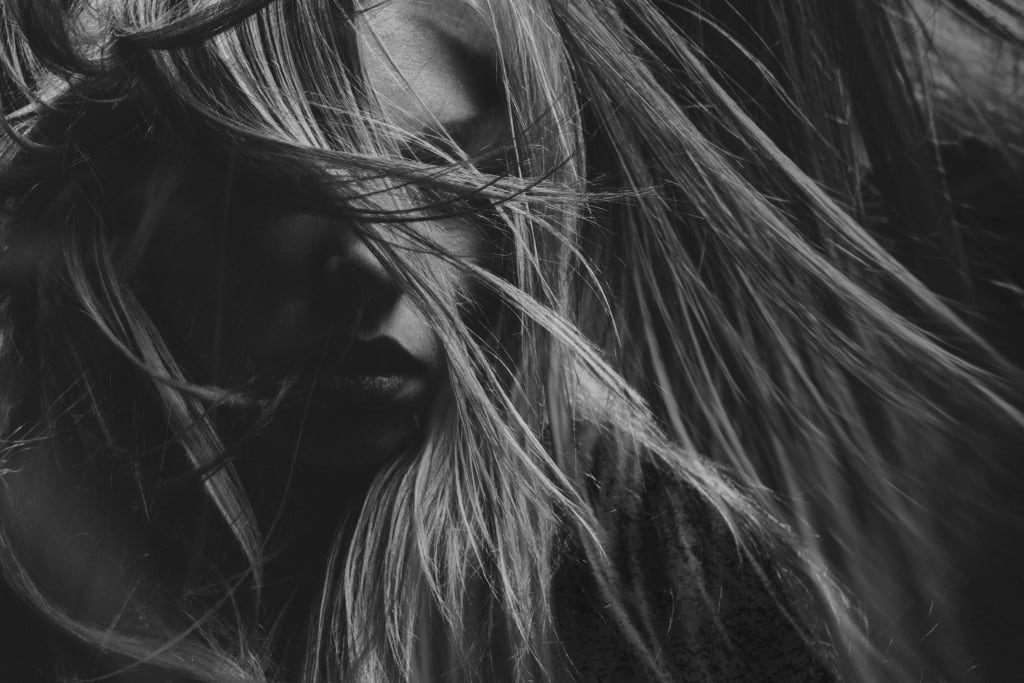 Simon's lust for Darla intensified, as he gently pulled her towards the barber chair by the ponytail. To his surprise, she seemed to enjoy it. He was about to direct her to the chair, to seat her facing the mirror, when she unexpectedly shoved him down, forcing Simon to sit and look up to her. Darla's smile grew mischievous then, as she crawled onto him, noticing a fully erect bulge in his pants.
The shock switched to arousal, as Darla took charge, running her fingers over his buzzed hair, and sliding them down neck and chest. One hand reached down his bluejeans, opening the zipper and fondling his erection. Simon's enjoyment and surprise intensified. He had dreamt often of luring Darla to the chair, to play with her hair, seduce her and make love. Now, he was at her mercy, and he quite relished this idea.
"Would you like to pretend to be my client?" Darla teased, rubbing his head. "I could shave you bald.. on top and down below..."
"You would do that?" Simon reached for her ponytail, tugging lightly to grab her attention. She looked up to him, then jabbed her elbows to spread his legs and climb over him, his cock standing firm, as she lowered her mound onto him. Simon realized, all along, that Darla wore no underwear. He was engulfed by her warm, juicy pussy. Slowly, gently, she pulled herself up and down, riding him, squeezing his girth with her vaginal muscles.
Reaching behind, she found the shaving cream and razor, a straight blade. Simon winced, as only a skillfully trained barber would know how to use one. Even in the height of passion, he grew nervous.
"Relax, I'm a barberette," she giggled, recognizing his apprehension. "I know how to use one of these. Let me ride you slow, as I shave your head..."
Simon closed his eyes, feeling the cooling sensation if the cream against his scalp, then gently, carefully, Darla peeled off the pelt of hair, one path at a time. Starting at the back, moving from one side to the other. As she passed the blade around his ears, she licked them, feeling his cock tighten inside her as she did. Moving the blade around his head, until he was completely shorn, she wiped him down with a towel, and devoured his freshly shaved head with her tongue.
He was about to ejaculate, as she lifted herself up and knelt down below, taking him in her mouth, stroking his cock as she did his head, only seconds ago. His balls were in the cup of her hands, until she brought him to cum, then wrapped her ponytail all around his shaft. Once, twice, nearly three times because of the length, fully covering him as he came soaking her long, shiny licks in his sweet, sticky ejaculate.
Simon finished his release, giving in to Darla, watching her gently unleash her hair from his shaft, and lick the residual cream left behind. With a warm towel, she wiped him down, preparing his balls for a smooth shave. The prospect made Simon nervous, but Darla took her time and ended his worries. When she was done, he enjoyed touching the smoothness, and smiled with pleasure.
"I know you want my hair," Darla teased. Simon blushed slightly, feeling caught. His fetish for cutting hair was always kept a secret. How did she know?
"I'm curious...how did you know?"
"I work as a barber and a stylist at a place downtown. It's my trade too, and I'm very observant. I noticed you watching me over a period of time..." Simon paused, not knowing how to respond. This gorgeous woman held him captive in lust, and she seemed to understand his deepest fantasy.
"Would you consider...indulging me someday?" he asked, carefully.
"It's a possibility," Darla teased, pausing before kissing him deeply. This was only the beginning....