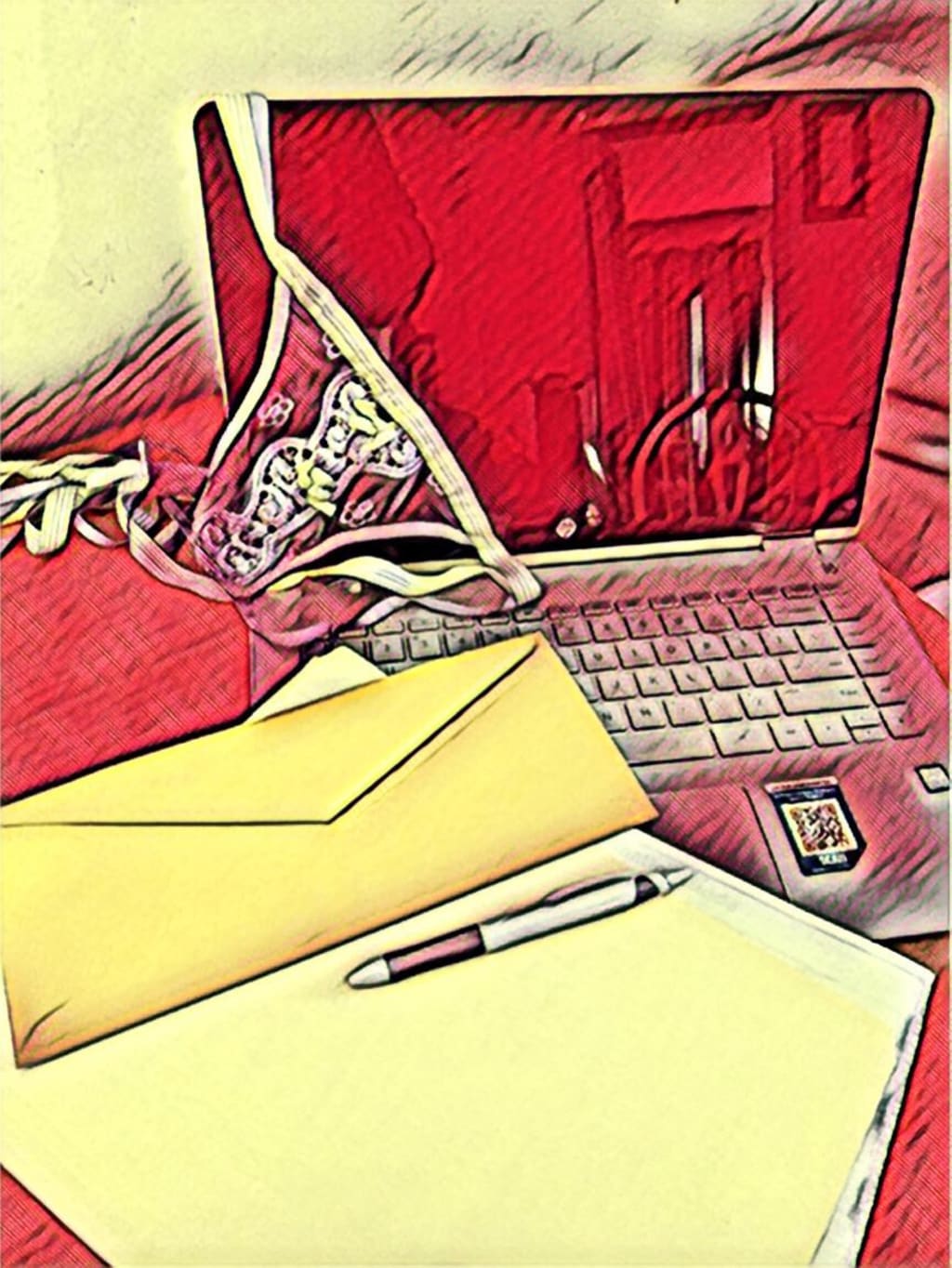 I never thought that I would have such strong desires for my boss. His smooth caramel skin, goatee, and plump juicy lips are all I could think about everyday when I get home from work. Today was a good day, but I think he's up to something. Mr. Mason must have called me to his office about 15 times, and half the time it was for things he can easily do on his own. Don't get me wrong, I enjoy looking at him, but each time he called me into his office, I was left fantasizing about all the things I want to do to him. He looks so damn good, I'm starting to think his record breaking wins ain't the reason he's the most sought after lawyer.
I began to think of ways to get him back for the stunt he pulled today. I want to make sure he leaves the office rock hard tomorrow, so I have to make sure I look irresistible. I started looking through my closet for the perfect outfit. It had to be something that can cover me up when I need it to, but reveal the goodies when no one else was around us. I picked out my black blazer with a matching skirt that stopped just above my knees. The skirt has a split in the back that is high enough for him to see my thigh-high stockings when I bend over, I just need the perfect top to make this outfit complete. I took out my red silk v-neck shirt that exposed more than enough of my perky c-cup breasts, but I'm going to need something to cover me up while I'm at the front desk. I pulled out my red and black striped scarf; this will do the job perfectly, and I can wear my sexy red pumps to add a little color. I put together a little performance that was sure to get his blood pumping and I can't wait for him to see it.
The next morning when Mr. Mason walked into the office and said good morning to everyone, he did a double-take when he saw my beautifully made up face. I didn't over do it, but I did a little extra today and I knew he would notice. I smiled seductively as he turned away and opened his office door, I knew this will get his mind racing. The phone rang and I answered it. I was hoping the person on the other end would give me a reason to go to his office. It was Ms. Rochelle calling for the third time since the office opened. She has a case coming up and she is anxious to speak to Mr. Mason about it. I asked her to hold and buzzed Mr. Mason to let him know that she was on the line when he asked me to bring in her chart. I went into the back room to locate her chart and I quickly practiced my routine before I grabbed it.
As I approached the office door, I began to unwrap my scarf. I knocked gently and waited for a response. "Come in," Mr. Mason said with his deep, sexy voice—I swear he reminds me of Barry White. I quickly tucked my scarf under the collar of my blazer and walked in. I watched as his eyes scanned every inch of my body, and when our eyes finally met, they were filled with pure lust. I slowly walked towards his desk as he continued to check me out. Although I was feeling a bit nervous, I was ready to put on a performance of a lifetime. I began my routine and let the sticky note that I placed on the top of the chart fall to the floor. I slowly pivoted and bent all the way over, making sure he had a good view as I swayed side to side. By the time I stood up, he was standing behind me with his rock hard dick pressed against my ass. He spun me around and tossed the chart on his desk with one hand, the other gripping my ass intensely. He began to kiss me passionately as he backed me up towards his desk and sat me down in his chair. The next thing I knew, he was on his knees and he had my left titty in his mouth. He began nibbling and sucking on my nipple as I let out a few soft moans. I felt an electric surge rush through my body as my juices began to flow. The feeling was sublime.
At this point I knew I wanted to go all the way, and it's been a minute since this pussy's felt some good penetration. I stood up and unzipped my skirt, and he smiled as it dropped to the floor. He quickly put on the condom he had hidden in his wallet and turned me around. He bent me over and began inching his way in little by little. "Damn Ivy, you're so tight," he whispered in my ear as I began to bite my lips to keep from screaming out. He began to increase his speed, pounding his nine-inch cock against my cervix, causing multiple orgasmic explosions. I began to gyrate my hips and we started to grind in perfect harmony. He gripped my shoulder tightly as he softly uttered the words, "aww fuck." He started pounding even harder, knocking all the charts and paperwork to the floor. I gripped the edge off the desk tightly as we climaxed together.