A Mannequin Fetish (Pt. 4)
Exhibitionism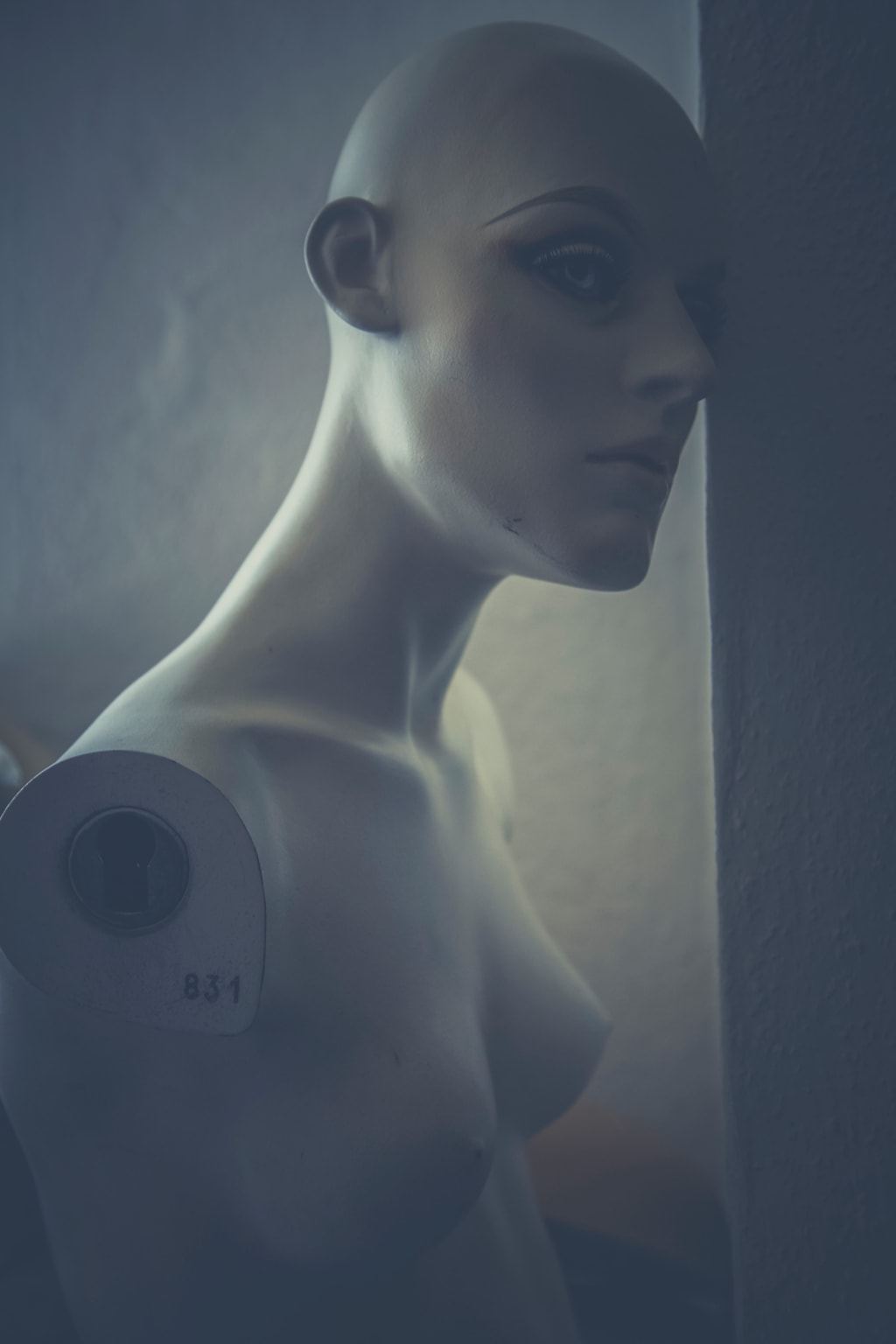 Friday crept up on Rena slowly, painfully intense with anticipation. The shift was over and her co-workers were ready to leave. She was asked to join them for drinks, and there were promises of meeting up later... but she knew better. Tonight would be a different adventure outside of the club scene and far more daring.
Felix arrived promptly, wearing a leather jacket, t-shirt, and blue jeans. She didn't expect him to look so casual, and felt a bit shy and overdone in an off-the-shoulder lilac dress and silver heels. She made the quick change immediately after everyone left, then she turned off the store's security cameras and lighting. Opening the gate, Felix entered without a word, only a smile and a caress of her cheek. Those were strong, rugged hands to melt into, she thought.
"Slip off you shoes," he instructed, and she did so quietly.
"Now... slip off your dress."
Nervously, Rena complied, aware of the risk in doing so. He produced a new garment: a sleek, silky fabric that would barely cover her body. It was emerald and shiny. As he slipped the dress over her body, the silk grazed her hard nipples, falling to just below her waist. The back was open, held together with a tie at the back, allowing for easy access and stimulation.
Felix led Rena through the dimly lit boutique to the front display of mannequins. Her bare feet felt odd against the cold tiled floors of the showroom area. A cool breeze was a reminder of her nudity, except for the light, silky garment. As they reached the raised platform, he motioned for her to step up.
"There are security guards out there. They'll see me," she protested, shaking her head. Her hesitation did not affect Felix, as he only pressed a firm palm against her bare back, directing her to step up and join the two mannequins, posed for display.
"Pose for me," he ordered. "Tilt your head to one side... place your hand on your waist. Try a few variations."
Does he think I'm a model? As she tried a few ideas, Felix took out his phone to snap pictures. Rena felt glamourized, at that moment. The spotlight of attention was fixed on her and there was no one competing for the center stage.
Before he could ask, Rena slipped one shoulder further down, exposing more skin, smirking as she did. Felix relished the sudden devious twist in her act, eagerly leaning in for more shots. Then slowly, Rena bent over, spreading her legs as she did, keeping her head fixed on her lover as the flash of his camera flickered away. An outstretched finger motioned "closer" and as he approached, the tease began. Rena's finger dipped into her wet pussy, exposed beneath the emerald shininess, displaying her arousal.
"I could use some stimulation," she whispered, coaxing him to play with her. Felix hopped up on the platform, towering over her, replacing her fingers with his own, stroking her thoroughly, firmly. Moaning, Rena squatted more, pushing against his hand into her. "Yess...." Then he stopped, grabbed her by the waist and pulled her body against his for a deep, juicy tongued kiss, fondling her chest, neck, and throat as he did.
"Lie down," he instructed. Rena looked around, nervous again.
"Here? On the display?"
"Yes." Slowly, she descended until her bare bottom touched the glossy floor of the platform, spreading both legs wide, and hiking the dress above her waist. "Give your pussy to me. I want to drink your juices." He positioned himself just below the steps, in perfect position to trace her mound with his wet tongue, sucking her clitoris as she quivered and grabbed onto the mannequins' ankles to steady her crescendo to orgasm. Each stroke of the tongue against her smoothly shaved pussy brought her closer, as he pushed her thighs apart wider, keeping her in place until she came, gushing creaminess all over his face and throat.
"That's it!" he exclaimed. "Feed me your juicy cum!" She couldn't take him lapping up anymore, but he held her in place until the moans grew into screams, then descended into a soft, sigh of pleasure.
In the shadows of the minimally illuminated mall corridors, one security guard observed the performance on the mannequins' platform. Brent enjoyed the anonymity of his job; to be seen, yet unnoticed. His figure was barely visible when they began their tryst, which made him hard. Silently, he pleasured himself as he watched them, stroking more vigorously in sync with her orgasm.
It will happen again, Brent thought, because they are getting away with it, oblivious to his enjoyment of it all.
fetishes
About the author
I began writing erotic fantasy short stories in 2011, which feature BDSM and fetishes. When I'm not writing, I work a regular job, enjoy cycling, travelling, rock concerts and reading.
Reader insights
Be the first to share your insights about this piece.
Add your insights