A Blowjob & a Wheelchair
That One Time I Dated a Wheelchair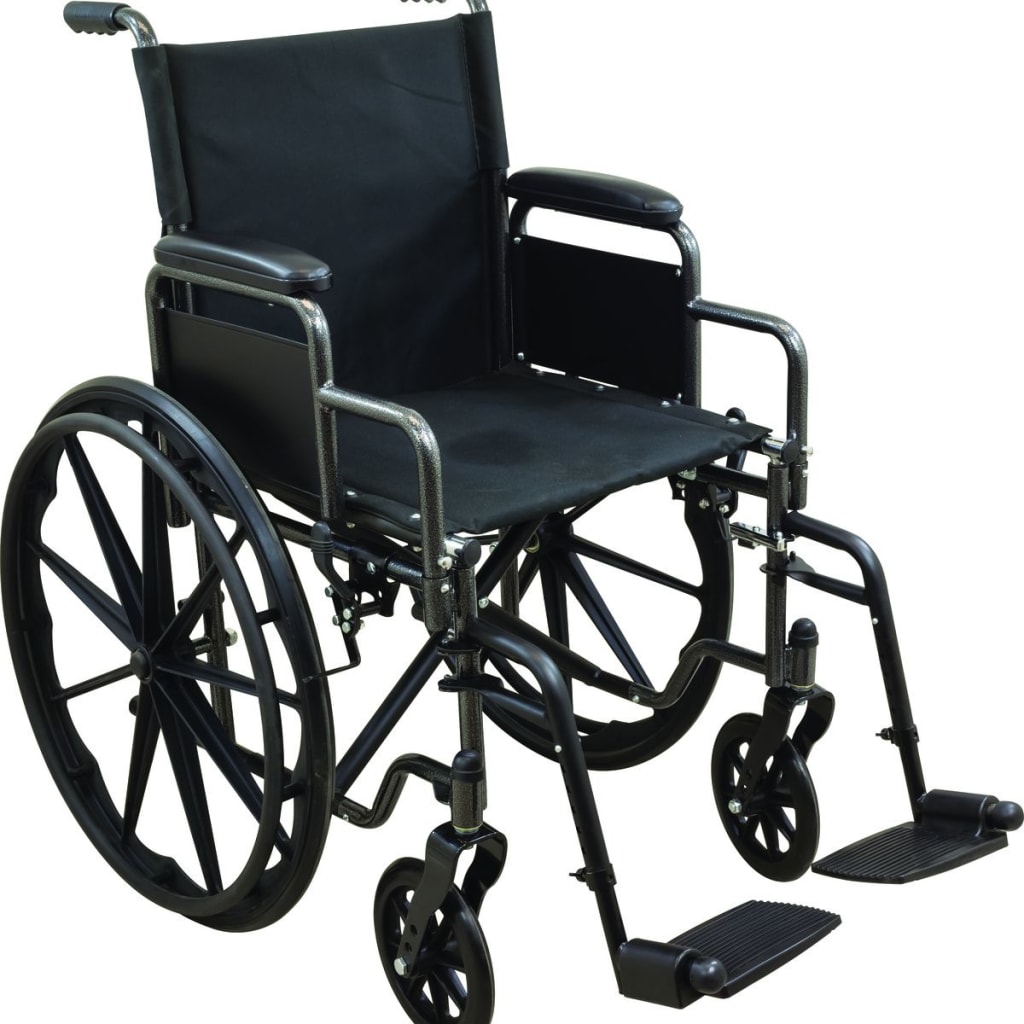 My marriage came to an end. My future ex-wife announces she's a lesbian and has been having an affair with her friend for 10 years. As you might imagine, I was devastated... because she was getting more pussy than me for the last fucking decade! That's a story for another time. This story is about the first woman I dated after 18-years of being married.
As you can tell by the pic above, I am a Comedian. I get booked on a show and kill the room! As I'm walking off stage and into the crowd, a large... very large woman grabbed my arm. She was the sweetest woman. She said, "My friends and I are here for a bachelorette party, and my friend really loved your stuff."
I said "Thank you" shook a few hands, and headed off to the green room to bullshit and break balls with my comedian friends. At the end of my set, I always tell the crowd they can find me on Facebook/Twitter under my name. By the time I got home, I had a message that was waiting for me on Facebook messenger. It was from this gorgeous blonde. Her profile pic was her in a bikini sitting poolside.
We start talking, and this goes on for a solid week. She calls me on December 23 and asks me to meet her at a mall to grab dinner. I jump at the opportunity. I get to the mall and it hits me that I have no idea what kind of vehicle she has. I call her and she tells me it's a custom BMW crossover. Here it comes... and now it hits me as she's pulling around the lot, what if her pic was 10 years old and she's not as hot as her profile pic? Fuck it now... she's parked right next to me. She puts down her tinted window and my fucking god is she HOT AF!!! I'm going to have a field day with this!
I got out of my car and walked over to hers. She tells me to get in. I open the door and she's got a kick-ass body. If her clothes were any tighter they'd be skin! We start talking and then she asks to kiss me. Needless to say, I'm all about it. This goes on for a solid 5 minutes and then she says she's hungry. We decided to move our cars around the jam-packed mall to the restaurant on the opposite side. I'm searching for an open spot at the MALL on December 23. Great fucking move.
She calls me asking where I am and that she's already parked up front. How the fuck did she find a front space in this mess?? I finally park, as we are still talking. I head up toward the restaurant and she tells me she can see me. Now... I'm usually on the ball, but I guess her huge tits and pretty face negated my usual brilliance. I get to her car and like something out of a Frankenstein movie, the travel pack on top of her car opens. Hanging from a chain is a fucking wheelchair.
She refuses my offer for help, and off we go inside the restaurant. We are seated.. well... I am since she rode hers inside, and we talk for 2 hours. Great conversation about our jobs, dreams, and my 5 daughters with my Lesbian. There was zero talk about sex, not even innuendo. Suddenly, she asks me how come I haven't asked about her being in a wheelchair.
She tells me she was hit head-on by a drunk driver when she was 18. She then mentions she's an "Incomplete injury." WTF does that mean??? She looks at me and says, "I can feel everything. I just can't walk. If you touch my PUSSY I can feel it."
Obviously, I'm probably touching her pussy at her request as we leave the restaurant and head back to my car. I had to carry her from her car to mine after she put the wheelchair back in the Big Mac container on the roof of her car. We get in my car. She immediately attacks me and shoves my hand down her pants. She is SOAKED. She's begging me to make her cum, so I did. Like a fucking River! I light a cigarette while she gathers herself.
She turns to me and says, "Fuck me... ok... it's your turn." Grabs my cigarette... takes a drag... tosses it out the window and tells me to take my cock out. She whispers in my ear, "I'm going to suck the cum from your balls." HOLD IT... let's go back to when I was married to a Lesbian for 18 years. I haven't had a blow job since Y2K and I haven't had sex in over a year. Flash forward to her grabbing my cock and sucking it like a porn star, twisting her hand on my shaft and slobbering all over it. No blowjobs since Y2K... no sex for over a year... she seemed to know what she was doing.. and I'm about 40 seconds in and about to cum. I start to cum in her mouth and she GRABS MY COCK AS I'M CUMMING!!!
She says, "I don't swallow and you could've warned me," and then let go of my cock... and I shot the biggest load ever right in her face. I mean... all over her face, like a gallon of milk exploded in her face!! She used my shirt to wipe off my porn load and I carried her back to her car. The guilt on the way home was killing me. I shot a porn load in the face of a woman in a wheelchair!!
I was raised way better than this! She calls me the next day about going out again. We decided to have date 2 after the holidays. January 3 she calls me and says she's thought about things. I already have 5 daughters and I don't want any more kids. She wants kids, and tells me "Andy... you have nothing to offer me."
I said "Well... I can push you around." She hung up on me and I never heard from her again.
comedy