3 Sexual Fantasies to Help You Regain Your Confidence
Add these fantasies to your sex bucket list this summer.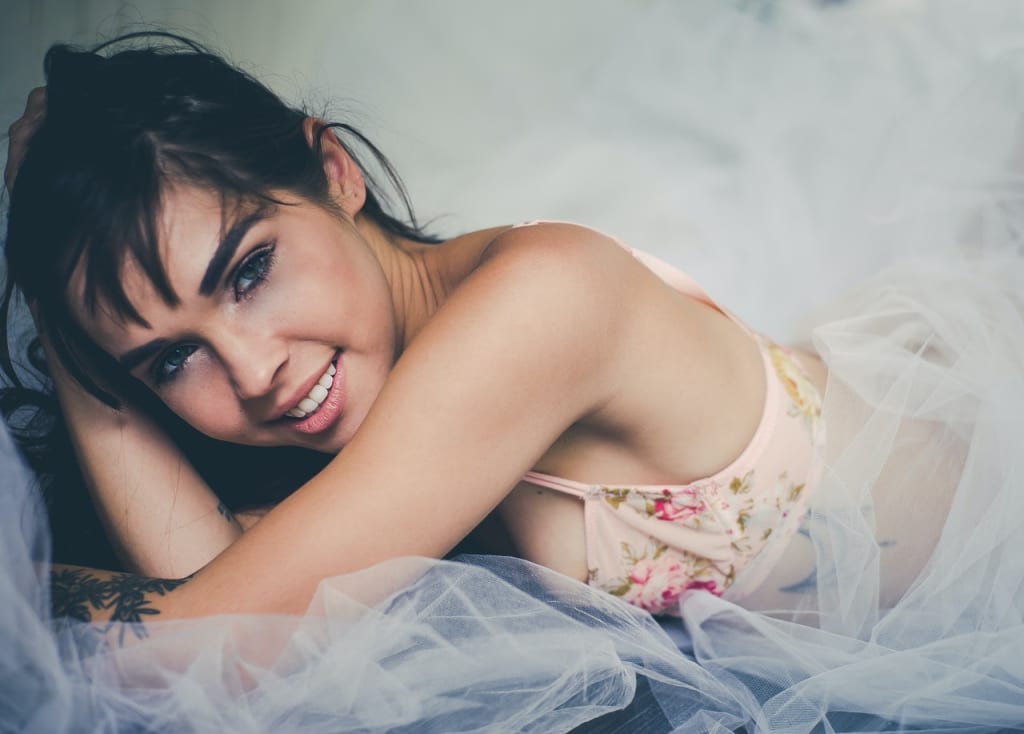 Many people are so overwhelmed, ashamed, or scared of their erotic self that they completely suppress their fantasy life.
Sexual fantasies aren't necessarily gross or taboo as most people will have us believe. They are a natural part of being a sexual person.
Our brain is the most erogenous zone in the body. Sex generally begins with the mind, and our attitude towards sex can improve our overall health.
Your fantasies don't mean that there's something wrong with you, nor is it abnormal.
Fantasizing about having sex with someone other than your partner can be a bit troubling. But imagining yourself naked with a stranger doesn't necessarily mean you're looking to cheat or be willing to act on those imaginations in real life.
The fact that you fantasize about certain sexual situations doesn't mean that you necessarily want them to happen.
What makes a fantasy powerful is that it is simply "a fantasy."
That's all it is!
Healthy benefits of sexual fantasies
A sexual fantasy is any image, thought, or mental story that awakens you. Think of fantasies as ways of expressing your unconscious needs or wants that are out of your control, just like dreams.
By creating images of different sex positions with yourself or your partner, you learn to enjoy your sexual desires, which will only help you feel more secure and comfortable.
Fantasy creates a cognitive space to generate and increase arousal and reduce anxiety.
The brain turns our painful experiences into pleasure is a unique and mysterious process. More so, understanding the connections between them is universally healing.
Fantasies about sex healed me. It has allowed me to leave behind traumas and fears of the past. It helped to discipline and build my integrity, and explore the depths of my limits and strengths in the bedroom.
Sexual fantasies can consist of transcending ourselves and feeling creative and liberated in a completely different world, free from all the limitations of everyday life.
Whether the situations you envision are tame or wild, standard or taboo, the sexual imagination can be a deep source of joy and excitement.
Sexual fantasies to boost your confidence
Some of the more common emotional injuries, such as guilt, shame, and insecurity, can ruin intimacy in a relationship. However, an active imagination can help heal emotional trauma and increase your self-confidence.
Having the courage to explore your erotic selves is the space within you where passion is born and evolves, making you feel good about your body.
So, if you struggle with sexual confidence or just want to understand a bit more about it, here are the top three sexual fantasies you can try today.
Sex on a beach or mountaintop
Public sex is illegal. Even if it wasn't, some people are turned on by outdoor sex but are too embarrassed to actually try it. Having sex in an unusual location adds an element of uncertainty and excitement. People who have been with the same partner for a long time may entertain these fantasies because they're craving something new. It helps to slowly build up to orgasm and draws out your pleasure before having actual sex with your partner.
Have a three-party sex
Open relationships are frowned upon. However, some people would like to try without having to betray their partner. Whether you have a desire to watch your partner have sex with someone else or want them to watch you get with someone else, fantasies can help you achieve that. Bringing a third (or more) person amplifies your feelings of being desired. If you're turned on by the thought of threesomes but not comfy with the idea of actually having one, have one in your imagination.
Erotic sex with a porn star
Erotica focuses on the emotional aspect of sex. It helps you reclaim desire and shed the feeling of shame connected to sex. People who have experienced sexual abuse or have boring sex partners can benefit from having erotic sex in their imagination. The aphrodisiac of being turned on brings much-needed relief and peace of mind, especially when it leads to masturbation. There's no need to deny yourself sexual pleasure if you can't have satisfying sex in the physical.
---
About author
Jessey Anthony is a motivational speaker, fitness coach and relationship expert who helps people become confident in themselves in any challenges they face in life. Sign up to my newsletter & more cool stuff.
Connect with me on Linkedin, Twitter, and Quora.
This article appeared here.
About the Creator
Jessey is a travel addict, freelance content writer and fitness coach. Check out more from me at: https://bit.ly/3j0Lm9Z

















Reader insights
Outstanding
Excellent work. Looking forward to reading more!
Add your insights