15 of the Best Sex Memes for All Sexual Occasions
Nothing is more funny than an inappropriate meme poking fun at somethings sexual, and that's why the best sex memes are such a hot topic on the internet.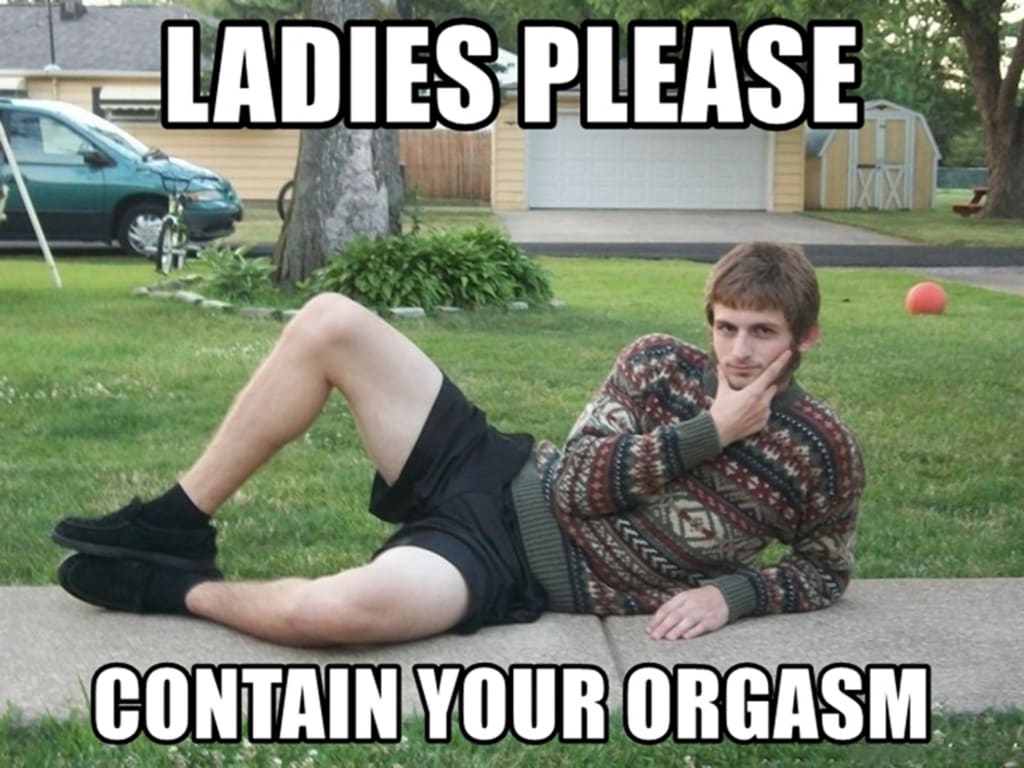 I really don't know how we lived happy lives before the best sex memes existed. I mean, I cannot imagine what it would be like to express my feelings without a humorous joke, in big bold font, printed on top of a specifically curated image.
The best part about sharing memes is that there is one for every occasion, mood, and insult, you wish to convey. If you have a message to get across, there is, without a doubt, a perfect meme out there just waiting for you to discover it. In fact, memes are so efficient in delivering messages that people can actually end relationships by sending one. Say, for instance, a meme of an adorable dog, grinning ear to ear, with bold-font reading, "THIS IS ME WITHOUT YOU." Or, a girl could even profess her love to her boyfriend through a meme featuring a happy squirrel and a line from Whitney Houston's famous song,"I Will Always Love You" displayed across it. Lastly, I could easily go tell you to fuck off right now with just one jpeg of an angry baby, flipping the bird, and a big bold caption reading "FUCK YOU." Hello?! What could be better than that? Oh, I know, sex memes, that's what. When you take a hilarious image and pair it with sexually sarcastic, inappropriate, and/or offensive verbiage, you have the potential for some of the funniest shit ever.
Honestly, if you can't poke fun at sex, then what can you? While it's one of the greatest activities to take part in, it can also be incredibly awkward, uncomfortable, and embarrassing AF! That is why we must, we must, we must crack jokes and laugh about it, and then proceed to share it with the entire world!
Without further adieu, here are my 15 favorite sex memes for all sexual occasions.
#Truth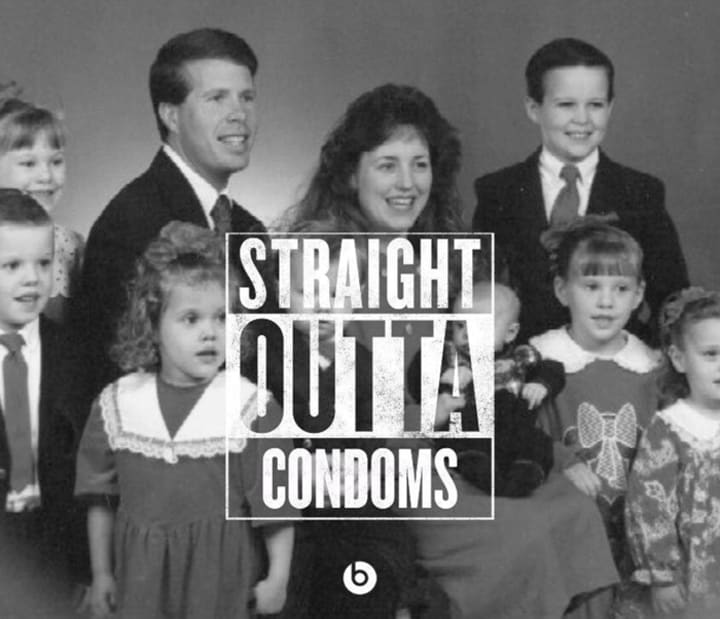 Who says funny memes can't be educational? What better way to get the "wrap it up" message across than by showing young teens a photo of the Duggar family and their 19 children? Be sure to follow up with their heart warming story, full of porn addiction, incest, and jail time to really get the message across.
Sex while pregnant can be beautiful, they said.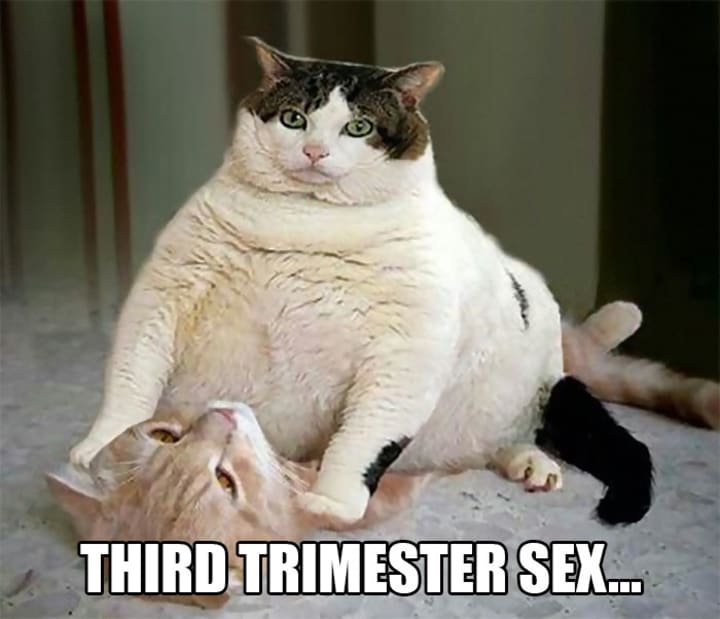 Whoever said sex during pregnancy is beautiful has never read the things you didn't know about having pregnant sex. Basically, there is not one sexy thing about riding a man while being nine months pregnant, swollen, sweaty, and constipated. Literally, how this cat looks is how you feel; like an exhausted, overweight, and overcooked pussy.
Because who can resist a meme with a horny sloth?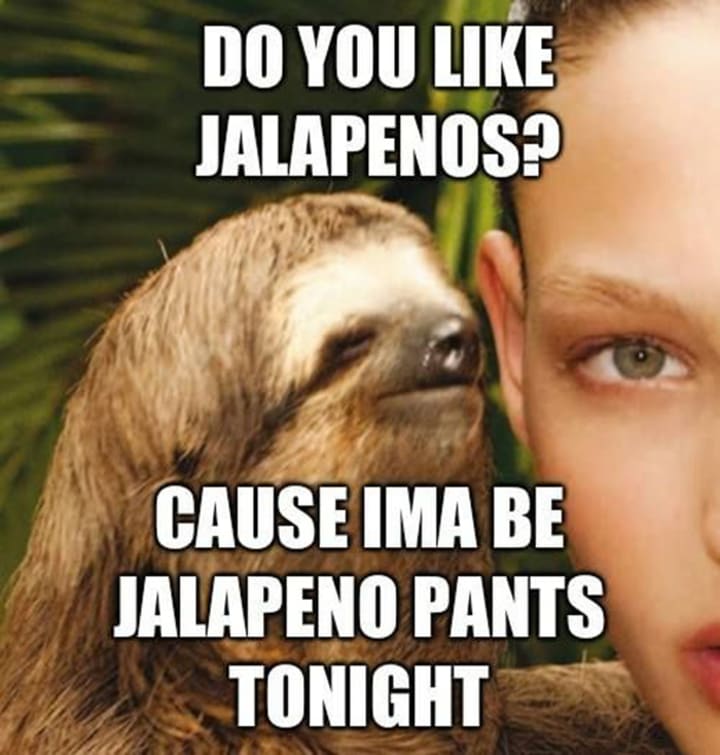 You can't possibly come across sex memes featuring a horny sloth trying to get some without including it on your best sex memes list, or any list really. Not to mention, his killer pickup line, which I am sure many of you will be using after reading this.
A college boy's dream.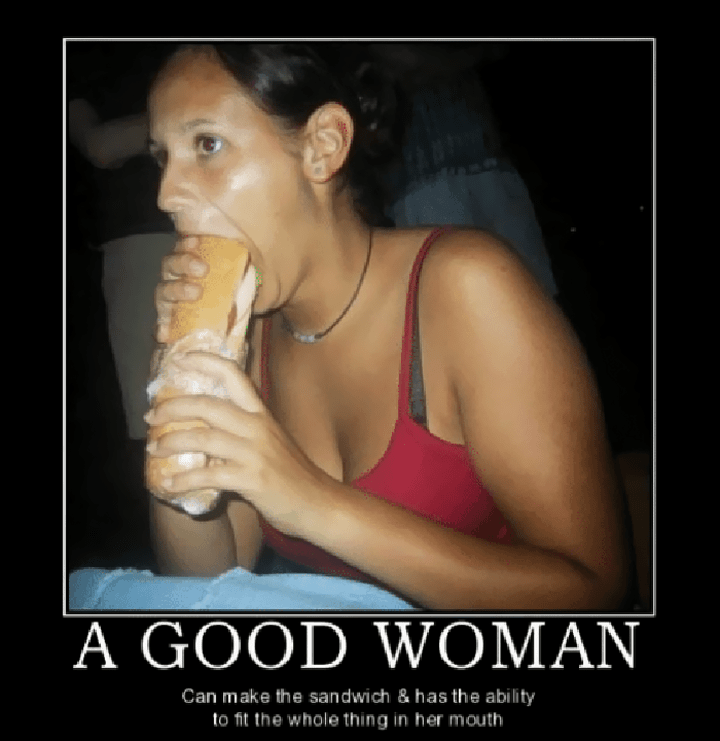 This is for all my horny high school and college boys who find funneling beers an attractive quality. For a young guy to see a fellow college chick chug a beer, make a sandwich, and then fit the entire thing in her mouth, you might as well save the date for their future nuptials. That boy just found his wifey.
Because every ho has an excuse!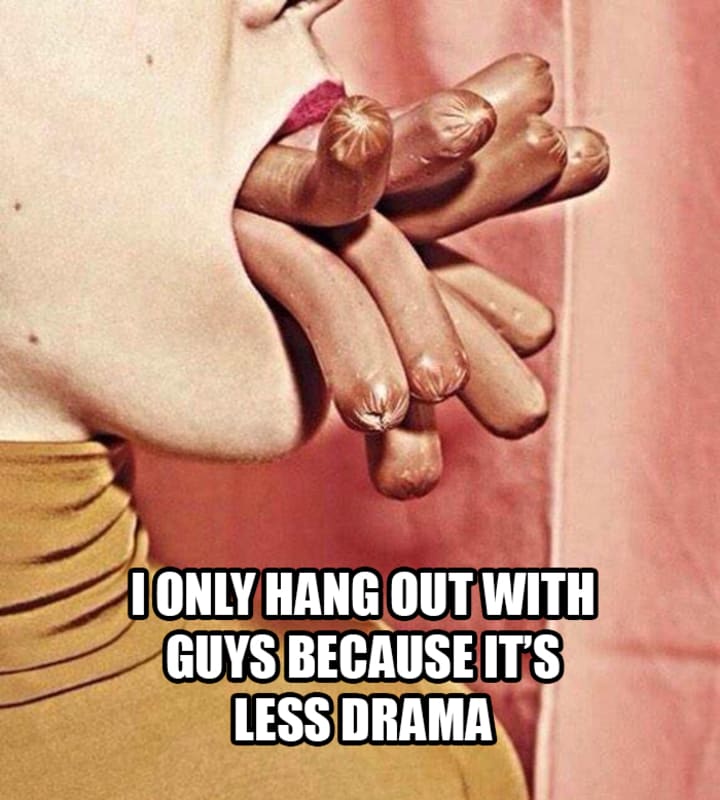 If you don't LOL at this, then you need your sense of humor adjusted and maybe even new friends to send you better funny memes. You have got to love a ho with an excuse about her ho-ness. So, let me get this right. Girls are so much drama that you (the ho) surround yourself with dudes. OK, sure. However, where is the logic in letting them all bang you? No wonder you have drama with females, most likely because your mouth (and other orifices) are full of their boyfriend's penises.
For the incessant self-pleasurer.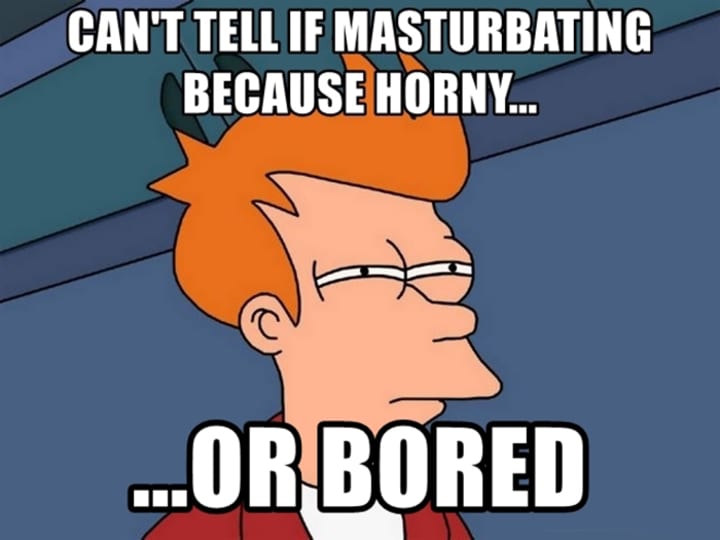 Who doesn't love a good masturbating joke? I do, I do. Some days, the only way to get a good laugh in is with funny memes poking fun at men and their obsession with masturbating; aka jerking the chicken, beating the meat, bashing the bishop, and, my favorite of all time, taking Rosie Palmer on a date.
Always hide your toys before a selfie session!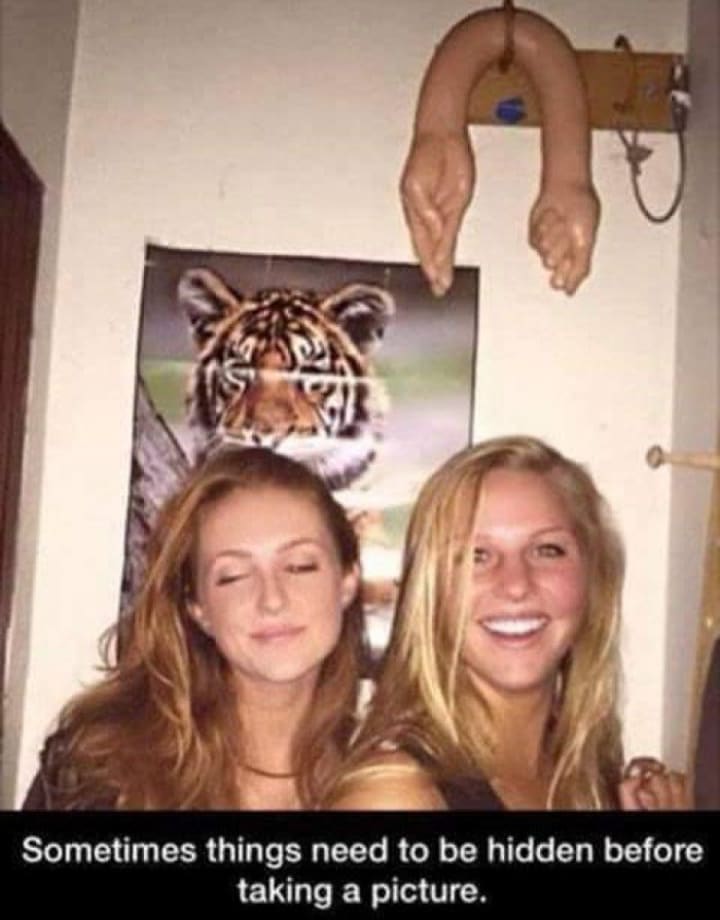 I swear, this could quite possibly be the most horrifyingly amusing selfie I have ever seen. I would love to know everything about how this picture came to be. Where were they? What were they doing? Did they just come from their Sex Ed for Adults class or was that a purchase made prior to the semester? Most importantly, who was it sent to? I can just imagine "Jenny" on the right saying, "Let's send a picture to mom, she is going to be so happy to see us hanging out again." Or maybe "Allison" on the left, had the great idea of sending this to her boyfriend to let him know that, "See babe, it's just me and Jenny hanging out and having girl time." However, I am willing to put money on the last possibility, which is that the picture was taken by "Dave," the owner of the enormous double-fisted sex toy, and was sent to 150 of Dave's closest friends with a text reading, "Tonight should be interesting."
Some sound advice on having children...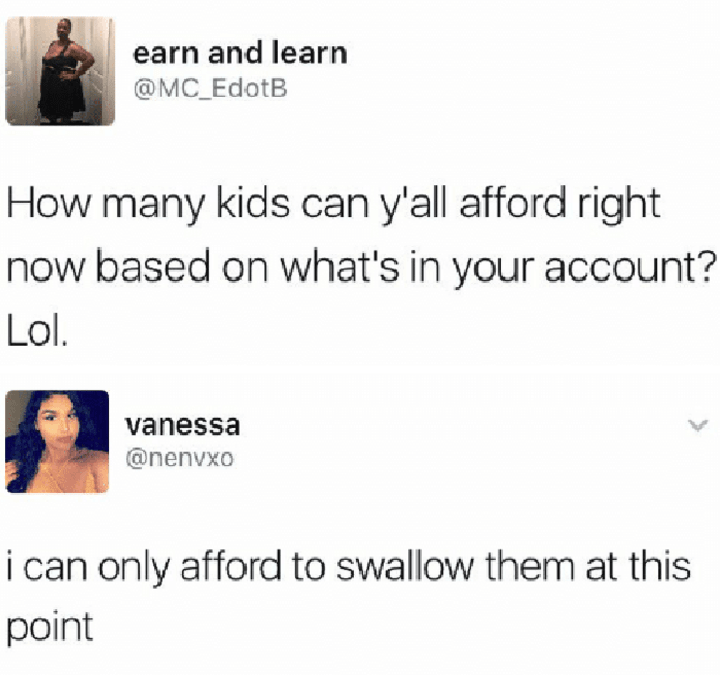 You should never turn down free advice, especially when it's on point like this here is. If you are trying to decide how many kids you should have, try using this efficient yet complicated formula. If you look at your bank account and notice you are broke, well then... don't have children yet. Instead, just try swallowing. Funny memes save the day again!
In her dreams!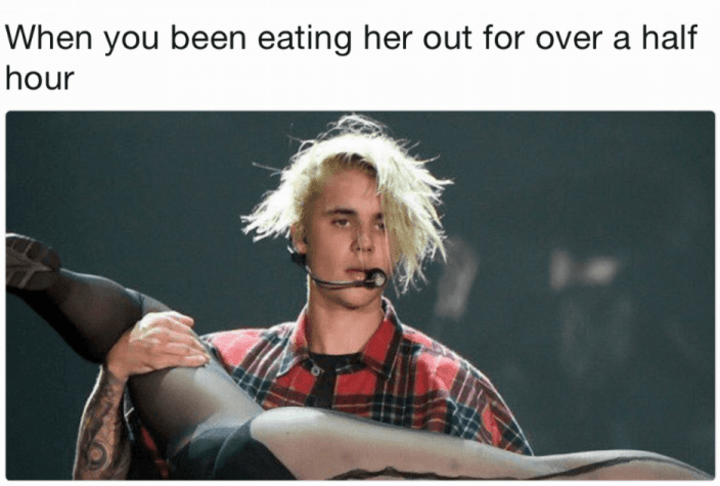 I don't know what's better, Justin Bieber's crazy ass face or the caption implying that it is common for men to go down on women for 30 minutes? However, even if this is not true, the image and caption are so perfectly paired that you have to wonder if this is what The Biebs really looks like while going downtown Judy Brown.
Life lessons from dad be like...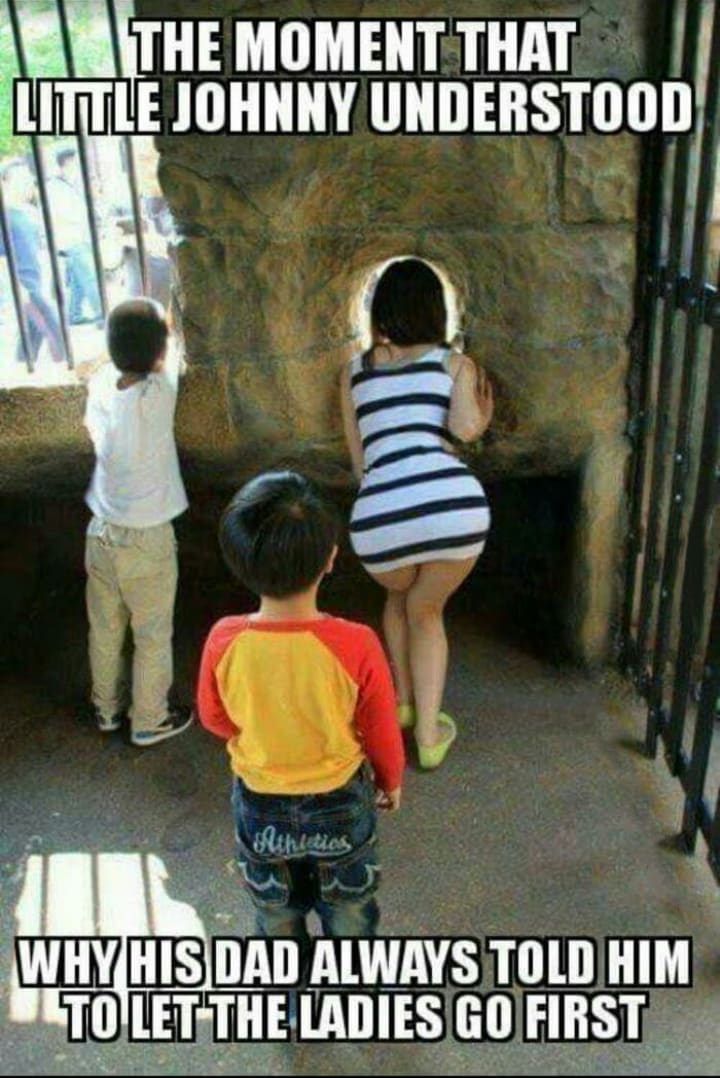 Apparently, there's no such thing as too young when it comes to fatherly advice and appreciation for the female form. When daddy tells you to let the pretty young lady go first at the zoo so she can see the animals, you listen. Not only for your eyes, but so daddy can snap a creepy picture for some funny memes, too.
Things you hear before your first blow job.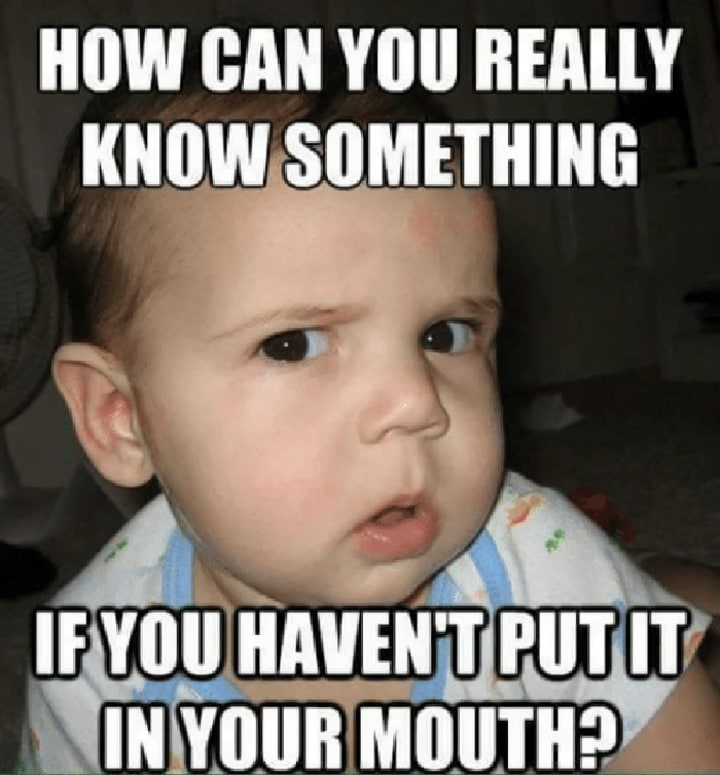 Ahhh, there's always that one guy who is willing to say anything just to get a blowjob. For instance, "It's good exercise." "It has anti-aging components." "It will bring us closer together." "Oh, it doesn't taste THAT bad." Whatever he tries to spit at you (no pun intended), you should never put a penis in your mouth unless you really, truly want to.
Before marriage, couples be like...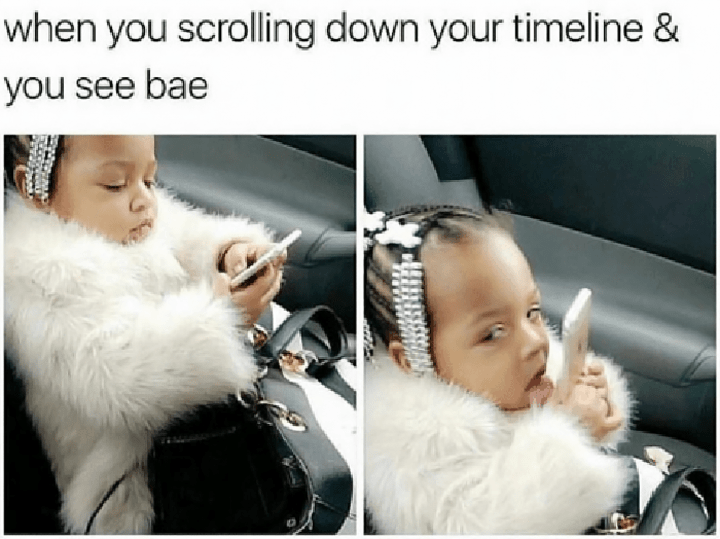 Remember when you used to get so excited just seeing your man's name, face, and number pop up on your phone? And then you got married and had children. The end.
Because you can't have a list of sex memes without a wrong hole joke!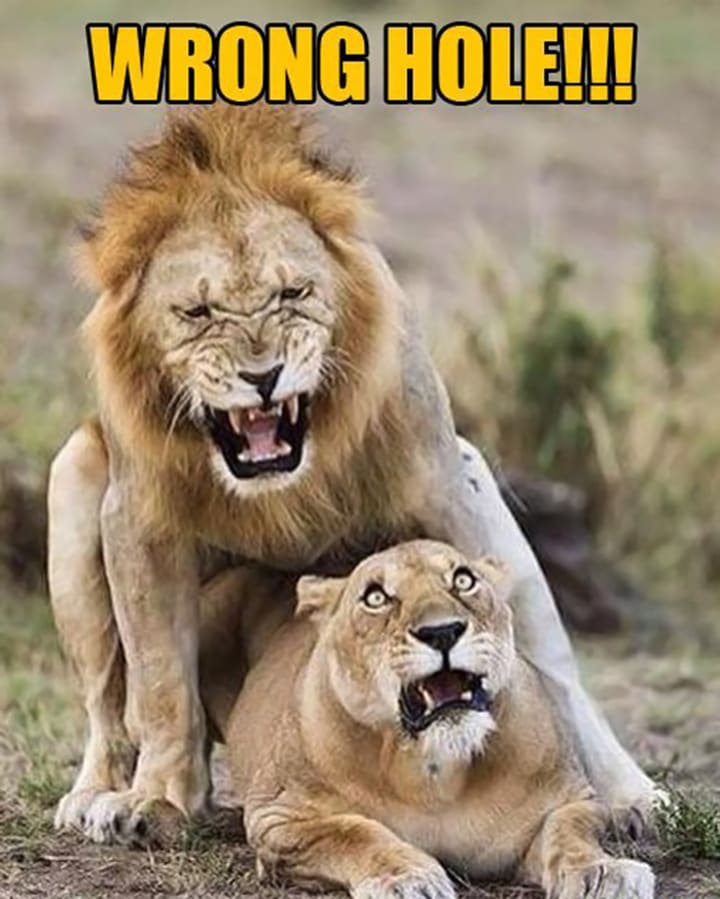 This female lion's face says it all, and that is, there is something in my butthole that shouldn't be there. However, I don't know why she looks that surprised, because word on the street is that female lions can mate up to 40 times a day, with multiple partners, and sometimes even take part in a gang bang. Damn, girl!
Try answering this question, Mom and Dad.
Don't you love it when young children ask the most difficult questions? For instance, like, "What happens when you die?" Or, "Where do babies come from?" Well, how about when you decide to do something educational and go on a family trip to the zoo, only to witness two grown gorillas 69ing each other. How do you explain why they have their faces in each other's private parts? Or why Mr. Gorilla is trying to toss the salad for Mrs. Gorilla? Also, why are they making those weird, loud noises? This is surely to be a family memory that will last a lifetime.
When the seven day forecast looks promising.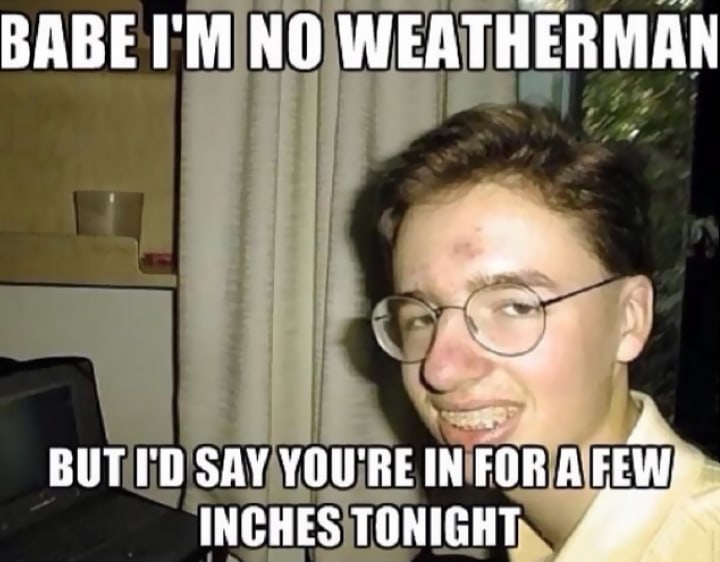 Oh man, this guy is HOT and packin'! Unfortunately, I am willing to bet this forecast is like many of the weather forecasts we get today, which are completely inaccurate. Just like when I prepared for a blizzard this past winter and wound up with barely an inch, I am assuming this is a very similar scenario. Luckily, we have all of the best sex memes to entertain us.