Unforeseen Journey
Unforeseen Journey" is a story that takes place entirely on a flight from New York to Tokyo. The main character, Samantha, is on her way to a business conference in Tokyo when an unexpected earthquake reroutes the flight to Osaka. The story follows Samantha's journey as she navigates the uncertainty and anxiety caused by the earthquake, and the unexpected turn of events that lead the flight back to Tokyo. It's a story about resilience, perseverance, and the unpredictable nature of life's journey.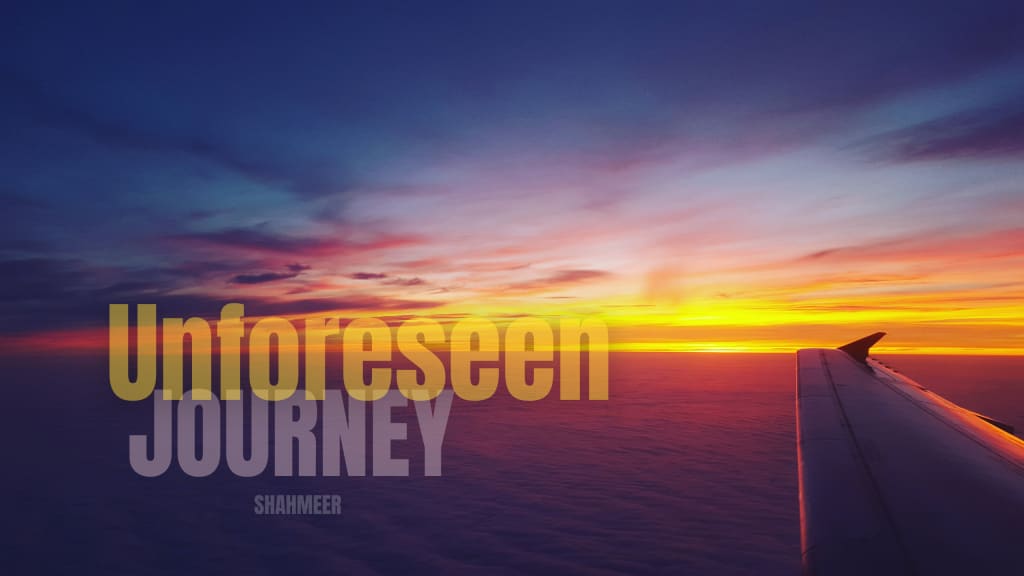 The sun had just risen above the horizon as the passengers of Flight 1624 boarded the plane. It was a long-haul flight from New York to Tokyo, and everyone was anticipating the journey ahead. The cabin crew greeted each passenger with a smile, making sure they were comfortable in their seats and had everything they needed for the flight.
Samantha was one of the passengers on board. She was on her way to Tokyo for a business conference. She had her laptop and notes spread out in front of her, ready to go over her presentation one last time. She tried to keep her nerves in check, knowing that she had prepared well and that she would do a great job.
As the plane took off, Samantha couldn't help but feel a sense of excitement. She loved the feeling of being up in the air, watching the world from above. She gazed out of the window, watching as the city below shrank away into a blur of buildings and streets.
The flight was long, but the time passed quickly. Samantha worked on her presentation, took breaks to watch a movie, and chatted with the passenger next to her. She found out that he was a musician on his way to perform at a concert in Tokyo. They talked about their love for travel and how it inspired their work.
As the plane flew over the Pacific Ocean, the cabin crew served dinner. Samantha opted for the fish dish, which she found surprisingly tasty. She couldn't help but notice that the crew seemed a little tense, though. They were whispering to each other and checking their phones more often than usual.
Samantha tried to focus on her work, but she couldn't shake the feeling that something was off. She looked around the cabin, noticing that some of the other passengers looked worried too. She tried to reassure herself that it was just her imagination and that everything was fine.
Suddenly, the pilot's voice crackled over the intercom. "Ladies and gentlemen, I have some news. We've just received word that there has been a major earthquake in Tokyo. The airport is closed, and we won't be able to land there as planned. We're currently rerouting to Osaka, where we'll be landing in a couple of hours. I'll keep you updated as we receive more information."
Samantha's heart sank as she heard the news. She knew that earthquakes could be devastating, and she couldn't help but worry about the people she had met during her travels to Japan. She tried to stay calm, knowing that there was nothing she could do but wait and see what happened.
The cabin crew sprang into action, making sure that everyone was informed and comfortable. They handed out blankets and pillows, and the passengers settled in for the rest of the flight. Samantha tried to get some rest, but she found it hard to relax.
As they approached Osaka, the pilot's voice came over the intercom once again. "Ladies and gentlemen, we're beginning our descent into Osaka. I have some more news. We've been informed that the airport in Tokyo has reopened, and we'll be landing there instead. We'll be arriving in about an hour, so please fasten your seatbelts and prepare for landing."
Samantha felt a wave of relief wash over her. She knew that it wouldn't be easy to get to Tokyo, but she was glad that they were going to try. She settled back into her seat, feeling a little more optimistic about the situation.
As the plane landed in Tokyo, Samantha looked out of the window. The city looked different from above, but she could still see the familiar landmarks that she had visited on previous trips. She felt a sense of gratitude for being able to see the city once again, despite the unexpected turn of events.
As the plane taxied to its gate, Samantha gathered her things and prepared to disembark. She couldn't wait to find out what had happened during the earthquake and to see how she could help. She was grateful for the chance to make a difference in the lives of those affected.
Once she got off the plane, Samantha saw that the airport was bustling with activity. There were people everywhere, trying to get to their destinations. She noticed that there were several aid workers and volunteers handing out food and water to those who needed it.
Samantha made her way to the baggage claim area and retrieved her luggage. As she was leaving, she saw a group of people huddled together, looking lost and confused. She approached them and asked if they needed help.
They told her that they were a family from the United States and that they were trying to find their way to their hotel. They had never been to Tokyo before and were feeling overwhelmed by the situation. Samantha offered to help them, knowing that it was the least she could do.
Together, they made their way to the train station and boarded a train that would take them to their hotel. Samantha helped them navigate the complex train system and even translated for them when they had trouble communicating with the locals.
As they arrived at the hotel, the family thanked Samantha for her help. They were grateful to have met someone who was kind enough to lend a helping hand in a time of crisis. Samantha was happy to have made a difference in their lives.
Over the next few days, Samantha attended the business conference and met with some of her colleagues who were also in Tokyo. They discussed the earthquake and the impact it had on the city. Samantha was moved by the stories she heard from those who had been affected and felt inspired to do more to help.
She spent the rest of her trip volunteering at a local shelter, handing out supplies and offering a listening ear to those who needed it. She made new friends and learned more about the culture and resilience of the Japanese people.
As her trip came to an end, Samantha realized that her experience on Flight 1624 had led her to something greater than she had ever imagined. She had discovered a new purpose in life and was determined to continue making a difference in the world, one small act of kindness at a time.
As she boarded her flight back to New York, Samantha smiled at the thought of the journey ahead. She knew that she had a lot to learn and a long way to go, but she was excited to be on the path of making a positive impact in the world.
About the Creator
Welcome to Shahmeer! Discover the art of living well with inspiring tips on personal growth, travel, and motivation. Let's inspire each other to create a fulfilling lifestyle and chase our dreams!
Reader insights
Nice work
Very well written. Keep up the good work!
Top insights
Heartfelt and relatable

The story invoked strong personal emotions

Excellent storytelling

Original narrative & well developed characters
Add your insights