The Hand on the Counter
A Writer's Dilemma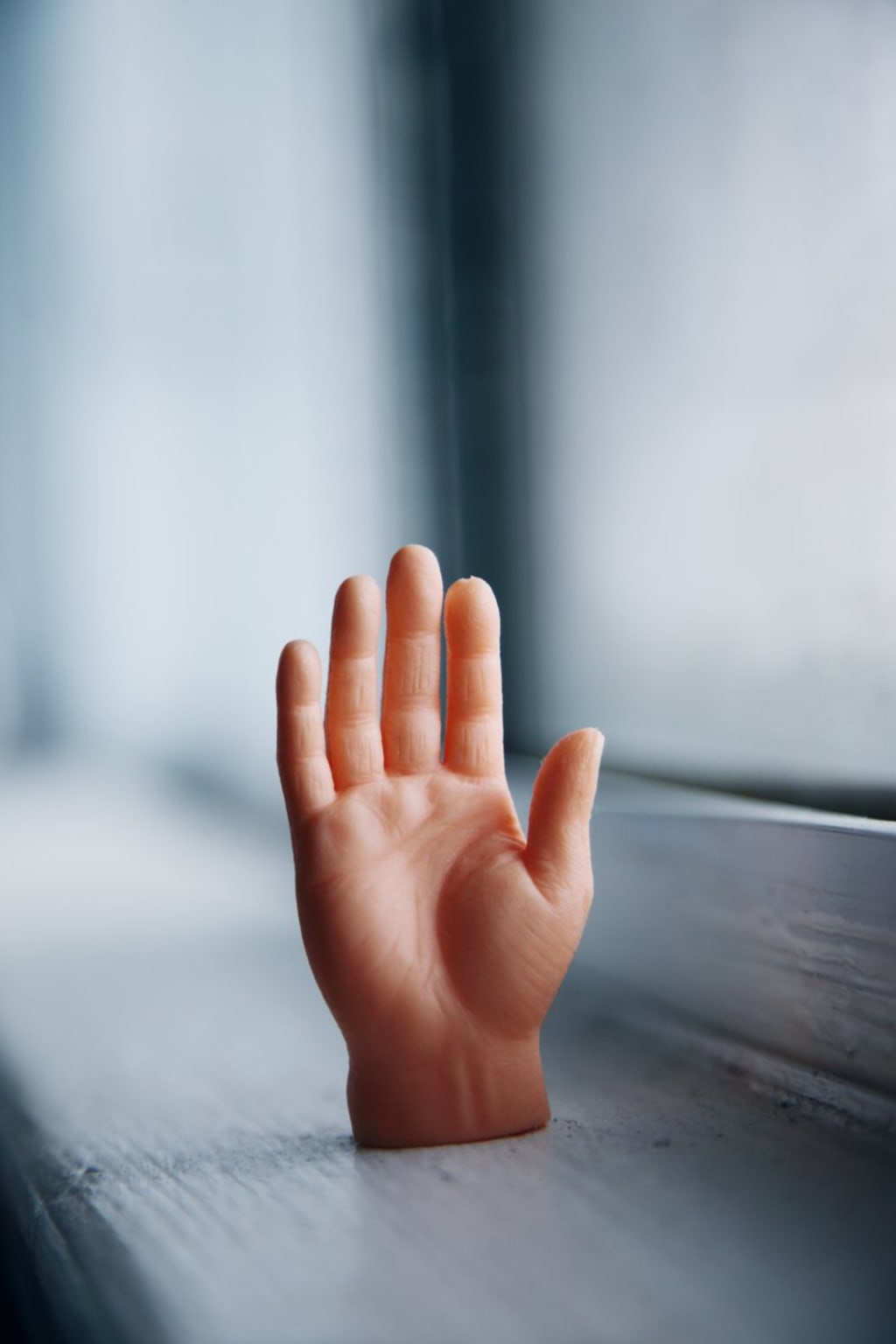 Writing prompt provided by @BethanyJarmul on Twitter
There was a hand on the counter. It was upright and beckoning to me.
"You're such a narcissist. Why do you think the hand would be beckoning to you?"
The argument played out.
"You wonder who it's beckoning to, but not why there is a disembodied hand on the counter?"
"Is it waving or drowning?"
"No time for literary references. It is a hand. A hand on its own. On a counter. In a café. In the middle of the afternoon."
"There is something very open about it. Like it wants to tell a story."
"I think there's a story alright, but I'm not in the mood for hanging around."
"Do you think it is lonely? Loneliness is the modern pandemic."
"Seriously, are you not getting the horror of this? Why aren't you screaming?"
"I'm not a screamer. I'm an empath. I don't want to make a loud noise and scare it."
"You're worried about the feelings of a hand? A severed hand? Aren't you curious about why it is just a hand? And doesn't that frighten you?"
"I'm inclusive. A hand shouldn't be ignored or shunned, just because it's a hand."
"I'm not shunning the hand. I'm wondering what sicko puts a hand on a counter."
"So, you think it's traumatised?"
"No, I think I'm traumatised. It's not normal for a hand to be on its own, beckoning strangers. (Although I do appreciate the word beckoning – it has a style, an attractive quality). But this is not normal."
"Normal? That's such a judgemental word."
"O.k. I think I'm going to scream now."
"No, don't. What if other people can't see it. They will think you're mad."
"Mad? Isn't that a judge-y word? And if other people can't see it, maybe I am mad."
"Or psychic. Maybe, you're psychic. Specially gifted."
"I don't want this gift."
"That's what someone who is psychic would say. You didn't chose it; it chose you."
"Can I scream now?"
"No, hang on. I think it's lost interest. It's stopped beckoning."
"I don't want to look, but are you saying there is a lifeless hand on the counter?"
"No, it's posture has changed. It's poignant, dejected, like it's looking for something or someone else."
"In that case, shall we just calmly back away."
"Do we have to? I'm interested to see what might be going on."
"No, no, no! Look, I'm in control and I'm backing out."
"Spoilsport!"
"Stop sulking!"
"This is like that time we saw a huge bird out at sea and we stopped swimming towards it."
"And we're still here to tell that tale."
"Or that time we thought we heard the cows talk in that field, but we didn't go and ask any questions."
"Again, sorry not sorry. Cows are much bigger than humans."
I smiled at the waitress next to the cash register, waiting patiently to seat me. I had been going to order a hot chocolate and a lemon muffin to keep me company while I tapped away at my lap top. I mimed being unable to find my purse and backed out of the café, an awkward grin on my face. And then I ran. I ran faster than I knew I could.
My disappointed ego shouted into the wind past my ears:
"You'd be a much better writer, if you just took some risks."
**********************************************************
This story was written in response to the photographic prompt provided at the top of the story by @BethanyJarmul on Twitter/X. Bethany will be providing a photographic prompt every day of this month as part of #JustWriteNovember - no word counts, no goals, just write.
************************************************************
If you've enjoyed what you have read, consider subscribing to my writing on Vocal. If you'd like to support my writing, you can do so by leaving a one-time tip or regular pledge. Thank you.
About the Creator
Writer-Performer based in the North of England. A joyous, flawed mess.
Please read my stories and enjoy. And if you can, please leave a tip. Money raised will be used towards funding a one-woman story-telling, comedy show.
Reader insights
Be the first to share your insights about this piece.
Add your insights