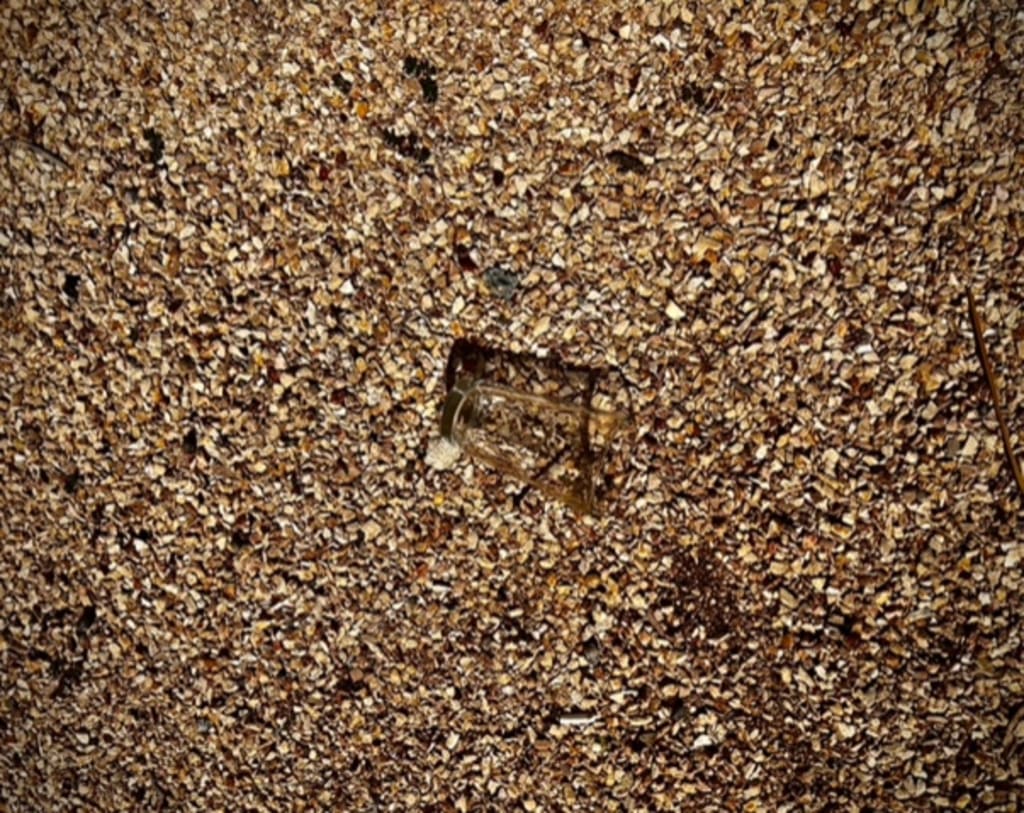 I remember it like it was yesterday. I was standing right there next to my husband, when all of a sudden, in the middle of a sentence, he disappeared. I remember the sound of the glass hitting the pebbles, and of them moving, knocking together as it settled.
I stood there in disbelief, stunned, not knowing what to do or say. I mean, how many people do you know have vanished before your eyes? None, right? And please tell me, what exactly do you tell the police that doesn't end in them telling you he must've left you or with you going to the sanitarium?
All of this went through my mind in a split second, as I stood there in the sun, staring at the empty glass, watching what was left of the water seep into the ground. I decided to go to the police and tell them I came out to the yard to find him gone. Let them think he left me. I suppose it is better than being locked up in a padded room, if they still do that.
Of course I waited 48 hours, they would've told me that anyway. I didn't sleep. I sat outside by the firepit, watching the spot where the glass lay. I didn't, couldn't pick it up. What if it was some sort of portal key, laying there, with which he would somehow find his way back to here.
As the sun came up the next day, I rose from the chair, stiff, hungry, and I realized I hadn't eaten at all. I went into the bathroom to splash water on my face and my cheeks were already damp. I don't remember crying. My puffy red eyes confirmed it though.
At exactly 48 hours, I went to the police station and reported him missing. They told me what I already knew they would say, and they would let me know if anything came up. I thanked them and went home. For the first time in my life, I had no thoughts in my head. I had no plan of action.
I checked the glass, yep, still there, then went for a run around the neighborhood. Maybe the endorphins would do me some good, at the very least, it would work the stiffness out of my body.
I was half a mile out when I realized something was off. The things were so subtle that I couldn't quite put my finger on the differences, so I simply kept going, chocking it up to being exhausted. I really hoped the exercise would knock me out so I could sleep.
After I got back , showered, and ate something, I crashed. I must've slept for about 12 hours, and when I awoke, I did feel refreshed. I made to go check the glass, then stopped myself. Why? Why check it? Whatever it was that happened, it looked like he wasn't coming back. I cleaned up my dishes. Then went out, picked up the glass, and washed that too.
I had the strangest feeling as I put it on the drying rack. Everything as I knew it had changed. It was never going to be the same. And I could choose to stay right here in this moment, or I could choose to live my life from right now, as it is. Different.
I got dressed, grabbed my keys, and went shopping. The fridge needed restocking.
The door to the police station opened, and a man ran inside, frantic, saying his wife had disappeared before his eyes. He claimed he even saw the glass she had been holding drop to the ground next to where her feet had been.
It took a couple of days for them to go around to take a look, the rule is 48 hours after all. When they arrived, they found him surrounded by neighbors, who led them to the back yard where they found him sitting in a chair staring at the ground.
Right before they arrived, the glass had disappeared. He did not take his eyes off of the indent the glass had made in the pebbles. No, none of the people supporting him had moved it. He knew because he had not left that spot. He started to panic. Was he losing his grip on reality?
They looked around for any signs of struggle, or foul play. They found none. And as the husband became more and more distressed, they called for assistance.
He was taken away in an ambulance, while his friends and neighbors looked on in shock at what was happening. It was a story they would talk about for some time after at barbeques and holiday parties. What ever happened they would wonder? Heads would shake, and they would move on.
About the Creator
Musings and imaginings from the brain of a fifty something year old Gemini who sold everything and moved to Los Angeles in 2018.
I am no professional, I write because it brings me joy, release, and peace.
Reader insights
Be the first to share your insights about this piece.
Add your insights