The Amalgamation Game
Chapter One: Dragon Nights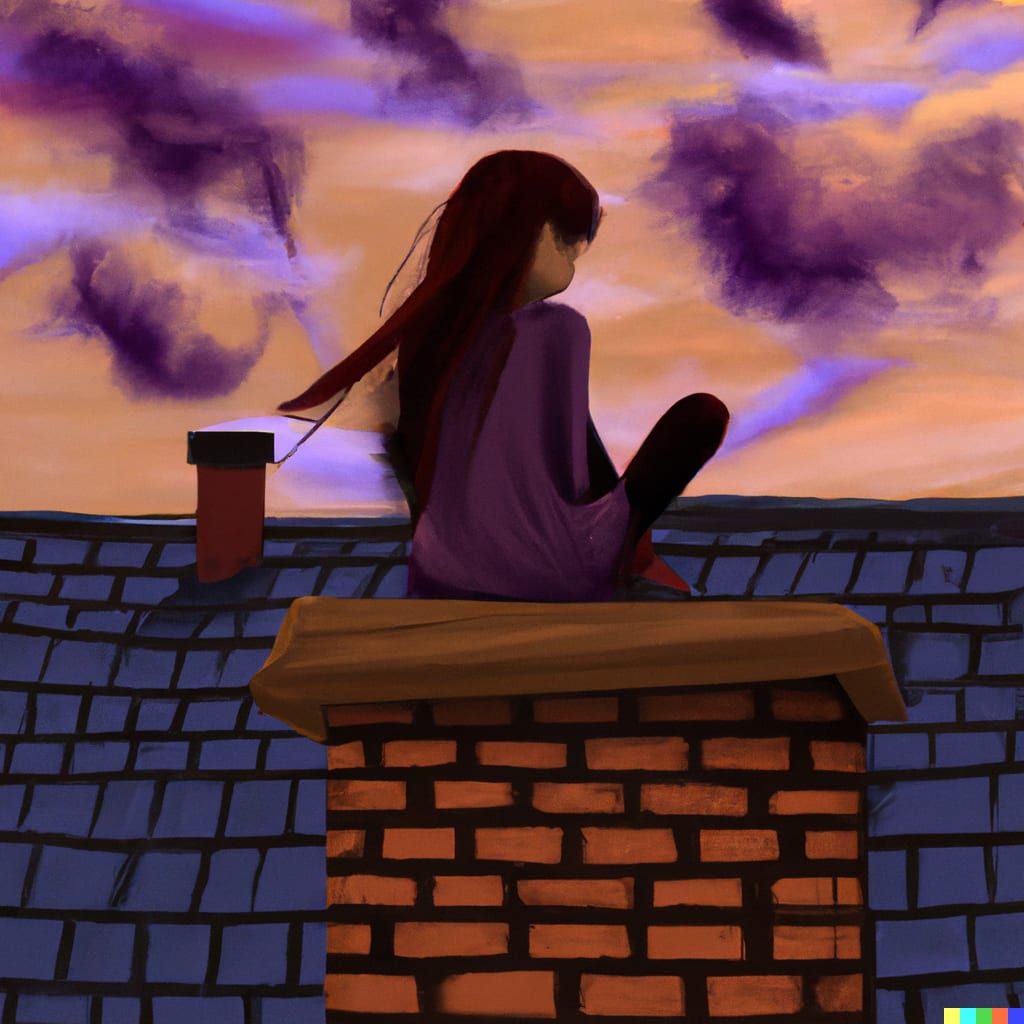 Image created with DALL-E
Every night at midnight, the purple clouds came out to dance with the blushing sky. Tonight was a special occasion though. Sometimes the clouds took on the shapes of enormous animals as they danced across the heavens. And tonight, they were Emily's favorites... dragons!
The cloud dragons gracefully flapped their iridescent violet wings and moved in waves of shimmering vapor undulations through the salmon hued sky. Up, up, up they danced, eventually beyond sight and into the stratosphere where they shattered into bits of sparkling diamonds and continued their ballet beyond all boundaries of human observation.
But back down below...far, far below, Emily was still watching.
She should have been asleep but whenever the dragon clouds appeared she climbed out of her little bedroom window and perched against the side of the cracked brick chimney in the night. She had forgotten to bring her blanket this time, so she conjured a tiny flame to warm her fingers as she watched the skies. She wondered where the dancing purple clouds went on the Dragon Nights, as she called them. The last night like this had been months ago, right before Madeline went away.
Eventually, she admitted that the dragons were gone and that the show was over for the night. She had school tomorrow and her mother was not going to accept "Dragon Nights" as an excuse (again) for not waking up on time. Her mother saw the purple clouds, of course, they came every night...but somehow she had never seen the dragons.
Too few hours later, Emily awoke to the incessant BEEP BEEP BEEP of her mother's ancient wooden radio alarm clock. She groaned and rolled over to end the torture. She hated that thing but the wretched clock was probably going to outlive them all. Sitting up groggily, she yawned and stretched. Catching a glimpse of herself in the mirror on her dresser, she shuddered. This situation was going to take more than her typical 15 minute "get ready" transformation ritual.
Emily flicked her pinky finger, whispered a few words, and her hair began to untangle while she dug through her closet for something "cool" to wear. Settling on her most expensive jeans and a shirt that she hadn't worn in the last few days (that was not a mistake she would repeat), she returned to sit on her bed in front of the mirror. She sat like a statue while her makeup was applied because she hadn't quite gotten that trick nailed down yet.
You couldn't just "go to school" these days. Her mother always chided her for even spending 15 minutes on trying to look beautiful for school because "School is for learning! Not impressing boys!" but her mother just didn't understand.
It had nothing to do with impressing boys (not boys, specifically, anyway) and these days, school wasn't for learning at all. It was for fitting in and making friends with the popular kids so that you were eligible for Amalgamation at the end of the term. But no one else seemed to know that.
Only Emily...and the principal.
Ever since that afternoon a few months ago, Emily had been trying to figure out the steps in the process of becoming a popular kid, and thereby a candidate for Amalgamation at the end of the year. It was proving to be quite a puzzle. Fortunately, Emily had always been good at those.
Looking good was step 1. If you didn't look beautiful then there was no chance you'd ever have the right friends. And having the right friends was the most important thing. At least, that's what Madeline had told Emily at the end of the last term...when she had excitedly told Emily that she'd finally been asked to sit at their table.
Step 2 was acting like you didn't care about anyone or anything except for being one of the popular kids. This one was harder for Emily...she couldn't transform her mind like she could her appearance. Because she did care. She cared about a lot of things. She cared about her family and she cared about learning and she cared about developing her talents and she cared about her longtime best friend Madeline. Even though Madeline didn't care about her anymore. Because, Madeline didn't exist anymore.
Step 3 was, best as Emily could figure, not actually being that good at school? Emily was smart and a very diligent student...which had been a good thing up until 7th grade when suddenly that wasn't desirable anymore. Suddenly no one seemed impressed when she received excellent reviews for her creations and perfect grades on her math tests. She didn't understand that part. Whatever the goal was with the process, why wouldn't they want smart and talented kids, too? Didn't the Amalgamation also need children with intelligence and natural ability? Maybe it really was all about popularity... She hoped not.
No one ever talked about Amalgamation openly, obviously. Emily had overheard the principal use that word when talking to someone (Emily didn't know who) in the staff lounge a few months ago though. Yes, she'd eavesdropped...but she needed to know where the popular kids had gone at the end of term. No one had even acknowledged that they had happily walked into that storage room as a group of over a dozen and returned as a set of three. Three nearly identical children. Children who everyone else, even Emily, remembered and knew well.
Sometimes Emily thought she had imagined it...imagined them...the ones who had gone into the room. Will, Catherine, Jasmine, Elly, Claire....and the rest...but she couldn't have imagined Madeline.
Just like she knew she hadn't imagined the Dragon Nights.
About the Creator
Hi! Thanks for reading! My hobbies include making coffee, drinking coffee, and starting to write a story and then rage-deleting it when I get the slightest bit frustrated.
Reader insights
Outstanding
Excellent work. Looking forward to reading more!
Top insights
Compelling and original writing

Creative use of language & vocab

Easy to read and follow

Well-structured & engaging content

Excellent storytelling

Original narrative & well developed characters
Heartfelt and relatable

The story invoked strong personal emotions

On-point and relevant

Writing reflected the title & theme
Add your insights