Power
The lesson I learned from Miss Salman (fiction)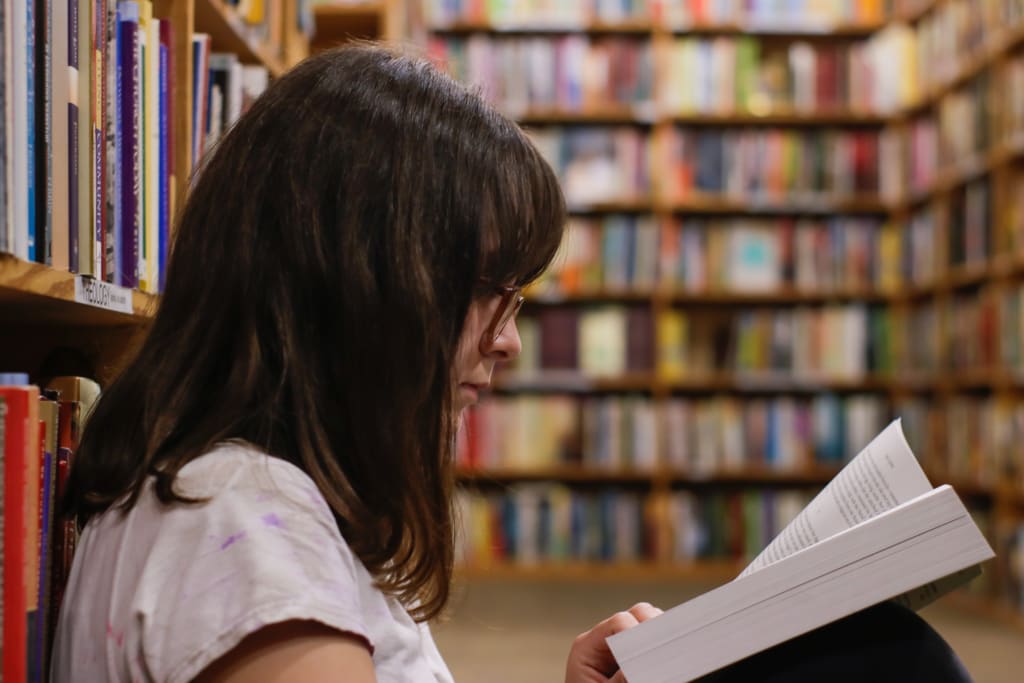 Until the day I set foot in Miss Salman's library I had never seen so much reading matter in one place. I had moved to a different school in my hometown, and it had a renovated library funded by bequests from former students. I slid my hand down the gold-stamped leather spine of the Funk and Wagnall's, and gaped at the thickness of the Oxford dictionary. I gawked at the glossy American magazines. The three ceiling high shelves of enormous size filled with fiction made my heart beat faster with excitement.
Then I saw Miss Salman herself, staring at her watch. Her lips were pursed with concentration. Her permed hair was in curls so tight, bare scalp showed in lines of military precision. Cool grey eyes framed by thick glass frames watched the time.
"The library will close in five minutes", she announced.
I grabbed the nearest book, and joined the borrowers' queue at the massive desk. I twitched every time I heard the clunk of the date stamp, and the thump of a closing cover. With gravity and patience, Miss Salman checked out a total of fifty books before she reached me. She inspected the volume I placed before her, and then gazing at me over her glasses, stage whispered, "This is a reference book. You cannot take it out of the library, and the library is closing."
She placed the book on a pile under a notice: to be shelved, and pulled a shiny leather bag, and a ring of keys out from under the loans desk. Seeing me still standing there she said, "Come back tomorrow."
I heard the bolt slide back on the half door through which she accessed the area behind the loans desk. She marched to the exit door and holding it open, waved me through. From the top of the stairs I watched her lock the door. She had way too much power for my liking.
I returned at lunch time two days later. Miss Salman stood straight-backed at the loans desk, looking over her glasses at two year seven students. I felt like a thief as I snuck towards the fiction section with its secluded beanbag strewn reading area. The perfect distraction for Miss Salman's attention burst through the door behind me in the form of a year eight student, carrying a portable radio that blared rock music, and the words, "We don't need no education, We don't need no thought control..." (1.)
I could hear the thump of the slide bolt, and the thud of the half door against the wood: Miss Salman was out from behind the loans desk and heading towards the entry door. She stretched her hand out towards the errant student's radio, the student glanced around as if looking for a defender. It seemed every eye in the place was trained on them. Miss Salman pushed the off button, and the singer's voice ceased between the words don't and need. The student slunk towards the door. In the silence that followed, you could hear Miss Salman's tread back to her office behind the desk, and what I imagined was the dull thud of the radio being shelved.
Miss Salman appeared back at the loans desk, and continued stamping books for the last student standing there. She looked towards the side and appeared to be staring in my direction. I imagined she was staring into my soul. She probably knew what I did after school hours. I felt we both knew that she would have that radio for at least two weeks.
Third term arrived with its joy and concern. Spring with its floral scents and warm breezes had arrived, but with it exams, due assignments and graduation ceremonies. Mr Johnson arrived too, as a relief teacher. Amongst the greying hair and dumpy figures of the other teaching staff, Mr Johnson drew attention with his wavy blonde hair, dancing hazel eyes, broad shoulders and tanned hands.
"Eye Candy", said Sharon, a friendly student I was hanging out with.
"A rose among thorns, if you can say that about a bloke", declared another named Julie.
"I know what you mean", I said and we all giggled. Julie blushed. I held my hands over my face.
I was still spending most lunchtimes in the library, but my attention turned to studying geography and history. I was reading Thomas Hardy's Tess of the D'Urbervilles, and that spring J.D Salinger's Catcher in the Rye, but most of that reading took place at night under the bedcovers with a torch so that my parents would not complain about the time wasted. I would have to have been sentenced to Timbuktu not to notice Miss Salman's response to the presence of Mr Johnson. She called him "Stephen", and if anyone was waiting to get their book stamped when he was in the library his inquiries came first. Once Sharon dared to declare, "I was here first", and Miss Salman drew herself to her full height, and gave her a punishing look, "Mr Johnson is a member of the staff." Later we laughed together about that; all the other staff got the same treatment as any other borrower, except the principal.
Miss Salman's physical appearance changed. Her tight perm became loose finger curls, and I decided her hair was an attractive auburn. Her glasses changed from thick plain frames to finer ones with sparkly bits at the edges. She started wearing pastel coloured cream eye shadow and doing her nails with polish to match. Loose fitting blouses and suit jackets were exchanged for figure hugging twinsets in flattering colours. Miss Salman changed from a librarian into a person.
In the first week of November the gossip was that Miss Salman had coffee with Mr Johnson at the Park Café. I was sure the goss wasn't overly exaggerated because the same week I managed to slip two titles past Miss Salman and keep them until school started the following year.
Exams were over and passed, in my case mostly with B grades. I embraced the hot lazy days of summer: swimming at the river, lying spreadeagled on the broad sand amassed at its' bends, and canoeing downstream to scenic spots for picnics. I spent the evenings with Sharon and Julie doing each other's hair and nails. All the while we imagined the grand affair going on between Miss Salman and Mr Johnson. The only thing better than a summer romance was our vision of their walk down the aisle. Miss Salman isn't so bad, I reasoned, why shouldn't she be happy?
It was the last week of January two days before school started. Mum had said not to go to the river, and Sharon and Julie were away for the weekend with their parents. I asked Mum if I could go for a ride on my bike; she set a time limit for me as the weather was hot with a strong breeze from the north.
Mum handed me an ugly sun hat, "Wear this, it's so unpleasant out there. You don't need heatstroke now."
I put the hat on quickly, I was feeling so antsy I didn't want her to say I couldn't go.
I rode around our block, and then feeling mournful about the funeral of my summer fun, I decided to go down to the river. There was a willow tree amongst the gums where I loved to perch and muse. It would be the perfect place to steel myself for another year of school. Soon I was perched in that willow, my bike secluded on the river bank side, hoping it would remain quiet enough to see an azure Kingfisher emerge from the bank and hover over the water. There was a parking area secluded in the trees behind me, and we had often surprised couples there. It was also a spot from which golfers accessed the course on the north side. I guess half an hour passed, as I lazed in the tree. I heard a car door slam, and from my vantage point I could see a man had exited a blue sedan. I stared, blinked and stared again: it was Mr Johnson. He must be here to play golf, I thought. Deciding I would call out to him, I leaned out from between the drooping branches of the willow just in time to see a tall, unknown, raven-haired woman embrace him. I watched them kiss; I withdrew into my hiding place. I trembled. When I emerged, the car was still there but the couple had disappeared, and retrieving my bike I rode home fast.
When I returned to school, I could see that Miss Salman and Mr Johnson were still a couple. They went into the staff room together at lunchtime, and he picked her up from the library after school. Miss Salman still did her job carefully, but smiles at borrowers were frequent. I guess she got used to having Mr Johnson around because her hawk eyes were sharp as ever.
One day she said it straight out, "You'd better loan out that book under your blazer, Miranda, we are doing a library inventory."
Red-faced, aware of all onlookers, I complied. She had way too much power for my liking.
July arrived, with its thick frosts, and despite my long parka and vigorous cycle to school, my knees were always frozen by the time I parked my bike in the rack by the staff room. One morning I arrived early, and the sky was clear, with the northerly spot by the racks filled with sunlight. I was warming my knees, and amusing myself with the thought of what the principal would do if she looked out the staff room window and saw me with my skirt halfway up my thighs, when I heard them.
"You lied", Miss Salman hissed out. "You created a little fantasy at my expense."
"I—". Mr Johnson sighed as Miss Salman interrupted.
"You're a complete bastard."
I bit my lip to stifle a gasp. Miss Salman never swore.
Within twenty-four hours, despite my silence, the gossip was all over the school. A dark-haired, dark-skinned woman had arrived in town last week from Tasmania ,so they said. She had a two-year old son, and a wedding ring. Miss Salman went on leave. Mr Johnson left. Nobody knew for sure if he left with the dark-haired woman.
Two weeks later, Miss Salman returned.
She left her hair the same, but she didn't bother with the eye shadow. Sometimes she wore a twin set but with a higher neckline and in sober colours. Until I left school, she always checked out every single book. But she never had quite enough power for my liking.
[ 1. Pink Floyd : Reference to Another Brick in the Wall (parts 1 and 2) Waters and Waters. Gilmour ( Song writing credits) From The Wall album (1979) ]
The End
Short Story
About the author
Writing and publishing are my passions.Storytelling and word craft matter.
I love to observe people and I fall in and out of love everyday.
I write a lot of in-the-moment stories but I love to dabble in magic realism and fantasy.
Reader insights
Be the first to share your insights about this piece.
Add your insights