One Horse Slain
It's not easy pulling the weight of the one-horse-open-sleigh around Christmas, especially when you just want to stop by some snowy woods of an evening.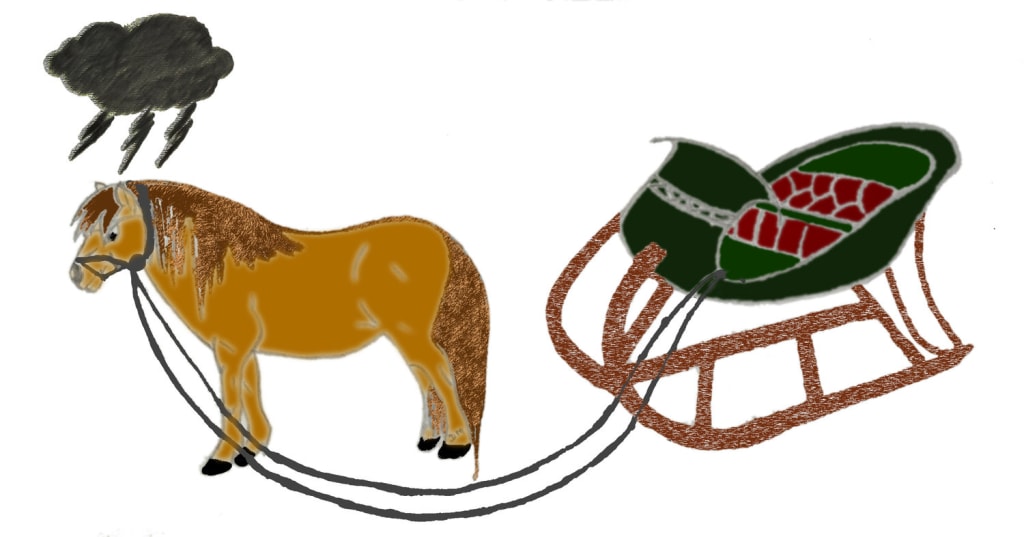 I can think of no greater humiliation than that which I have endured.
Gather 'round, gather 'round. As the woods fill up with snow in the long, dark evenings of December. As the shopping malls become choked with flashing lights and cheap tinsel and terrible music. As every website you visit starts flashing dubious deals at you, thinking that this time of the year, more than any other, you might be susceptible to advertising.
Gather 'round, as another ghastly Christmas approaches, and allow me to tell you the story of the most horrific character assassination ever perpetrated by this consumer society...
___
I was a Somebody, once. I had meaning. I mattered. I stopped by snowy woods of an evening, even though there wasn't a farmhouse in sight.
Yes, that's right: that was I. Back when I was the darling of the poetic scene. Some will say, no doubt, that I was only a bit player in this great work. In doing so, however, they will be merely advertising their own inadequacy and ignorance to the world. Anyone who is actually in the business knows that there are no small parts.
At the time, I really thought I had it made. Money, fame, recognition? What are these but fleeting distractions when compared with life's real essentials? Respect. Integrity. Dignity. These I had and these I cherished and these I thought were mine forever.
Alas! For that long summer of hubris swept me through the years on the tide of collective consciousness until I found myself in the bleak midwinter of nemesis – in the form of that orgiastic celebration of supply and demand called Christmas.
Sleighs were popular in this show, apparently. For a while I thought it queer that reindeer seemed the animal of choice, when there were still perfectly good horses available, with a far greater economy of 1:12!
Soon, however, my folly in taking an early interest came crashing down upon me, through a song straight from the tortured choir of the inferno: 'Jingle Bells'. Stately progress through the snow and silent contemplation of the lure of eternal rest had given way to dashing about, laughter and fun. Fun!
My gentle shake of the harness bells, designed to bring my master out of his reverie and to remind him of the promises and miles ahead of us, was now a mere accompanying 'jingle'. How I despise that word. Yes, 'twas a dark day indeed for the one-horse sleigh.
Somehow, it got even worse after that. 'Jingle Bell Rock' took whatever miniscule qualities which might have existed in the original and placed them in an atom smasher. Over the speaker systems of a thousand and one frightfully garish shopping centres, I was paraded like the spoils in some ghastly triumph.
Then, at my lowest ebb, where one could be forgiven for thinking that a ray of sunshine was bound to break through the gloom, there was an eclipse instead. Hollywood came along and I found myself as part of the background music to disasters like Home Alone, The Santa Clause or bloody Jingle All the Way.
When people used to think of me, they thought of Robert Frost. Now they think of Tim Allen. None have ever fallen further.
My dignity is in tatters, my reputation slain. It is absolutely intolerable; however I cannot even take solace in the vulgar concept of vengeance. When the culpability rests in a social institution, upon whom could a righteous retribution be wrought? Instead, I must continue stoically onward, bearing the cruel slings and arrows as they fall, hoping that the miles ahead prove kinder.
Still, it would be nice if I could find an individual to pin this on and kick them in the kneecap.
About the Creator
Read one too many adventure stories as a child and decided I'd make that my life.
I grew up on a cattle station in the Australian Outback and decided to spend the rest of my life seeing the rest of the world.
For more: www.roderickmakim.com
Reader insights
Be the first to share your insights about this piece.
Add your insights