Mercury Bluffs
Martha's Vineyard Thriller
Chapter 1
September 4th, 10:22 A.M.
State Beach, Martha's Vineyard
Blood-curdling screams rode the crimson waves and crashed hard against the hot sand. Two of the three teenage lifeguards on duty began to pierce through the chaos with their Kiefer Pealess whistles, alerting any remaining swimmers that there was a shark in the water. Beach goers of all ages were suddenly thrusted into a panic as they rushed to gather their scattered friends and family members in desperate attempts to retreat to the safety of their vehicles. Beyond the red buoys which marked the limit for all swimmers, Bree scanned the water with her Marine Rescue binoculars and saw three gray dorsal fins breaching the roiling water indicating that these were now hunting grounds. They were tactically circling a lone sloop which didn't appear to have any souls on board. Bree's heart quickly sank to the depths of her stomach, fearing the worst.
Opening the throttle on his forest green Polaris ATV, Kyle and his bright red Rescue Can raced across the beach towards the aquamarine lifeguard tower. In his wake, Bree continued ushering all of the straggling sunbathers over the dunes to the safety of Beach Road. Pushing her whistle to its limit, her section of the beach was cleared in a matter of minutes. Skidding to a halt, Kyle vaulted off the ATV and sprinted up the ramp of the tower. Finding it empty, he ransacked the room. After a quick search, he found what he was looking for hiding beneath a stack of drinking citations and old Vineyard Gazettes. Turning the radio on, he set it to channel 2 then firmly squeezed the push to talk button on the side and relayed his frantic message.
"Emery, come in. Sharks in the water at State Beach. The waves washed up blood. The beach has been evacuated. We need more hands and we need boats in the water as soon as possible. Do you copy? Over." Kyle was trembling so hard he was unsure if his voice came out clear on the opposite end. That proved to be false when he heard the familiar, nasally voice cut through the hissing static acknowledging his distress call.
"Copy that, Kyle. I'm at the station now. The phones have been ringing off their hooks for the past ten minutes with calls about giant sharks killing and eating some one sailboating. The Chief is also here and he's trying to control the chaos, but he's struggling. Three cruisers are headed your way to help contain the beach. Until they arrive, keep your eyes on the scene, keep people out of the water and do not lose sight of those sharks. Over."
Slightly relieved with the quick response time of the usually slow to react Oak Bluffs Police department, Kyle hustled back to the idling ATV. Kicking up a sandstorm with the wide back tires, he once again opened the throttle and barreled his way back across the empty beach to Bree.
Chapter Two
Chief Riley was sweating profusely over a pile of unpaid parking tickets, sucking down his fourth mocha iced coffee of the morning. He was desperately trying to sort through all of the calls and get down to the facts because if a swimmer had actually been killed by sharks, he would be forced to evacuate all of the beaches on the island - public and private - and with it being Labor Day weekend, that meant pissing off thousands of happy tourists. He needed to contact the Oak Bluffs fire department and scramble a team of search and rescuers as well as alert animal control, The Steamship Authority and the Coast Guard. If they were to find a body in the water or parts of a body washed up on shore, then the State Police would also need to be notified.
Emery Kekoa, a 19 year old Marine Biology student from Kauai, Hawaii, and the head lifeguard for State Beach this summer was fueling up his red Jeep Wrangler when he heard and saw the caravan of police and fire rescue vehicles barrel down Lake Ave towards Ocean Park and the islands most famous gazebo. Good, he thought to himself, the cavalry is on its way. All fueled up, Emery climbed into the driver's seat, inserted his key with a purple Vineyard Vines lanyard dangling from its keychain, threw the shifter into drive, and quickly accelerated. Heading in the opposite direction of the rescue caravan, Emery turned right onto Lake Ave and made his way towards Vineyard Haven. During the chaos of incoming calls back at the police station, one came in regarding an isolated incident at the Tisbury Town Beach. The call was from an old woman whose grandson claimed to have seen a large, gray dorsal fin patrolling the Vineyard Haven Harbor. Not wanting to add any further stress to the full plate of Chief Riley, Emery decided to keep this call to himself and to investigate it on his own. If the woman's grandson had indeed spotted a white shark in the harbor he would certainly alert the Chief, but if it turned out to be a false alarm he would surely be able to resolve the situation by himself. He prayed the boy had been mistaken.
After sitting in ten minutes of traffic on Beach Road, Emery finally rolled into Vineyard Haven. Turning right onto Main Street, he pointed his vehicle in the direction of Tisbury Town Beach. Spotting the Vineyard Haven Yacht club, he took one final right turn onto Owen Little Way. This was a narrow, paved road which ended at an overgrown, private pathway that led straight down to the beach. He parked his jeep off to the right on a sanded patch of land, grabbed his binoculars, walkie-talkie, Rescue Can and the Oak Bluffs Police Department's Nikon D750 DSLR Camera with a 24-120mm Lens and hustled his way through the overgrown path. At the mouth of the pathway Emery scanned the beach, hoping to find the old woman who made the call or for her grandson, the one who made the discovery, to be waiting to point him in the direction of the shark. He found no one. He was alone.
Last year, Emery had moved from Hawaii to Los Angeles in preparation for a college career at UCLA for Marine Biology, mainly to study sharks. During his freshman year while trying to balance his academics and his stressful job as a lifeguard, a classmate from Boston told him about an awesome summer internship in Cape Cod. He told Emery that if he wanted to truly learn all he could about white sharks, then Cape Cod was where he needed to be. That night he went online and filled out the application for The Summer Student Fellow Program at The Woods Hole Oceanographic Institution. The following summer he found himself on an airplane bound for Logan Airport. During his time at the institution, he learned about the rapidly rising temperatures of ocean water and the side effects of such a drastic change. Every other week, his group of interns would board the fast ferry out of Falmouth with their instructors and take the thirty minute boat ride to the Vineyard. They would stay on the island for three days gathering extensive data on the changing water temperature, documenting migrating species, possible nursery locations for seals and sharks and frequent mercury tests of the water. Since Emery also had a background as a lifeguard, to earn some extra spending money, he acted as the head lifeguard for State Beach in Oak Bluffs. He was here to study the majestic nature of white sharks and find out why their numbers have been increasing in the Northern Atlantic waters of late. The last thing he thought he'd be investigating was a tragic shark attack.
He was about to leave the vacant beach when he noticed an aggressive splash about forty meters out. Shifting his Ray Bans to his forehead, he lifted the binoculars hanging from his neck to his eyes and peered out. His mouth slowly started to drop as he watched three, large dorsal fins breach the water, torpedoing their way deeper into the harbor. With his newly acquired knowledge, Emery was able to observe that these fins were too small for dolphins, these fins belonged to killers and they were heading straight towards a bustling marina. He dropped his binoculars, ripped his walkie-talkie from his waistband, and radioed Chief Riley.
Chapter Three
The Chief was still inside of the Oak Bluffs Police Department, juggling relentless phone calls and a large plate of cinnamon donuts from Back Door Donuts. He had his deputy and two sergeants helping him take and log all of the incoming calls. His wife, Betsey, had also joined in on the party. She was a manager at Nancys Restaurant and had just gotten off her shift when she received a phone call from her husband, begging her to help him at the station. They were each locked at a desk, consumed with terrified conversations. For the past hour, new calls reporting more shark sightings have been flooding in from every corner of the island. Edgartown, Aquinnah, Menemsha, and East Chop all had confirmed sightings of large gray dorsal fins breaching the water. The most concerning thing about these calls was the fact that each sighting reported multiple fins swimming together. This was unusual considering white sharks tended to be lone wolves. "Why the hell are they travelling in packs?" he contemplated to himself. Chief Riley's walkie-talkie suddenly exploded with the scared voice of his head lifeguard. Putting the frantic tourist on hold, he asked Emery to please repeat his message. Absorbing the new development, his brain ached and twisted itself into complete disarray. Thundering over the mayhem in the station, Chief Riley relayed the discovery to his team.
"Three more white sharks have been spotted in the Vineyard Haven Harbor. Sgt. Murray, contact the Tisbury Police Department and tell them to clear all of their beaches immediately. Sgt. Perrotti, I need you to contact Vineyard Haven's Steamship Authority and alert the Harbor Master to halt all ferry rides and to recall any and all departing boats. We need to get everyone back on land as fast as possible. One shark sighting wouldn't be cause for concern, but six white sharks in two separate locations in a matter of one hour is not normal."
Deputy Owens was trying to calm down a terrified caller when Chief Riley walked over to him and yanked the telephone from his ear, hanging it up.
"I need you to get to Tisbury and help secure the beaches. The Tisbury Police Chief is a fat, slow-moving lard. We need this evacuation to be executed quickly and efficiently. Something is happening with these sharks and we need to keep everyone on the island safe and out of the water. Do you understand me, Deputy? I will not have anyone dying on my watch."
For a moment, Owens stared back into Chief Rileys dark brown eyes, mouth agape, frozen in confusion. Chief Riley snapped his thick fingers in his face, snapping Owens out of his trance.
"Yes sir, sorry sir. I will leave right now."
Deputy Owens exited the police department with haste, got into his cruiser, engaged the siren and sped off. Chief Riley needed reliable eyes and able bodies if he had any hope of containing this invasion. He radioed back to Emery, telling him to meet Deputy Owens at the Tisbury police station and to help him in the evacuation of the beaches. Once he relayed his message, he waited a moment to confirm Emery's response. Hearing nothing but drowning static, Chief Riley squeezed the push to talk button on the Walkie Talkie and repeated his orders. Continuing to receiving only static, a horrible feeling started to fester in his gut. "Son of a bitch. Answer your damn radio, Emery."
Chapter Four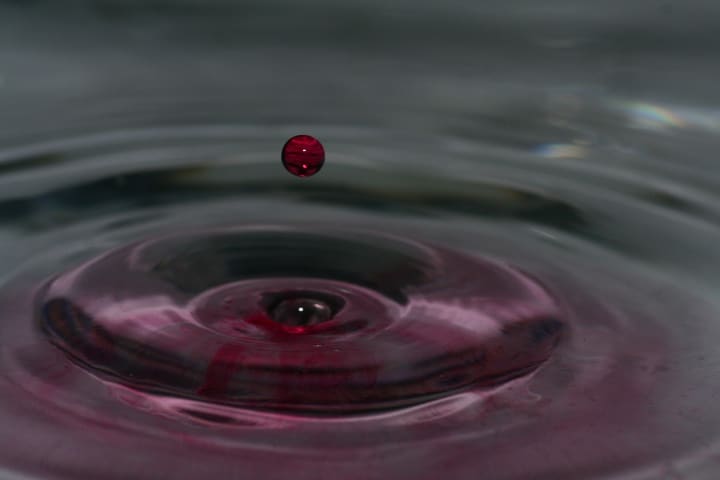 Back at State Beach, Kyle and Bree were both standing on the roof of the lifeguard tower. They each had large, black binoculars glued to their faces. The dorsal fins have increased their numbers. Kyle had eyes on three and Bree also had eyes on three. The fire department as well as animal control had set up a roadblock and a safety perimeter, making sure no one snuck their way onto the beach or into the water. The coast guard had also been on location, floating only a few meters away from the pack of white sharks. Kyle and Bree were able to calm their nerves once the Coast Guard discovered that the bloody water which washed up on shore was in fact not human. A family of seals had been turned into brunch for the pack of sharks, and the abandoned sailboat was not abandoned after all. The owner had been sleeping, which made the boat appear to be unmanned through the lenses of their binoculars. The sailor was now safely secured below the decks of the Coast Guard's rescue boat. Excited to alert his boss that no swimmers or boaters had been killed and eaten by sharks, he radioed Emery the good news. Getting back nothing but static, he tried him again.
"Emery, come in. The blood that washed up on shore wasn't human! The blood was from a family of seals. The coast guard was also able to safely remove the sailboat's lone occupant, who had fallen asleep on the bow. Emery, no one has been killed or eaten! Do you copy? Over."
Receiving only static, Bree radioed Emery the same message from her walkie-talkie. The combined static from both walkie's sent sharp shivers up and down their spines. Emery always answered his radio, he was their superior and an excellent lifeguard. Bree and Kyle locked terrified eyes and both thought the same, stomach aching thought.
What the hell was going on.
Arriving at the Tisbury Police Department, Deputy Owens saw no sign of Emery or his red Jeep Wrangler. The lot was empty aside from the one police cruiser which belonged to the dispatcher. Inside the station, he asked the dispatcher if she had seen Emery and if so, where he had gone. Getting back a blank stare of confusion and the discouraging reply of "Who?" - Owens radioed back to his boss to alert him that no one in Tisbury had seen or heard from Emery all day. Chief Riley radioed back instructing him to check the Tisbury Town Beach. That's where Emery was heading when he left the Oak Bluffs Police Department an hour ago. He was following up on a shark sighting distress call in the Vineyard Haven Harbor. Owens got back into his cruiser and in a few short minutes found himself turning onto Owen Little Way. At the end of the narrow road, he spotted the red, lifeguard appointed Jeep Wrangler, but no Emery. He parked next to the Jeep then made his way through the overgrown pathway that led down to the beach. Breaking through the brush, he found himself alone on the sand. Something didn't feel right. He began to shout Emery's name as loud as he could as he patrolled the shore. As he got closer to the water, his eyes found something strange sticking out of the sand. As he got closer, he saw the purple cord of a Vineyard Vines lanyard quickly being consumed by the tide. Realizing what he had found, he continued his shouting for the missing lifeguard
After running up and down the seventy-five foot stretch of beach, Owens failed to find any other belongings or signs of struggle. Deciding to change his vantage point, he sprinted towards the protruding dock at the Vineyard Haven Yacht Club and didn't stop until he reached its end. Peering out into the Harbor without binoculars, Owens' heart sank once he saw what was floating behind a cluster of sailboats. Shaking in disbelief, his hand struggled to reach the radio holstered on his left hip. Bringing the radio to his mouth, he took a deep breath and delivered his message. The words were short, sharp and fatal.
"Chief. We have a body."
to be continued...
About the Creator
Using a poetic foundation to scribe thrilling shorts that become the building blocks for mysterious novellas which evolve into adventurous novels!
Find my published books here!
Reader insights
Be the first to share your insights about this piece.
Add your insights