Gone the Tides of Earth
Chapter 25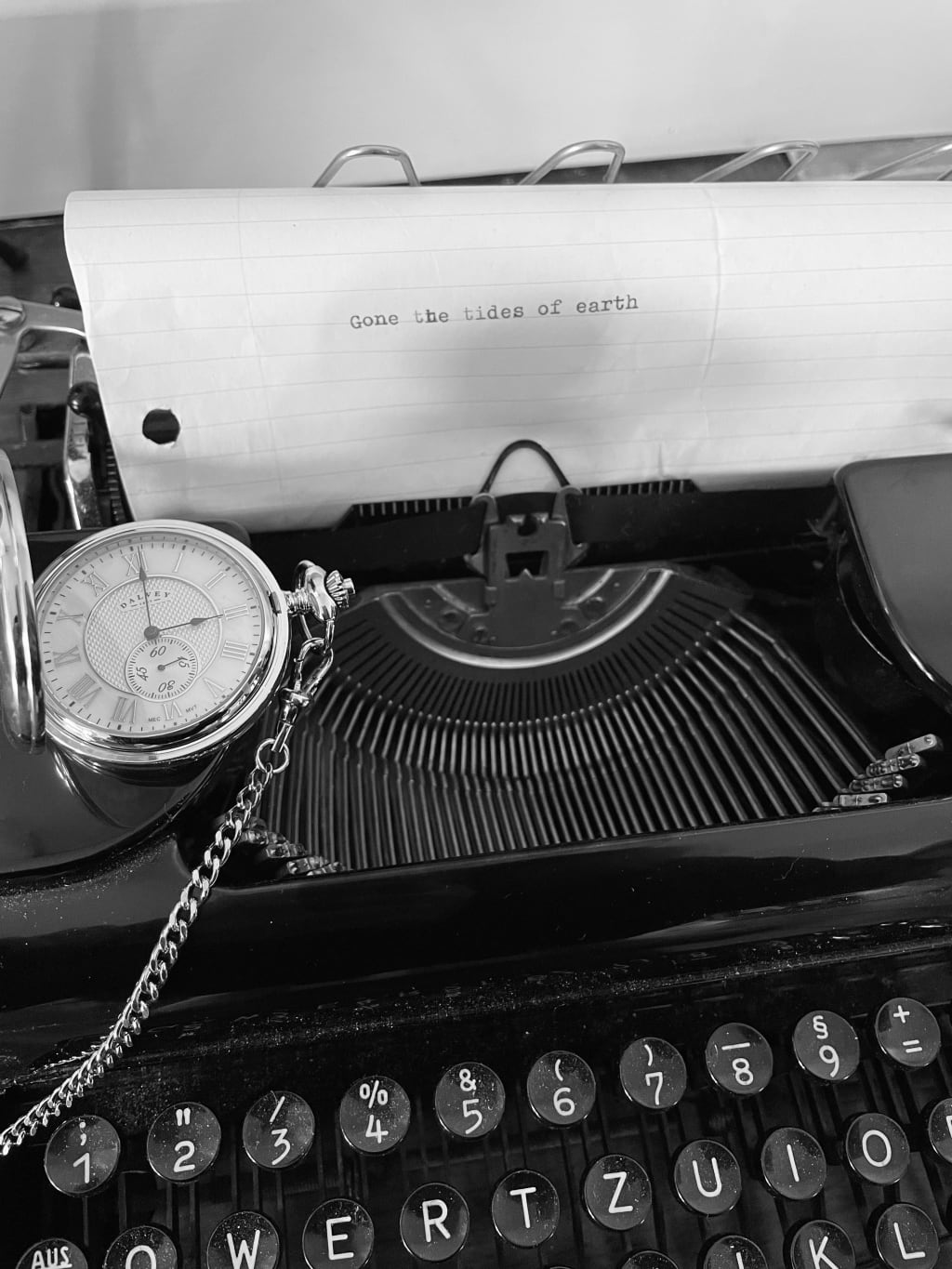 Like floating barrels jettisoned from a barge the water throws us along its course throughout the night. To our benefit, downriver where it eddies are lodged deadfall and much of this hardwood which we are mostly able to cling to. At the river's partition, where it trickles across a shallow bridge of stones, pebbles unto cascades we are delivered hence, each sprawling wherever they terminate, waterboarded, slept in frigid exhaustion.
A man whose life had been failing, who I realize died in the night, bumping about in the rush and that I'd chose to pull over log used as a raft. Now the fellow's lifeless corpse hangs limp, facedown, swirling in the shallows and still clinging to that same log.
I think of the car driver, as he sped off in the darkness, a reformative, born-again conscientious objector. And then chaps same as me, military just for the perks. I feel attuned to the dead, acts of killing, deed that makes you a ghost in the land of the living.
'Wakey-wakey,' teases a familiar voice, and amid shivering delirium it might be many hours since the evening riots. 'You look like Jesus after the Crucifixion.'
'Before or after the Resurrection?' I ask, too tired to turn around.
'Before - when he was just dead.'
'How do you imagine it was for him?'
'Crestfallen. Such is how it was.'
I muster any strength left, swivel, as Alci rushes ankle-deep into the pool and buries me in his arms. Then he musses my hair, hands spread wide supporting bobblehead.
'Your eyes are clear as skin is white. Oh, dear goodest friend - Alcibiades was afraid maybe you were lost. They will want us brought to bear on a court-martial.'
Dislodging sluggishly, I shift and lean backwards to gaze upon his uniform. Everything precisely is intact, nor is there a damned scratch on the young jester.
'I see you got to keep your sleeves. Sure, they'll be here soon - by now they've begun combing cross the embankments. We need to get out of dodge ASAP.'
'Mr. Owen, you were a standout - I was much less noticeable. Did not fight with the same level of conviction. Alas, Henry, you are bruised, cut, scraped and bleeding.'
'No matter. Fine. Not of the essence.'
'Let us go.'
'We need to help everyone else out.'
'Easy. Only an odd-dozen.'
In a moment's time I find strength enough to stand, we skip out into the rock pools and begin helping others via handholds or bracing under arms while they struggle afoot. A pair of them are military, and the rest civilians from early adulthood to middle-age.
'Thank you,' is what most of them say to us, some in disparate languages.
Before heading out I strip away the tattered, soaking jacket and Alci hands me his. It's far too tight about the chest, but hypothermic I accept the gift of goodwill decency.
As we turn to go there is a third military man beside the riverbed, a young male who had not been there before; his clothes are dry, and held fast in grip a well-shined chestnut bolt-stock rifle. The discerning eyes do not look away, moving from the soiled, sleeveless jacket on the rocks to the wet body, pallid complexion in front of him which is me.
The others stand on, watch apprehensively, and he lifts the gun and points it at my chest doubtfully. His beady eyes betray an aspect of contrite, self-resistance.
Alci manages to get a grasp of the barrel and shrugs its aperture towards the dirt calmly. Then he does what is unexpected, slugs the youth in his mouth. Presently, Alci pries strap from the war kid's shoulder and turns the weapon on him where he lay.
What he says is in Greek though perhaps, presumably, How do you like it?
Aghast with weariness for hatred, I place a hand on Alci's shoulder and his bulbous face - full of rageful primality - jolts around to me in regard. There is zero recognizable in this instance of the fine young being besides. Dubious, slow, I shake my head side to side.
Alci ignores my appeal to reface the shaking boy below. He himself has clattered into the rock-strewn water and urinated in his camouflage pants. Awareness of infinite casts itself over the few seconds next it takes Alci to lower the rifle, then turn back to me.
Hurriedly I dismantle the rifle's components, run to the deepest pool, and toss them into its depths. Comrades rush to aid the soiled younger, assist him in finding footing, gesture a nod to acknowledge truce enacted intuitively among us, then start upriver.
'They'll be back ere long,' I say grimly.
'Christ.' After the word, Alci heads for contiguous woods - I follow.
The others, distraught, scatter back in wake of the retreating soldiers.
Us two wilders remain, now not only stateless castaways but hunted.
The forest is mostly evergreen, but the beech and chestnuts there are coloured with buds, and underneath sodden leaves fell from autumn past. Pinkish, purpling, the brown trunks shine-wet from rainfall, and tops bare except for frosted branches with sprouts. We weave across series of footpaths throughout afternoon on firm, relatively flat terrain, and sometimes climbing then descending risen hills, yet steady and simply tractable.
Alci goes in the ahead, shoulders furled, he's different and I think of as from fear soldier boy had fallen, rolling down the embankment into mudded ditch. Plainly, I know any system which could make you do this and expects it is wrong. Yet still we act in accord, even this knowing while it happens - at least for me it was so - and with realization of personal oblivion present also during. Afterward you feel contaminated, a type of dirty can't be scrubbed off. Then it was you felt funny, shaking on the inside as if your nervous system danced in squiggles like the Northern Lights. Foremost you cannot will yourself right, so see it like an infection which needs time to breathe. Don't smother it with bandages though live airily as possible. Thus, it is you become he who tucks tail and bears siege. Living becomes steeped in that primal instinct coded in epigenetic memory which you may get sometime, somewhere, telling that you are going to die and need to leave but there is nowhere to go and cannot get out nor away from it. Occasionally, one will glimpse comprehension of the genuine human condition and know that nothing of anything which happens is so bad. Although from inner light (soul) you will see how dark these contents really are and second-guess all such understanding, possibly even forever, and will wonder about evil and reality beyond existential conception. And so, you forget what really truth is.
'Oh, I could have hurt that boy,' says Alci in a compounded grief, voice souring. 'God - why did I take it so far?! We were in his sights, yet he did nothing. No deed at all.'
Adventure
About the author
Young writer, filmmaker and university grad from central Canada. Minor success to date w/ publication, festival circuits. Intent is to share works pertaining inner wisdom of my soul as well as long and short form works of creative fiction.
Reader insights
Be the first to share your insights about this piece.
Add your insights