Flora and Fauna
Opposites attract...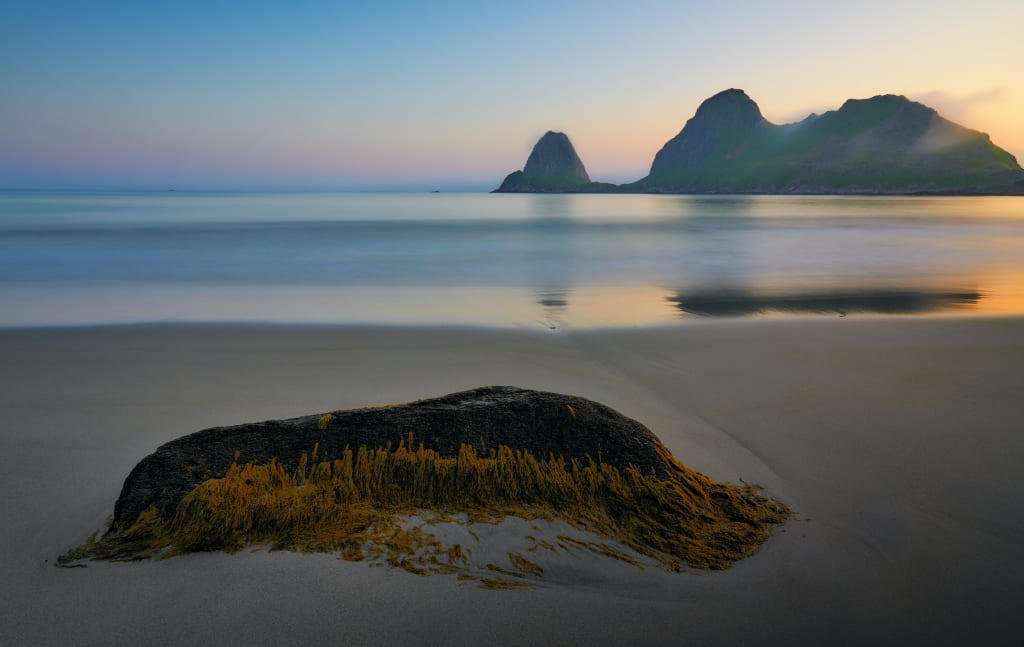 Once upon a time on a beautiful tropical island, there lived two unlikely friends. One was a brilliant scientist named Eiffel, who had come to the island to study the unique flora and fauna. The other was a local fisherman named Marcus, who had lived on the island his entire life.
Eiffel was a highly educated woman, with a Ph.D. in biology and a passion for research. She spent most of her days wandering through the dense jungle, collecting samples, and taking notes. Marcus, on the other hand, was a simple man with a love for the sea. He spent his days fishing and exploring the coral reefs that surrounded the island.
Despite their vastly different backgrounds, Eiffel and Marcus's paths crossed one day when Eiffel's boat broke down and she was stranded on the shore. Marcus, who was out fishing at the time, saw her stranded and offered to help.
At first, Eiffel was hesitant to accept help from someone she perceived as uneducated and beneath her. But as she got to know Marcus, she began to realize that he was not only knowledgeable about the island and its inhabitants but also kind and generous.
Eiffel and Marcus spent the next few days together, with Marcus showing Eiffel the hidden gems of the island, such as secret waterfalls and undiscovered beaches. Eiffel, in turn, shared her knowledge of the island's plants and animals with Marcus.
As their friendship grew, Eiffel and Marcus realized that they had more in common than they ever imagined. They both had a deep love and respect for nature, and a desire to protect and preserve it.
One day, while exploring a remote part of the island, Eiffel and Marcus came across a rare and endangered bird that Eiffel had been searching for. Excitedly, she set up her equipment to study the bird, but as she was about to take a sample, Marcus stopped her.
He explained that the bird was sacred to the local people and that taking a sample would be disrespectful. Eiffel was shocked and saddened, as she had always believed that her research was for the greater good. But through her time spent with him, she had come to understand the importance of respecting local cultures and traditions.
From that moment on, Eiffel and Marcus worked together to find a balance between scientific research and preserving the island's culture and heritage. They organized educational programs for the local children and worked with the community to create a sustainable eco-tourism industry.
Years passed, and Eiffel and Marcus's friendship only grew stronger. They eventually fell in love and decided to stay on the island permanently, dedicating their lives to protecting the island and its inhabitants.
Eiffel and Marcus's unlikely friendship not only brought them happiness but also had a positive impact on the island and its people. Their three beautiful and equal eco-activist children Michaela, Maverick, and Matthew were also learning the ways and lifestyles that their parents practiced every day. The apple did not fall far from the tree indeed. The island did not only become a sanctuary for all but also a safe haven for any living thing there was. The family of Eiffel and Marcus would not get through a single day without having an impact on the world around them. They made sure that what they did make a difference and that what they had decided to do would be the kind of difference that benefited the earth and the ecosystems. They lived a long and fulfilling life together, and their legacy lived on through the generations to come.
The end.
Reader insights
Nice work
Very well written. Keep up the good work!
Top insights
Easy to read and follow

Well-structured & engaging content

Excellent storytelling

Original narrative & well developed characters

Heartfelt and relatable

The story invoked strong personal emotions
On-point and relevant

Writing reflected the title & theme
Add your insights