A Deadly Delivery
A mysterious package sets off a chain of events that plague a newlywed couple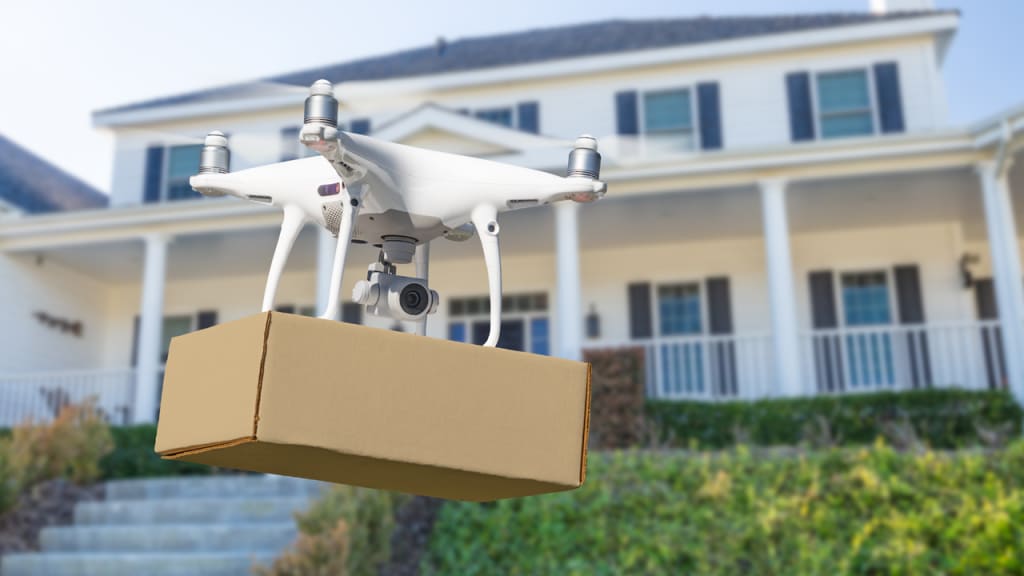 On a Monday morning, a drone carrying a package is flying at a steady pace, heading to its proper destination: the home of Anna Serrano-Vance. Just as Anna is set to leave for work, she sees the package and expressed surprise, as she didn't recall ordering anything. Nevertheless, Anna picked up the package and, despite her earlier bewilderment, opens it, and it's suddenly followed by Anna screaming in horror.
Anna's screams were heard by her husband, Jackson Vance, who ended up hugged by his terrified wife. Jackson later called the police to report what had occurred, with a visit coming a half an hour later.
"Mr. and Mrs. Vance?"
"Yes," said Jackson.
"Detective Rhonda Evans. You called about a package that arrived at your house?" Evans entered the house, where Anna pointed the detective in the direction of the package. "You didn't touch the contents?" asked Evans.
"I...I just couldn't," Anna replied, still visibly shaken. After putting on a pair of latex gloves, Evans inspected the contents of the package and presented them to the couple: a torn picture of an unknown man, and a knife with blood on the blade. Jackson and Anna were shocked by the objects, but Anna appeared to be the more distressed of the couple.
"Do either of you know this man?" asked Evans. Jackson shook his head, leading to the detective turning her attention to Anna.
"Mrs. Vance?"
"He was my first husband," Anna said in front of a stunned Jackson.
"What?!" exclaimed Jackson. "Honey, you never told me you were married before."
"Is there a reason why this would show up at your house, Mrs. Vance?" asked Evans. Anna took a deep breath, and later gave a loving look to Jackson before finally telling her story.
"His name was Cole Murphy," said Anna. "I was married to him for a year, then about a year ago..."
"It's OK," said Jackson. "Keep going."
"Cole was being stalked," Anna continued. "It was his ex-wife, well, ex-girlfriend. She claimed that she was his wife, but Cole denied being married to her. Anyway, about a year ago, we went on vacation together, just the two of us, and we were attacked. I was beaten and bruised, but Cole..."
"What happened to Cole?" asked Evans.
"He was stabbed to death!" Anna exclaimed before breaking into sobs and hugging Jackson.
"And you're certain it was this ex who was behind it?" asked Evans. "Do you have a name?"
"Shannon," said Anna. "Shannon Kyle. I'll never forget that name." Evans left with the information with promises to get back to them with updates on the case. As for Jackson, he embraced Anna, but he was still left puzzled over his wife's revelation.
"I remember on the day we met," said Jackson, "you came to me distressed, and you had bruises. Why didn't you tell me all of this?"
"I was afraid and traumatized," replied Anna. "I didn't think you'd want a woman with baggage." Jackson maintained his hold on Anna, and gave his wife a passionate kiss, which brought out a huge smile on Anna's face. "What was that for?" she asked.
"For being my wife of nearly a year," Jackson said sweetly.
Anna was so thankful for Jackson; their meeting was a day after Anna's ordeal, yet behind all of the distress and bruises, Jackson saw a beautiful woman, and he was in love instantly. They became husband and wife after only three months together, though Jackson never dwelled on how quickly they got married, and neither did Anna. They mutually felt that the time was right, and they have enjoyed 10 months of wedded bliss together. The mysterious package, in a way, brought Anna and Jackson closer together, but late on the following night, Anna would need Jackson once again.
"Anna?"
Jackson woke up that night and saw that his wife wasn't in bed next to him, and his cause for alarm increased when he heard the sound of broken glass coming from the living room. Jackson rushed to the scene and found a collection of broken glass on the floor, a rock, and his panicked wife holding what appeared to be a letter, with Jackson taking the letter from Anna and reading it out loud:
"Do you think I haven't forgotten? I'll make you pay!"
"She's after me, Jackson!" cried Anna.
"Who is?" asked Jackson.
"Shannon," replied Anna. "She's not going to stop!"
Two Months Later
Jackson and Anna couldn't believe it--they were celebrating one year of wedded bliss, and they were off to their second honeymoon. Anna's ordeal regarding Shannon Kyle seemed like it came and went a day prior, but it had been two months since they received the shocking news from detective Rhonda Evans: Shannon had committed suicide. Not only that, but a note was left where Shannon confessed to killing Cole, stating her inability to deal with the end of their relationship was her reason. The news was a breath of fresh air for couple, especially Anna, who can now focus on celebrating one year of marriage to Jackson.
"We're here!"
Anna's elated exclamation was regarding their destination--a lavish cabin in the woods. The couple exited their car and couldn't help but look at the cabin with absolute awe. "Wow!" said Jackson. "This is just amazing. You really outdid yourself!"
"I wanted this to be perfect, sweetheart," Anna said as she and Jackson entered the cabin, and marveled over the cabin's interior--a highly decorated living room, along with a decked out kitchen. Jackson entered the bedroom, and saw a king-sized bed, the completion of a lavish setup and, in the mind of Jackson, a very perfect honeymoon. As Jackson returned to living room, Anna was waiting for him with two glasses of wine.
"Perfect!" said Jackson. "So what are we toasting to?"
"To this moment," answered Anna. "To one full year as husband and wife, and to many more years to come for us."
"I'll drink to that," Jackson said as he downed his glass of wine. He later turned on the TV set, and the first thing that popped up was the news, and to Jackson's surprise, a report on Shannon Kyle was featured.
"Hey babe!" shouted Jackson. "They're talking about that crazy stalker of yours on the news." Jackson received no answer, but he continued to watch the report, but he was suddenly stunned by what he heard. The report referred to Shannon as Cole Murphy's wife of seven years. In addition, the report stated that Shannon didn't commit suicide; she was actually shot to death in a cold-blooded homicide. The statements were made by the detective in charge: Rhonda Evans. However, when Jackson saw Evans...
"That's Detective Evans?"
"What did you say, Jackson?" Anna asked as she entered the living room.
"Anna," said Jackson, "what's going on?"
"What do you mean, honey?" asked Anna.
"Shannon was murdered," said Jackson. "And they're saying that she and your first husband...were married for years..." It was at this moment that Jackson began feeling strange, as he started coughing and becoming disoriented. Jackson reached for the phone in an attempt to call 911, but to his surprise, Anna snatched the phone away from her husband's reach.
"Anna?"
"When I mentioned many more years to come for us," Anna said with a smirk, "I meant it. But I wasn't talking about me and you." After hearing a knock on the door, Anna rushed to the door in glee, and her happiness was all because of who was on the other end.
"Hey there...'Detective'."
The woman who introduced herself as detective Rhonda Evans entered the cabin, and within moments, she passionately kissed Anna...right in front of a shocked and dying Jackson. "You remember Rhonda Evans, right?" Anna asked coyly. "But how silly of me, that's not her real name. Let me properly introduce her to you. Jackson, meet Maxine, my partner in love...and crime."
"I...I loved you," said Jackson.
"Oh, Jackson," Anna retorted, "of course you did. So did Cole. That's what we counted on. You were perfect, though, Jackson. Handsome, single, and loaded. I just had to take care of you myself. After all, I couldn't let Max have all of the fun!" The sinister and illicit couple watched with sadistic pleasure, as Jackson took his last breath, and afterwards, Maxine turned to Anna and asked:
"I take it you liked the package I sent you?"
"Oh yes!" Anna exclaimed. "You definitely have a knack for picking out the right poisons. And thank you so much for taking care of Shannon for me. I couldn't have her get in the way of our ultimate goal."
"We need to cover up Jackson's death," said Maxine. "There's already suspicion regarding Shannon."
"Don't worry, babe," the arrogant Anna commented. "We'll be long gone, on a tropical island, all on my husband's dime." Anna gave a wicked laugh before she and Maxine enacted their plan to cover up Jackson's death, which was done by actually burning the cabin. The fire department and the police later arrived at the scene, but by the time they arrived, Anna and Maxine were out of the house--watching the final piece of their murderous scheme go off in a hitch before driving off.
Thank you for reading this story all the way through! If you liked this story, click the heart and the "subscribe" button; and feel freel to comment below! Tips and pledges would be immensely appreciated, as they help support my writing, but no pressure!
Short Story
Mystery
About the author
Born on March 18, 1985. I am an avid fan of sports and wrestling, and I've been a fan of female villains since the age of eight. Also love movies--especially comedy and horror--and among my favorite TV shows are The Simpsons and Family Guy
Reader insights
Outstanding
Excellent work. Looking forward to reading more!
Top insight
Excellent storytelling

Original narrative & well developed characters
Add your insights