Winter in the Woods
Cabin Life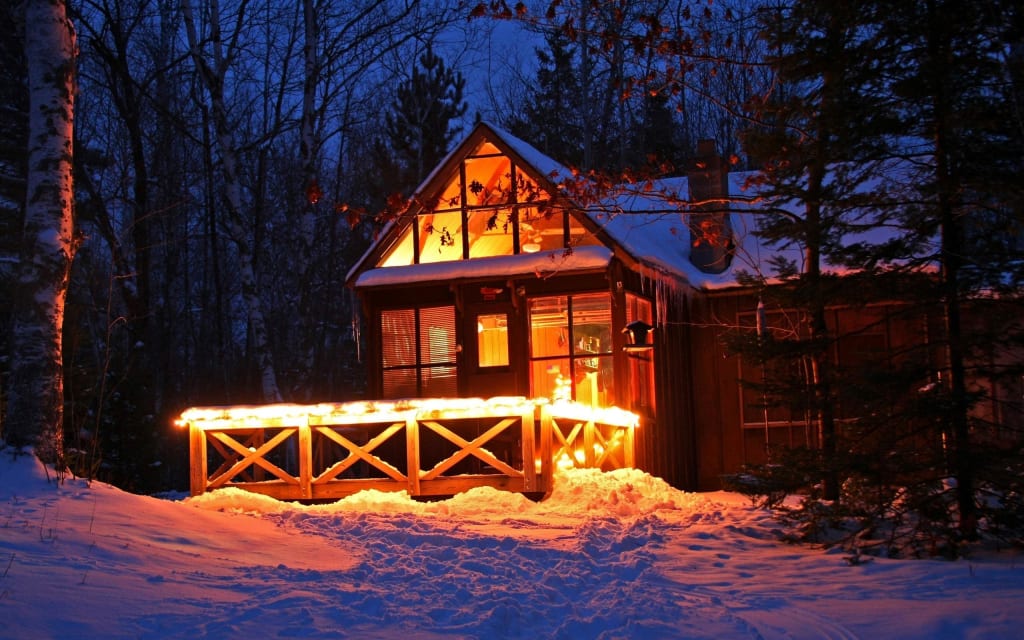 Cabin in the snowy woods
It was the beginning of my fourth grade Thanksgiving weekend, a wonderful time away from school, and more importantly, the assignments and homework that come with school. "Hurry up Nathan, we're going to leave soon", said my mom as she rushed me out the door into our freshly packed van. We were spending the weekend in the snow-covered mountains of Sisters, Oregon in a rustic log cabin.
It was a long-awaited vacation, with months of anticipation and questions such as "Mom, can we buy some sleds for the Cabin?" and "Will there be snow at the cabin this year?". Ever since I was told we were going to the cabin in early September, I can vividly remember counting down the days left until we went to the cabin was as much anticipation as I could muster.
The drive to Sisters seemed like the longest I have ever been on, even longer than my trip to California a couple years earlier. Maybe it was the age difference, maybe it was just how excited I was to go to the cabin and start my wonderful weekend. Either way the cabin could have easily been Disneyland with how excited I was about going there.
When we first arrived at the cabin, and pulled into the driveway it was incredibly exciting. I knew I was going to have a blast just looking at the snow-covered roof, trees and even the teepee set up in the side yard waiting for me. There weren't as many trees nearby that I had imagined, but I wasn't thinking of that. I was thinking of all the fun I was going to have building a snow fort with my brothers, as well as a huge snowman.
When I was on the way to the cabin thinking about how long the car ride is going to be, I never thought that I would have to anticipate yet another wait once I got there. "Stay in the car, we'll be right back." Said my dad as him and my mom left us kids in the van to unlock the cabin and turn off the security alarm. One minute turned into another, and another, and another until we were waiting in the car for what seemed like all afternoon.
I'll never forget the excitement I felt when I saw my mom come out the front door of the cabin and tell us to come inside. I've seen some videos of people running away from tsunamis to get to high land, running because their lives depended on it, that's what I felt like running into the cabin. Through the van door, landing on the fresh powdery snow, chasing my older brother and my younger one chased me in through the front door thinking I could beat him. I was so excited I didn't stop to notice the scenery around me as I raced through the cabin door, eager to see what was waiting for me inside.
Once I finally got around to noticing the scenery around me I was impressed, even as a little kid. Old fashion animal traps and other decorations, a closet stocked with all kinds of snow equipment and a Jacuzzi bath tub, the cabin had it all. I thought it was a lot like the movies 'The Great Outdoors' and 'A Christmas Story', two of my favorite movies as a child. It was a lot like a non- scary version of "Cabin in the Woods"
The cabin's largest feature was the loft and high vaulted ceilings. The loft was converted into a large sleeping area and covered with bean bag chairs, foam folding futons, sleeping mats and other assorted sleeping materials. It was like camping without all the mess and coldness involved. It was an awesome place to sleep as a child. My brothers and I had an awesome fort we made with all the extra sleeping mats and mattresses left over after we picked ours out. "Boys, go to sleep now!" was heard being yelled multiple times that night in the cabin from the room below us.
I specifically remember the snow gear closet. The closet was huge and full of all kinds of snow equipment, from skis and sleds to clothing and gloves. I really liked the whole-body snow suit, it kept me warm during my hours of play in the snow with my siblings. Without it I would have probably not lasted so long outside in the snow. The extra-large snow gloves were my little hand's baggy oasis, keeping my hands warm in the chilling snow.
To my small child mind, that weekend spent in the cabin was a really a weekend in an snow covered Disneyland. The icy sled runs down the hill through the woods were my roller coaster rides. The bubble filled steaming Jacuzzi baths were my water park adventure rides. Eating all the snacks and food my mom brought with us and made were my concessions from the vendor carts at Disneyland. The whole weekend was like one Disneyland adventure after another. Even the boring care ride there is easily compared to the long two-hour flight to Anaheim from Portland.
Having to leave the cabin was one of the hardest things I had to do in my young life. I had created so many memories in that short weekend, memories I would never like to forget, memories that will stay with me for the rest of my life. The only thing that helped me feel better about leaving, was knowing that I was going to most likely come back the following year.
My memories of the three yearly trips I made to that cabin will never be lost. It's something I commonly find myself looking back upon from time to time reflecting on the simpler times.
Staying at home each & every day to be there with your children as they learn and grow sounds absolutely amazing in hindsight, right? Absolutely! Who wouldn't think that it's just living the dream?! But what the world fails to disclose is the truth behind being a stay at home mom..

11/18/2020 So, grandma (81 this year) has been up my ass about keeping a journal of everything that is going on right now so here goes. Amelia is 9 and in 4th grade, Raynen is 5 and is in kindergarten and Rj is 3 and is home with me. We live in fort lee right now and my husband, Bobby (30 this year) has just had his 3rd spine surgery and now awaiting the promotion board (he is in the army) and finding out when we will be moving. I am 26 credits away from my BA in history. The coronavirus pandemic has been a pain in the ass and the 2020 presidential election was a complete dumpster fire. Yay 2020 and the best part was carol baskin and the memes from that world.

It was early October, and it was finally time for my long-awaited moose hunt. I had waited ever since I was a little girl for this opportunity, and it was finally here. So, my father, the one that looks after me, and I packed up our stuff and left our city in Alaska. We were heading to a place called Bethel, AK. After a six-hour long drive, we made it to our hunting unit. It did not feel like home to us but it was warm and cozy, like my bed at home.

As your parents age, you're probably spending more and more time caring for them. Even if they're still in good health, you may need to help them live a healthy lifestyle. Your parents may need help with everything from their health insurance to their diet. To avoid caregiver stress, taking care of yourself is also essential.

Staying home, reducing stress, and taking care of ourselves, both mind and body are more important than ever. That's why from beauty and personal care to everyday essentials and home cleaning – we've got you covered. "Avon"

Growing up, I loved the Wizard of Oz. There was something magical and timeless about the Yellow Brick Road and the passion of Dorothy to find her way home, Scarecrow to find his brain, Tin Man to find his heart, and the Lion to find his courage. All to find out that the man behind the curtain was just a man, whose hope and wisdom fulfilled all desires by encouraging everyone by exploring their own virtues.