Why Does Grannie Play Such an Important Role in this Teen Girl's Story?
"The secret to being a matriarch, as best as I can tell, is having two things. The first is radical authenticity, which, over time, begets a certain fearlessness. The second is a kind and compassionate heart … And some of them will do nothing more radical with their lives than being authentic and kind." Lynn Beisner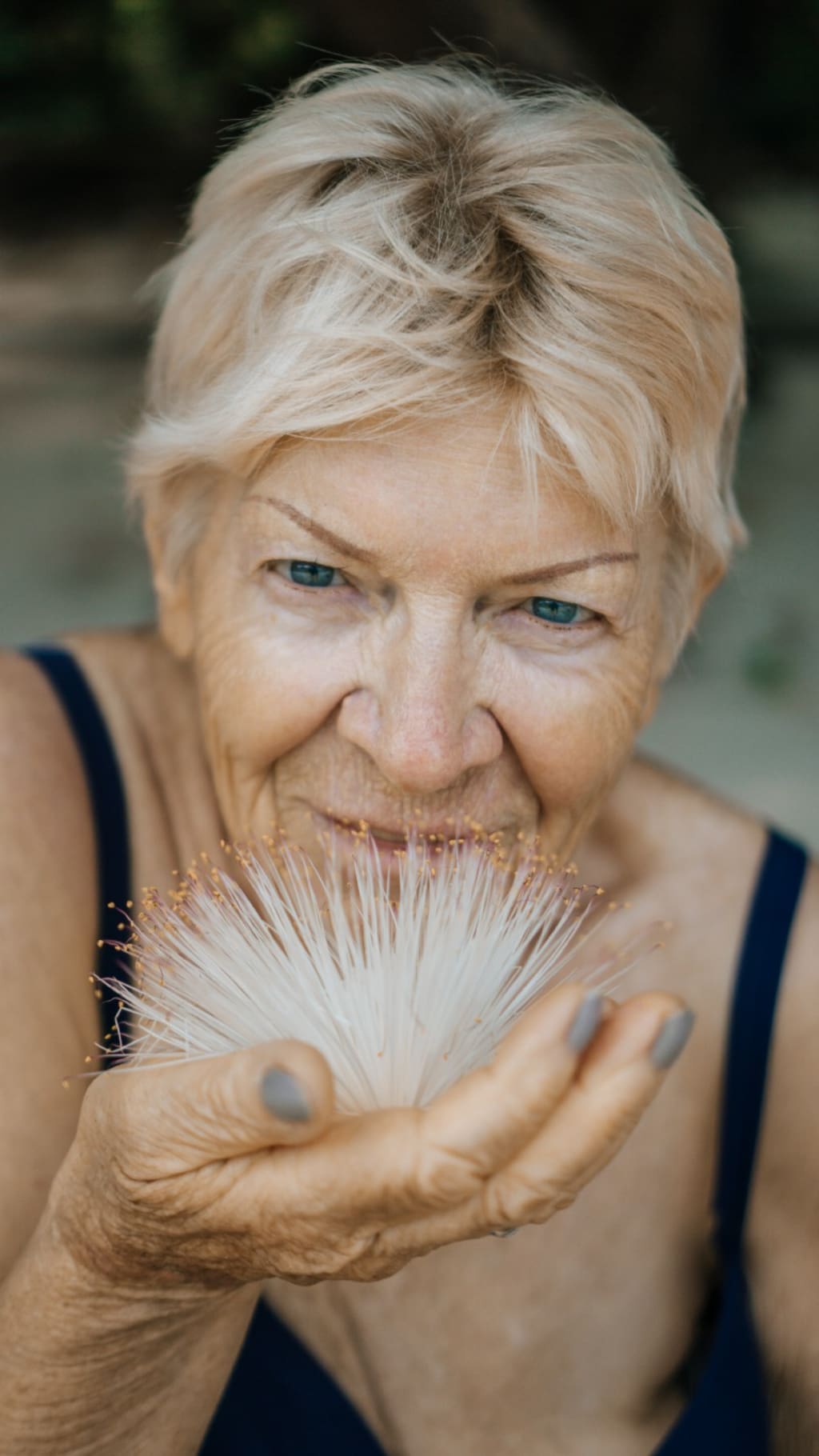 Photo by Arty on Unsplash
One of my nieces asked me, "Why are you writing a book about teen age girls when you are so old?"
"Good question," I said. "Because I have a lifetime to share with a teenager that is so long, rich and full of flavor with only a few years left. The teen girl has a short, thin, hungry timeline with many years to travel with less experience but perhaps she can find some maturity from mine."
A Shared Common Womanhood
From a Big Picture perspective, the grannie and the teen girl share a common womanhood through time. Women have been caretakers of the home and family from skinning the buffalo to working in the fields to skilled labor in factories to five-star executives in big business. Many have developed talents and skills beyond raising families to earn significant spending powers, decades before the advance of the internet. They are Olympians, prime ministers, entrepreneurs, famous designers, social and political activists, artists, and Nobel Prize winners. Now there are more women enrolled in colleges than men.
Some have changed the course of history like Marie Curie who founded the new science of radioactivity; or Rosa Parks who challenged race segregation and sparked the civil rights movement; or Clara Barton, a nurse who established the American Red Cross; or Wangari Maathai who became the first African woman to receive the Nobel Peace Prize for her work on sustainable development and democracy in 2004.
Ageism can be an asset. The grandmothers of the world will not be invisible. Many even in retirement mode can expect to live into their 90's.
However, women's legacy does not forget its past struggles, living through tough times of inequality with limited rights to vote, discriminatory wage practices versus men, and biased job advancement. From 1960's to 1970's the feminist movement sought to reform issues such as reproductive rights, domestic violence, maternity leave, equal pay and sexual harassment. The recent #MeToo movement continues to express gender equality and prevent sexual imbalances especially at work.
Our female empowerment was our strength in using our intelligence, courage, and resourcefulness. We were able to excel and contribute so much even before the age of this internet extravaganza.
But who will advocate for teen girls to stop online exploitation?
So, do we dare to ask, what is the source of female empowerment now for our teen girls? Statistics show there is a drop in the percentage of girls who say they feel confident between Grades 6 and 10 from 36% to 14%.
In 1959, Ruth Handler's company launched the Barbie doll, one of the first dolls made to look like a grown up. Within six years of Barbie's launch, Mattel had become a Fortune 500 company. Young girls were fascinated by these plastic, abnormally slender dolls with long blond hair and tiny perfect features. They could now pretend to be perfect young women with a perfect man by her side. It was not a soft, chubby baby doll to feed and nurture but a slender goddess to grow into … to be a princess in a make-believe standardized world that they may, or may not, grow out of imagining.
Disney princess products can total 4 billion dollars annually. The message again is to spend time, energy and money to look thin, pretty and popular. Check out the kiddie lingerie aisle with flirty bras and panties for 8-year-olds so tweens can start acting like teenagers who want to act like adults.
What a sad unacceptable conundrum for a culture to feed its avarice on its youth before they're old enough to know how the game is played.
How terribly sad when you do a worldwide web search with the words "teen girls," and after the first 3 titles about clothes, shoes and accessories, the next items are about real teens twerking; why teen girls crave older partners and a Facebook page for hot teen selfie shots. Even pornographers have found that they can get more clicks and views, whenever it is extreme enough, often involving encounters with teenage girls and boys.
So, turn on the channels … cable TV, MTV, sitcoms, websites, social media, and news stories. What do you expect to happen to tweens as they grow into teen girls in a hyper media culture so greatly concerned about body image and feelings of inferiority if not a Barbie doll or Disney princess? Is their confidence and strength to be found in this filtered imagery of vain girly-girl culture based on physical objectives on a conveyor belt to early sexualization? Is their potential to be determined by a full face of make-up or belly-piercings to get more LIKES from a virtual stranger mob?
Teens in Transition
Teens only have 6 short hormonal years of maturation to transition from total family dependence to independence as a young adult to live independently. Their adolescent brain hasn't yet developed the prefrontal cortex for logical, deductive judgement skills until their mid-twenties.
They need the experience of being a teenager with personal opportunities to be exploratory on their terms and working together with other unique selves with mutual respect. They really do not need pressure to play the consumer role, the sexual role or competitive cosmetic and fashion world as promoted by media influencers or companies for profits. They need to establish a value system to carry forward to their own families as mothers.
How sad to say there are too many examples of increased teens' risk for social and behavioral problems, school adjustment issues, teen pregnancy, smoking, and drug and alcohol abuse.
Where can they turn to for unconditional love?
How Matriarchs Can Help
As a society, we must all do better for our teenage daughters and granddaughters on their journey to womanhood. Sometimes parents can be busy making a living, but grandmas may have available free time. Grandmothers are a little bit parent, a little bit teacher and a big bit best friend.
We can sit down with a cup of tea and homemade cookies and ask about teens' favorite things about growing up so far and not so favorite things. Their anecdotes can be countered with our own stories of overcoming challenges in an old-fashioned way that worked. Angst can be comforted with "this too will pass" because we were able to solve temporary problems in our youth as well.
As older women we can show the precious value of our relative time and how we spent it wisely to our benefits, including mistakes and remedies. We can do a quick outline of our timeline and how it evolved with events that really mattered and those that didn't.
Along the way, the progression of time in understandable elements can be discussed … how Yesterday relates to Today and sets up Tomorrow. The conversation could turn to how to make a good decision, how habits are formed and how to make make smart choices to avoid making mistakes that can derail a lifetime of possibilities.
Our long lives definitely can provide a unique perspective to encourage teen girls to stand tall, strong and proud of who they are, more aligned with the universe than social media.
Perhaps, some may say that matriarchs are women who have stopped trying to meet social expectations of what a woman is supposed to look and act like. Others understand that this is what femininity really looks like when much of the cultural artifice is stripped away to the pure soul of unselfishness beneath.
Perhaps that is their greatest power of truth to share with their teenage granddaughters.
It's always definitely worthwhile to talk with a grandmother … whenever if possible.
Annemarie Berukoff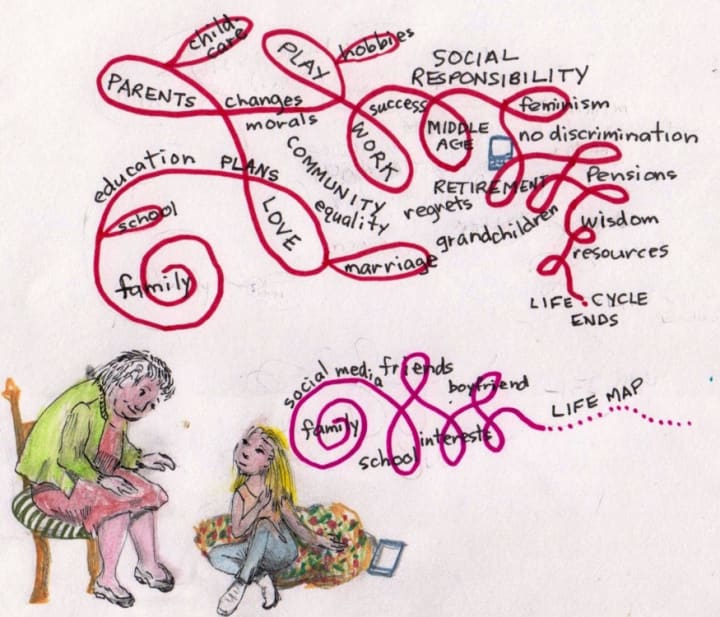 Excerpt: "You know how all the great myths about superheroes are about their journeys to overcome problems and teach us morals between right and wrong.
Today the real tragedy with young people is how to overcome the huge problems created by a Giant Media Monster; like a Medusa manipulator using her vast army of words and images to twist, seduce and undermine the ability of people to think critically and freely. It's like a vast army of fake selfies attacking what's good and normal.
The great personal tragedy is made worse because most young people do not use their real characters to take offensive action but rather create their own fake Selfies to closely reflect what the Media Monster promotes. These are soldiers on the same side with the same goals which means the Monster wins every time. Like I said before, the Monster has no regret for what it is doing; it will never apologize as long as you keep liking her artificial ugliness again and again."
Teen Girl Faces Time in the Sand: Social Media Struggles, Regrets and Survival with Superpower Tool
Kindle edition: https://www.amzn.com/B08117R369
grandparents
About the author
Experience begets Wisdom as teacher / author 4 e-books / social activist re education, family, social media, ecology, and changing cultural values. Big Picture Lessons are best ways to learn. HelpfulMindstreamforChanges.com
Reader insights
Be the first to share your insights about this piece.
Add your insights