The Worn Spot on the Floor
Love, Dedication, and Tragedy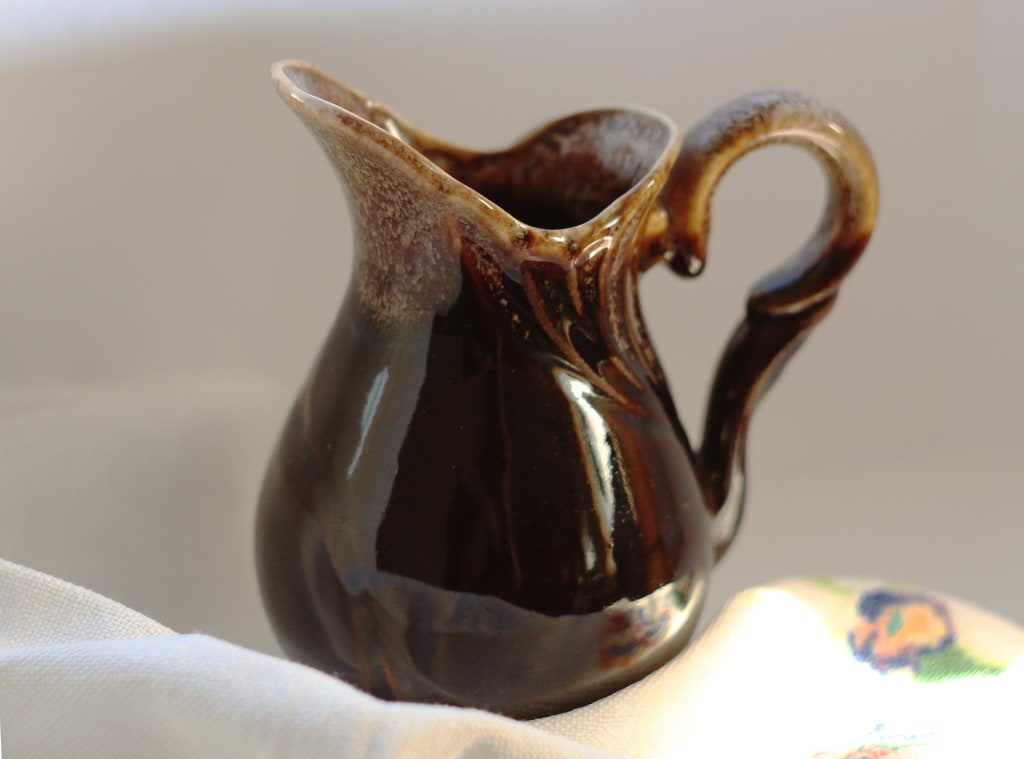 The smell of summer morning was replaced by the sweet aroma of bacon frying when I opened my grandma's door. She always made sure there was plenty of that salty delicacy on the kitchen table because my cousin and I loved to graze on it all morning while consuming glass upon glass of the sweet tea in the brown ceramic pitcher.
She never let that pitcher run dry.
No matter what time of day it was, she could be found standing in front of the side-by-side sink and range where she'd work but stop long enough to give out morning hugs. She would grab my head and pull it into her chest. For a few short moments, I lived in that hug. It was comfortable and safe and probably the one thing I didn't take for granted.
However, I feel like I probably took the rest for granted. The hot breakfasts, the endless sweet tea, and the delicious dinners were just "how it was." I never questioned how she could stay on her feet for so long or how she found time to work in the garden or make quilts from her old clothes.
That's just what she did.
Years after the days of perfectly cooked bacon and eggs and endless sweet tea, I noticed the linoleum floor in front of the sink and range was worn from the years she stood there making sure her family was fed. I never noticed this before. I guess it was because she was so busy taking care of the rest of us that this subtle sign of her love could only be revealed when she was gone.
At that moment, it occurred to me that her love was written right there on the floor and not just in the memories of the comfort I felt when she would pull my head down into that priceless hug.
She gave me so much, but I still feel like I didn't get enough of her. Is it even possible to get enough of any of our loved ones in a single lifetime?
I don't think so.
When I was nine years old, I moved with my mom and brother from the family farm to the city. My parents had divorced and moving was the choice that was made because the farm belonged to his side of the family. Unfortunately, this meant no more early summer mornings of hugs before sitting in my favorite chair at my grandma's kitchen table while enjoying a fresh breakfast.
Not living there also meant no more play breaks with that brown pitcher of sweet goodness.
Fortunately, every time I saw her after we moved, she would still take my head and pull it into her bosom. When I grew to be taller than her, she would still pull me into that safe and comfortable place.
The pitcher, however, no longer stood on the kitchen table after a while.
*******
When I was 20, I received a call from my dad. He told me that "Mamaw is in the hospital. She had a stroke and she's in a coma." I hung up the phone and immediately headed to the hospital. When I got there, one of my aunts was standing in the hall outside of my grandma's room and warned me that what I was about to see was going to be shocking.
She was right.
I looked into the room and saw tubes and machines. My immediate reaction was to quickly step back and turn to my aunt to hug her. I had to quickly wipe away the tears and gather myself together to walk into the room and be with my grandma.
There were so many things running through my head, such as it possibly being the last time I would see her alive. All I could do was stand there frozen and look at her as my heart broke into a million pieces. Even at 80 years old, she still had so much to give and a family that needed her.
But somewhere amid my muddled thinking, I realized that I needed to give her something that she had always given me and that was comfort. Somehow I managed to squeak out a "Hi Mamaw." I then grabbed her right hand as I held back tears. At the time, I wasn't aware that she couldn't feel my touch because the right side of her body was paralyzed.
I think she could feel me anyway.
As the days went by, she started defying the odds that the doctors gave her. Then came the day when she woke up.
This is when we learned for sure that she couldn't move the right side of her body or speak. She could, however, hear my voice and I could see her blue eyes sparkle when I walked into the room.
One night, I stayed the night in the hospital with her. She was watching TV and her left foot was bopping to some country music. Regardless of what happened to her, her light was shining brightly as she found joy in the little things. It was a sight to behold because she rapidly went from standing in her usual place in the kitchen doing what she loved to do to going to sleep one night and waking up days later in the hospital unable to walk or speak.
That same night while her room door was open, she was feeling hot. I could tell she was a little overheated because she used her left hand to take off her blanket and pulled her gown up a little. I said, "Mamaw, you better watch that. One of these good-looking doctors might want to ask you out."
The sound that came after was one I thought I would never hear again. It was a familiar sound that showed me she was fully still there and aware.
It was the sound of laughter.
I pulled her gown down and then she pulled it up again and blessed my ears with that beautiful sound once again. She was playing a joke on me!
Eventually, she was released from the hospital to receive care at home. This was a miracle because she was never supposed to wake up. However, it was odd walking into her house and not smelling bacon frying or vinegar during canning season.
There were no more of those amazing hugs. Instead, it was me kissing her forehead when I got there and again when I left.
When my husband and I were dating and I took him to meet her for the first time, the twinkle in her eyes was there as always. When it was time to go, she looked at me with those beautiful eyes, but they were saying something and she wouldn't let go of my hand. She didn't want me to leave. Her grip was strong and it pained me to have to break it so I could go. I told her "I promise I'll be back soon."
I didn't break that promise, but I probably didn't visit as much as I should have due to letting my own pain get in the way, which I regret. In the beginning, there was hope that she would have a meaningful quality of life, which I believed she did in her own way because that twinkle in her eyes spoke volumes. However, it was apparent she was growing weary as time progressed.
She remained in this condition for 3 1/2 years.
Sometimes, she was placed in a wheelchair so she could sit and look out of the sliding glass door or sit on the porch and get some fresh air. This lasted until she was just too weak to continue.
In 2005, my grandpa was diagnosed with cancer and he passed within just a few months. The last time I saw him, I sat with him. This once strong man was sitting on the side of his bed with my help as he "darned his socks" as he did in World War II. However, there was nothing in his hands.
Days later, he told one of my aunts that he saw Jesus, and Jesus told him that she (my grandma) would be with him soon.
Three and a half months later, my grandma was finally free of her weary body and back with my grandpa.
Nonetheless, the last time I saw her before her passing, I looked into her eyes, and the sparkle was gone. What I saw when she looked at me was something I had never seen before. I grabbed her hand and she gave mine a little tug. I immediately knew what she wanted. I bent down and got one last hug. It wasn't long after that I received a call that her grief had taken her from this world.
********
It was sometime after her passing that I walked into the kitchen and looked at the worn spot on the floor that I had noticed a few years before shortly after her stroke. I studied it and then stood in that place. When I turned around, I looked at where I used to sit at the kitchen table enjoying the bacon and scrambled eggs she'd serve up every morning. I'd eat my breakfast while I watched her clean up her space before she'd finally take a rest. Sometimes, she would remain standing in that spot instead of sitting down but facing us instead of having her back to us.
Looking at the scene from her vantage point, I understood why she would turn around and remain standing in that spot instead of sitting down when she'd talk to us. It's because she could see everything she loved from that one spot. During the family breakfasts, dinners, and visits, she would stand there with a smile on her face as she would take it all in, and then she would sit down.
Of course, now, the spot on the floor is long gone physically, but in my mind, it is still there as a testament to one woman's love for her family.
If only everyone had a worn spot on the floor to look back upon.
Lula Lockwood — February 27, 1920, to February 6, 2004
Originally posted on Medium.com: The Worn Spot on the Floor (8/28/2022 by Ginger Gillenwater)
About the Creator
Her head tilted as she absorbed the glorious sight of her name on the cover. "Well," Ginger said, "I think my name is too long. I need a pen name."
In the end, alphabet soup always wins.
Reader insights
Be the first to share your insights about this piece.
Add your insights