The Perfect Mother's Day Gift Guide for All Mothers
A Mother's Love: Why We Should Cherish and Appreciate It
Mother's Day is a special day celebrated annually to honour and appreciate the mother figures in our lives. It is a time to recognize and show gratitude for the selfless love, sacrifices, and nurturing that mothers provide to their children and families. Mother's Day has a rich history that dates back over a century and has evolved into a day of widespread celebration worldwide. It is a day to celebrate the incredible bond between mother and child, and to express our appreciation for all the ways that mothers make our lives better. In this article, we will explore the significance of Mother's Day, ways to celebrate it, the role of mothers in society, and the importance of motherhood.
Celebrating Mother's Day is a wonderful way to honor and show appreciation for the mother figures in our lives. There are many traditional and modern ways to celebrate this special day, from giving gifts and cards to spending quality time together. Some popular traditional ways of celebrating include buying flowers or making breakfast in bed for your mother, taking her out to a special meal or activity, or simply spending time with her doing something she loves. Modern ways of celebrating may include organizing a virtual gathering with family members who live far away or creating a personalized photo album or video message. No matter how you choose to celebrate, the most important thing is to show your mother how much she means to you and how much you appreciate all she does for you. Celebrating Mother's Day is a meaningful way to express gratitude and love for the amazing women in our lives who have given us so much.
The "Red Rose with Sterling Silver Heart Necklace" is a beautiful and unique gift that is perfect for Mother's Day. This gift features a preserved red rose, which symbolizes love and beauty, and a stunning sterling silver heart necklace.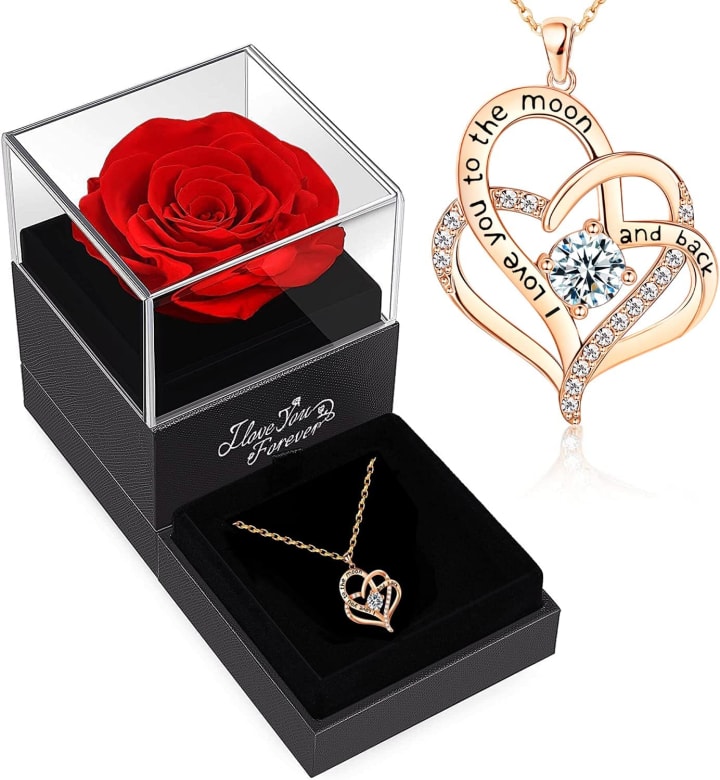 The rose is specially preserved to last for years, ensuring that your gift will continue to bring joy to your loved one for a long time to come. The heart necklace is elegantly designed and adds a touch of sophistication and style to any outfit. This gift is perfect for mothers, wives, grandmothers, or any special woman in your life who deserves to be celebrated on Mother's Day. The combination of a timeless rose and a sparkling heart necklace makes this gift both thoughtful and meaningful. If you are struggling to choose a gift for Mother's Day, the "Red Rose with Sterling Silver Heart Necklace" is sure to be a memorable and cherished gift that your loved one will treasure for years to come.
Click here to gift your mother with this Elegantly designed gift
The "Mother's Day Gift Tumbler" is a perfect gift for any mother who loves to enjoy her favorite drinks while on the go. This tumbler is not only functional, but it also has a fun and sentimental design that makes it an excellent Mother's Day gift.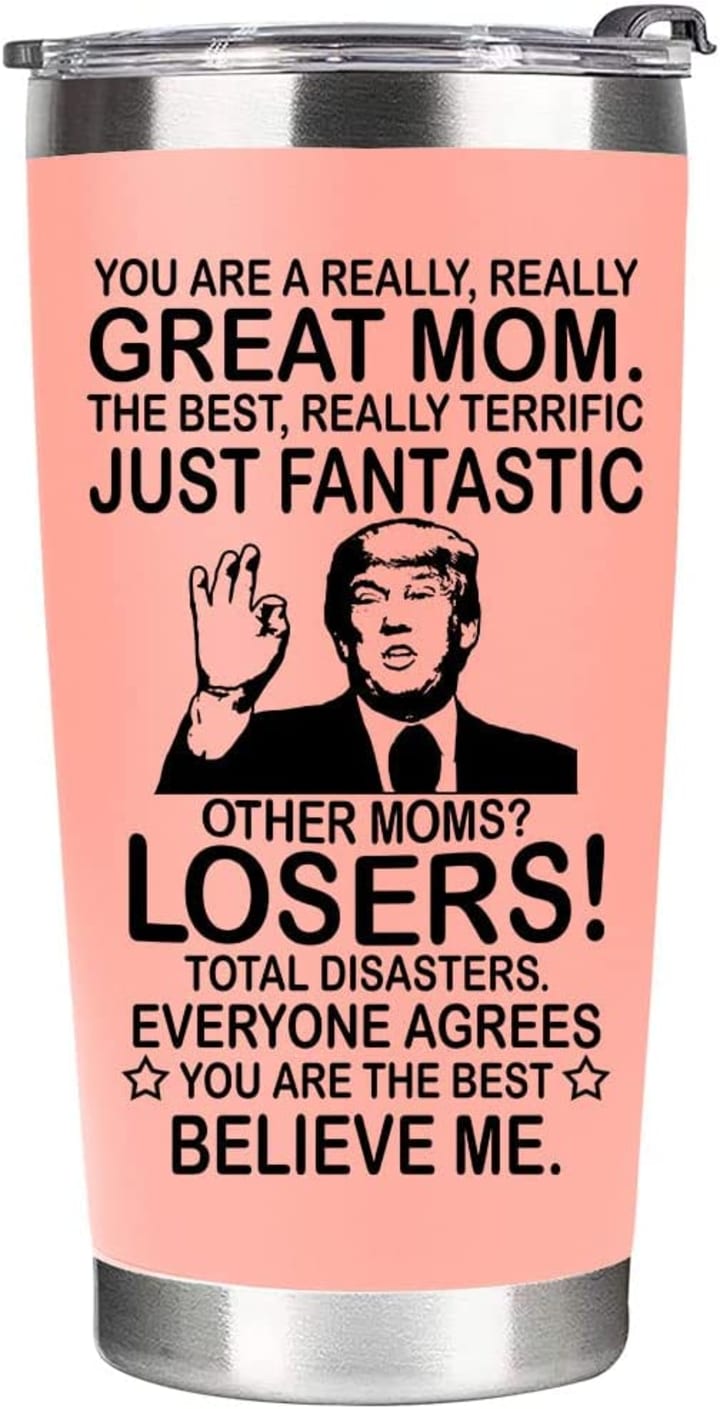 The tumbler is made of 18/8 food-grade stainless steel, making it durable, unbreakable, sweat-proof, and rust-resistant. It features double-wall insulation that helps to retain hot and cold liquid temperatures, so your mother can enjoy her drinks at the perfect temperature for longer periods.
This tumbler is suitable for any indoor or outdoor occasion, making it a versatile gift that can be used for a variety of activities. Whether your mother enjoys coffee, tea, or any other beverage, this tumbler will keep her drink at the perfect temperature. The fun and sentimental design of the tumbler makes it a perfect Mother's Day gift, and it is sure to bring a smile to your mother's face. The tumbler is also suitable as a birthday gift for moms, or as a funny gag gift from a daughter, son, or husband.
In summary, the "Mother's Day Gift Tumbler" is a durable, functional, and sentimental gift that any mother will love. Whether your mother enjoys coffee on her morning commute or likes to sip a cold drink while relaxing at home, this tumbler is the perfect gift to keep her drinks at the perfect temperature.
Click here to gift the Mother's Day tumbler to your Mother
The Spa Gift Box is a perfect gift to show your mother, wife, or any woman in your life how much you care about her. This luxurious home spa gift box includes four carefully crafted products that offer a relaxing, natural, and pampering experience.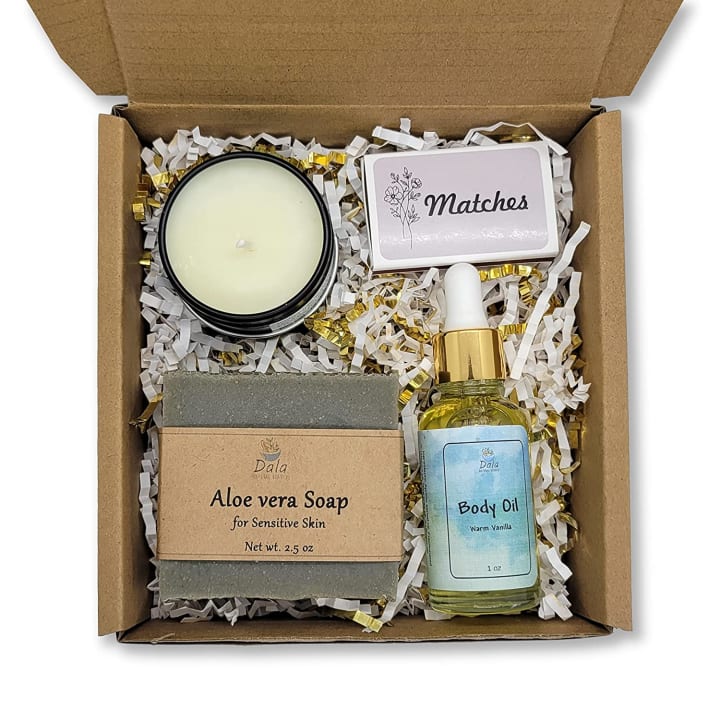 The box includes a handcrafted cold process soap, a warm vanilla-scented body oil, a vanilla massage soy candle, and an elegant box of matches. All of these products are free from harmful chemicals like Parabens, Phthalates, Triclosan, Sodium Lauryl Sulfate, or Synthetic Coloring. They are also suitable for all skin types, including oily, dry, normal, and acne-prone skin. Packaged in a lovely cardboard box, the Spa Gift Box can be personalized by adding the recipient's name on the box. It's a perfect gift for birthdays, Mother's Day, or any special occasion that calls for some pampering and relaxation. Give the gift of self-care and relaxation with the Spa Gift Box from Dala Natural Beauty.
Click here to Gift the Spa Gift Box to your Mother
An e-gift card is a convenient and thoughtful way to show your love and appreciation for your mother, especially if you live abroad and cannot physically be with her on Mother's Day. With an e-gift card, you can easily choose the amount and personalize a message to send directly to your mother's email inbox. She can then use the e-gift card to shop for whatever she wants, whether it's a new outfit, a special piece of jewellery, or even a relaxing spa day. It's a great option for those who want to give their mother the freedom to choose her own gift, while still expressing their love and gratitude. Plus, it's eco-friendly and eliminates the need for shipping, making it a hassle-free option for both you and your mother.
Click here to make your Mother Happy from where ever you live
Mothers play an important and irreplaceable role in our lives, from carrying us in their womb to nurturing us into adulthood. They provide us with unconditional love, support, and guidance through life's ups and downs. Mothers make countless sacrifices for their children, often putting their own needs and desires aside to prioritize the well-being of their family. They are the ones who stay up late to comfort us when we are sick, who wake up early to prepare us for school, who attend our games and performances, who listen to our problems and offer sage advice.
It's important to remember that motherhood is not an easy job. It requires patience, perseverance, and selflessness. Despite the challenges they face, most mothers do their best to create a nurturing and loving home environment. They often juggle multiple responsibilities and roles, from being a parent to being a spouse, a professional, and a caretaker for other family members.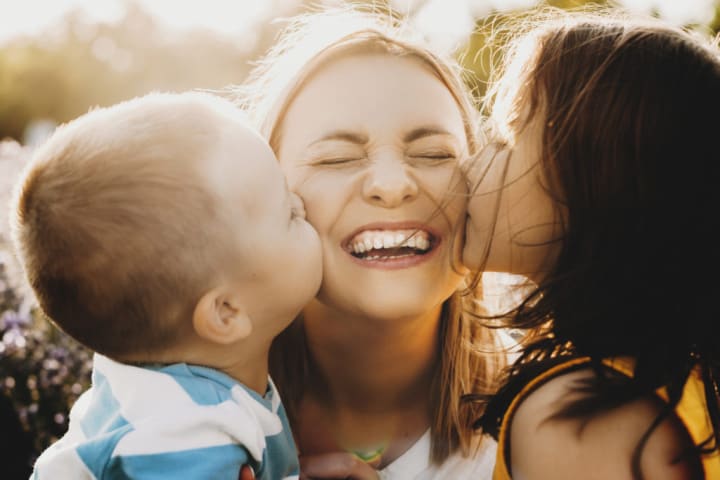 Therefore, we should never forget to appreciate our mothers and the role they play in our lives. We should take the time to thank them for their love, care, and support, not just on Mother's Day, but every day. We should celebrate their achievements and acknowledge their sacrifices. Showing our appreciation can be as simple as telling them "I love you" or "Thank you for all that you do" or giving them a thoughtful gift to show our gratitude. It's important to let them know that their hard work and sacrifices are noticed and valued.
In conclusion, Mother's Day is a special day that celebrates the selfless love, care, and sacrifices of mothers around the world. It is a day to honor and appreciate the tireless efforts of our mothers in shaping us into the individuals we are today. Whether it's a simple greeting card, a bouquet of flowers, a thoughtful gift, or just spending quality time with our mothers, it is important to show them how much we value and cherish them. Let us never forget to appreciate and love our mothers not just on Mother's Day, but every day.
In summary, mothers are an integral part of our lives and we should never forget to appreciate them. They deserve our love, respect, and admiration, and it's important to show our appreciation in whatever way we can.
Reader insights
Be the first to share your insights about this piece.
Add your insights