The Four Radical Things the Queen Did in Her Last Birth
Where did the Queen of England get those rebellious ideas?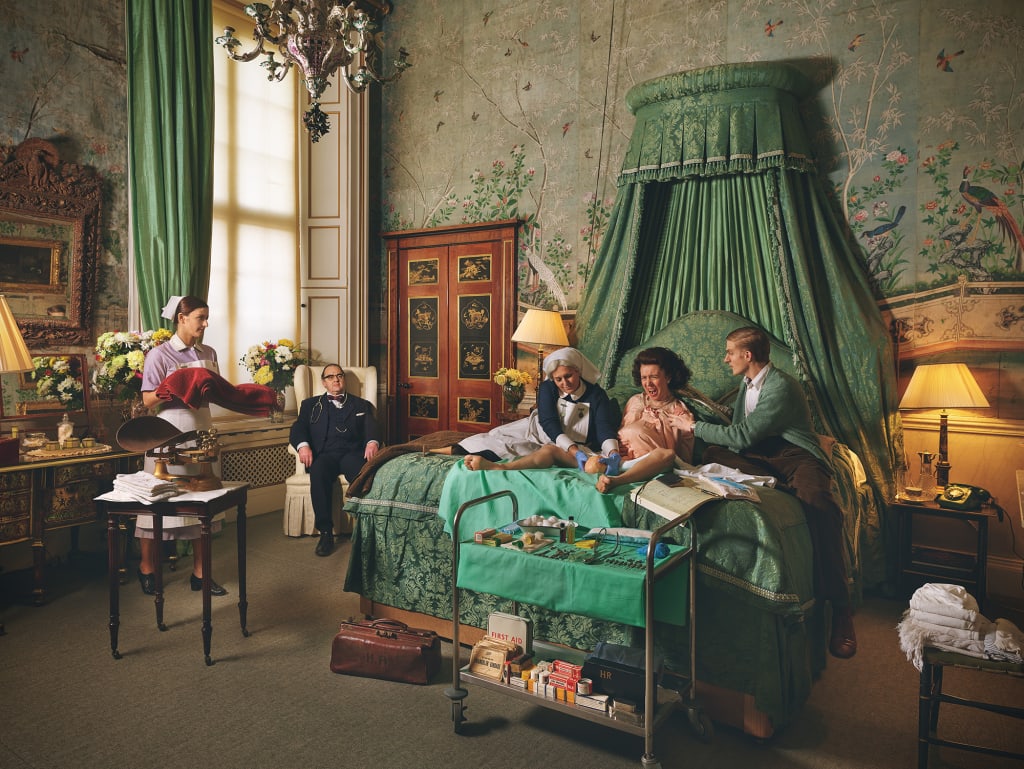 Queen Elizabeth II, the current Queen of England, had all four of her children at home at Buckingham Palace and Clarendon House.  
Royal homebirth has been in the press a lot lately. Both Kate Middleton and Megan Markle considered having their babies at home, and just their suggestion was poignant—Royal homebirth hasn't been the norm for decades.
They certainly needed boldness to even try pushing away the pressures of what's become an obligatory convention of the hospital setting for the past 50 years, but they needn't look further for inspiration for rebellion than their now 93-year-old grandmother-in-law, the Queen herself.
The first radical point of the Queen's own births is that back in her time, giving birth at home was the norm. All four of her children were Royal homebirths, at Buckingham Palace and Clarendon House.
No trespassers
Not everyone knows that as a young Princess, the Queen broke a rather huge rule the first time she gave birth. The chilling, centuries' long tradition of Royal observation, that saw hoards of onlookers (ladies-in-waiting, ministers, and even chimney-sweeps) nearly crushed Marie Antoinette to death in 1778. Through history it was gradually phased out until it was decided that for the birth of Prince Charles in 1948, there'd be absolutely no observers. "The Princess's birth would be a private affair."*
Twilight Sleep
When you have somewhere as ridiculously sprawling as Buckingham Palace to choose where to hunker down for labour (I imagine no problem choosing space to blow up a birth pool), the Queen chose to birth where she liked best—the Belgian Suite. Even when it was suggested by her parents that she move to a quieter block, she insisted, "I want my baby to be born in my room, amongst the things I know."*
The suite was styled into a different environment however, almost a mock hospital, for the first three births, and they involved a draconian process called 'twilight sleep'. This is where a mixture of scopolamine and morphine put the mother into an unconscious state, and the baby was brought out with forceps. It's a term you can google yourself for some harrowing images. At the time it was heralded by feminists as the miracle painless birth, but it brought numerous risks and problems. Mothers often would wake up to a baby they didn't bond with or recognise, and the procedure was eventually resigned to history.
Conscious decision
It was the 60s by the time the Queen's fourth pregnancy rolled around, and times had changed. Twilight sleep had phased out, and the Queen knew it would be her last birth. She herself decided she wanted to be awake and alert.
She had the same doctor (John Harold Peel), the same midwife (Helen Rowe), and even the same Belgian Suite—but this time, no drugs, to give birth to her fourth child Prince Edward.
Royal male
The fourth, final interesting point of the Queen's birth to Edward was the involvement of her husband, Prince Phillip. Till then, the squeamish Duke of Edinburgh had spent his wife's labours thrashing around the Palace courts playing squash, and then arriving afterwards with flowers from his footman. This time, rather beautifully, he stayed at her bedside holding her hand.
It was said the Queen got the trendy idea from magazines of the time, and that she was the one to suggest it—so Prince Philip became the first male Royal in years to be present in the delivery room—even inspiring The Crown (Netflix) in series two to portray the moment they share together.
All in all, the Queen's last birth in 1964 was natural, at home, unobserved, and lovingly supported. By standards of Royal history before it, and even pressures of hospitalisation on the historical timeline following it, that's pretty good going. It was due to changing times, but also partly down to her own demands. Is her story of radicalism inspiring for other women to lay down the terms, whatever they might be, for how they give birth?
*Source for quotations:Queen Elizabeth II And the Royal Family, Illustrated History, DK
The picture in this post, ROYAL BLOOD, is a staged photo recreation imagining what the Queen homebirthing in 1964 might have looked like, as part of my photography series Birth Undisturbed. As an artist, I throw a spotlight on births in history that celebrate the normality and beauty of birth—rather than just the drama and calamity we see in mainstream depictions. I used Belvoir Castle in England to stand for Buckingham, and actors to look like the Queen, Philip, and the attendants, all styled specifically for the era. Watch the making of movie, above.
About the Creator
I am a fine-art photographer and mother based in the UK, creating Birth Undisturbed, an award-winning series staging scenes of childbirth. (www.birthundisturbed.com). All proceeds from clicks and tips go toward the next in the series.
Reader insights
Be the first to share your insights about this piece.
Add your insights