Testing our metal (and mettle)
When a Father/Son project needs a whole new set of skills
My Dad working on our truck
CRASH! BANG!

"Oh Crap!"
As the loud noise and cursing continues, I turn around to see my Dad with a now mangled piece of sheet metal. It is not the first time I've been exposed to Dad's swearing or a loud noise on this trip. I am just happy that there are is no blood or other visible injuries.
Soon enough I hear Mom's voice from the house "What was that?" she yells. Dad lowers the volume of his swearing and changes his tone rapidly to politely call back "Nothing, I'm fine." He hopes that will placate Mom, but they've been married for 51 years so he really should know better. "Well keep it down out there!" is her response. Dad grumbles some more under his breath and goes back to working on the piece of metal that will soon form a piece of automotive history.
Who thought this project would be a good idea?
It's the middle of summer, stinking hot and we're in Dad's shed. I have a week off work and have flown back to my hometown, leaving my wife and daughter 1000 miles away. It's not so much a boy's trip as it it's a chance to give Dad a hand on our Father-Son project. A 1942 Ford pickup that we started restoring four years ago just after my daughter was born. It has been a labour of love for my Dad and I, and it doesn't look to be ending any time soon. A couple of years ago I told Dad that I'd like to have it ready for my nephew to drive to his high school graduation in a couple of years' time, Dad reckons it will be ready for my Daughter's high school graduation (again, she is only four years old at the moment).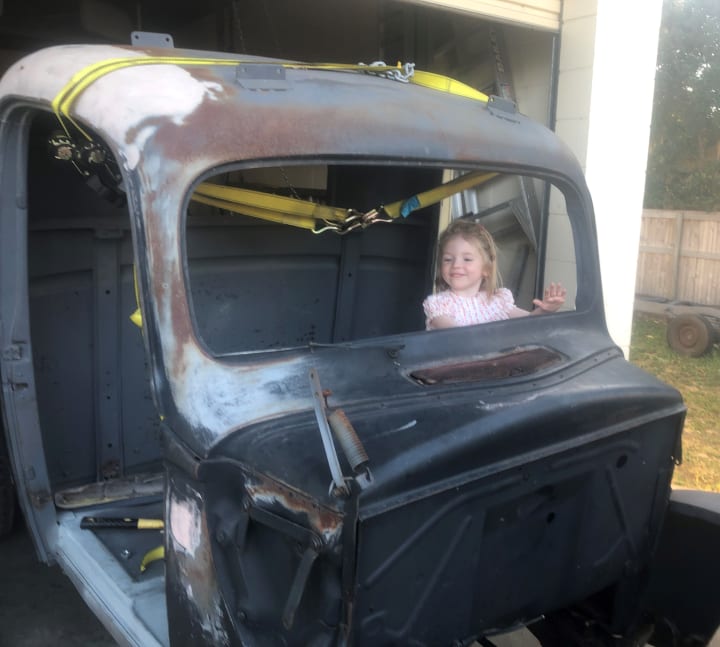 The fact that at the end of this journey (however long it ends up being) I'll have a pretty sweet ride is nice, but what's been better has been getting to work on something with my Dad. Growing up he worked away a lot and he's quite an introvert, of course nobody explained to me as a kid what an introvert was, so I always just thought Dad didn't want to talk to me. But after a lot of years we ended up finding common ground in old cars and bikes and that gave us something to talk about. Dad was the one who taught me how to work on cars, he made sure I knew how to tune an engine, change the oil, bleed the brakes and do enough to keep a car running. Modern cars with all their electrics put a stop to Dad servicing his own cars, so he's quite happy to have an old school vehicle to work on again.
You can't teach an old dog new tricks? You don't know my Dad!
The one part I hadn't thought about was the extensive body work that was going to be needed. Dad had never really done any panel beating or painting before. Not to worry, he called up an old friend of his, Dennis, who had been a master painter and panel beater. Dad would take a panel or a guard over to Dennis' plane and get instruction on how to shape the metal, how to weld it, how to make sure the body lines looked great. He has relished learning a new craft, one that will come in handy when working on his old motorbikes.
The first couple of times I went with Dad to see Dennis, we were both really proud of the work he'd done, then Dennis would look at it, hit it with a hammer and point out all these flaws in the welding or the shaping. I did once say "Well it looked better before you hit it with a hammer!" As Dad's confidence grew, so did the complexity of the jobs he would attempt. Most recently he put in a new floor pan and is working on a new firewall to accommodate the new engine we are going to put into it.
A Reversal of Roles
So another ironic thing about all of this, is the way that I'm now the parent and Dad's the child. As a retiree I don't want Dad forking out to buy any parts, so I gave him a pre-paid card and every time he needs something I top up the card. About twelve months ago he wanted me to get a new differential to handle the additional power compared to the traditional Ford flathead. When he told me it was going to cost a couple of thousand dollars I had to say "My God, do you think I'm made of money?"
He will also ring me up out of the blue and tell me that I need to load another $500 on the card so he can buy sheet metal or gas for the welder or something else. My reaction "What did you do with the money I gave you last week?" He seems to be enjoying having me as his benefactor, so I guess I'll let him enjoy that feeling for a while, after all I'm not paying him for the hours he is working. Mind you, I do pay when I have to listen to Mom complain about him not doing all his other jobs around the house.
Now I have to run, it seems Dad has set fire to his shirt while using the grinder.