SOMETIMES (part 2 of 8)
A memoir of a kid who changed the way the world was pushing her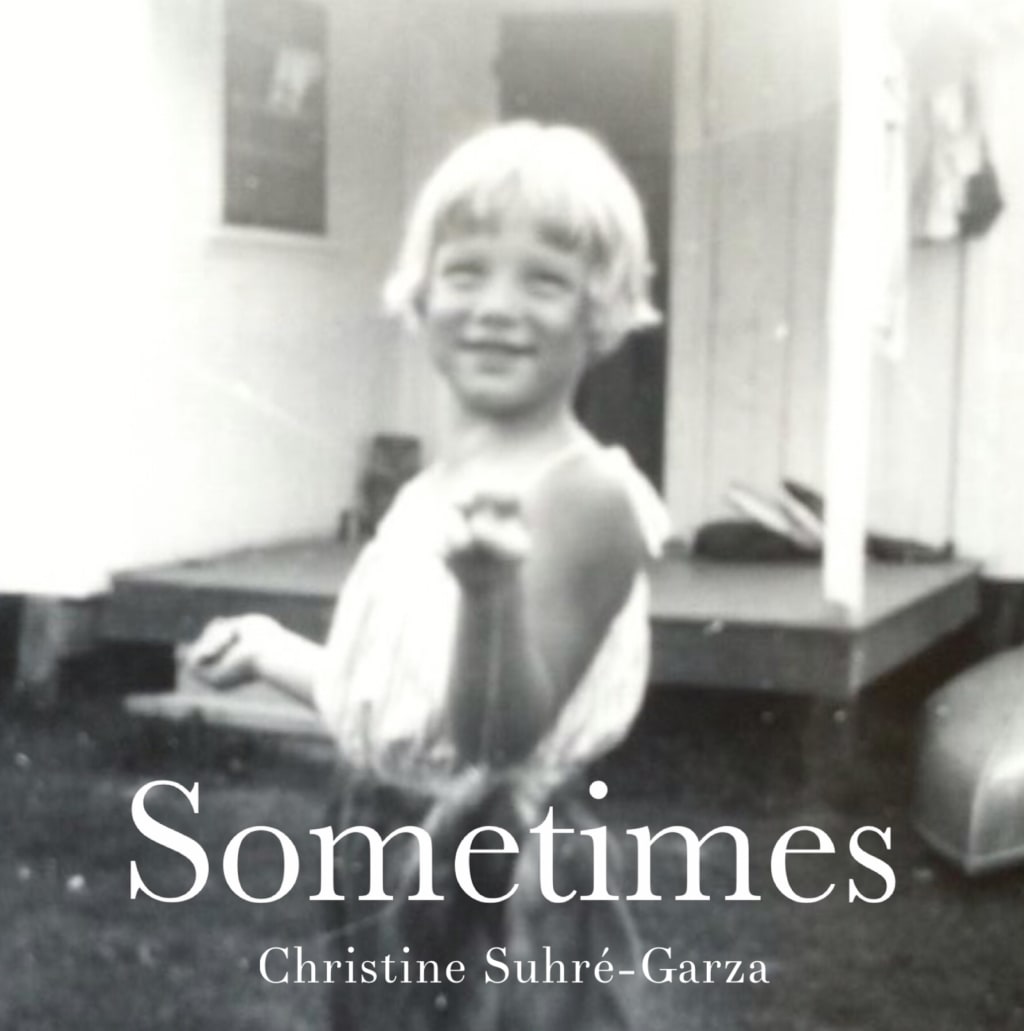 SOMETIMES-2
21- The Dirty Dozen club (for kids only)
In 1989, I started an after school creative program for school aged kids, called The Dirty DozenClub (for kids only) and became licensed for twelve children. We did everything creative under the sun..including, you guessed it, videoing/recreating old commercial jingles. I had a CD that had all the old commercial jingles on them, and the kids acted them out as I played them and videod them. …So much fun, because they added their own little twists.
It was important for me to see my kids grow up. My career had taken me places I never dreamed, as far as I was concerned, and now I was ready to focus on my own kids. This was the ideal thing for me. I was with my kids everyday, and I was able to surround them with kids I felt were good influences. They are still close with many of them. They enjoyed activities with their friends every day. And my kids were also in the comfort of their own home. The kids were all great and whether we all went to the movies, the theatre, did parades, shopped for Christmas in the Mall, or ate in restaurants all together, everyone was well behaved and we had a great time. Kids got to experience things they ordinarily might not have gotten to experience. One girl, in particular, spent all of her time in the Antelope Valley. She was about 5 years old, and she had never been anywhere to speak of. We decided to make a trip to the los Angeles Children's Museum this one day, and as we approached the escalator in the parking lot to get to the museum, she stopped and wouldn't touch the escalator. It turned out she had never been on an escalator, because most everything in the Antelope Valley.. had no escalators. Because of earthquakes, and abundance of space, most everything was built low to the ground in the Antelope Valley. It was mind boggling.
Weekends were for just our family. And we could still pay our bills.
The thing about the Dirty Dozen was that while giving my own kids a rich environment to learn, I was able to do the same for other children. When the two-working-parent thing started up, there was much guilt from mothers that had to maintain a 9-5 in order to keep a roof over their head. Families now needed two incomes to have a normal life, and we certainly were part of that group. This new after school program, was a win-win situation. I got to know the kids and their parents and often we all did things together after hours with the parents and kids. I really couldn't ask for more.
When our cat was about to have her kittens, I had the freedom to go down to school and pull my kids out so they could experience the beginning of life with new kittens. Those are things kids never forget, and neither have I. On days we had bad storms and the schools closed in town, I would pick up my crew early. The big blue suburban would pull up in front of school and I would call for a list of kids to be released. We all became a family of sorts. We looked out for one another and only on very few occasion were there issues between kids.
I explained that we were all together to have fun and enjoy creativity. We took field trips through businesses in the summer time. We planned trips to museums in Hollywood and performances at the local play house as well as the Pantages and the El Capitan in Hollywood. The kids ice skated at the LA Kings skating rink. The Kids' Museum in Los Angeles was a favorite of everyone's, including me. The MOMA was more sophisticated, but enjoyable. The LaBrea Tar Pits were always a hit. There was virtually nowhere we wouldn't go.
And every Friday was movie day for us at the local theatre. We would pack up after everyone was collected at their school, and start over to the theatre, where everyone had a kid's meal and a movie. I made it clear that everyone had to behave or we would have to end our movie days. In all the eleven years of this program, we never had one complaint from anyone in the theatres. The kids could grab their seat anywhere in the theatre, and my seat was the last row. Anyone who needed to use the bathroom would have to go by me and check out. It was always easy and fun. I felt it was important for kids to find their own way of getting along while I watched from the side.
When Halloween arrived, we all went trick-or-treating. At Christmas we made gifts as well as shopped in the mall. Everyone had a dollar amount and they would buy for their families. Then we would come back to the house to wrap them, with a lesson in how to wrap packages. We all had fun. Certainly this wasn't the type of childcare that was typical, but I didn't want it to be. I wanted to open their eyes to everything that could form them in years to come. I knew how important it was to be prepared for all events and have knowledge of as much as possible. It was also important to enjoy the fun things in life.
The kids designed T-shirts, targeting the Rainforest in Paraguay, in an effort to help save the Rainforest. We bought white T-shirts that we hand silkscreened and sold through the anchor store at the local mall one weekend. The manager of the store had his children in my program and he offered to help out. The profits from the sale of the shirts went to the kids, who, by the end of the weekend, could each adopt an acre of the Rainforest in Paraguay through The Nature Conservancy. Every child received a formal adoption certificate from the Nature Conservancy for their contribution. The great thing thing for the kids was to see people in town wearing their shirts they designed and printed, for years to come.
I'd like to think that with this business in particular, I was able to enrich the lives of other kids as well as my own. My mission in life was always to promote a form of decency and ethic, and to give good experiences to growing minds. I did receive an award from my work with children, unexpectedly, from the Child Care Resource Center of Southern California in a letter one day,in 1997. I couldn't have even anticipated it, since it was the first time they awarded something of that nature to anyone. I am grateful for the acknowledgement, but more grateful for the opportunity to be with my own kids and work with other people's kids.
I often wondered that if mom could see me, would she realize she was my influence on business and my inspiration to do things with kids she did with me. I may have taken it to the next level, but it worked and I got to understand how she felt teaching me.
I recall on Halloween, Mom would dress like a bum, with a set of rubber ears that fit over her own, with a worm crawling in one ear and coming out the other. She put on a mask of a big ugly face, and the a pair of big rubber feet that had no shoes. She dressed in rags and carried a white pillowcase filled with wrapped taffy over her back. She would arrive at school before the day ended, and go through all the classes, handing out taffy to the kids.
I followed suit with my own kids, dressing like a bag lady, plumped up with pillows in odd places, two different shoes, and a big ragged skirt. I had a bag of blow pops and would knock on the door of the classrooms with a very 'witchy' scream to let me in. The teacher said they had to put the blow pops away for after school, so I made sure to tell them it was 'okay', and they they could eat them 'now' in 'that voice'. Most all of the kids that knew me, didn't recognize me, and I would approach them in particular and talk to them in 'that voice'.
I couldn't even 'scratch' out my own name, vocally, at the end of the day.
22- Artgirl Cookies
Moving to New York in 1999, I began a decorated cookie business. The kids were older now, but I still wanted to be there when they came home. I was fortunate to stay small enough to have control over my product, be the customer service person I felt good about, and keep the integrity of the product. I had good fun with this business, free rein with designs, and able to stay home while the kids finished high school.
I had a very interesting experience in NYC one day in 2004. I had started the cookie business with a small deli in Cold Springs, The Main Course, and was doing well, I thought. The owner asked me one day, as Summer was approaching, what other shops I sold at, to which I replied, "No one else, Kevin, just you," and he shook his head and turned away.
The truth is that I really didn't need the money. My husband had secured a job in NYC with a prestigious publisher and was guaranteed that he would live to retire from there in time. No worries. I was doing the cookies to keep myself busy and do something creative that I enjoyed…plus, never done before in my life. I had never decorated cookies to any extent until I began this business. But it happened, right before my eyes.
Friends were visiting New York City from out of town, so we took them to see The Lion King on Broadway. After the show, we dropped into the famous Dean and Deluca shop, where one could get the best of anything having to do with food. It was a landmark in SoHo for many years. Prices were high, but what you got was the best. I remember seeing white asparagus for $25 per lb., which was too pricey for me, but apparently, not everyone. .
It was the place where chefs shopped, and owners of fine eateries went to see the newest products featured. Certainly a showcase for the best of the best. There were books and movies and TV shows depicting them.
Everyone scattered to different parts of the store to hunt for their own delicacies. I, of course, gravitated to the pastry area, where I saw beautifully decorated cookies featured for a fine price. As I stood ogling at the cookies, I was approached by a woman who looked to be in her 30s, whose name was embroidered on her starched white pastry jacket, 'Hannah'. She had an accent that could be determined to be Eastern European, and a gentle manner.
"Can I help you with anything?"
"No, thank you. I was just admiring the beautiful cookies."
"Oh, do you do cookies?"
I looked up at her and thought she was being very personable. "Yes, I do."
"Do you have a card?"
What ?! Why? Wait...... "Yeah, I might have one in here"
As I was looking through my old weathered Hard Rock Hotel backpack for a card, she added, "Do you have two?"
"Yes, maybe."
I struggled through my backpack until I came upon two cards that I had created on my computer at home. I handed them to her. She took one and wrote a name and phone number on it, and handed it back to me. She kept the second one for herself.
"Call this number, " she said.
I looked at the name 'Sarah Jay' and the phone number and acknowledged her with a head shake and said , "Thank you!"
I had absolutely no idea what was going to happen with this information. Should I make the call or not? Probably just another person trying to be gracious. Would I be making a fool of myself? Mostly, … WHAT JUST HAPPENED?!
As mom always told me, "God hates a coward", so I dialed the number a day or two later. Sarah Jay answered the phone. I explained that I had gotten her number from a woman in Pastry and thought I would call. I said I made cookies and could send her samples if she would like.
She didn't say anything more than to send her samples and she would get back to me. I got the feeling she was a busy person who normally didn't answer the phone. So I did what she asked. I had my husband drop off a selection of my cookies in the morning before he went to work a few days later.
I received a call from Sara Jay not long after, asking if I could alter something in the recipe to be less floury. She loved the designs, but felt the cookies needed to be richer. Say no more, I worked on the recipe and came up with what I have been using since.
Sarah Jay welcomed me to Dean and Deluca shortly after and I began supplying the SoHo store within a week or two. I then asked her to connect me to Pastry so I could thank Hannah.
"Who?"
"Hannah"
"We don't have a Hannah in Pastry"
"Maybe she works in another area?"
"No, we don't have any Hannah in the store at all."
"She is a light haired woman in her 30s or early 40s, and has an Eastern European accent"
"No, I don't know who you spoke to, but we don't have anyone who fits that description in this store."
"She had her name embroidered on the front of her pastry jacket!"
Nope, no one knew.
Well, I supplied the SoHo store and then also Madison Ave store with cookies every week for fourteen years, and intermittently, I asked about Hannah. No one knew of her.
I also created cookies for their catalog for years as well, and no one in corporate ever knew of Hannah, either.
So who WAS Hannah?
I never found out.
23-Aux Delices, Prada, Polo
Let me tell you how important having a showcase to display your work is.
As soon as the cookies hit the shelves of Dean and Deluca, I received so many calls from people and companies in the City, that I began working nonstop from then on. Good thing, too. Talk about fate, my husband was laid off when the economy dumped. Remember, he was supposed to retire from this company? Now they were laying people off. No one ever knows what the universe has in store. Whether I was prepared for this next chapter or not, was not a question.
My decorating speed and accuracy improved quickly as time went on, pushing out over 500 decorated cookies each day.
Now my husband had become my baker. He had never been baker. I was the decorator, designer, and package person. Sometimes I saw the sun come up. When my husband landed another job, he still baked on his 'off' time. We had fun working together. But we worked constantly. I must have learned that from Mom.
I did cookies for Polo, Prada, Aux Delice, W Hotel, Goldman Sachs commissary, Neiman Marcus, etc. A phone call came in from Prada, who wanted to order 30,000 bags of cookies for delivery in a month or so. We couldn't possibly do it.
When I returned the call to Prada, and told them we weren't set up to produce that large amount in that short of time, they said, "Okay, then we will order smaller quantities, but more frequently." And they did. They were very good people.
RLPolo shops in the City and around the country ordered cookies for their stores during Halloween and Christmas and special events they had during the year. They were a particularly nice company to work with. All of them really were.
A call came in at 11:11 one day. My husband, looking at the time of the call, said," This will be a good one. Aux Delices, in Connecticut. They had also seen my cookies in Dean and Deluca, and wanted to order for their four shops. We started with Aux Delices and didn't stop until I closed the doors to the business in 2018.
And I must tell you how oblivious I am to food and chefs and even other cookie manufacturers. I didn't grow up with much other than meat potatoes and a vegetable. Mom wasn't into baking at all, unless it was baked potatoes or baked macaroni. No desserts, and no fanfare, and no extravagant restaurants. I could tell you about every candy on the market, every ice cream available, and all the chewing gums and the commercials that went with all these products, but nothing about the best chefs in the country, or the finest cookies or cakes. Making a cake for me came from a box.
I must have been delivering and talking to Deb Ponzek every week for maybe eight years or more, without any idea of who she was. One night on a Barnes and Noble date my husband and I were having, we met up with a woman who also frequented Barnes and Noble and we began talking about the cookie business. I mentioned Deb's name and she spoke right up.
"Deb Ponzek?"
"Yeah, you know her?"
"Who doesn't?"
" Well, I don't know, why? How do you know her?"
"Deb Ponzek is a Star! She was the sweetheart of the culinary, and Bobby Flay's Ex! You have no idea who she is?"
I guess I didn't, so she filled me in. When I saw Deb next, I said,"Um, Deb, I have to apologize. I'm not a foodie by any means, so I had no idea who you were other than 'Deb Ponzek, who owned Aux Delices'"
She stopped me there with a laugh, and made me feel more comfortable. She was more than humble and we dropped the subject and got back to regular talk, sharing ideas and info. She asked me once, how I got into Dean and Deluca. And I told her my story.
Unbelievable. She had been trying to get her products in to their shops for a while, without success. So, I passed along her name and info, and she started up with them after a while. I could vouch for the quality of hr products. Every week I delivered cookies, I would see what they had left out for the bakers and preparers to sample through the course of the day. My very favorite? French Macaroons. In my life, I have never tasted any as wonderful as theirs. They literally melt in your mouth. I know that Deb has a great pedigree, so I'm not so shocked that everything that comes out of their kitchen is top notch.
24- Business Etiquette
I had a boss back in the days of photocomposition for Petersen's Publishing Company in Los Angeles, who felt that information should be shared. He felt that it was the right thing to do; to share your knowledge with others. Yet, many feel that sharing or helping others in their business would put your own business at risk. I have come to feel and understand that we all win when we share. The world becomes a better place when we share it. And it always comes back to you....how do they say it?…12 fold.
The cookie business taught me many things. And many things Mom would teach me over the years came in mighty handy about business. I thank her every day for her fairness in dealing with people, and her integrity with making sure she gave everything her 'all'.
I learned how to treat people in business. I learned that bad news travels fast. I learned to pay everything up front if possible. A good part of doing business, for me, is meeting the people. Learning from them. Walking away each day with a good feeling that you did your very best. I learned to appreciate, most of all.
One other thing I would like to mention is kids. I brought my kids up to treat people well and be good people. So, when I have a question about something and how to handle it, I go to my family. I find my kids extremely helpful. They are the next generation of consumers, and I needed to know what they were thinking, what was trending, and what was not. What resonated, and what didn't. They were always right on target. We wanted people to listen to us when we were younger, and now we need to listen to them.
25-From The Mouths of Babes
Aside from making the cookies, I also designed and made cutters of shapes I wanted to use and couldn't find anywhere. In addition, I designed Ad cards that were enclosed with orders.
I took the ideas for the cards from real life experiences. The best Ads come from a real experience. I was finally using everything I learned from TV, and using it with a real product, which was fun… each of these were based on real experiences. Because, I think real is so much better than not….
Hi, It's me, ArtGirl.
Once I was eating lunch in our kitchen and I said to my mom,
"You know what I want to be when I grow up?"
She said,"No, what."
"An Artist. I want to make the world pretty and people will be happy."
Then, when I finished my cream cheese and jelly sandwich, I said to my mom,
"Can I have my cookie now?"
The rest is history.
Love,
ArtGirl
Hi, It's me, ArtGirl.
My kindergarten teacher says cows should be brown, black and white.
She said she never wants to see a purple cow.
I think cows should be purple.
I think cats can be pink.
And I also think I like my 'sneaks' to be sky blue with pink laces.
At this rate, I may never see the first grade, but my
mom thinks I could be very rich some day with my cookies.
Try them- Think outside the lunchbox.
Love,
ArtGirl
My dog loved Saturdays.
Every Saturday, we'd get up around 7 a.m., grab the sandwich cookies, head for the living room, turn on the TV, and watch our 'programs'.
The Modern Farmer, Howdy Doody, Andy Devine, Fury, Sky King
Just Ginger and I.
I'd twist open the sandwich cookie, give the top to Ginger, scrape the icing off into my mouth, and then give the bottom to Ginger.
We were a pair.
Then I decided that the world needed a cookie that was tasty all the way through.
One cookie for Ginger, one for me.
Nobody loses.
Love,
ArtGirl
ArtGirl Cookies became a favorite in many shops in NY for 14 years. My younger daughter had moved back to Los Angeles to attend college directly after she graduated high school. She had always loved Los Angeles and that has never changed. After fifteen years of plane rides back and forth to keep in touch with her life, it was now time to bring the family close again. I didn't miss the early years with my kids, but now I was missing my daughter becoming a woman. My older daughter was still living in NY and also wishing to move back to LA. I closed the doors to the business when we decided to move back to a California in 2018 to be close with both kids again.
People always asked why I didn't farm my orders out, or why I didn't hire people to do the work, and why I did not sell my business. I had several bakeries offer to fill that Prada order. I didn't want to. This was my adventure. This was my baby, and I was responsible for the quality and customer service, and I didn't want to risk losing what I had created. When I put my name on something, I am responsible.
I could have created a huge corporation, but I didn't want to. I created a small one. Money isn't my main goal. I don't have the desire to take millions to the grave with me. I like having enough. i like enjoying my family. My childhood began when I had children. I'm just now catching up. It isn't about having more money than I can spend, but rather about my experiences with my loved ones.
26- Friends
As an early teenager, still in fear of Dad, I recall being in John Wanamaker's, a retail store in Yonkers, with some friends at the time. We were typical teenagers, free and easy with stupid fun, making jokes about people and silly little antics that are not malicious, but maybe annoying to adults. I could feel myself be separate from them and think about what I really wanted most in my life was to have a peaceful mind. I felt I could be anything I wanted to be if my mind was at peace. To have the freedom to go anywhere, and not worry about who, in any instant, would approach me or someone I loved, with bad intent. I felt it was my personal responsibility to not put anyone else's life in jeopardy. I never had an issue with embarrassment like a normal teenager would have, I was way past that. It was all about danger and protection.
As a much younger child, while everyone was laughing heartily, a 'normal' reaction, like a stunt on a TV show of a man running through the center of a western town while caught on fire, I could see no humor in it. It was supposed to be a funny scene, but all I could think was the pain and fear he must have felt. 'Lighten up' would be the term I would use to tell my younger self now.
My experiences as a child put me in adult mode for many years. I've often thought about people that grow up in an atmosphere unaffected by dysfunction to a large degree. Are they better off? Some are, or most, I suppose. I would like to think so.
I had a friend who grew up with money, influence and wanted for nothing at all. He had a wonderful childhood, dated constantly, was popular and always had the best of the best of everything. From all accounts, he was a chick magnet. Early on, he went into business for himself and did very well, and he was generous beyond expectation. He didn't need to work. He married and had a son with special needs. His wife didn't get involved much in the rearing of the child, and life was apparently too boring, and infidelity ensued, so they divorced, and he kept custody of the child. He didn't need to work, being independently wealthy, so he took a menial position close to his son's school to enable him to drop off and pick up his son everyday, from school. Simple life.
Then dysfunction slowly crept into his life, and nothing was as free or happy as the memories he had of his earlier days. He eventually married again, to a woman who came from an abused background. He took her under his wing, hoping to change her life for her, I believe. She brought into the marriage her dysfunctional family and a history of physical abuse. As time went on, his life was one misstep after another. He spoke about his earlier life and was remorseful for choices he had made as he got older. Nothing in his life had gone the way he expected or the way it seemed to go when he was younger. It was all different now. And this was difficult for him to adjust to. He often remarked to me what a disappointment life had become for him.
I wondered if his life had been more challenging when he was younger, would he have found more happiness if he had experienced more earlier on, and had to work harder to achieve what obviously came very easy to him at a young age. Would he have been more appreciative of lesser things, and been more cautious with his choices? Perhaps so. Who can know?
Life throws curve balls all the time. I certainly learned to either duck them or aim and hit more than some of them early on. This doesn't mean I kick up my heels and dance the jig every day. I have good moments and I have bad moments, just like everyone. But at the end of the day, I feel fortunate that I have had the opportunity to make choices.
27- The Bone Pile
Mom was creative. She could paint, she could draw and she liked doing different crafts. Again, of the three kids, I seemed to be the only one who took full enjoyment in that kind of thing, so mom and I often wound up doing them together. I truly believe this is where I got my love of Art from.
But we often took creativity to different places. My mom noticed that when we went to visit the cemetery where her parents were buried, people would put flowers and such on the graves at different holidays. Then the next time we visited, the flowers were gone and were replaced with new. So, what happened to everything they took off the graves?
It was a time in America when plastic flowers became a big trend. Everyone thought they were wonderful because they looked so real and never wilted. They bloomed day and night, were easy to plant and obviously easy I suppose they looked kind of eternal, was my thought, but none-the-less, we wondered what happened to them when they removed them from the graves. Even the potted plants, like tulips and lilies were removed when the season was over.
After one of our visits to see the grandparents at the cemetery one Sunday afternoon, we took a drive around the premises and lo and behold we found gold. There were hills and more hills of potted plants, wreaths, and cut flowers in the little plastic water tubes, and yes, plastic flowers! We soon referred to that little area over the hill and down behind all the grave sites as The Bone Pile.
We sprang from our car and attacked that huge mound of goodies with a good amount of zest, collecting all the plastic flowers we could, tossed them in the trunk and drove home, exchanging ideas of what we could ultimately do with them. We washed them and hung them to dry and then stuck them in the ground around the little cement pond my brother and mom built. Instant perfect garden! We planted bulbs and I played with the little plastic vials, cutting dandelions and violets to place in them at home.
Mom had friends, Marge and Artie, a couple who she worked with in Scarsdale. Artie always boasted about his yard and how much work he put into it and how he planted hundreds of flowers that always came up in the Spring. Apparently, he never stopped bragging about his yard, so one night, about 2 a.m., mom took a drive over to his house and quietly, on the sneak, placed dozens of plastic flowers around his lawn in several places.
The next morning, Artie found dozens of blooming flowers that had popped up in his yard overnight. While he constantly inquired who the culprit could be that orchestrated this, I don't think mom ever confessed to the task, but she laughed about it for years.
28-Poop Patrol
My sister had a friend up the street from us in Yonkers who had a younger brother I used to play with. He was a year older than me, and I thought he was particularly handsome. I think he might have been my first crush. When I was having difficulty giving up my thumb sucking, my sister said "Tommy doesn't suck his thumb any longer, since he started kindergarten", and pfft! Just like that, I gave it up. it was just before I started kindergarten. All the pepper, mustard, alum, and anything else applied to my thumb in thick measure, could not stop me from this habit, but the minute Tommy's name was mentioned, it was a done deal.
When you are so young, nothing seems so unusual, because, I suppose, you are just learning how this place, this world, goes. You don't know right from wrong early on, and you don't know what's normal and what's not, unless someone tells you.
Tommy, myself, and other kids up the street all played together quite a bit. And every day, his mom would step out the front door and call him in the house. We would stop our playing, and march in, right along with Tommy, and head right in to the bathroom, with toys in hand if we had any. It was something we were all familiar with. Boys and girls.
It was time for Tommy to poop. So, as Tommy sat on the pot, the three or four of us would sit on the floor around him and talk about everything and anything while he waited for the earth to move. It seemed natural and okay.
We never thought it was odd. It was just what it was. His mom would bring in a glass of prune juice in a little clear plastic yellow glass, and Tommy would sip it while we all talked. When he was finished, we all marched back outside and resumed playing.
One day, Tommy's mom called him in from playing, for his 'poop date'. I happened to be the only girl in the mix that day and Tommy stopped and turned to me and said,"My mom said you can't come in anymore." I said, "But why?" And he answered, "My mom says it's because you are a girl."
I don't think I ever felt so angry, hurt, and disappointed for being a girl. I went directly home, into the kitchen, leaned on the counter, Ginger by my side, and we stared out the kitchen window and up the street. With tears in my eyes, I was hoping, that as if, by some wonderful stroke of magic, Tommy would come marching down the street to collect me when his poop break was over. He never did. And then I hated that being a girl kept me from playing with my friends.
I didn't like being singled out. Never mind the fact that NO ONE should ever be sitting around in a bathroom waiting for someone to poop. Oddly enough, I had another one of my best friends who also invited me in, as well, on several occasions. What is it about poop and kids?
After a recent talk with one of the 'poop gang' members, Sheri, who has remained nonjudgemental and probably remained the closest to me of the kids I knew back then, told me she had a very similar experience with Tommy and his mom as well. She had also been excused from his bathroom poop dates.
So my play dates and crush on Tommy dwindled. I thought he didn't like me any longer and I really wasn't excited to be told to go home again. No one really explained the reasons for this, and to be honest, I'm not sure I would have understood it anyway. I just lost a friend that day. I'm not sure I ever really talked to him after that.
29-F-U-C-K
Playing on my own eventually became a thing for me. The Sterns were becoming tiring and frustrating because they ran home to mom at every little fart. They complained when I didn't let them use my new box of crayons, but had to use the box that had some broken ones in it. Their mom called me over to tell me I had to share my new box of crayons with them. I told her I didn't have to share them with anyone, and so I never did. I didn't win brownie points with her, that's for sure.
Crayons, to me, were a once a year buy for school. After that year of school, they came home with me in June and became my replacement for the previous year's crayons. A box of 64 Crayolas with a sharpener in the back of the box. My prized possession. They were usually in pristine condition, while the older box contained a few broken ones. I learned early on that no one ever takes care of your things as well as you do, and breaking crayons fell into that category. Mama Stern could lecture me all she wanted, NO ONE but my mom was privy to my good crayons.
Not much has changed in that way for me. What I hold dear I don't lend to anyone. I also don't borrow much.
One Sunday, on the way to Church, I noticed F-U-C-K written in colored
chalk on the asphalt of a side street, spanning the entire width of the street. I knew it was a 'bad' word, and knew I could not repeat it to anyone who was an adult, so I knew it was big news I couldn't wait to tell Robin and Stewart. We were still friends at that time, for whatever reason.
As soon as I reached home and changed into play clothes, hanging that very starched dress back up on the hangar in my closet for maybe 20 more Sundays, and stowing my patent leather pumps back in the shoe rack on my closet door, I hurried to tell what I had seen. 'Frick and Frack' listened intently as I reminded them not to tell a soul; this was a secret. And in perfect form, Stewart ran directly home to his mom as if he had just discovered the cure for cancer shouting "Fuck! Fuck! Fuck!..." all the way home.
Needless to say Mama Stern called me over again to tell me it was a nasty, dirty, filthy word and no one should ever repeat it. As if.
30- Superman
Summers on Helena Ave were hot, sticky and for the most part, boring. That is, unless you were a member of our family. Life never seemed boring with us. We were always building something, fighting, or listening to Brother's adventures of wherever he was on any particular day. There was always SOME remarkable incident he was part of. Whether he outran the police with his car, knocked a teacher down a flight or stairs who was drunk, helped someone out of a jam on the street with their car, or brought home some animal he found somewhere during his outings, there was always a story and always a display of how it all went. I looked forward to all of his stories and 'adoptions' of animals. He was my Big Brother. He was my Superman.
When Brother enlisted in the Marines, he would often drive home on weekends, and pass out on the living room couch from the exhaustion of driving up from North Carolina non-stop with some buddies. I can still recall being edited too wake up Saturday morning Mom and I would pull up a chair in the kitchen and Brother would act out the latest of his adventures with fellow enlistees and drill sergeants on the base; the middle of the kitchen floor being his 'stage'. He was animated and entertaining, and I can remember laughing so hard and so constant, my cheeks would hurt by the time he was done. He was brilliant and tested with a 148 IQ in 6th grade. He had more natural abilities than most. His
personality and wit would make you believe anything that came out of his mouth. But with genius can come dysfunction as well. He needed to be kept busy, with positive experiences, which wasn't often the case.
He never did, however, tell us about how he shot at kids in the neighborhood with his BB gun from his second story bedroom window as they peddled by on the street, much like an arcade game in a theme park. I heard it from his victims much later on. It's no wonder he received a medal in the Marines for Sharpshooter. It was odd, the things that amused him. Just like the many pallets of
animals he skinned and stored in the attic. Rabbits, skunks, squirrels, you name it. I think I was told this was a Boy Scout lesson in survival, but I seriously doubt it. he was a Boyscout for only about 2 minutes. I was pretty glad I never witnessed the the projects in action. Jesus.
31- Gone Fishin'
There was a little cement pond in the backyard that mom and Brother built one weekend, and, well, it needed fish.
My mom and dad, on good days, worked well together and did, in my mind, some fun things. After dinner, activities during the summer months included gathering up the hip boots, the nets and the buckets. While it was still light out, we jumped in the car and headed for The Bronx River. The Bronx River is a body of water that runs along the southeast portion of New York and is the only fresh water river in the state. It was home to ducks, birds, and all other sorts of wildlife, including all kinds of fish. We'd park the car and walk to the place where the water traveled over rocks and pebbles, and landed in various pools of sorts, where one could watch colorful carp, up to a foot long or more, swimming wildly, with no particular place to be, but there.
Mom and dad parked the car, pulled on their hip boots, and with nets and buckets in hand, and the three of us marched like Texas Rangers to embark on a mission, foreign, I'm sure, to most families of the 50s in suburbia.
The combination of colors of white, black and orange carp swam in, out and over the rocks to reach that 'pool' of serenity and safety that lay somewhat silent at the end of a small, rocky, waterfall. Except on these particular summer evenings. It was amusing to watch my parents attempt to net a fish, sometimes walking over some bigger rocks, ending in a good swim. My job was to have the bucket of water ready to flip the 'catch' into when they got lucky.
Often, while mom and dad were performing their water ballet, I scoured the shore of the river for tadpoles. You could find them resting at the water's edge, and I found that if I approached them from behind, I could nab them with my bare hands. Then I would plop each one, into the bucket of water.
All this for the fish pond in the back yard.
After a successful catch, we headed back home, and it was my job to keep the bucket from splashing water and fish into the backseat of the car. If we didn't feel we had enough, another trip would be necessary in a week or so.The pond looked good with the new occupants, and even better when we added pond lilies from our summer vacation at Lake Champlain...
32- Lake Champlain
The family rented a different house or bungalow every year for two weeks in Summer, somewhere North of Yonkers, usually in a more New England state. This one year it was by the New York/Vermont border. The big bungalow sat high on a hill, just across a two lane road from Lake Champlain. Well, it seemed like it was high on the hill, but it was probably just maybe a small hill, surrounded entirely by pines. But the bungalow had high ceilings, and quite a few rooms, over which each doorway hung a very old stuffed deer head. Considering the fact that each deer head had a full set of antlers, and the fact that the stuffing was dropping out of each of the moth eaten taxidermies, creeped me out immensely. Every time I had to walk from one room to the other, I would stop, look at the deer head staring out over the room like it was daring me to enter, and run like Hell under the doorway to the next room. It was exhausting.
I asked to sleep on a cot in the enclosed porch that overlooked the lake. There were no animal heads out there.
A frightening storm arrived one evening, well into the night. I was frozen with fear as the lightening lit the room with each bolt, and the thunder seemed to clap so loud it was almost deafening. Perhaps it was because I was on the porch that it seemed so frightening, complete with rusted screens surrounding me on three sides, from floor to ceiling. So mom moved Brother from inside to sleep on a cot next to me for the night. Fear seemed to go away immediately and I enjoyed the light show as I drifted to sleep. I always trusted Brother could stop the Niagara Falls if he just put his mind to it. As long as brother said something was safe, I bought right into it.
Brother wanted to do something special this one vacation, so decided that swimming across Lake Champlain was going to be it. He started at the far side and swam all the way back to where we stayed. I think it was approximately 2 miles. Mom and I followed in the rowboat in the event he got tired ...or Nessie surfaced. Brother made the swim, of course, with little effort.
And yes, Nessie is real! Mom was rowing back to the dock one afternoon after a trip out into the lake to do some fishing by herself. On her way back, she noticed some movement in the still water below and then realized something much larger than the boat swam under it. It never surfaced, but mom said it was just huge, many times the length of the boat, and she had never seen anything like it in her life. She said she couldn't row fast enough back to the dock and jump out of said boat. Years later, she heard that Nessie resided there, and she relived that trauma all over again.
On one of the last days of that vacation, Mom, brother and myself took a canoe, of all things, out onto the lake and found an inlet of solid pond lilies. Brother jumped into the water, and dug up the lilies, throwing them into the canoe one by one. We kept them alive during the trip home, eventually placing them in the cement pond. One problem. It was a cement pond. The lilies lasted a good week or so.
Summer drew to an end with the tadpoles growing into frogs and inhabiting the neighborhood, serenading well into the night. At least they lived long enough to grow up. And they kind of took over the neighborhood.
33- More Neighbors
More new people were moving into the neighborhood, like the newly built house at the end of our street. The neighborhood was starting to boom! The first thing kids usually do is make friends with the new neighbors. Everyone got on their bikes and hurried down to watch the newbies move in. I remember they had a couple of kids. I think they might have come from the Bronx and their name was Finkelstein. Now, mom grew up in the Bronx and went to school with a good mix of kids who were all the religions NY had at the time. They all got along and they all had regular names. Martin. Cohen. Murphy. All regular names. I guess Finkelstein wasn't one of them.
We all stayed a little while to watch the move, to see if anything they were bringing in was cool. Nice people. But not mind blowing. So I rode my bike back up the hill to go home. Mom was ironing as I entered.
"What's up, Christine?"
"Nothing. 'Just met the new people down the street that are moving in"
"What are they like?"
"Oh, they seem like nice people, and I think they have a couple of kids."
"What's their name?"
"Finkelstein"
"What?"
"Finkelstein!"
"C'mon, Christine, what's their name?"
"FINKELSTEIN!"
Okay, then DON'T tell me!"
34- Believe Me
Truth is often stranger than fiction. You can't make this stuff up. I seem to have this knack for walking into strange people and strange situations. I told mom I kept seeing little moles down the street by the gas station...and she lightly acknowledged me and kept on with whatever it was she was doing, much like when her good friend would call her who liked to talk.
We had a wall phone in the kitchen, without an extra long cord, and mom's friend would often call to fill her in on the latest in her life. The woman spoke non-stop. It was evident she just wanted to talk, literally, and that's all. It didn't matter who heard her, or if they listened, she just wanted to talk.
l witnessed mom answer the phone, and after maybe 15 seconds, say, "Yup, uh-huh," and put the phone on the counter to go wipe the kitchen table or something of that nature, and then return to the phone, pick it up and say,"Yeah, hmm-hmmm," and place it back down on the counter again. And maybe 30 seconds later go back to the phone and do the same thing all over again. This went on for much of the duration of the phone call, depending on how busy she was and her friend never knew the difference, or cared. Some people just need to talk, and it doesn't matter who is listening. Mom wasn't much for gossip. Eventually she would take the phone and add a little more sentiment, and some normal conversation.
Anyway, mom had about as much interest in my mole story as she did in those phone calls. They were little grey mice-looking animals that had little nubs for tails, and I'd seen them on the side of the building between the hillside and the wall. I kept wanting to catch one and bring it up to her, but I would corner it and then be afraid I would hurt it. It would make a high squeaky noise. Cute as could be. So I let it go and whatever she decided, she could believe. This was probably a small lesson in growing up. I learned you don't hit someone over the head with needing them to believe you, or the need to have them interested in everything that brings you interest.
Some years later, my husband and I were watching the birds on the gazebo in the back yard in NY. We had just moved in from California. There was this one bird we hadn't seen yet on the property. It was black with red on its wings. My husband said he wondered what bird I thought that it was. My answer was,"It's a red winged black bird." I was very familiar with them.
He laughed and said, "Yeah, I wonder what they're called?"
"Red winged blackbirds!"
"Okay, Right."
I can't tell, you how many times that's happened.
Another time, a catbird seemed to make its way to our front yard and must have had a family nest somewhere in the big evergreen and the squawk of its natural tone sounds much like...you guessed it...a cat!
Husband mentioned to me about the sound it made like a cat, and I told him it was called a 'Catbird'. Again, he laughed and said he wondered what it was really called.
If that wasn't enough, we had a little bird that caused my husband to ask again, which I recognized as a Titmouse. Well, THAT was an interesting conversation. I eventually gifted my husband a book on east coast birds.
35-I've Got a Bat In My Purse
And then there was this woman standing outside Big Lots one day just a couple of years ago. She looked a little dazed and confused and I wasn't sure if she was having health issues, or possibly homeless, or what. I approached her to see if she was 'okay' and she looked at me and told me there was a nest of bats up there, pointing to the eaves of the building. She said one of the babies fell out of the nest. I asked where it was, because I didn't see it anywhere. She told me it was in her purse.
I looked at her, wondering,"Whataaat?"
And then I spoke carefully. "The baby bat is in your purse?"
"Yes, I put him in my purse because I'm going to take care of him."
I urged her to put the bat back in the nest, but she felt it wasn't a good idea.
I didn't want to jump to conclusions, but I explained that the bat would die in her purse. No, she tapped the purse and said she was keeping the bat in her purse, because she wanted to walk around, knowing she had a bat in her purse and was excited that no one but she would know it.
I asked to see the bat, and she SHOWED me the damned thing! Sure enough! Then she tucked it back into her purse and walked off. "Jesus!" I thought, and walked into the store.
My daughter and I were in a store in Poughkeepsie that we frequented that sold good, heathy food that isn't readily available everywhere. We were waiting on line for check-out when a woman in front of us, tall, sturdy, and very Goth looking, was giving the cashier a particularly hard time. It was around the time when random mass shootings were beginning to become 'popular' and you had to start assuming that anyone who was upset in a public place might possibly open fire.
This woman was rude, obnoxious and hard, telling the cashier to shut up and just do her job. The cashier was shaking in her shoes. From all appearances, this woman literally could have gone off in a moment's notice, pulled a gun and blew us all away. If that wasn't enough, our order was on the conveyor belt right behind hers and when it automatically moved up to the cashier's area when hers was finished, this woman reached over and whisked all of our order back in our direction with one swipe of her big arm, sending our food literally flying into air, hitting people and landing in different parts of the the store on the floor. Those watching the event and on line behind us, quietly picked up our things from the floor and passed them back to us.
When this woman left, the cashier was on the verge of tears and dismissed herself from her station. I'm guessing this woman had to change her clothes.This woman brought fright and fear to everyone within sight range and we all just looked at one another in disbelief, afraid to even speak about it. I am so sure we weren't the only ones wondering if she might pull out a gun and fire away. Before I left the store, I went to the manager and explained what happened. She said she had never seen her cashier in the shape she was in, and appreciated our input.
'Fear' was not enough to describe this bizarre incident. I can tell you that this experience in particular, brought back memories of what I had felt so many years ago. Fear like that is not usual. To grow up in a situation like that happening in your life everyday, or every few days, is even more unusual. Unpredictability. People are probably the most unpredictable beings I can think of. Whatever you tell me about wild animals, well, humans have them beat. You have no idea what any person at any time has just come away from, or been dealing with for years, and just one comment, one movement, can send them spiraling. We can be a dangerous lot.I froze. It was many years later for me, and I froze.
And then, not minutes later, l witnessed a normal looking, well-dressed man walk up to the entrance of the same store. Now sitting in my car, waiting for my daughter to return from her additional purchase. I watched this man step onto the mat at the electronic door area to open the door. He took his hat off, and dance a full blown jig right then and there, by himself, then stop, stand up straight, and enter the store like it never happened . I had never seen anything like that in my life. Between the bat lady, the goth woman, and this man, I seriously questioned whether I was in some alternate Universe.
36 -Just so stories/Lies and Exaggerations
My dad always told us we were related to Joyce Kilmer, with whom we shared the same surname, and I thought that was wonderful. I had found my proud. When we had a tree planting ceremony at my elementary school, they recited the poem 'Trees' by Joyce Kilmer and I raised my hand high into the air to make sure I announced that I was indeed related to the very late and great poet. That meant so much to me. I liked poetry anyway, and now I had a claim to fame. From the farthest back I can remember, I loved reading and writing poetry. This had to be why, I thought!
That was all so wonderful and then one day I asked my dad about his limp and why he had it. I had known about it since I could remember. It wasn't odd to me, but a friend asked about it, and it got me to wondering. I thought it had to be another exciting story. His left leg was markedly shorter than his right, and I finally got the nerve to ask.
Never a braggart, he didn't eulogize. His answer was that he was wounded in the war and his leg was broken and it never healed right. "You were in the Army, Dad?" "Yes" "You were a hero!". "Yes". I had something else to brag about. Dad was a war hero. He must have had a Purple Heart. Isn't that what you get when you are wounded in war? I knew he was a very low key, quiet man most of the time, and I never saw any of his family or military pics, or early pics of him, so one can safely deduce that he hid all his bravery, and was a humble man of sorts, as well.
And that was the end of that conversation. No elaboration, no story, nothing to sit and ponder about the dramatic event that left him with a noticeable limp. I knew he was a man of few words. Brilliant with his work, but quiet. I was suddenly so proud of him and the fact that he was a war hero.
I found out later, that, in fact, he was never in the military. And he did break his leg, but in a motorcycle accident, and most likely, suspiciously drunk. Which led me to the former question about Joyce Kilmer being kin. We will never know. I asked mom later on about the Joyce Kilmer connection. She was curiously quiet about it, and said, "Maybe," but she "couldn't know."
The truth is, she really never knew too much about his background either, other than what he might have offered. There were only a couple of photos of him, at best, that I ever was aware of. His graduation photo from High School, and maybe one other, but that was it, aside from what was taken after he married.
I asked about grand parents on a few occasions. I had heard about my mom's parents, who passed before I was born, but nothing ever about dad's. I asked, and every time I asked, the subject was changed, or dad just made some ridiculous comment, not applicable to the question. Mom never really knew, so that was that. He was a smart man, who obviously had a decent education and dressed well, always. He took care of everything he had, except his family. I wondered, too, if he had siblings, which I came to assume he did not. The only thing I ever heard was that his mother left his father while he was growing up. That's it. He also had an aunt in Upstate NY that we visited once, that I can recall.
At some point very early on, my mom showed me a photo of her dog she had as a kid. It was a terrier of sorts, perched upright on a piano stool, in front of a piano, with its front paws resting brilliantly on the keys. It had a pair of wire framed glasses on its nose and a derby hat on its head. Mom said her dog played the piano. She also said his name was Rinky and used to scare himself every time he farted. The photo was an old sepia tone, and probably from the 30s or 40s.
I believed her, of course, so I told everyone I knew that her dog, Rinky, played the piano. I even announced it at Show-and -Tell in my class. Again, I was proud. Who else did I know that had a dog that played the piano? I hung onto that thought. I imagine that if she told me he sung, too, I would have believed that as well.
Turns out, her dog never played the piano, but she only admitted this with a pitying smile when I was an adult. One of those looks that says,"I'm so sorry, you poor little gullible thing." The farting issue, however, was supposedly true. It's almost a shame I left that detail out of Show-and-Tell.
Mom just always assumed everyone should be as intelligent as she was, and if you full well didn't realize her humor; that was a your shortcoming. She loved being a trickster and joker. It taught me to be able to laugh at myself and not take everything as word that you hear. Once I got on her wave of thinking, it was a lot of fun. And somewhere along the way, I seemed to embrace and appreciate it enough that I followed her lead.
Her sarcasm and wit were not to be matched. In time I came to understand her to the point of being able to read a look or a glance from her. Not a woman of many words, there were volumes she left unsaid. She spoke when it was important, and laughed when it was witty, and she was deaf to gossip. More could be said in her silence than written in words. But she zoomed through crossword puzzles, aced cryptograms and did word jumbles for the heck of it. We were both good at cryptograms and I began to realize that with every puzzle, you need to get behind the basic concept of the thinking it embraced to do them with any speed.
So, if all those realizations weren't a lesson when I was young, what about Cousin Nell who mom said they kept in the attic as a kid. This was a story, another short story, because that's all I heard was that sentence. Nell apparently existed in my mom's Aunt's attic. Who knows about these stories? No Wikipedia or fact-checking back in THOSE days.
I imagine, knowing mom, that the Rinky story was just something she enjoyed telling people, knowing, of course, no dog plays a piano.
But, the war hero story. Who on earth would not believe that story? Dad was not sarcastic or outward witty in that respect. He barely spoke at all. He was also brilliant. His story was not inconceivable. But who tells their child that they were in the Military when they weren't? Possibly someone who didn't feel too good about themself. Who beats their wife and children relentlessly on a regular basis? Probably someone who doesn't feel too good about themselves. I believe that alcohol brought those feelings he had, to the surface. I believe during more sober moments, when he attacked Brother and Sister, his own frustration in his own earlier life surfaced, and he was beating himself up. Or possibly someone we never met.
37- Again?
Mom married a second time later on, and then divorced this person who, in my estimation, never told a straight story in his life, either. The truth has always been important to me. My guess is because I saw it ruin so many lives.
One evening, during a visit with mom's friends, this person told a story that got grander every time he repeated it. And this time, he made the mistake of asking me to corroborate it. "Isn't that right Christine?" "No, actually it isn't. That's not how it happened."
There was uncomfortable silence. Exaggeration has little or no place in my life, and only serves to make me think the person who does it seem as if they don't think their life is good enough, or exciting enough. In my case, life was certainly exciting enough and that exaggeration wasn't necessary.
Brother was good at exaggeration, and he was funny, and we laughed at his stories, but I think we all knew it was exaggeration and supposed to be funny...until it wasn't.
38- Rose
When Benji and I had our second child, it was time to move to a bigger house and a neighborhood where the kids could feel safe, and they could grow up with a fighting chance to have good experiences with the people around them. Most all of us want the best for our kids, and if that can happen, it's a gift. I wanted to expose them to social gatherings so they would know how to act graciously.
The neighborhood was good. Not overly wealthy, but not poor. And not over populated. Builders had purchased lots in the area, and constructed spec houses. Everyone's house was different from the next. I loved our house. It had gingerbread trim inside and out, and I cried when we made an offer and they accepted. The owner was the builder and he did a wonderful job. It was a fairytale house.
Other houses sprang up all over the neighborhood, and one family in particular, moved in down the street a bit, with a few kids, all girls. The family was friends with our neighbors to the other side of us, who had also just recently moved in. Somewhere in the time period of a year or two later, the woman down the street came to my door to pay me a visit.
Rose was a simple woman, toned down and humble. She had a bunch of young daughters and then finally a son, who was probably a toddler at the time. I invited Rose in. She loved the house and said we had a beautiful family. She liked that our girls played with hers. And clutched in her arms was a Bible with silver edged pages as she entered our double doors to our house.
After convincing me that her children and our children were such good friends, she began her spiel. Our conversation had been light and friendly. But now, she began to work religion into the conversation, asking me if I belonged to a church in the area. We did not. She asked why, and I think I told her because church wasn't in our plan at the moment. I felt it was healthier to live with love in your heart and a good conscience, then to listen to someone preach in a stuffy garage with folding chairs, and then forget everything they preached as soon as they walked out the door. I didn't tell her that, but that was my stance.
Rose said her church was a real church. I said I was glad. She asked if we would be interested in joining them at any time. I said I didn't know, but not likely. She asked if I had a religion. I assured her I did, but it was not anything orthodox. I was baptized Lutheran, went to an Episcopal church as a kid, and then any church that happened to be handy at the time, and then no church at all.
"Do you have a Bible.?"
"Yes, I believe we do."
"What kind is it?"
" The Holy Bible, I think"
"Yes, but is it King James?"
"I really don't know, it's my husband's from when he was a kid"
"Well, I have a gift for you. This is the King James Version, the only one that is the real version."
I looked at her,"Oh, that's sweet Rose, but you shouldn't have." And I meant that.
"Oh, I would love you to have it. Look, I had your names engraved inside. We had it done for you. You have such a wonderful family, I wouldn't want you to ...."
"Go to Hell, Rose?"
"Well, yes, you know it's very important to have the right Bible.. the only REAL one."
"Rose, please don't be concerned. Wherever we go when we die, I will see you there."
"Well, if I give this to you, will you read it?"
" I'm not sure, Rose, it wouldn't be on the top of my list, to be honest"
"Well, I would like to leave this with you, and hopefully you will pick it up and read it."
"Okay, Ruth, I will accept this as your gift, thank you."
And she left it with me and then went home. Deed done.
She invited our kids to her church and being an open minded person, I asked if they would like to go, and they did. And we went along. The perpetual happy faces and separation of the children from the adults made me a bit suspect. It reminded me of a possible KoolAid moment. I watched as the children were all funneled down to the basement of the church, single file, to sit on the floor in each classroom. I followed. As the teachers taught their lessons, candy was handed out to the kids constantly for their participation. Parents were excused from being any part of the classes. Odd, I thought. This looked more like a cult than a church, and we decided our kids didn't really need to attend again.
About two or three years or so down the line, I saw Rose at the community mailbox. We exchanged Hellos.
"Did you ever get a chance to read the Bible I gave you?"
"You know, Rose, I never found the time, unfortunately."
"Oh, well, then, I was wondering..."
"Did you want me to give it back to you?"
"Well, if you're not going to read it, my youngest will be starting Bible School soon, and he could probably, really...."
"No problem, Rose, I will get it to you right away"
"Oh, thank you, we appreciate that."
I am assuming they put duct tape over the engraving, or blacked it out with a Sharpie or something. A book cover was certainly in order, I'm sure. This church woman was the same woman who loved my wallpaper so much, and offered to buy it from me if I had enough left over to do her daughter's room. I said,"Sure," in lieu of returning what I didn't use to the store.
I gave her the price of the rolls and before I could include the tax, (before you could say Jack Rabbit) she handed me a check for the paper. Let's just say I paid my stipend to the church in the taxes she jumped out on.
39-Pharmacy
When My husband (boyfriend at the time), and I reached Hollywood in '77 and settled down, we both landed jobs at Petersen Publishing. We were doing well, but wanted to make a trip back east to be with Mom for Thanksgiving, so needed to take a second job to afford that. There was a nice little pharmacy in town that was very close to our apartment, and I always had a good feeling from the people every time we happened to visit.
This one day, after we walked out, I said, "I'd like to work there, I think".... and so, I turned around and walked back in. I asked for the manager and he came down to meet with me. I had a part time job within the half hour. Each day after work at Petersen's, I could be found behind the prescription counter, helping the Pharmacist, taking calls and providing some items to customers that were not available unless requested at my counter.
Condoms were one of those items. All the 'ladies of the night' would come in during the evening, and purchase, always, the least expensive condoms we had.
Funny story. One night I was working when a gentleman came in and asked to buy some condoms. Generally the person knows exactly what they want, and are as discreet as possible. But this man, with a limited English vocabulary asked for some condoms.
"I'd like some condoms."(in a very broken English accent)
"Yes, what kind would you like?"
He hemmed and hawed and stammered for a while, staring at me, and then looked away.
"Which ones would you like?" I inquired again.
"Small," he answered sheepishly.
I looked at him and tried to keep my composure, realizing he just gave me information I didn't need to know.
"No, no, what brand?"
He didn't know from one brand or the other, so I helped him pick.
I loved this job. People were great, and I received a raise just a couple of weeks into the position. I stayed with them well beyond Thanksgiving, just because it was such a wonderful place to work. But nothing is ever beyond surprising, no matter where you work or who you know. The world is small.
I had a good rapport with just about everyone at the store. We had two pharmacists who were very nice and we often got into conversations about one thing or another; this doctor or that customer. I learned a lot about medicine.
There were two doctors, brothers, who were well known for giving quaalude prescriptions in a soup kitchen-type atmosphere. Apparently, they wrote scripts for 'patients', one by one, as they stood in lines longer than Disneyland's Space Mountain on any given day in July. Not a stethoscope in the room, lines would form out the door, waiting for that signed piece of paper with a prescription for their favorite drug of choice. The doctors would charge their fee and make hand over fist cash for handing out theses scripts, hundreds per day. No medical room, no nurse, just a line, and cash.
They were finally being investigated after quite some time, and we were under strict orders not to accept their scripts. It was interesting working behind that counter. I turned many of their scripts away during my tenure.
40- Have You Seen Jesus?
It was slow at the pharmacy one night, and Mikey, one of the pharmacists, turned to me and asked, "Chris, have you seen Jesus?"
Surprised, I turned to him and said, "No, Mikey, have you?"
"Yes"
"Oh my God, really?" I wasn't sure where this was going, but I had an idea.
" Well, yes!"
"You SAW Jesus?"
"Yes, you haven't?"
"No, honest, I haven't." I was stunned for a second. I thought maybe he really had an experience I would have loved to have had. Some near death experience that would shed some extra light on what I had already read and experienced. It would have been a conversation that might change my life. And then, maybe, there was just an inkling that this wasn't what I thought it might be.
"What did he look like? Anything like the pictures we see?"
"Well, I didn't really SEE him, but I experienced him!"
There it was...the big let down.
"Whew, I was thinking, wow, I'd love to know what he really looked like..you know, like, was he nice? Can you imagine if you got to talk to him?"
He assured me he talked to him daily.
Uh, yeah.
Then he asked if I was A Christian?
"Do you mean, like, not Jewish, but Christian?"
Those were the kind of questions and concerns you encountered when you met a newbie in town as a kid. It was decided then and there if you were worthy or not, depending on your religion back then. We didn't make many friends because we were a minority. Most everyone in our neighborhood was Jewish.
"No, I was wondering if you were a Christian?"
"Well, I believe Jesus existed, and I went to church as a child..."
"No, I mean are you a Christian"
" Oh, like a Born-again Christian?"
"Sort of..."
"No, I don't think I would be a Christian like you're saying."
We had a very long conversation, but I must admit that a little of mom's sarcasm seeped into my curiosity, but very well disguised so as not to hurt feelings. As I get older, I must confess, orthodox and cult beliefs have become more and more difficult for me to cozy up to. Religion, in general, seems to have a basic message that many overlook. Love, compassion and the fact we are all connected, every last one of us, seems to stand out as a general concept every religion has as its basis, yet most don't seem to be able to live by it. We preach one thing and display yet another. Churches don't seem to make a difference like they might have at one time. It's human nature, and the instinct to survive that we hold onto. But I think we should know better as a species that has the power to reason, that life is better when we accept diversities.
Benji and I ended up being invited to Mikey and his wife's apartment for dinner one night. I always found it a little hard to believe a lot of the Born-again claims, but I also understood that people have different needs and for their own reasons. I can't be one to judge. After a wonderful dinner and conversation Mikey and his wife quickly cleaned up and whisked us away to be the guests at their 'church' meeting that night.
What a surprise. When I agreed to attend, my boyfriend was worried I would become a 'holy roller' and start going door to door or something. He didn't know me that well at that time. But we attended for the experience and it was interesting, and I learned quite a bit.
I learned that Church can be held in a garage with folding chairs. In fact, this really supported my feeling that you didn't need a building with a steeple and pews for it to be a church. Your own kitchen could be a church! So many years later, now, someone finally got the memo. God is all around and you don't need a 'Church' to speak to him or know he is close. Then there are the are groups of people that keep referring to Jeeee-zus in a way that sounds like they are sliding into home plate on the first syllable. Mikey was one of them. But for the most part they were all very nice people, all there for their own reasons that some shared with the congregation.
My friend compared himself and his relationship with Jesus to a bottle of Coca-Cola. I wasn't sure exactly the connection, but the crowd liked it. We were asked if we had anything to add, but sadly, we didn't.
After the service, there were refreshments outside in the cooler night air, and we each stood around meeting and greeting each other. We were the newbies, so we got lots of attention. One gentleman said he became a member of the church because he had realized that he loved Jesus. He said Jesus forgives your sins. This gentleman said he said he had a tendency to cheat on his wife now and then, and drink a bit heavily, but Jesus always forgives him for it, and he felt much better about that. I said I was glad Jesus forgave him, because I wouldn't if I was his wife. He quickly found another group to navigate to.
The night came to an end, and joyful as it was, we didn't ever go to another, although we were invited.

Christine Garza
I am an author and illustrator, working in watercolor.
After attending The School of Visual Arts in NYC, I relocated to Los Angeles to find myself in Publishing and then Illustration and Design.
My passion is illustrating and writing.
See all posts by Christine Garza →