Parties to save the planet
Sustainability doesn't have to be all work and no play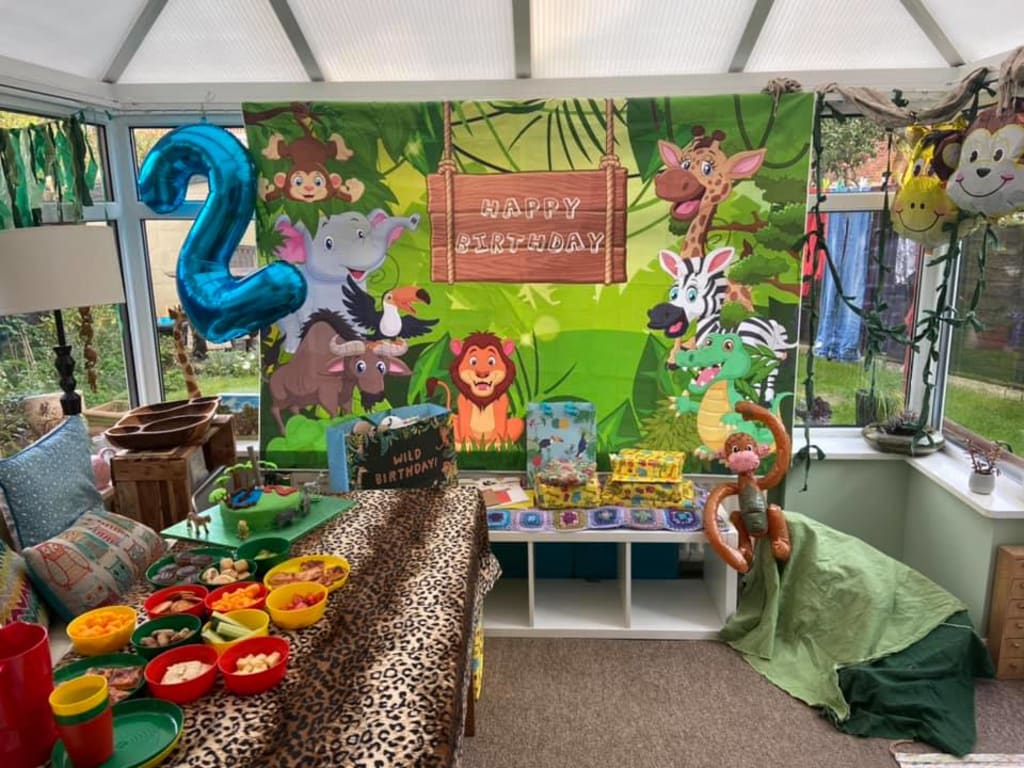 A jungle-themed second birthday, sustainable style. Photo courtesy of Planet Friendly Parties.
Children's birthdays might not be the first place to start saving the world – but for Planet Friendly Parties, there's no reason why sustainability can't still be fun.
The organisation was founded by Liz Knapper in 2019, hiring out reusable party decorations, cutlery and crockery in County Durham. It quickly expanded to include libraries of foil balloons and fancy dress costumes, all available to borrow free of charge.
And Liz, mum to a two-year-old and a biology teacher, hopes that the project will grow into a full-time operation that can save families money on setting up parties, while also helping to protect the environment.
From IKEA to pre-loved
Although Liz was always environmentally conscious, the birth of her son two years ago really brought home the amount of waste a family can generate. "When he came along, I started to really become aware of just how much was going to landfill," she said. "It was all the nappies, things like that. So, over the last couple of years I've been looking for opportunities to see how we could cut down our own waste as a family."
That research led her to the Party Kit Network and planted the seed of an idea. "Their aim is to set up a network of reusable party things all over the country," Liz added. "I really like the idea and it fits in with what I'm trying to do in my own family, so when I saw there wasn't really anything in the region apart from Head in the Clouds in Bishop Auckland, I thought I'd give it a go."
It started with a trip to IKEA and a bulk purchase of sets of plastic plates, cups and cutlery – the kind of cheerfully indestructible gear familiar to any parent. But that was the first and last purchase of new kit.
"I was talking to other people and getting inspiration from what they were doing, and I started looking to buy second-hand decorations from people who had bought things for their own parties," Liz said. "That's how I started getting backdrops and bunting. Now, the ethos is that I won't buy anything new for this. It's all about pre-loved – so often, we buy stuff for parties, use it for a few hours and then we're finished with it. So, I'm looking on Facebook marketplace and I've been able to put together some themed packages. It only takes a few props to make it real themed party and at the moment I've got super-heroes, mermaids, unicorns, dinosaurs and a jungle kit. That covers most of the pre-school bases."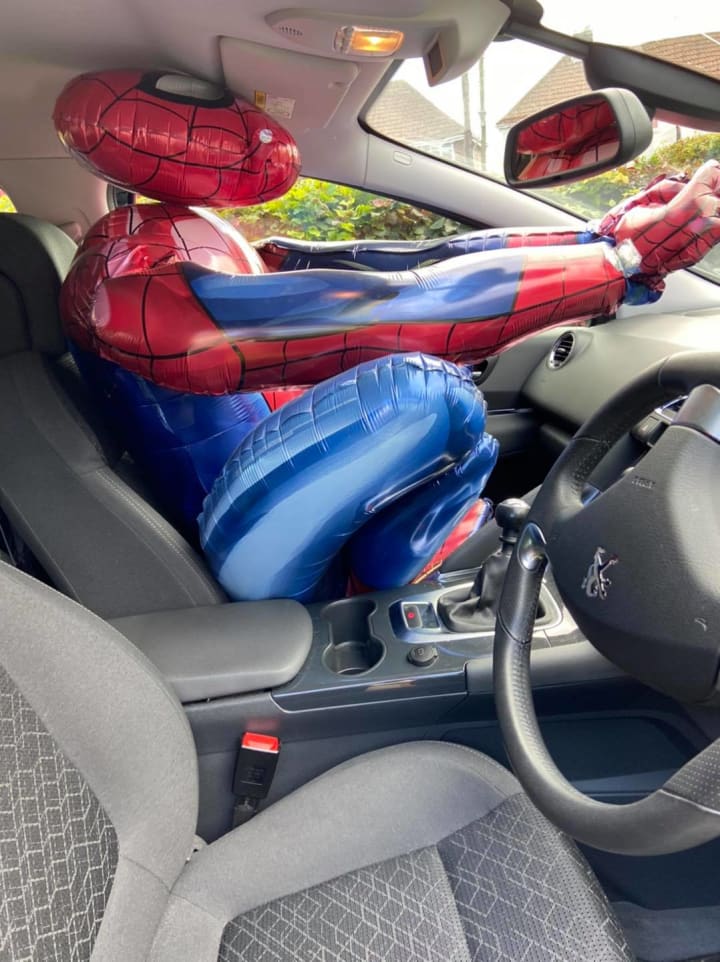 Bringing down barriers
Next came the balloon library. Few people realise how damaging balloons are for the environment – once popped, they take centuries to decompose. Equally, not many know that there's a better way: foil balloons can be reused, as Liz herself only learned a few months ago. "People aren't going to stop buying balloons and companies won't stop selling them – so what's the next best thing? If they can be reused, why aren't we reusing them?" A request for donations 'opened the floodgates'; now the spare room is awash with balloons, including a life-size spiderman and giant T-Rex. These, and a collection of fancy dress costumes, are normally available to borrow free of charge – affordability representing another big plank of what Planet Friendly Parties is trying to do.
"We want to remove barriers for people," Liz added. "For many people, if you're not used to thinking about zero waste and sustainability, it's easy to assume 'this will be more expensive, I can't afford it', or 'it's too much hassle'. It doesn't need to be like that.
"I want people to use this and I don't want them worrying about cost. That's why we're trying to ensure that when we hire out a party kit, it costs no more than it would to buy even cheap disposal stuff. Often, it's a bit cheaper. And it's the same with the hassle. We offer a free washing-up service as standard, because we know that at the end of the party most people just want to get rid of all the plates and forget about them – and that usually means the bin.
"Convenience and cost will always come first, so people won't use an eco-friendly option if it is more expensive or less convenient."
In a similar spirit, everyone understands that a children's birthday party isn't always a model of genteel decorum. Damage is inevitable – and accepted.
"If things get damaged, don't worry," Liz explained. "The whole point is that it gets used as many times as we can before it goes into the bin. And I always ask people to return things so we can try to repurpose them. A popped balloon? We can try to make that into some kind of pom-pom decoration or bunting and put it back into the kit. The more we can reuse and repurpose, the more we can keep out of landfill.
"This way, even when something finally ends up in the bin, at least it wasn't just single use, it had a bit more of a life."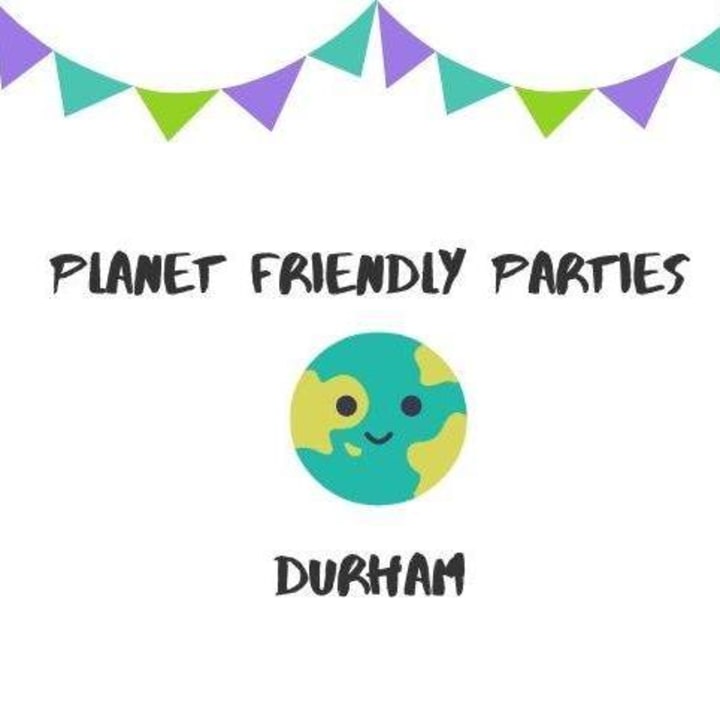 Another way
One of the biggest criticisms of the sustainability movement is the assumption that it is po-faced and preachy – the 'fun police' of tabloid stereotype. That's why the emphasis is on providing real alternatives that can help families to save money while also protecting the environment.
And it's an idea that is crossing into the mainstream. Earlier this year, McDonald's announced that it was phasing out plastic toys in its Happy Meals in favour of eco-friendlier alternatives. And in September, pressure from children encouraged Lego to ditch single-use plastic packaging for recyclable paper bags. Several supermarkets are also pledging to get rid of single-use plastic, and there's a rise in zero-waste shops, like 'the Weigh to Shop' in Durham.
The message is clear – offer practical alternatives and people are ready to listen – especially if they can save money at the same time.
"One thing that really shocked me was how much money people are spending on these balloons," Liz added. "During lockdown there was a real increase because people, understandably, wanted to make celebrations in their homes, but some of these balloon arches cost upwards of £30-40, and the biggest ones can be up to £100.
"There are so many ways you can make a party nice without spending so much money, and without harming the environment. I know it's a fine line and nobody is going to listen to me preaching at them. I don't want to knock other people's choices, we just want to let people know that there are alternatives – both to spending money, and to using a balloon once and throwing it away. It's about getting that word out, and we're seeing more and more people realising that balloons, decorations, fancy dress can be reused and we can offer that service."
And those regular flurries of costume buying – be it Hallowe'en, World Book Day or any of the myriad fund-raising events every year – don't need to be sacrificed for eco-austerity when there are ways of maximising the wear out of that army of princesses, pumpkins and Harry Potters.
"People feel so much pressure to get costumes for kids, and since kids are always growing you can't expect them to fit into the costume they had last time. Parents feel like they've got to go out and buy another one and it doesn't have to be like that at all. We have book libraries all across the country, that's nothing new, so why not do the same for fancy dress?
"I'm trying to move our lifestyle towards something more sustainable, more minimal. I'd like to avoid buying for the sake of it and start making more considered purchases. Stuff has become so disposable – people can click on the internet, and it's there the next day."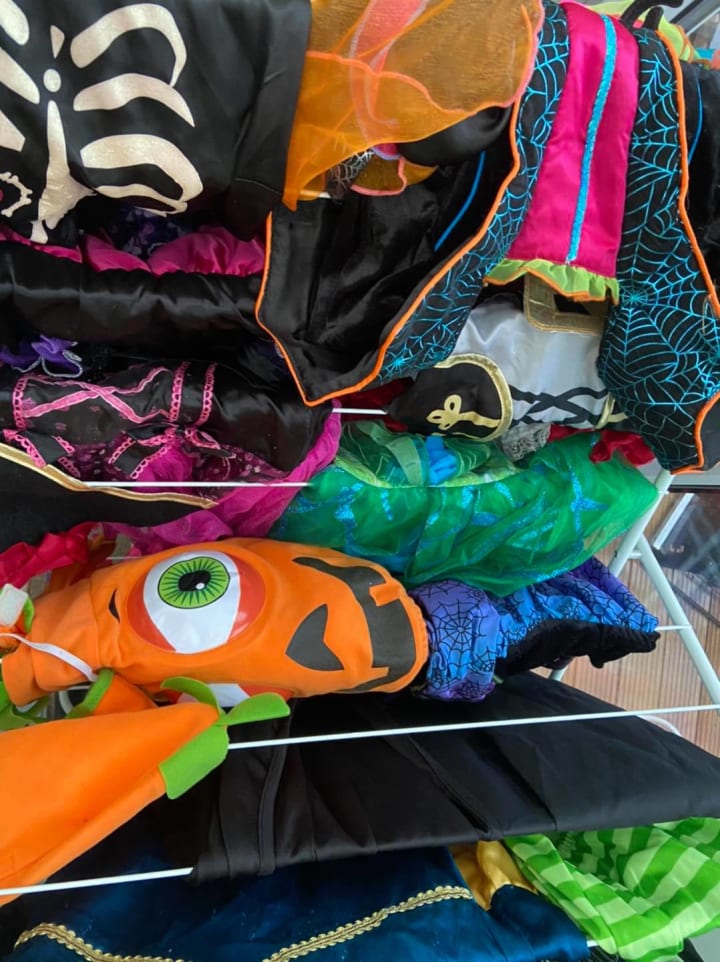 Big plans
Liz currently operates from her home in Sherburn, where overflowing bags of party kit are starting to take up a bit too much space. The next step is to register as a CIC and find a bigger space, ideally where people can drop in and browse the stock. That might also allow for a toy library and a library of things as the project gathers pace.
"I've got some big ideas and I'd love to be able to expand this into something that I could do full-time," Liz said. "Everything I do now is with sustainability in mind and I'd love to see this build so we can help other people.
"And I think it can be well-received here. In the Northeast there's not much else like it and we also have a lot of people who are looking to save money, especially at the moment. If people can get those amazing Peppa Pig balloons, or have a Spiderman or a T-Rex, and not have to pay a lot for them, we're not just helping the environment, we're helping families budget for these parties."
For details of Planet Friendly Parties' currently available party packs, or information about the balloon and fancy dress libraries, please visit the Facebook page.
This story forms part of my Talking Northeast project, devoted to interesting ideas from in and around Durham, England. For more, please follow my Facebook page.

Andy Potts
British-based writer with a passion for sport and travel, music and photography. Proud dad, exploring the world anew through the eyes of a forthright toddler.
See all posts by Andy Potts →