My Mom's Last Song
Her singing embarrassed me--until she sang on her deathbed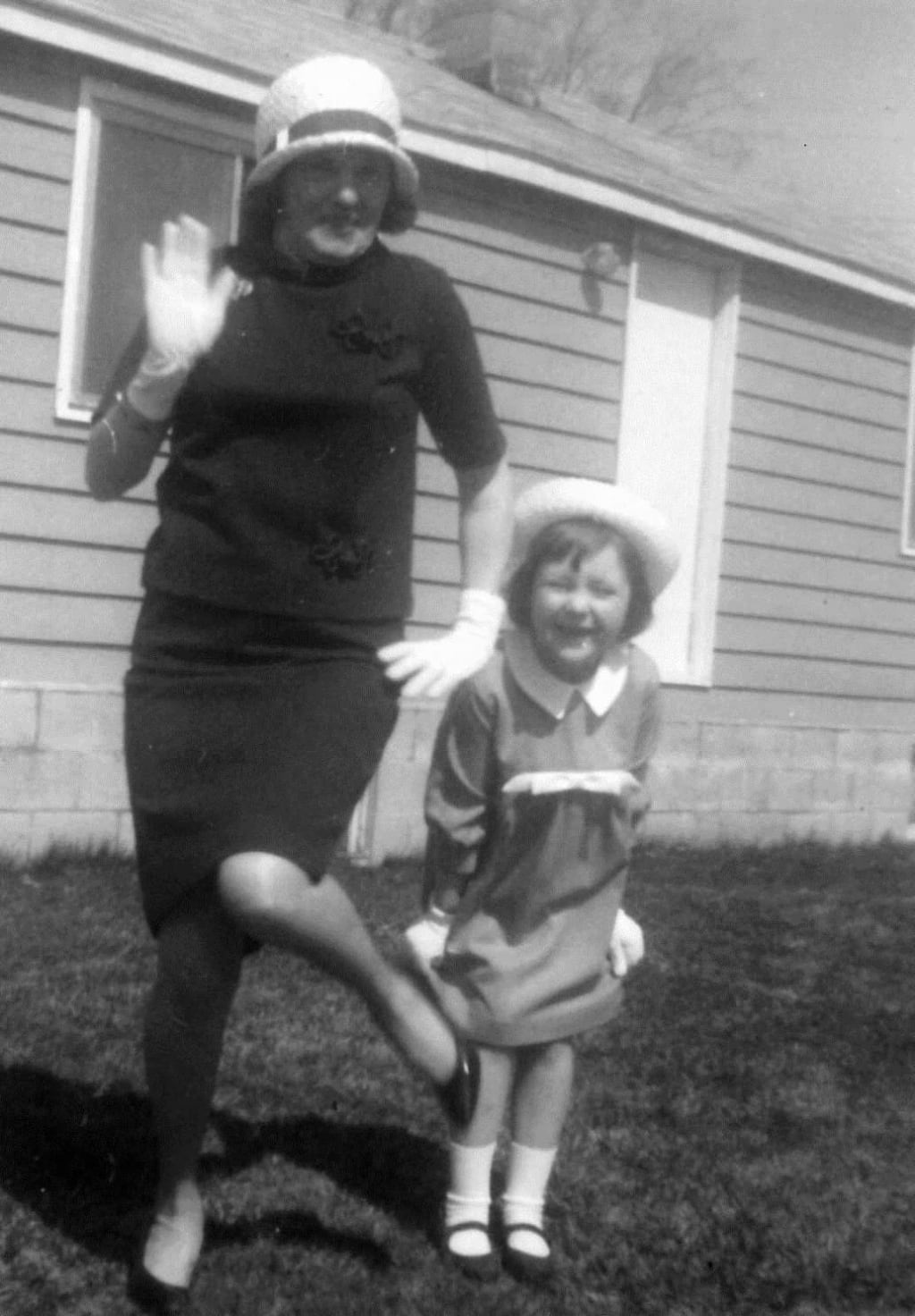 My Mom and me, around 1967
My Mom liked to sing.
She sang. And she sang. She'd sing to the radio; she'd sing while she was baking or mopping or doing the dishes. She'd sing when we were driving across Canada on long family road trips.
And it drove me crazy. I'd be trying to concentrate on math homework, and she'd be singing 'Moon River', or 'If I Only Had a Brain' or something she knew only some of the words to, then when she couldn't remember the lyrics she'd hum the rest. I'd press my tiny transistor radio against my ear, but all I could hear was my Mom!
Our house was small. My Mom's voice was big. Sometimes I used to imagine that the windows would crack with the sound, just like in the cartoons.
When the radio was on or the stereo was playing, she'd sing along, but she'd be just two milliseconds ahead of the artist—as if she was trying to beat the singer to the lyrics. It created this jarring, wonky out-of-sync echoing sound that permeated the entire house.
She also sang novelty songs and nursery rhymes. She taught me to sing as soon as I could talk, and at age three I'd entertain family and friends with 'Supercalifragilisticexpialidocious' from Mary Poppins, before most kids my age were even learning 'Row, Row, Row Your Boat'. She taught me the entire song, every lyric, and then she'd make me perform in front of guests.
But that's when I was three.
By the time I hit puberty, I was embarrassed if my Mom sang when my friends were over. I was into alternative music and punk rock, and she was hopelessly silly and old fashioned, with her "Itsy Bitsy Teeny Weeny Yellow Polka-dot Bikini" and the rest of her daily soundtrack.
Then, when she took a break from housework, she'd sit at the piano, which was front and centre in our tiny living room. And she'd plunk at the keys and sing along—it would send me fleeing to my bedroom to escape the noise!
The worst was when we'd be in church. I cringed every time we stood up to sing a hymn, because I knew my Mom's voice, although pitch-perfect, would drown out all the other voices around us. I'm sure God and everyone else in the town could hear her!
After I grew up and left home, my Mom joined a well-renowned local seniors' choir. She was finally able to let her singing voice truly 'belt out' in the company of other singers. She enjoyed travelling and competing with the choir. They'd be invited to special events, and they won several music awards while she was with them.
Although her worsening heart condition eventually allowed her to do little else, she sung with her choir until just a few months before she passed away.
In her last days, in hospital, her body had given out but her mind was sharp. We all knew she was dying. One morning, I laid my computer tablet on her bed and pulled up YouTube and Perry Como's 'Dreamer's Holiday', the song my Dad used to sing to my Mom. With tears in his eyes, he sang it to her once again. I asked my Mom to sing The Billboard Song, an old folk tune she taught me as a kid. Her eyes lit up with amusement, and she softly whisper-sang every word.
A day before her heart finally gave out, my brother asked my Mom if she would sing 'Happy Birthday' to me. She looked shocked, and whispered to me, "Is it your birthday?" I said, "No, Mom, it's two days from now, on Saturday." She looked relieved. And then, although it took everything in her heart and her lungs, she slowly started whispering…"Happy birthday to you, happy birthday to you…"
My Mom liked to sing. And she sang. And she sang. And in the end, I loved it.
About the Creator
I live with a broken brain and PTSD--but that doesn't stop me! I'm an author, artist, and qualified mediator who loves life's detours.
I co-authored NOT CANCELLED: Canadian Kindness in the Face of COVID-19. I also publish horror stories.
Reader insights
Be the first to share your insights about this piece.
Add your insights