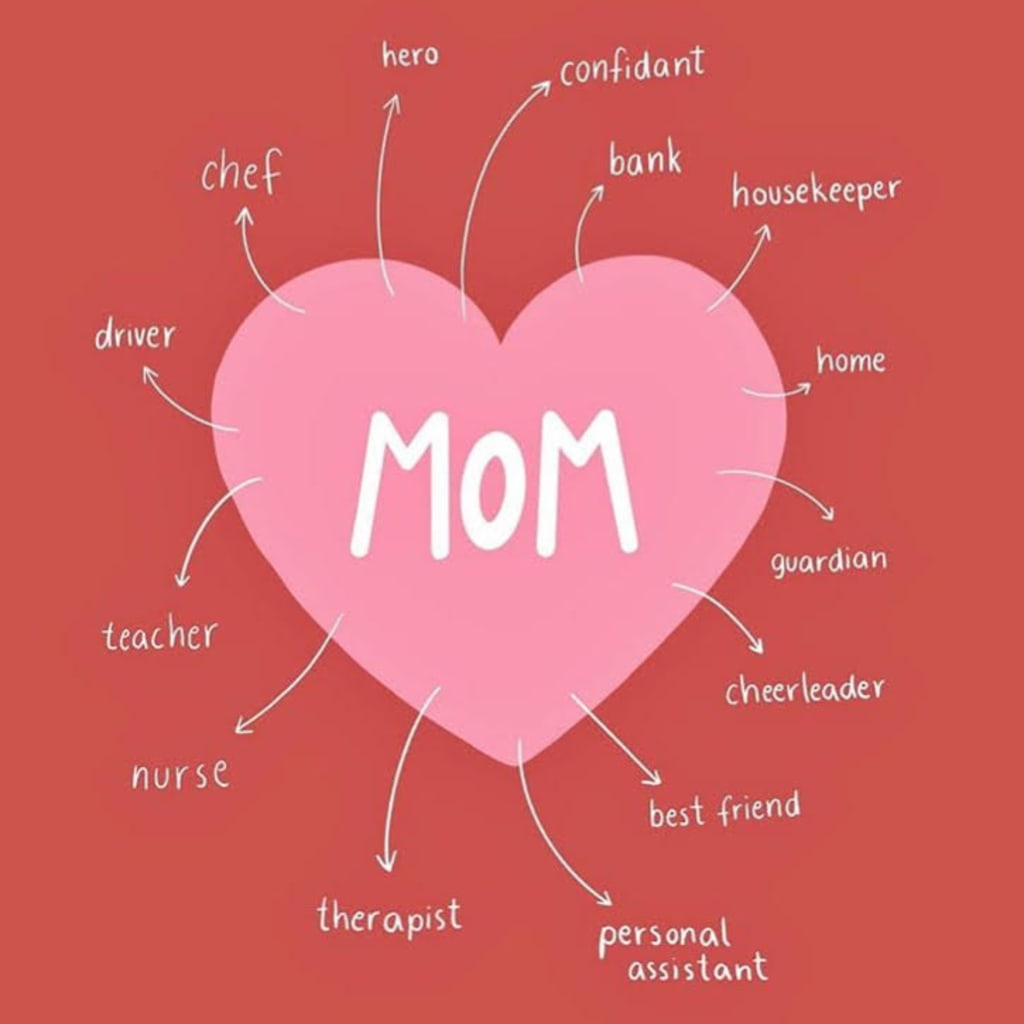 A mother's job is never ending
To be a mother has to be the greatest privilege. I know it's a lot of work, and probably the hardest job a woman will ever have, but I believe it is the most rewarding one.
I've watched my mother be an amazing example of this for so many years. She has set quite the standard. I'm so blessed to call this woman my mother. She is the most noble, kind, considerate, and loving person I know. She completes me, and embodies everything I would ever want to be as a mom. My mother has shown me the truest form of unconditional love. She has been my biggest supporter and fan. She has been my biggest strength, and confidant. She has been my best adviser, giving me the most honest, and heartfelt advice I could ever have. Whether I wanted to hear it or not, she made sure I knew her perspective. If I was hellbent on the idea, and wasn't willing to hear anything, she would support me, help me see it through, then tell me afterwards that she didn't think it would be a good idea, but she knew I needed the experience. That is truly a good mother.
I would do anything for my mother. She is my best friend. She reminds me of her boundless love daily, and supports my dreams to the fullest. She will loan me money at the drop of a hat if I need it. She will drop everything to help me in my time of need, and even provide me with the resources I need to make it happen.
There was a time in my life I felt very sheltered. I moved away for many years. I missed her face. I missed her hugs and her meals. I missed knowing that the person that loves me most was 1600 miles away. I especially missed her on holidays when I couldn't spend time with her. I wished my super power had been teleportation, so I could just pop in her living room and sit down for supper. I ended up moving back to be closer to her. You don't have your folks forever, and I didn't want to miss out on more time with her.
My mother has made our family her main focus. To her it's all about her kids, and grand kids. She never remarried after my dad. I couldn't blame her. It wasn't the best marriage, and by that point she had two unsuccessful marriages. That would take the desire out of anyone. I sometimes wish my mom could find a good partner. I know she's a good woman, and I know she would make a good partner for someone. The things I have seen her overcome are astonishing. Her choice to smile through life's challenges have been a huge source of strength for me. She always finds humor in a difficult situation. She remains positive, and is a complete optimist for life.
My mother has given me the greatest lessons in being selfless. She has devoted every part of herself to us. She has demonstrated that no matter how bad we fail, or how hard we fall, she will always be there to lift us up. I have failed so many times, and don't know where I'd be without her. She always cheers me up, and can make any dark day bright. I can definitely say she's my number one, my "shero," the single most important person in my life.
One of the earliest lessons my mother taught me was to value myself as a person. She taught me to have pride in what God has given me. She taught me that my talents were uniquely mine, and I could use them to propel myself toward greater things. She taught me to never envy anyone. Having envy, hate, or jealousy would dishonor my own gifts, and the people who have rightfully earned those blessings. She taught me to instead be happy for those that earned something I wanted for myself. This would motivate me to work harder towards those things. It would inspire me to appreciate my own blessings once they did happen, because I knew what it took to get there.
She taught me how to value myself as a woman. She said to never beg anyone for their attention, or to stay. She told me I would never have to question the people in my life who were meant to be there with me. She was right, and has basically been right about everyone who has come into the picture.
It's interesting the spidey-senses you develop as a mother. There is an innate, protective side that is born, and takes over. It's a quality of survival in every nurturing creature. You want to protect your child as long as you can. You want to teach them methods of survival. Not all situations and people will be right for them. You want to teach them to live instinctively and intuitively. You want to teach them to have empathy, but also prepare for these sometimes harsh, judgmental experiences that come from living. There's no way to fully prepare your child for the struggles and difficulties they have to face, but if I had to do it all over, I would choose my mother to be my guide again. If I had to be that beam of light for someone someday, I would choose to be like my mother.
On this day, and everyday I honor all mothers. Not just mine, but every mother out there. I want to say thank you for your unconditional, selfless, and natural ability to be the best at what you do. Thank you for your love and support. Thank you for your contribution. I know a mother's job consists of many jobs, and for that reason I know a mother's job never ends. Thank you for raising strong men and women. Thank you for being you.
About the Creator
A deep thinker who is always curious; sharing experiences and thoughts through stories and perspectives.
Reader insights
Be the first to share your insights about this piece.
Add your insights