Memories of my Parents
The early years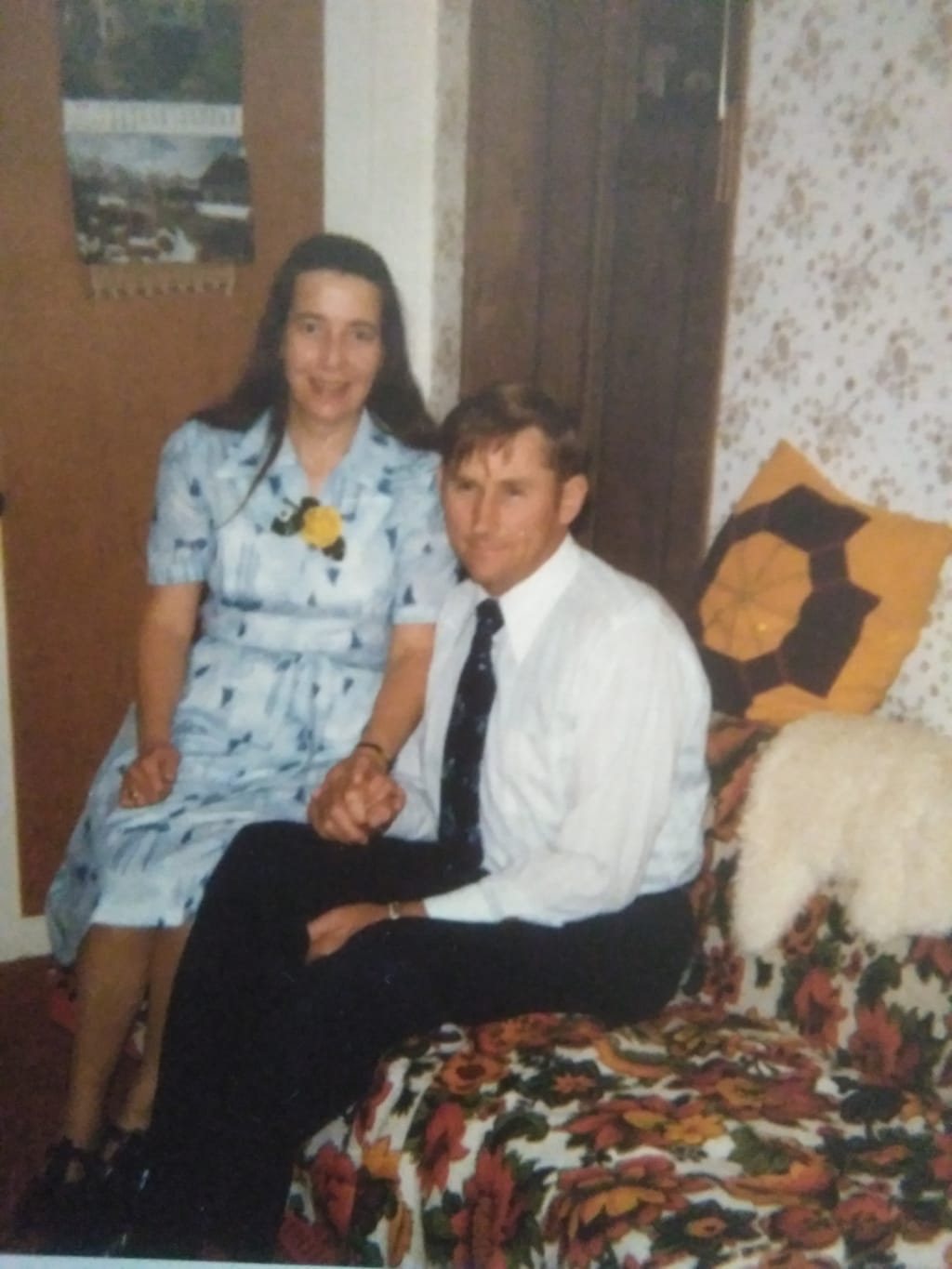 It has been said that a picture is worth one thousand words. As I look at this picture which was taken in 1979 at our home in Sedgewick in our living room one Sunday afternoon after dinner.
This picture alone brings to my mind a lot of stories which I could share them all. However, I would not have the room to put all of these delightful memories and besides I would put a lot of you to sleep in the process of doing so.
My mother would sit in her big chair each night while my father laid on that old couch both reading their own books. This was how they spent hour after hour after supper reading the more than seven hundred books which they had stored in their bedroom and in other places in our house.
There were times when mother would read to us kids hour after hour while father laid there with his book on his lap listening to the different stories which she would read to us.
This was why I am a published author to five books which are on different book stores shelves online and in physical stores around the world in twenty-six countries.
My father was quite the man and many memories do come back to me as I look at this picture. He was born in Holwerd which is a village in the north province of Friesland. He was born at home on a old farm in 1929 in July on the last day of that month. His parents were farmers and he grew up on their farm. He even went to agricultural school for two years in his country as well he spent four years in their army.
In 1952, around his birthday he moved from the Netherlands to Canada where he arrived at pier 21 in Halifax.
What a story this man had which I always enjoyed learning about his history and how he became my father. He was 23 years old when he found himself in a new country not even knowing one word of English. When I was 23 in 1991, my life was a lot different than the one my father was living.
He worked on various farms since he was a trained agriculturist, he knew how to do the work in the fields and on different farms. Back in 1952, farming was done a lot different than it is done today. He worked his way across Canada to Alberta where he ended up in Calgary.
My father met my mother in 1960 at a church's evening service. This young lady shared with him her hymnal which over time, they were married on July 15 1961.
My father was not good at long courtships so he never took very long to ask the lady to marry him. I do believe he waited until the second date to get the ball rolling.
I asked my best friend out to go steady with me, on December 27 1992. We were engaged by August 27 1993. So I was never as quick as my father was.
My brother was born May 11 1962 which was their first child. Peter is six years older than I am. My father first started as a part time peace officer in Forestburg from 1960-1964. Then he moved to Sedgewick to take on a full time peace officer job with the county. My older sister Joy was inside mother's stomach when they moved from a rental house to their own home. This was a private financial deal with the owner who was selling the house.
I arrived into the Vanderwoude family in August 1968, as an adopted child. My younger sister arrived in 1972, a few years later which did complete our little family of four kids. Deneena was the name of our last person to join our family.
The picture was taken seven years later in our living room which always does bring back all these memories.
I remember the interesting times which we had in that room. The laughter and the tears which were shed. There was never a dull moment with our family.
The times which really does stick out in my memory was the missionary families which my family had. There was this one missionary who told my mother that he was on a seafood diet. My mother was quite apologetic listing all the seafood we had in the house. "Oh no". laughed the missionary, "Everytime, I see food I eat it." My mother only smiled and walked away from him.
The food placed before the company was always fit for a king. Maybe that was why my brother asked mother when we were going to have company? The response after being asked why was "So, we could have something good to eat for once." I will not give mother's reply to that comment. I am sure you can figure that out on your own.
The one thing which I have leaned over the 54 years which I have been on this earth is to never take anything for granted. I have tons of pictures sitting on my writing desk at home and these are worth a lot to me. With Dad and Mom gone from this earth, the memories are what are left of these two special people.
My mother came from Alliance which is a village in Alberta. Her parents farmed which was similar to what my father's parents did back in the Netherlands. Her farm where she grew up did not have running water or sewage on the property. I guess her Dad could not afford to put those utilities in their house. The place had an out house at the back of the place. I remember being shown the old homestead only to see a grainery in the the place of where the house used to be.
The living room also had my mother's organ and later father bought her a piano where we all learned to play it. In the same room, mother would play records on the old record player. There was also a stereo where I used to learn grade nine French. I did fail that course and I never did take French ever again. I still can not speak that language to this very day. I do hate French because I do find it very hard to learn.
Christmas was spent in that room. The fun times we had opening gifts and eating fun snacks in the kitchen. The way you see them in that picture was exactly how you would see them at Christmas. My brother would play funny songs which made the family laugh as they listened to those funny songs. In a way I wish I could relive those memories.
There were times Father would set up the slide projector so we could watch our Summer holidays. How we would laugh at the styles of hair and dress from the 1970's. Mother with her small sunglasses and short hair cuts. How the girls and Mom wore the same style of clothes on a Sunday.
The stories I could tell are endless. Yes, a picture is worth a thousand words but the stories a picture can bring can be endless. As I sit here on this bench after a long day's work day thinking all these fine memories come to my mind all from this one picture. Life is short and we as humans better not take each other for granted. You never know how long each of those who we love will live here on this earth. So let us take each day one day at a time. You never know when life will end.
parents
About the author
Reader insights
Nice work
Very well written. Keep up the good work!
Top insight
Heartfelt and relatable

The story invoked strong personal emotions
Add your insights