Judy's Thread
"Don't grieve. Anything you lose comes round in another form." ― Rumi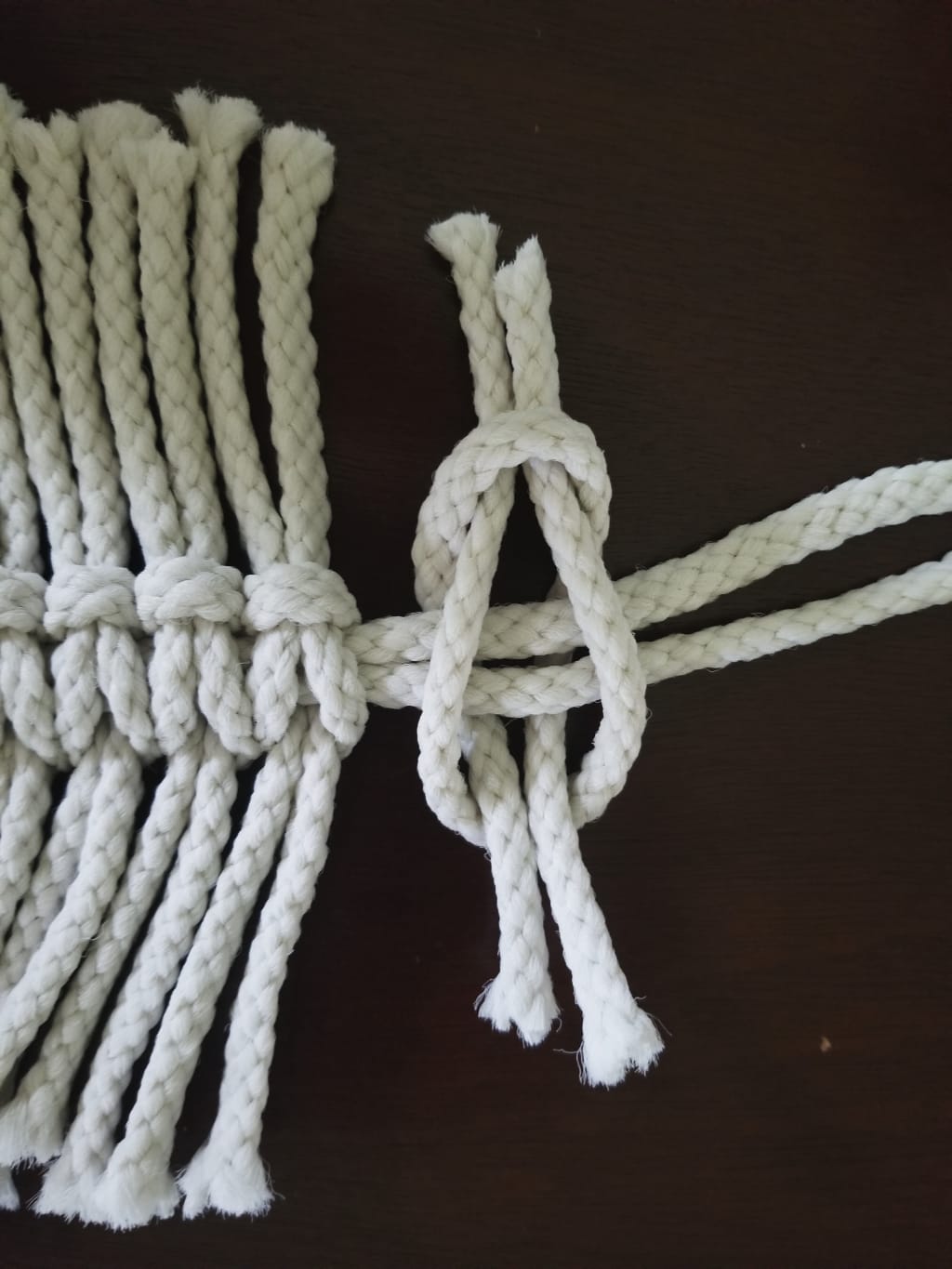 My head leaned against the entrance door to hear the sound of a high-pitched doorbell ring, then I quickly stepped back, anticipatingly waiting patiently for him to greet me with his subtle wit and nutty charm. My eyes danced around the exterior of the home he'd once built on a street named after him surrounded by a development of other homes he'd also built over the years in this Midwestern town. As the door opened, smiling eyes and wrinkles of wisdom greeted me with a waving invitation to come on in.
We sat at the dining room table that became nothing more than a resting ground for health magazines that piled high and collected dust over the years. Sipping on root beer floats, we didn't talk much and it was a silence I felt comfortably sound in. Wanting time to slow down to a stop, I snapped a shot with my manual 35mm camera that hung around my neck by a black strap that I'd been meaning to replace with one of color.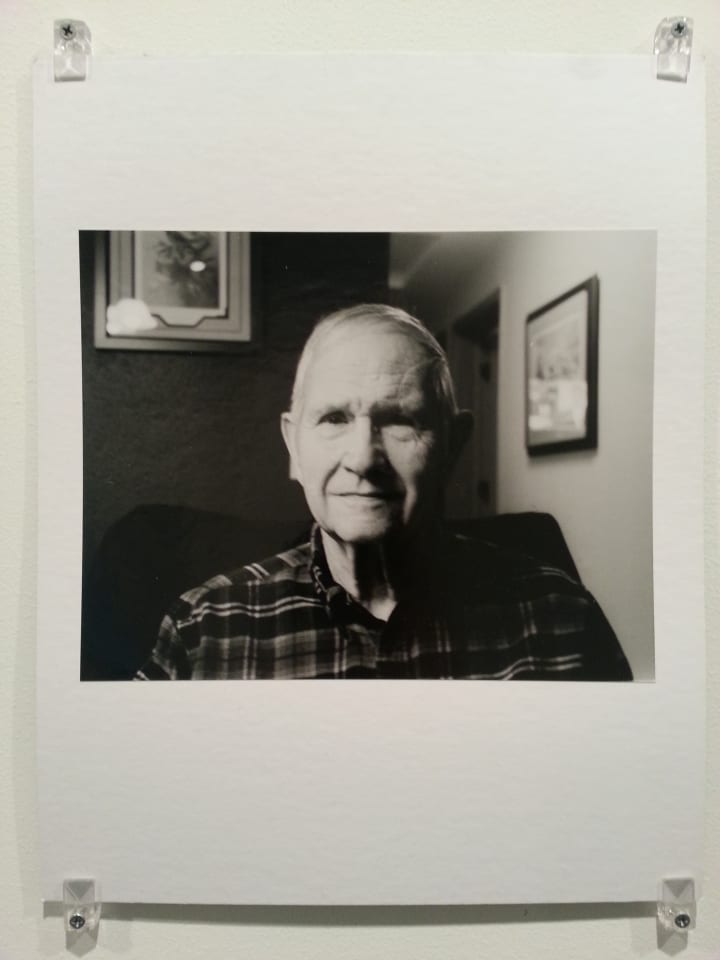 Little did I know that this would be my last visit in his home, with its distinct yet unidentifiable scent, its pictures of red cardinals hanging slightly off-center from the walls, and polished model cars behind clear glass cases. He'd just receive the unthinkable news of getting his driver's license taken away and now his house was the next in line.
What if you too had to say goodbye to everything you'd built over a lifetime? I pondered at the thought, even though I have much building of my own I hope to still do. Not too long after our root beer float visit, my grandfather moved into an assisted living facility for seniors.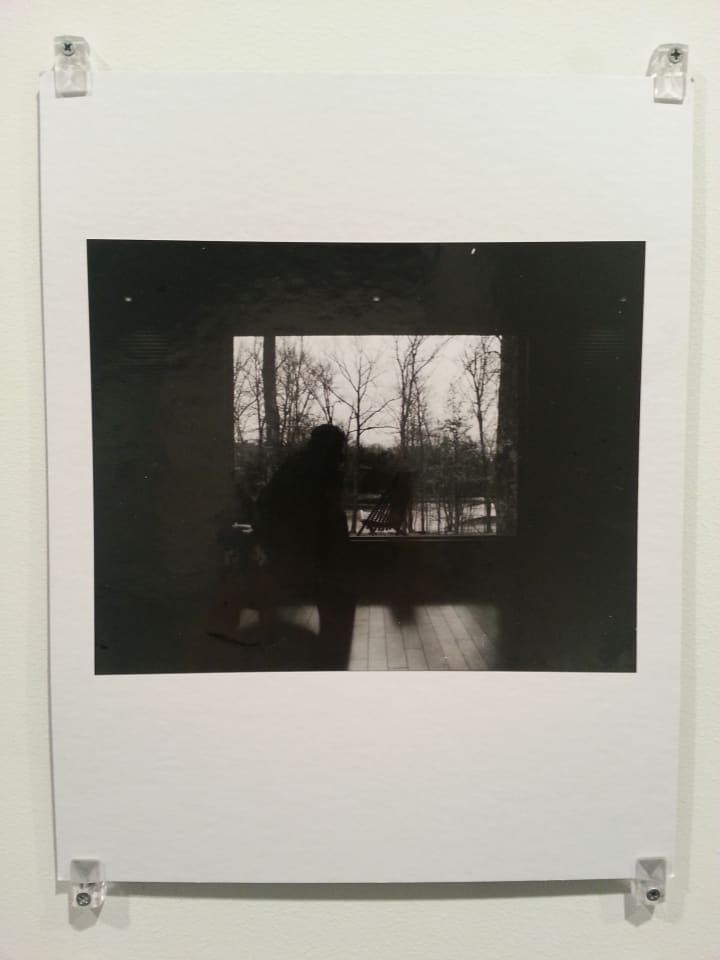 Developing 35mm film in a dark room, I watched faded negatives transition while my grandpa slowly faded too. Just as he seemed to be getting settled, he and his dementia then graduated to a memory care unit in a different building, with different people, and different rules. I couldn't fathom walking into this so-called "unit" without him recognizing me or recalling my name and so as he began talking less, I began sharing more.
On one of our weekly visits, his eyes lit up at the sight of a makeshift blueprint I'd drafted onto a single napkin with stained coffee rings. From that day forward, we started shooting ideas and insights back and forth as I embarked on the journey of building a 302 square-foot tiny house on wheels with no prior construction experience. Updates of pictures, stories and bruises were plenty, and I'd point out reclaimed materials put to use from his collection of leftovers from old job sites too. Proud to breathe new life into them, each and every piece found their perfectly imperfect place with a sense of purpose.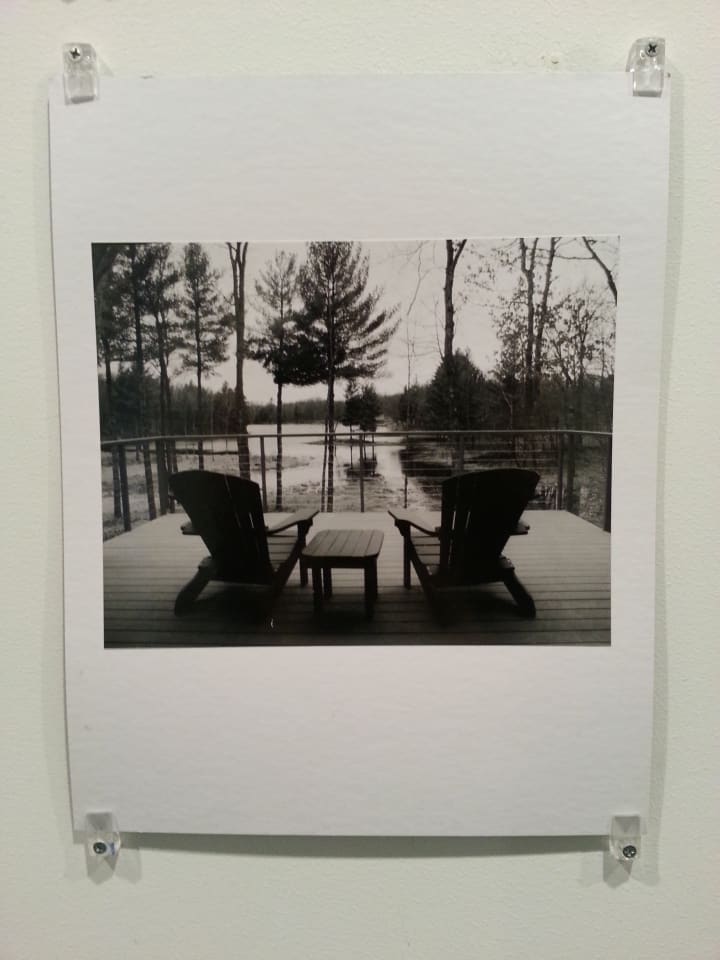 One day, we sat in quietude and it had me reminisce on the time I said goodbye to him after the warmth of our chilled root beer floats. Walking out the front door, I nestled into the driver's seat of my car and had a sudden urge to do something he'd oftentimes do. Taking a cruise without a destination in site, I whimsically whistled through my teeth as my hand drifted in the wind out of the window. I passed by farm fields and houses he'd once built, then got to the lake that had me glance twice over my left shoulder.
In that moment, I placed my foot on the brake pedal as I came to witness two majestic white swans gracefully gliding across the smooth and glass-like water ahead of me. These two birds felt particularly special on this day and I immediately raced out of the car while simultaneously taking the cap off my lens on the camera with my unchanged black strap. The roll of film came to an end faster than I would've liked, and in a brief cascade of stillness, the two swans heads moved toward each other and into the shape of a heart.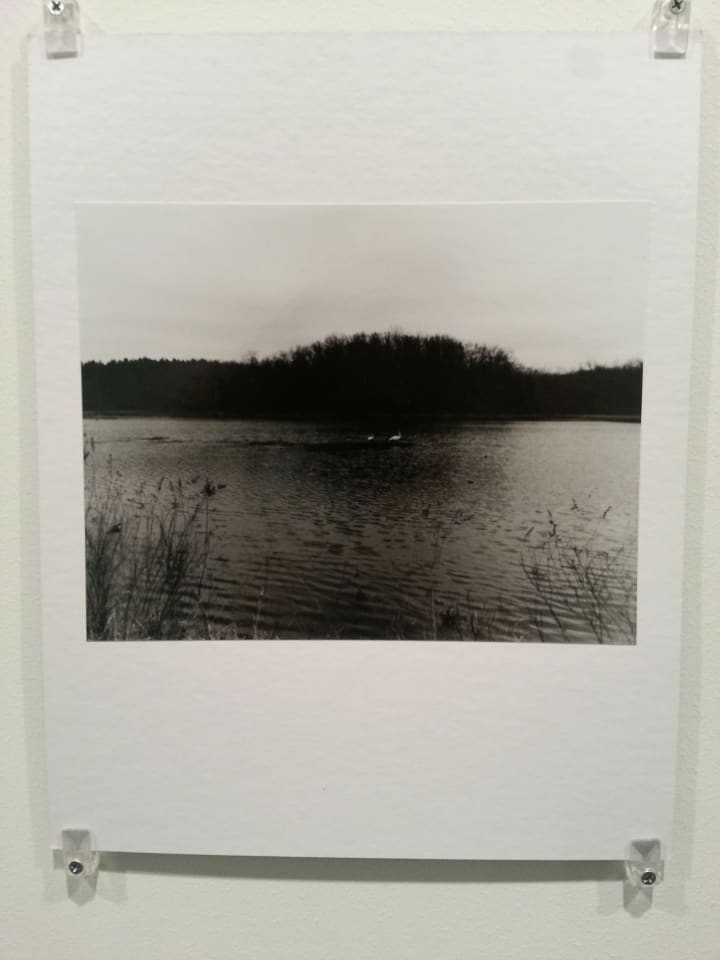 Suddenly shaken, hospice announced grandpa was in his eleventh hour and the hours seemed like days as my extended family took turns sitting by his bedside. Filling the sterile room with stories, occasional giggles and hidden tears, my unresponsive grandfather wasn't moving. Listening to his shortness in breath, I whispered those three words that are said too much although never seem to be enough.
My grandfather let go the following morning, preceded in death by my grandmother. Crossing off a to-do list was an obituary to write along with a contemplation of songs, scripture and flowers for the funeral. In addition were four familiar black and white photographs hung for all to see at the ceremony thereafter, and to the right of them was a small Los Angeles Vincent Price Art Museum sign that labeled an exhibition year, my name, the described medium used, and on top, a title that simply read, Judy.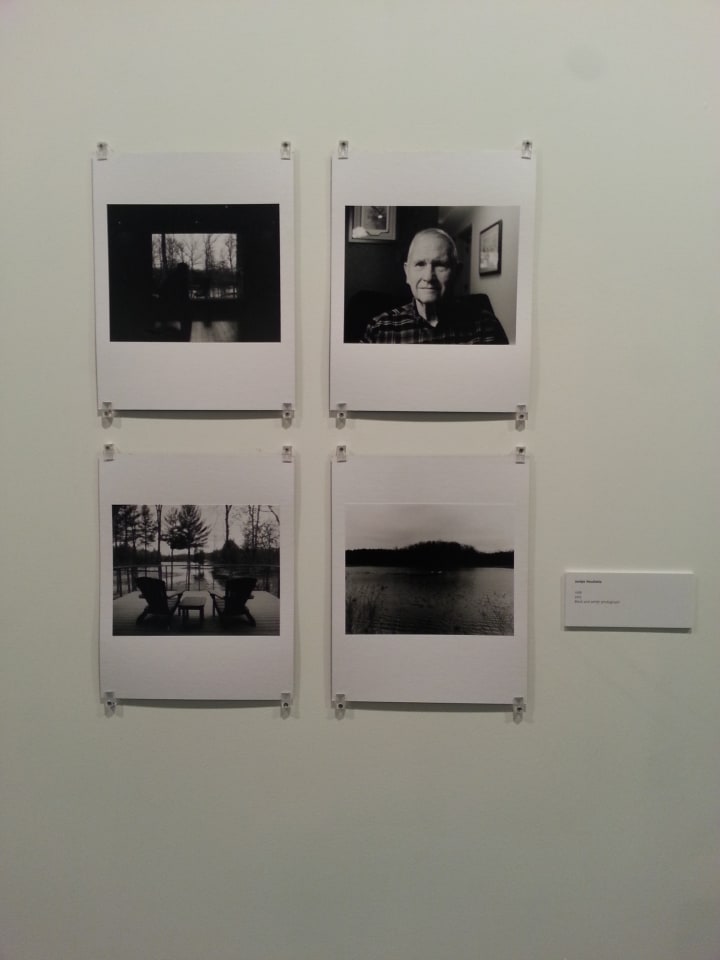 I never got to meet my Grandma Judy as she'd left this physical plane at a young and tender age. After her long battle with cancer came to an end, Grandpa Tom packed all of their stuff in boxes and tucked it away. It wasn't until after they both died that my dad and his siblings had a blast from the past unpacking these cobweb-filled boxes over three decades later.
Hunting and gathering through timeworn oddities and treasures, they sorted through what they wanted to keep or sell and the rest was in a pile for the dump. And so it was my turn to now go through the leftover remains, and that's when I stumbled upon Judy's work of art; embroidered horses and hand-painted milk cans, along with a set of shimmering bells that had feather-like imprints. I wondered if these simple threads are what possibly provided a sense of peace, calm and relaxation throughout her limited days.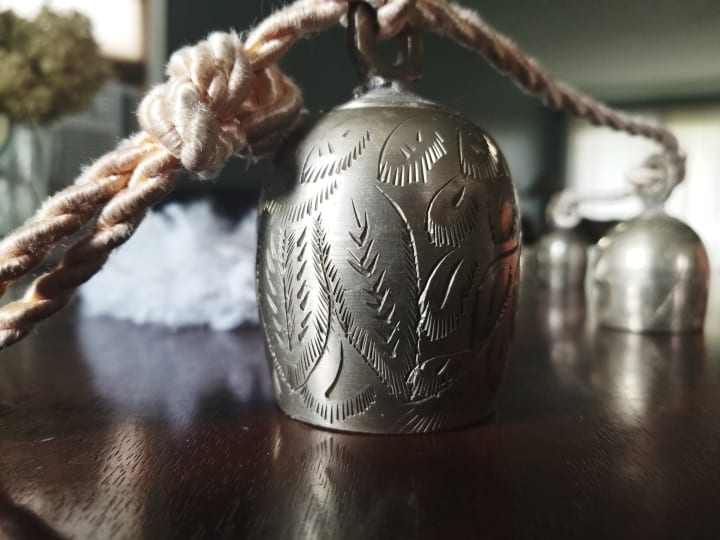 I began pulling the weathered cord out of the feathered bells. As my eyes welled up with tears over tethered memories shared, I'd rhythmically loop and knot new pieces of cord together instead. Slowly but surely, a macramé feather with bells has been pieced together with foraged sticks and I have plans to weave a colorful camera strap together next.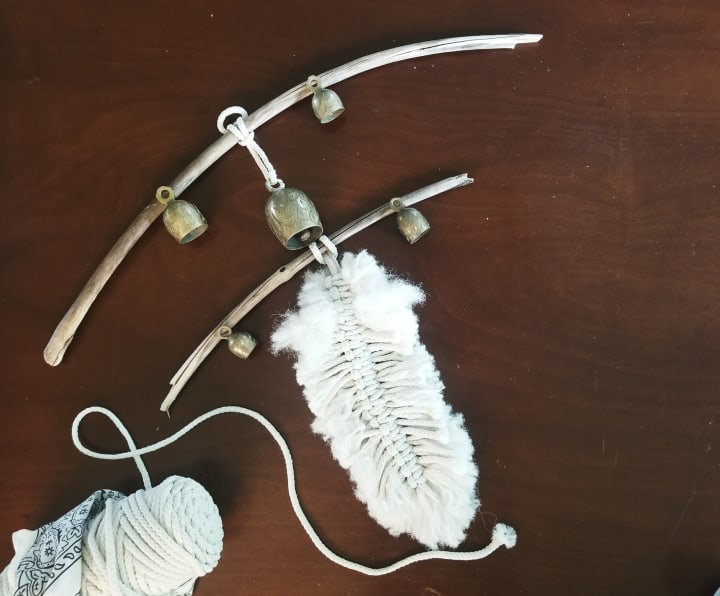 I don't remember a day that went by when Grandpa Tom didn't ask about the "little house on wheels," as he'd call it. Although I longed for him to be the ultimate guest to step foot inside this mobile structure that I now refer to as Swan Studio, I at least know he's still with me, along with the swan vase he gifted me when I was born.
In the deepest presence of expanding and contracting within the multifaceted human responses of grief and sorrow, I come back to the two white swans that shared a love song. From Swan Studio, I raise my half-melted root beer float to you as the door continues to open and close and close and open. Listen closely, and you just might hear the door bells sing.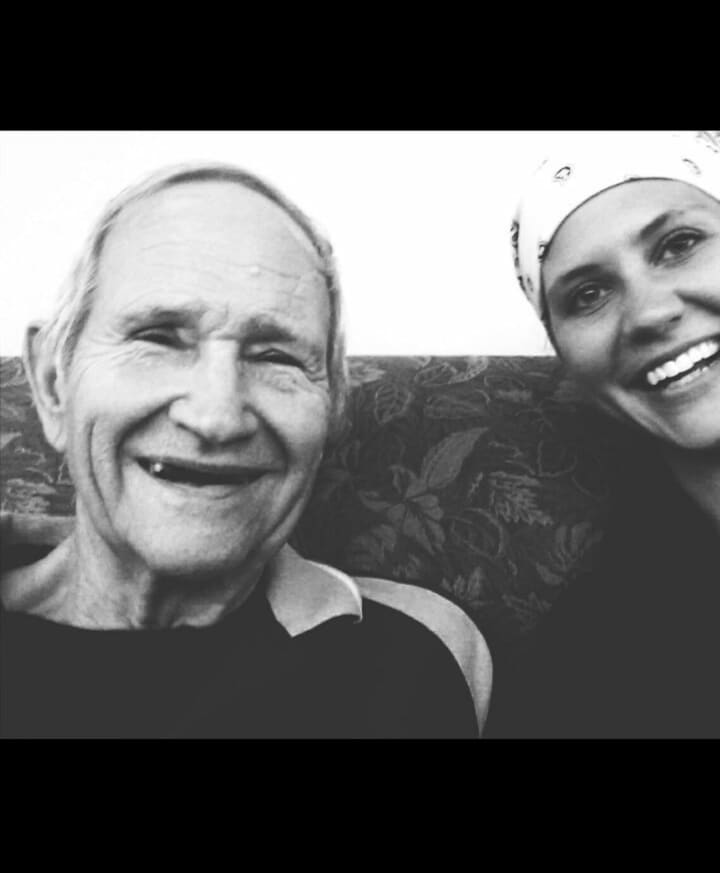 ***
This publication was written for Vocal Media's "Threading The Needle" challenge, in collaboration with DMC. To find out more about this challenge, click here.