How I (Normally) Celebrate The Holidays
If this year weren't this year, here's how I would normally spend the holiday season. In particular, Christmas Eve.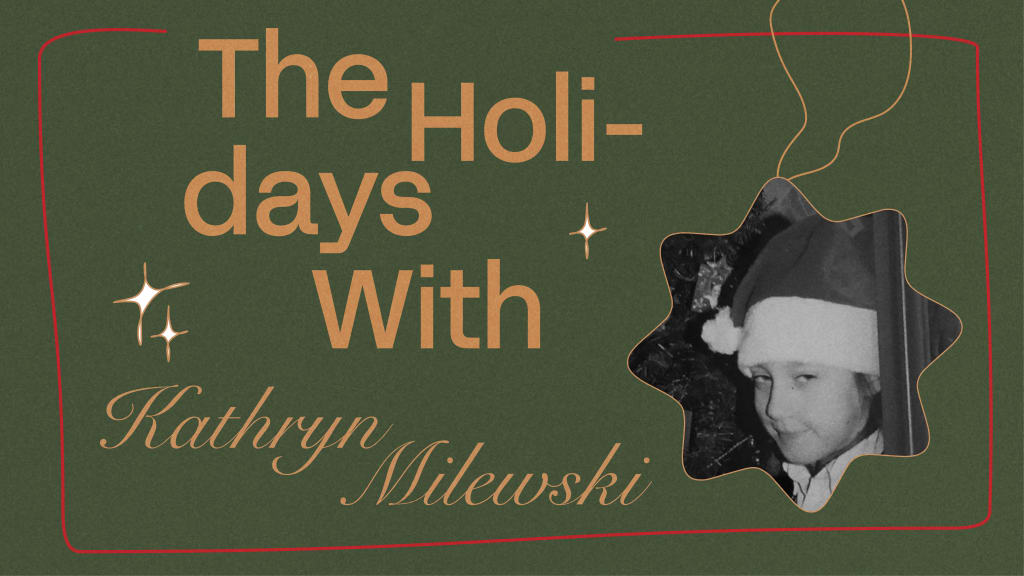 It's the most wonderful time of the year, and the Vocal team reached out to me about sharing my holiday traditions! While everyone's holiday season is bound to look different this year - including my family's - I thought I'd talk about how I usually celebrate the occasion. Y'know, when there typically isn't a horrible coronavirus floating around in the air.
Both sides of my family do Christmas parties. While the Christmas Day party hosted by my dad's side changes every year, the Christmas Eve party thrown by my mom's side is pretty consistent. We always host it at my parents' house for the pleasure of immediate family, extended family, and possible future in-laws. As the cool kids would say, it gets lit. We party hard with lots of RumChata and jello shots. That's the Ruscus way.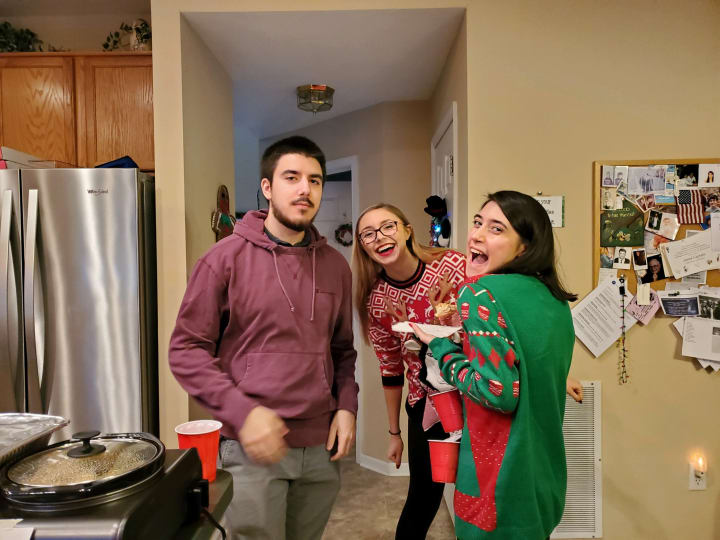 Since my mom's side is a mix of Polish and Italian, the dinner menu consists of traditional Polish dishes and unconventional seafood options. We have the classics like potato pierogies, kielbasa and kraut, and stuffed cabbage. Then we throw in some eclectic cuisine like shrimp linguine and sushi! We don't eat the seven fishes in my household like authentic Italians, so the random seafood is a small homage to our ancestors from Naples.
Last year, our Christmas Eve party was particularly memorable. My aunt from Nevada surprised my grandparents by sending them a Pac-Man machine. Yes, you read that correctly: a literal Pac-Man game machine. It was a smaller size you could put on a tabletop, so my grandparents drove it to our house and set it up near the front door. Guests would walk in, give us hugs and kisses, and then say, "Is that a Pac-Man machine?" Everyone took turns playing it. At the end of the night, it was my youngest cousin, Rosemary, who got the highest score.
The shenanigans didn't end there. Last year, Mom came up with the brilliant idea of theming Christmas Eve as an ugly Christmas sweater party! We all went to our local retailers and bought the wackiest sweaters we could find. My cousin's boyfriend, Carson, got a sweater that said "get lit" with Christmas lights on it that actually glowed! My grandmother wore a sparkly sweater with a snowman - it was very eye-catching. Some of the men in my family just put on plain ol' sweaters.
As for me, I wore a Christmas tree sweater that was also a beer pong game! I bought it at BJ's. It came with Velcroed cups to attach and little ping pong balls. I handed the balls out to guests and if they managed to land one in a cup, I removed it and took a drink. (Don't worry, I only gulped water!)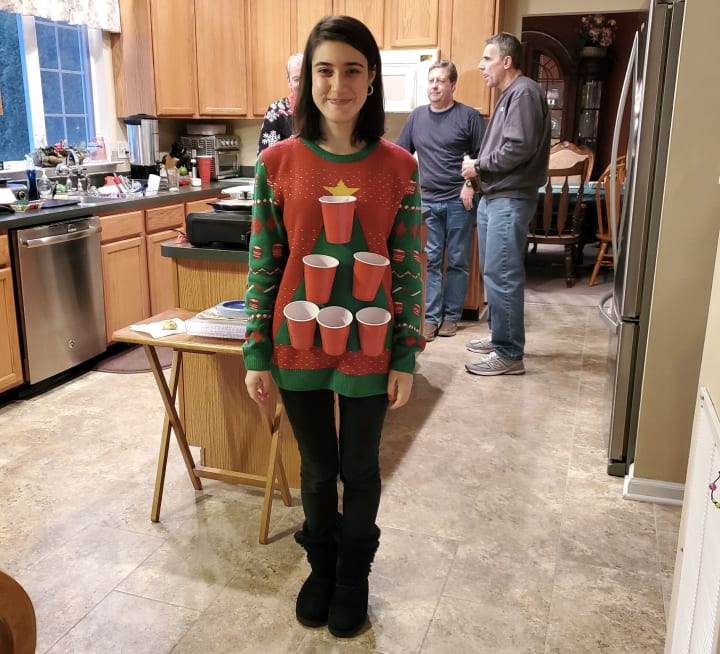 Every year, my cousins and I take a photo called "Raymond and the Boyz". I can't remember when it started, but basically it's a photo of us girls all looking serious while my brother, Raymond, does something silly. It's meant to be ironic, since Raymond is the the only male cousin on my mom's side of the family.
Usually it's just us four girls with my brother, but last year Carson joined us as one of the "boyz". We look pretty dignified, huh?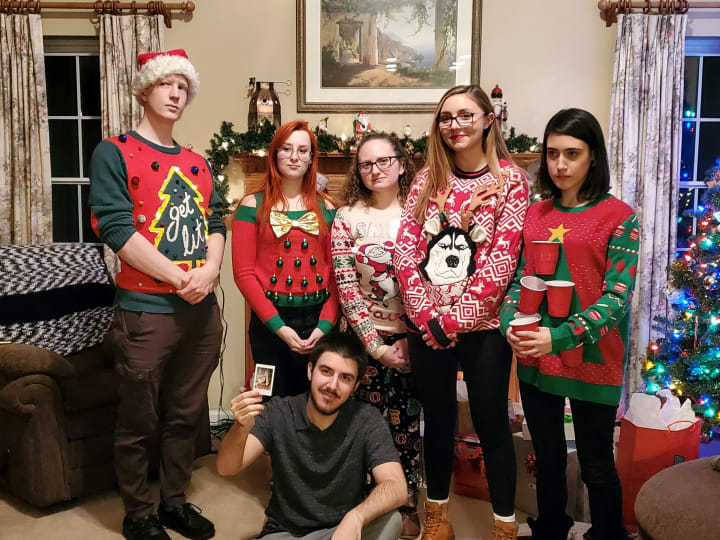 And what is that thing my brother is holding, you may be asking? Last year, I broke out my Polaroid camera for our Christmas Eve celebration. I took a photo of my cousin, Lexi, and she came up with a brilliant idea.
"Let's do a polaroid inside a polaroid!" she said.
She held up the freshly developed film that had popped from my camera, and I snapped another picture. After that picture, I took another picture! It was a polaroid of Lexi inside a polaroid of Lexi inside a polaroid. To this day, the polaroid of her inside a polaroid is still hanging on my bedroom wall. It is my magnum opus as an amateur Polaroid photographer. I will never shoot anything greater.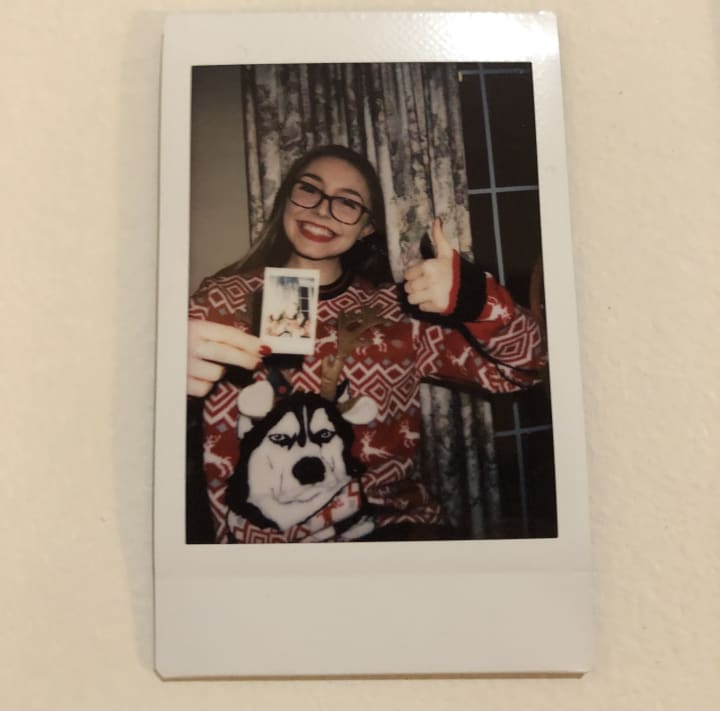 A Christmas caroling jam session ended the night. With my uncle on guitar and me on ukulele, we took requests as my grandfather crooned along with us. I'm not the best on ukulele, but I managed to accompany my uncle while he did most of the strumming. He actually makes a living as a musician. The Ruscus family does have a bit of musical prowess in our genes.
Last year's Christmas Eve party was probably the best we've ever celebrated, so it's ironic it will be followed by one of the most depressing Christmas Eves ever. I love Christmas Eve because it's the only time when everyone from my mom's side of the family is under one roof. We may not be able to see everyone in person this 2020 holiday season, but at least we live in the 21st century with video chatting and social media. I'm grateful that despite being separated, the Ruscus family will still be connected.
Wishing you a happy and healthy holiday season, dear readers. Eat lots of cookies! Sing all the carols! And if you get a Pac-Man machine as a gift, play it.