Family Holiday Traditions
Springerle Cookies and Crabapple Wine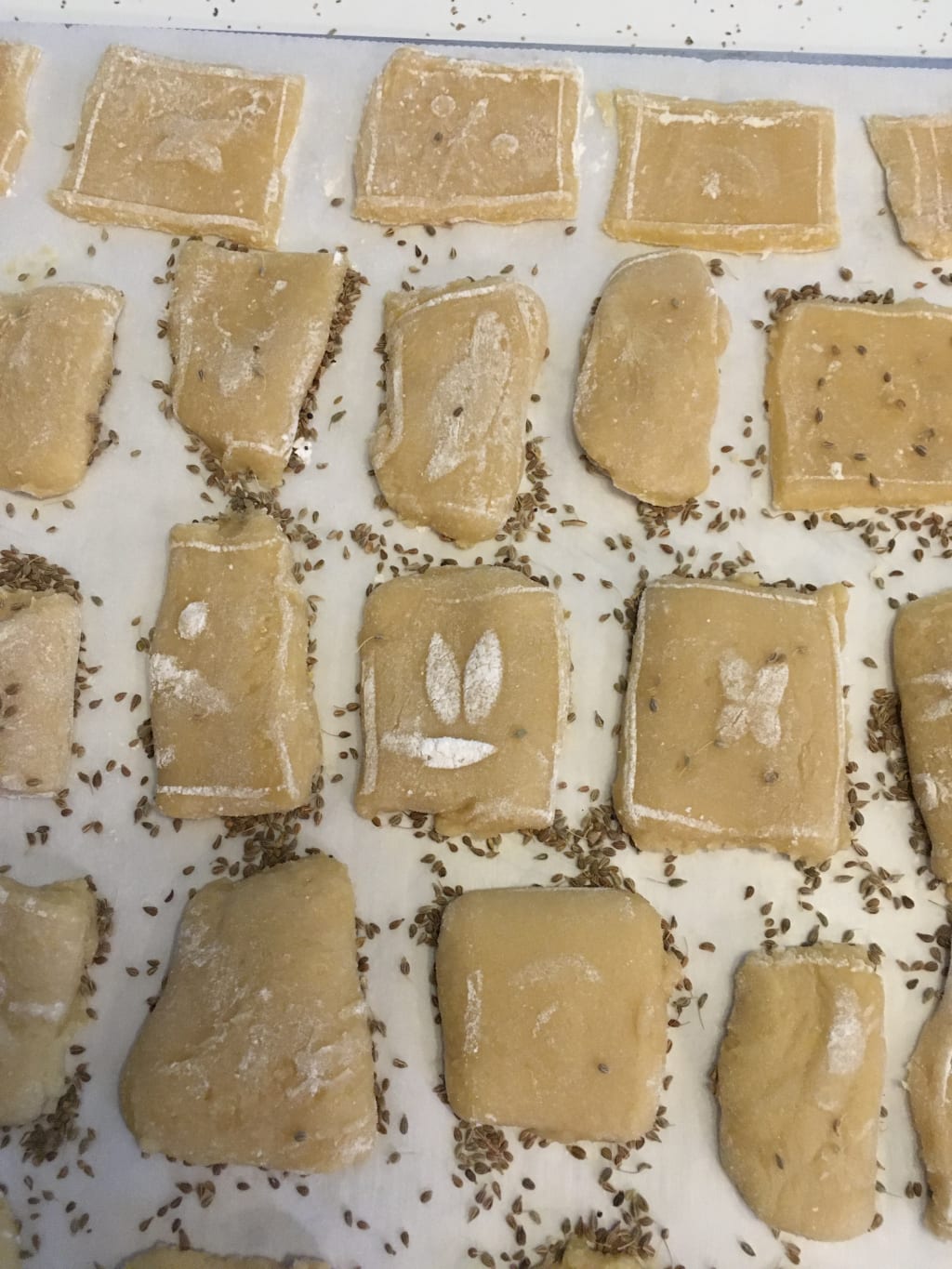 Springerle cookies at rest for 24 hours before cooking. My mold doesn't look as nice as professional bakers.
"Springerle are German anise-flavored cookies that go back at least 700 years in their rich tradition as special gifts during the holidays and other celebrations." https://www.daringgourmet.com/authentic-springerle-recipe/
My childhood holiday memories bring back the smells of anise lingering in our small Midwestern home, complimenting the aroma of the white pine Christmas tree we had each holiday season.
These delicious delicately flavored anise cookies embossed with a variety of wood carve mold designs helped make the holidays a special occasion with family and friends.
The name "Springerle" translates from German as "little jumpers" because of their behavior of rising or "jumping up" while they're baking.
Authentic Springerle are made with eggs, sugar, flour, baker's ammonia, salt and anise. They're a very low-moisture cookie that are made without any fat. Springerle are hard cookies that are stored long-term to undergo a period of "ripening" for several weeks as their flavor and texture develops. Over time they develop a delicately crispy-crunchy, shattering exterior and a slightly chewy center. They are traditionally eaten with and dunked in a hot beverage." https://www.daringgourmet.com/authentic-springerle-recipe/.
You can store them after baking in a Ziplock bag with loosely wrapped quartered apple sections to help keep the cookies moist.
As a young kid, I would dip them in sugar coffee over Christmas break while watching cartoons or old war movies with my older brother.
When my mom was a young girl, she remembers the delivery truck bringing Springerle cookies to her home. She remembers how fluffy they were and always wondered why hers were flat, lacking the "little jumpers" baking rise. In discussing her recipe, she never heard of using the baker's ammonia; which supposedly gives the interior honeycomb rise that she remembers from the bakery home delivery truck when she was just a girl.
When my mom brought Springerle to my blind uncle Dick on several occasions, she would sneak up on Dick and place a batch of Springerle cookies under his nose. He would say, "Hey Cindy, it's about time you showed up with my cookies."
My mom and I are both trying out the new Springerle recipe. We may just (re)start a new 'little jumper' Springerle tradition.
In addition to cooking Springerle cookies, this is my first year trying out homemade wine making for the holiday season. I stumbled upon a YouTube video of a guy documenting his crabapple wine making process to a nice jingle https://youtu.be/ddMYuaEAswM . It captivated me in this period of having extra time at home to also give it a try. My home is fortunate to have a ~ ten year old crabapple tree in the front yard that produces an abundance of fruit. I waited until after the first couple of frosts in hopes that the fermented wine would be a bit sweeter than the typical crabapple wine as mentioned in the YouTube video.
The one gallon wine starter kit I used was purchased from Amazon for about $70 Homebrewstuff One Gallon Nano-Meadery Mead Starter Kit. Factoring in my first set of wine bottles and a couple of recommended items, I spent a bit over $100 to now have the capability of making a batch of five 750ml homemade wine bottles at a time. The output is shown on photo below along with homemade label.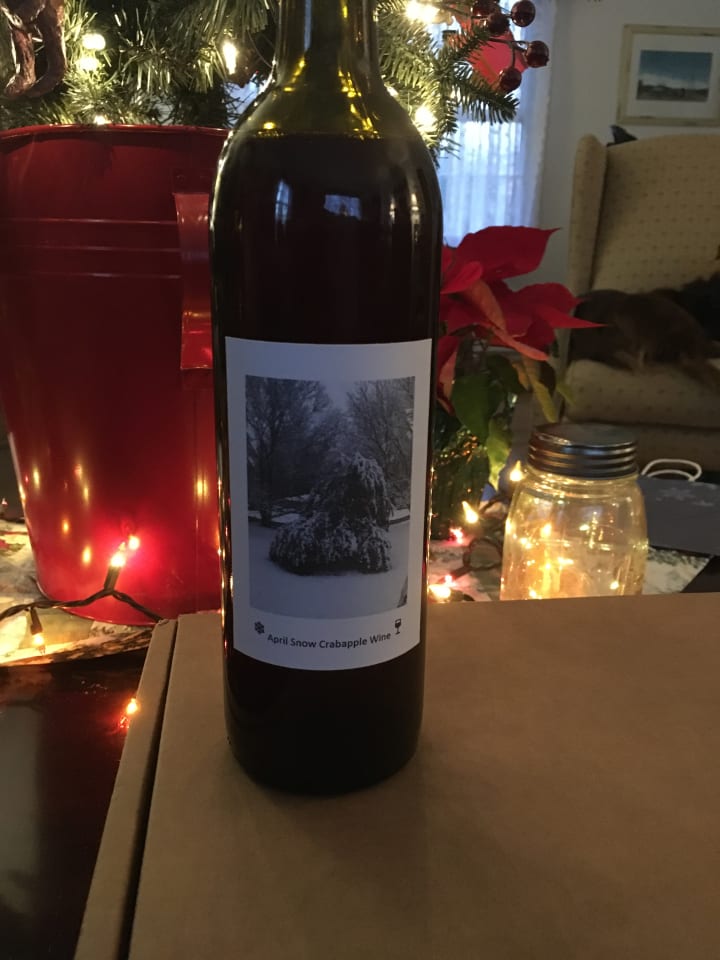 The fruity input is from our front yard crabapple tree that had a rough start to the spring season.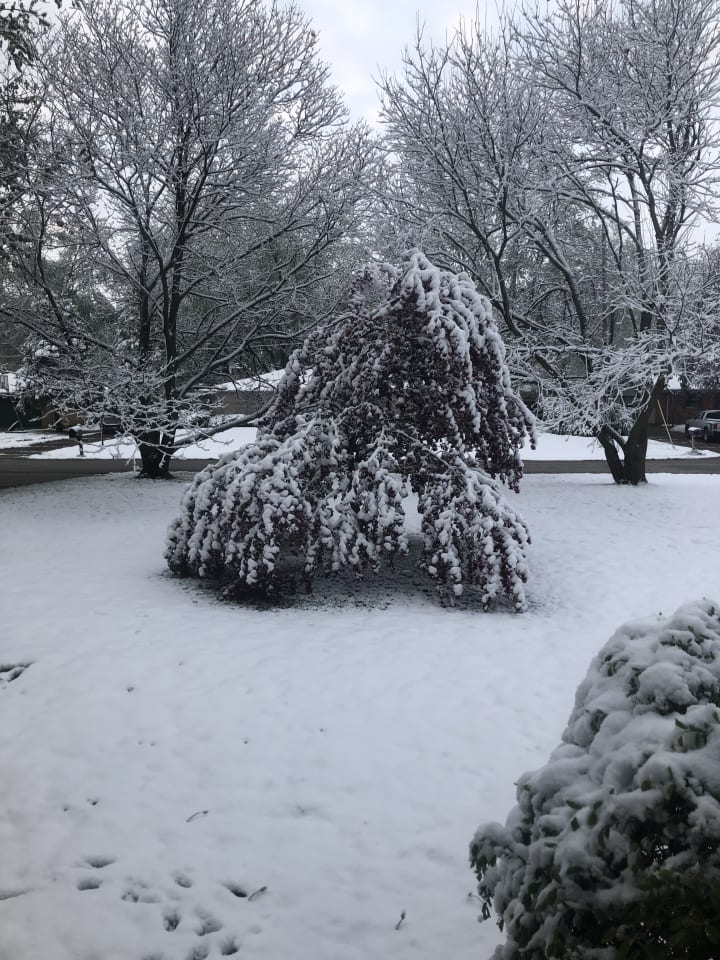 Below is a poem that captures some of the experiences over the past couple of months of making homemade wine.
Fermentation Transformations
Transformations take time
as in making of homemade wine
.
From mashing the fruits and bagging into primary pail
this blend of fruit, sugar water, enzymes, and yeast
A fermenting vat with which
slowly sizzles in a frothy brew
Before repeated racking into
secondary glass gallon jug
.
All meant to aid in clarification
as I eagerly await in anticipation
of tasting my first batch of homemade wine
still ahead another two months in time.
I hope this post entices you to consider (re)starting your own family traditions. You don't have to wait for the holiday season. The wine was supposed to sit for about four to six months, but through the holidays we couldn't help but polish off three of the five bottles of this first formented batch.
Happy Springerle cookie baking and homemade wine making!
values
About the author
Many poems and posts I write have a nature theme, with family or faith frame of reference. I hope you enjoy.
Reader insights
Be the first to share your insights about this piece.
Add your insights