Do you want to feel the taste of Turkish food? Here are 2 recipes.
Recipe for Lahmacun, Turkish pizza with minced beef and vegetables and recipe for Turkish pide or barquettes in the oven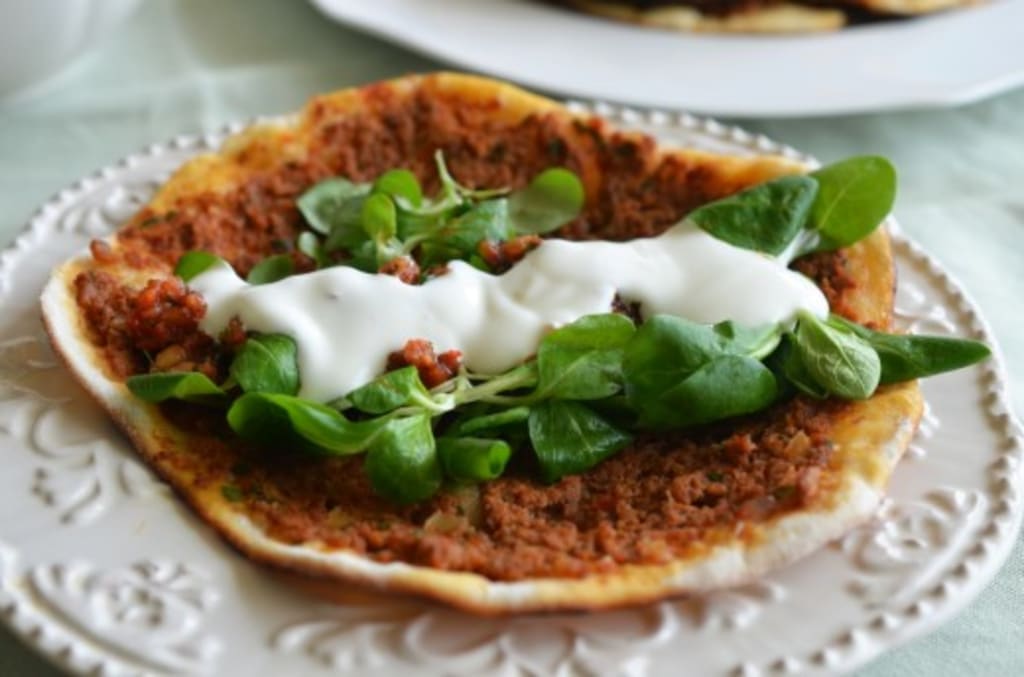 Lahmacun, Turkish pizza with minced beef and vegetables
Lahmacun Turkish pizza with minced beef and vegetables. Well seasoned minced meat, mixed with diced peppers, onions and garlic and placed on a thin leavened top, similar to pizza. Lahmacun is a Turkish snack that is eaten hot from the oven. Similar preparations are found in Arab areas. The name "Lahmacun" has its origin in the Armenian language "lahm am dschun" meaning "Meat with dough". Although lahmacun is also widespread in Turkey, it is very well known in all the cultures of the Near East.
Lahmacun is a street food that can be found everywhere in Turkey. Lahmacun is traditionally baked in wood ovens and the chefs who prepare it put on a show like pizzaiolos. The aromas that envelop these lahmacun ovens are fantastic! Lahmacun is served rolled up and goes well with a glass of cold ayran.
Ingredients
For the dough:
700 g of flour
30 g of yeast
30 ml of oil
1 tablespoon of sugar
20 g of salt
350 ml of water
For the ragout:
700 g minced beef
2 large peppers (red and green)
2 medium-sized onions
4 cloves of garlic
1 bunch parsley
1 tablespoon of pepper paste
1 green onion
400 g chopped tomatoes
30 ml of oil
2 teaspoons paprika
chili
salt pepper
Method of preparation
For the dough, a dough is kneaded from the ingredients. Warm water is mixed with sugar and yeast, then oil and flour are added. A dough is obtained that is left to rise for about 30 minutes.
Until the dough is ready, we can prepare the meat. Prepare all the ingredients and chop finely.
Finely chop the parsley with a knife.
The meat is mixed with the chopped ingredients and the diced tomatoes.
Season, add oil and knead until homogeneous, then leave to rest for 30 minutes.
While the meat paste rests, we portion the dough. Form 12 balls of dough and leave to rest under a clean kitchen cloth. Take one ball at a time and spread it very thin, so that 2 pieces fit in a tray. Lahmacun Turkish pizza can be round or oval, elongated.
On top of each piece of dough, add a spoonful of the meat paste, which is spread over the dough, leaving a free edge of 1 cm all around.
Lahmacun Turkish pizza is baked at 230° for 15 minutes.
Lahmacun is taken out of the oven and stacked, so it softens a little more (they steam from each other).
Lahmacun Turkish pizza is traditionally served twisted and eaten like a shaorma.
It is a particularly tasty and nutritious Turkish streed food, balanced (it has both meat and vegetables) and very attractive.
Turkish pide or barquettes in the oven
Ingredients
Dough for Turkish pide:

1 whole egg
25 ml olive oil
50 g plain yogurt
50 ml warm water
20 g of fresh yeast (1/2 package) or 7 g of dry yeast
2 teaspoons of sugar
500 g flour (I used type 650)
100 ml warm water
1 teaspoon salt
Minced meat sauce:
400 g minced beef (or lamb, pork or a mixture)
2-3 green onions, all with tails (or 1 large old onion)
3-4 cloves of garlic
1 diced bell pepper
1-2 diced tomatoes (or 200 g canned tomatoes)
a handful of chopped green parsley
salt, pepper, a little sugar
Furthermore:
150 g of grated cheese - mozzarella, cheese or sheep's, goat's, etc
a little green parsley
1 egg, salt, 1 tablespoon milk, 1 teaspoon oil - for greasing
Method of preparation
I chopped the vegetables.
I prepared a sauce of minced meat with onions, garlic, peppers and tomatoes.
I prepared the pide dough very easily and quickly. In a large bowl, I put the whole egg, oil, yogurt, warm water (50 ml), yeast, sugar and salt and mixed them (it also works with a whisk). I added 500 g of flour and the remaining 100 ml of warm water and obtained a soft and elastic dough that I kneaded for 5 minutes with the hook of the mixer.
I left the dough to rise for 30 minutes.
I turned the leavened dough onto the lightly floured work table and pressed it with my palms to stretch it a little. I tore pieces from it and formed 9 balls. I covered them with a kitchen cloth and left them to rise for another 10 minutes.
I also grated the cheese (I had a bit of mozzarella and a bit of cheese) and prepared it on hand, along with the meat sauce.
I heated the oven to 220 C. I stretched each ball of dough into an oval shape. I lined a tray with baking paper and placed 3 such sheets of dough in it, next to each other.
I put 1-2 tablespoons of meat sauce on them and sprinkled them with grated cheese. I folded their edges to give them the shape of a boat.
I greased their edges with egg beaten with salt, a little milk and a teaspoon of oil.
I obtained 9 Turkish pies or pide, which I baked in a row (3 at a time) for 15 minutes at 220 C (in a fully preheated oven).
About the Creator
Food recipes for you and your loved ones. I present both food and sweets, from different countries, for a diversification of tastes to your liking.
Reader insights
Be the first to share your insights about this piece.
Add your insights