Dear Pops
Possessing the clarity to see what isn't always visible...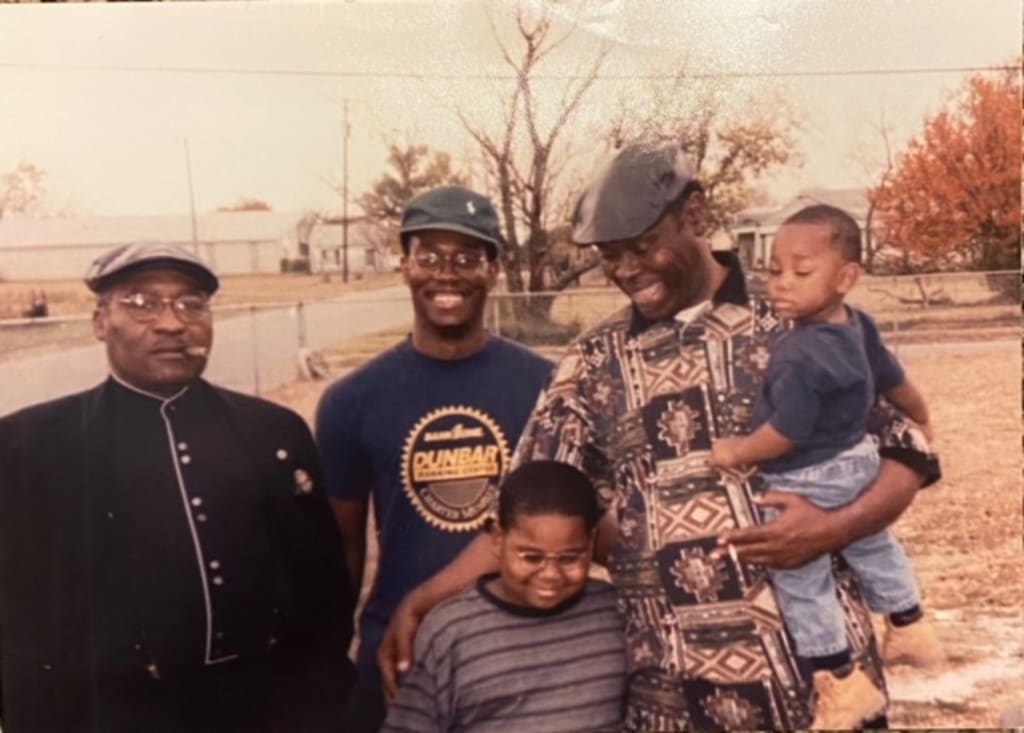 Dear Pops,
First off, I love you. Always have, will continue to do so until the next life. Thankful for the man you are because it has helped shaped me in more ways than I can think. The purpose of this piece was to try and openly come to terms with the way things turned out in my upbringing.
I don't resent you. I don't hate you. I don't loathe you. For the longest, I used to think there was something I could've done differently to make you care more. I was old enough to know that you and mom were not a fit when that time finally came. That's not what ate at me for so long. What kept me up at night was trying to understand why you never did the little things. Or cared enough to pick me up for a day with my dad. Why we never went fishing? Went on adventures? Asked me how I was doing as a young man growing up? Why didn't I have the luxury of enjoying the things you did as a child? Were you hurt to a point that you just buried your head and heart into other things to take you away from the pain of not having your family? There are so many fucking questions that I continue to have as an adult because hindsight, it would've been so much easier to go back and tell my younger self that I will have to face facts and understand that you won't be there for my biggest achievements at that time. You treated me like an adult long before I was aware of it. I hated that. You inadvertently placed burdens on my shoulders that I wasn't prepared for. In a normal functioning household, I would not have had those worries. I would've been able to continue growing and maturing at a normal rate. Instead, I became an adult before I was allowed to be a kid. I was responsible far beyond my years because I had to. I had no room for error. No chance to make a mistake. No chance to take a shot at something and see whether or not it would be successful. I played it safe. I made sure I was not a hindrance to my mother. I made sure my siblings were looked after when mom had to work late. I wasn't running the streets, I wasn't being promiscuous, I wasn't being an average teenager and dealing with the stresses that typically occur during those years. I was doing homework at school and coming home after practices and games to make sure there was dinner available for everyone. I worried over eviction letters when I should've been studying for my calculus test. I stayed up worrying how I could help cover the costs of the light bill instead of having butterflies for my first date. I dealt with the devastation of having to move in the middle of the week instead of preparing for the big game where multiple college scouts would be present to observe me.
I say it again, I love you dad. I learned many lessons on manhood from men that I encountered along the way. I learned how to care for my siblings at no fault from someone else that knew what it looked like to be a big brother. I learned how to defend myself from another man that saw a kid who was a protector for everyone but himself. I grew up thinking I needed to protect everyone but myself. I don't hate you for that. Just wish you would've taken two seconds to say, "hey son, keep ya head up, and don't take no shit." Simple enough phrase but the impact would have been astronomical to a young man trying to make sense of two ill-fitting adults who went their separate ways. I don't blame you for anything. I believe God fated me to go down this path because I became the person He needed me to become. Maybe I'm not this version of myself if you are around more, or if I come from a two-parent household. Maybe I lack resiliency and determination because I travel a different path.
All my feelings stem from your absence. Not the failure of a union between you and my mother. There are two sides to that coin. You aren't blameless, but you also had help in the demise of that union. What I struggled with was your lack of effort. Nothing else. I don't feel have the typical feeling of wondering why I wasn't enough. I was a phenomenal kid, and I did that to spite you. I never wanted my negative feelings to affect my attitude because I didn't want it to reflect how my mother brought us up. She did her best and worked hard to instill values in all of us. But she needed help. And you were always just a phone call away, and you knew that. Because there were times when you showed up like a knight in shining armor, and then didn't return until another emergency appeared. My problem with you for the longest was that you didn't even do the bare minimum. You did enough to register a pulse and not be seen as a deadbeat. We needed more. I needed more.
NEEDED.
Not now. I'm closing the book on waiting for an explanation. I'm thankful for the lessons you taught me by NOT being there in my darkest of days. I accept you as you are. I won't even begin to ponder why you are the way you are. All that matters is that you continue being what you've been to me as an adult, a pal. You're great at that and I sincerely thank you for that dad. Means the world to have you involved in that aspect. You've taught me ways not to be a dad and that's not a snap at you, it's just learning from my experiences. I will be overbearing. I will be overly involved. I will be asked by my children to relax or simmer down. I will pull up to their school and embarrass them with jams from a time they know nothing of. I will be all up in their shit because at the end of the day, they will NEVER question whether their dad cares. I pray to God that they can lean on me in their heaviest of times just like they would when they are on top of the world. Dad be a greater grandpa than you were as a father. At some point, my dream of having a family will be a reality and I wholeheartedly expect you to be more present for them than you were in my life. From their first day up until your last day. I love you dad. Always will and thank you for being you. The good and the bad.
- V. H. III
About the Creator
One soul. 2 personas. A constant battle wages to ensure both have their moment in the sun. Calculated and rational versus bold and brazen.
The pieces presented will illustrate them both, I'll let you determine which one you think it is.
-V
Reader insights
Be the first to share your insights about this piece.
Add your insights