Childhood Memories of Easter
A Not-So-Small Celebration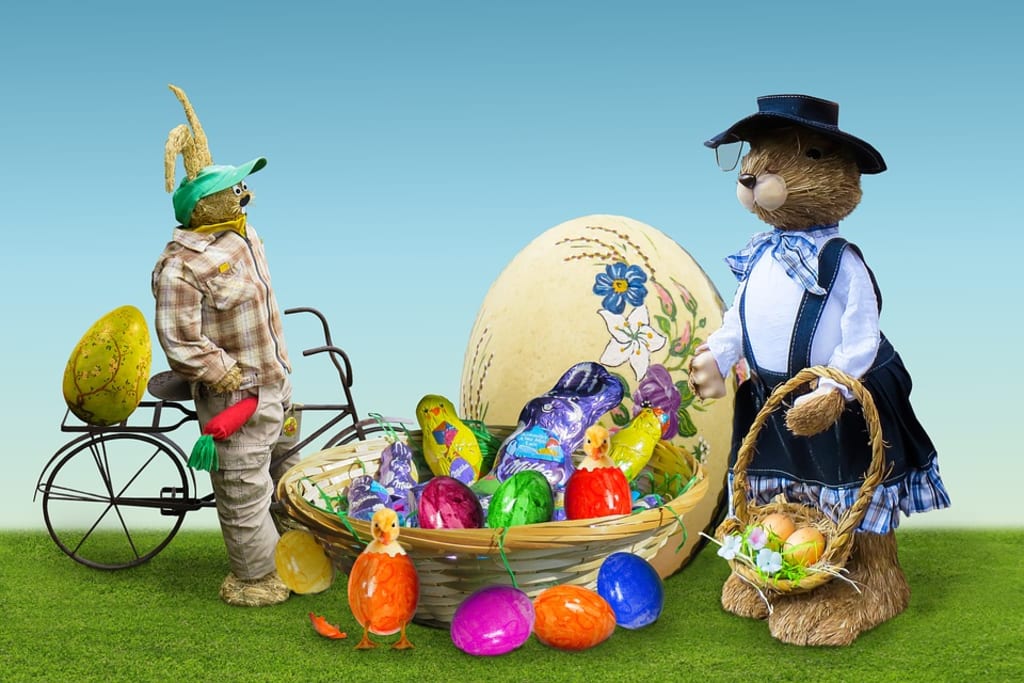 Both Christmas and Easter have an equally important story to celebrate. However when we compare the gift and spending aspects of the two festivities, we generally perceive Easter as being the lesser celebration.
When I was a child, I was often told by grownups on Good Friday and Easter Saturday to not expect a day as exciting as Christmas on that upcoming Sunday. Yet in truth it did not take nearly as much to excite me as a child as it does now as an adult. If I could literally jump up and down at the idea of McDonalds for dinner, or enjoy the thought of being at a cinema regardless of what movie I was seeing, the mere thought of the Easter Bunny coming to deliver chocolate was enough to bring on incredible excitement.
Thus I did find Easter Sunday just as exciting as I found Christmas Day. For Christmas, my excitement came from the thought of Santa Claus and new toys, and for Easter the excitement came from the Easter Bunny and heaps of chocolate (that I wasn't allowed to have so much of on any other day).
I have many happy childhood memories of Easter, of which I'll mention a little of them here. My sister and I were always given some chocolate by Mum/Easter Bunny. We'd usually be given one gigantic chocolate egg or a chocolate bunny or two. Red Tulip, Darrel Lea, and Cadbury are still my favourite brands of Easter chocolate. However, we'd always be given a lasting gift, which was either a book or a computer/video game.
As a young child I'd be excited to sneak out of my bedroom in the early hours of the morning to see if the Easter Bunny had been. I'd glow with excitement when I'd see the glint of foil wrappings around the chocolates. Something else that I would check was the saucer that my sister and I left a carrot on before going to bed. It was always exciting to see that the carrot had been eaten with left over crumbs and/or carrot leaves nearby.
Once I'd return to my bed I'd be full of excitement, and even if it was 4am I'd be impatient about Mum getting out of bed, so that I could be out in the living room too. Yet in truth the wait wasn't that boring. My mind would be racing with excitement about eating chocolate, and also with anticipation for the mystery present I'd be given.
There was an Easter when I was four years old and Mum/the Easter Bunny got me a gigantic egg and a make my own paper flowers kit. Unfortunately the egg melted and the top caved in. Mum then broke the egg apart into chunks of chocolate. Though I found that it looked waxy and tasted more like cooking chocolate. So I left the egg in the fridge, which ended up being given to my classmates at preschool.
Yet that Easter Sunday was still one of my absolute favourites. I was entertained all day by making paper flowers with the scented paper provided in the kit. There were even plastic stalks to attach the flowers to.
Another favourite Easter was in 2001 when I woke up to a bag of chocolate eggs and something even more exciting for me, which was my own copy of the book Harry Potter and the Goblet of Fire. I previously had to keep borrowing that book from the library whenever it wasn't on reserve (as it was a book in high demand at that time). So it was nice to finally have my own copy of which I could take as long as I liked to read and reread.
The way I relive memories of Easter is different from Christmas and my birthday. But that is merely because it falls on a different date each year (Easter Sunday can be anywhere from March 21st-April 25th). The only thing which happens there though is that I relive Easter memories on any date on or between those mentioned. That surely is a positive thing!
immediate family
About the author
I'm an autistic person who is making a career from writing, public speaking and advocacy work.
Reader insights
Be the first to share your insights about this piece.
Add your insights