Black Joy- Soul of an Artist
Creative consciousness in the Black American community.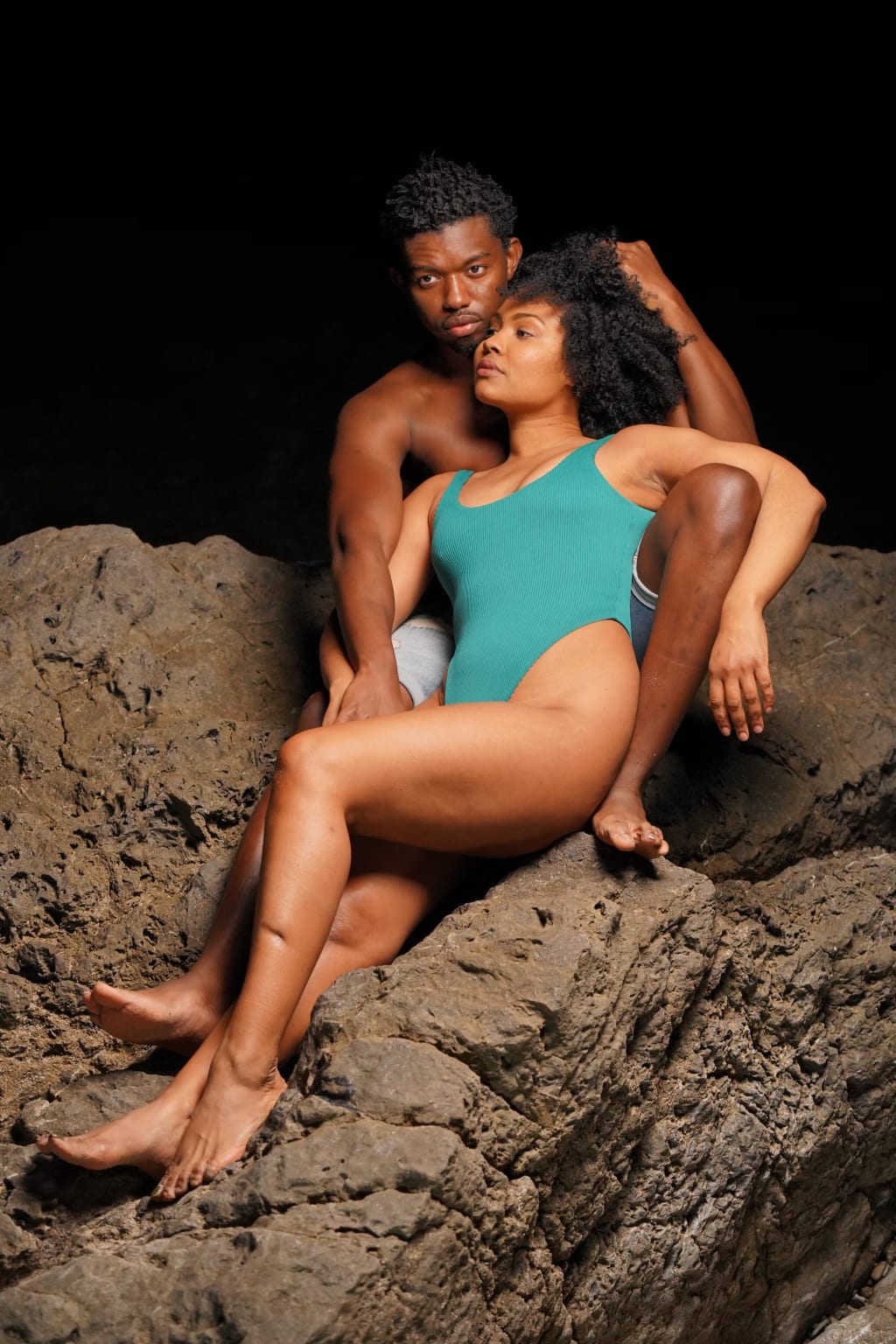 Black Love photoshoot (unedited)
Let me start by giving my team their flowers. Photographer and Filmmaker Tyre Mills, @millsuave44 on instagram. Model, Actor and aspiring Fitness Coach, Abijola who goes by Prince @princejibbz on instagram. Prince and I met 2 years ago, on set of a tv show. Tyre and I met a year ago on an independent, web series project. This team helped me bring my vision of Black Love to life with this photoshoot. We were on the beach, at night, in Malibu California. Everything seemed to go wrong that day but as soon as we met and got down to work, the beauty of the finished product was worth every stressful delay that caused us to miss capturing the sunset. Tyre was in the sand with a light box, the night was pitch black and the ocean was steps away from our feet. The energy to create art that night was strong and steady. I wanted to celebrate body positivity as my body has changed during the quarantine. I also wanted to celebrate us as a melanated people, from Afro-Caribbean and Pan-African descent. The complexities of our stories are in our culture, in our skin, in our hair and the varying shades of our complexions. There are 55 nations in Africa, we can safely say that every human being has been birthed from the Motherland. I have embraced this notion and the world is also coming around to it.
I recently learned of ADOS which stands for American Descendants of Slavery which is a marginalized community of Black Americans, born and raised in America whose family were brought here as slaves. I'm not apart of that community because although my ancestors were slaves, they did not settle in America. It's important to highlight and respect the rights of ADOS because they and they alone are due reparations. I stand in solidarity with them and their demands and plan to support in any way that I can. Primarily through social work, childcare and senior citizen care services. I currently work as a Home Health Aide to an African American, female stroke survivor originally from Gary, Indiana. She was an artist- a model, dancer, industrial and interior designer and a math wiz. Art unites and connects us in ways that only we can understand. It is our language, it is our creative consciousness.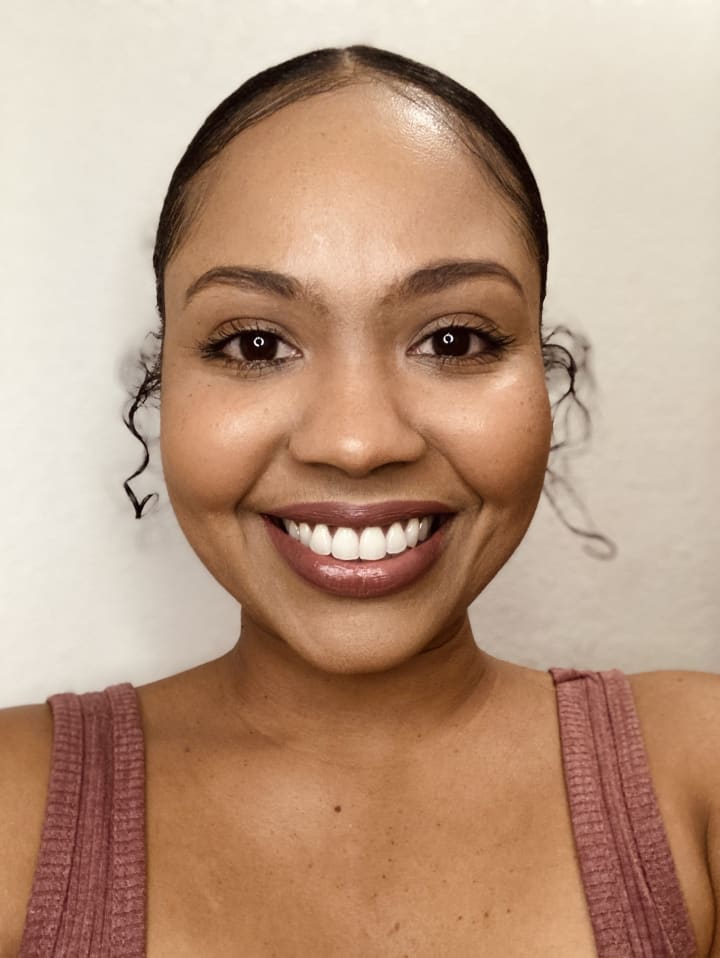 I'm a first generation American born in Miami Florida and raised in the Caribbean. My upbringing on the island of Dominica in the West Indies is rich in culture and performing arts, carnival, costumes... We dance to the beat of our own drum. Our connection to art unites us. My Grandmother, Janice Armour, being the first dark complexion, black woman to work at a bank in her country. The way she and my Grandfather, a black man, created generational wealth for their family. My Paternal Great Grandfather, Reginald Armour, a black man, who was a Doctor and has a hospital named after him in his country. These are my cornerstone foundations and my motivation to continue to live well and live fully as a BIPOC woman in America. Richard Potter, the first Black Celebrity on record in America. James Baldwin, with his exquisite words and legendary writings, fuel us as a Nation. The countless black jazz musicians and poets such as Nina Simone, Ray Charles, James Brown, Aretha Franklin, Dianna Ross to name a few. Our history is strong.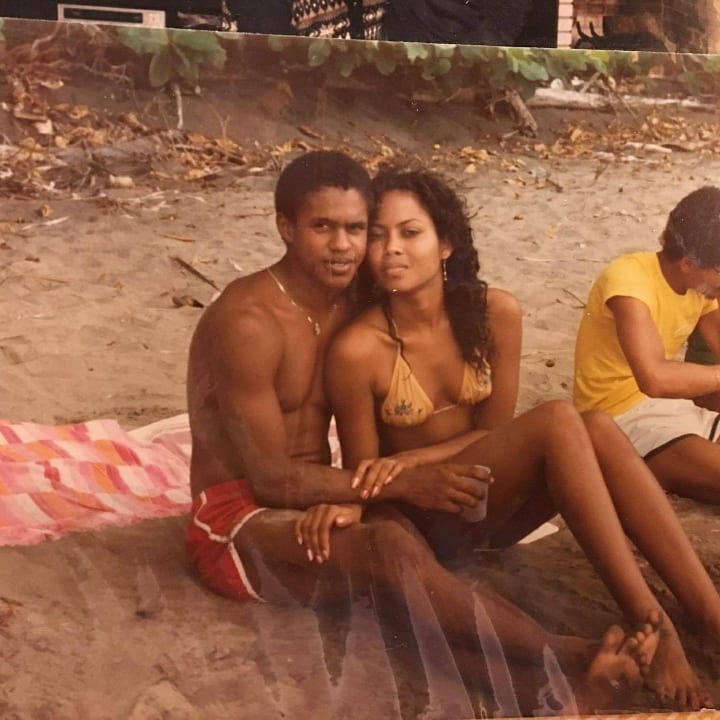 My Mother was a model, she was the Naomi Campbell or Tyra Banks of the Caribbean. A mixed race, Jamaican woman. Everyone thought she resembled Diana Ross. Her hair was huge and long, only overshadowed by the length of her legs. I grew up on the runway, even being held in her arms at occasional fashion shows which she always closed, walking down the runway with the Designer. My Brother is a Visual & Digital Artist and Author. It's my dream that we create a feature film together. My Father was always dancing and attempting to sing Bob Marley's great, timeless music. Our immediate family life was simple but filled with adventure, joy and laughter. By trade he was a pilot but did he enjoy storytelling and stand-up comedy. He was always the life of the party. On his off time, he was touring the Island in his range rover, going off-road on bike and car excursions, entertaining us and friends from time to time. I cannot trade those priceless moments of joy for anything.
Black Joy means resilience, love, passion, determination, talent and intellect to me but it is so much more. It's unity. It's wanting to be seen for who we are, not what we look like or the shade of our skin color. We do not want pity, we want respect. We are as strong as we see ourselves, do you feel our strength? What about our Joy? To nurture feelings of compassion, devotion and dedication for all that we are as a community despite having all odds of systemic racism affect every aspect of ADOS lives in America, is something to celebrate every moment of every day. Me, my friends and my family continue to create and as long as we have that, we have everything and more. We have the Soul of an Artist, we are Black.

Leah Ella
Caribbean-American(she/her)+Actor+Life Coach student. I value quality over quantity, simplicity over complexity but the perplexicity of life shows that the proof is in the numbers. Provoking thought and creating change, one story at a time.
See all posts by Leah Ella →
Staying at home each & every day to be there with your children as they learn and grow sounds absolutely amazing in hindsight, right? Absolutely! Who wouldn't think that it's just living the dream?! But what the world fails to disclose is the truth behind being a stay at home mom..

11/18/2020 So, grandma (81 this year) has been up my ass about keeping a journal of everything that is going on right now so here goes. Amelia is 9 and in 4th grade, Raynen is 5 and is in kindergarten and Rj is 3 and is home with me. We live in fort lee right now and my husband, Bobby (30 this year) has just had his 3rd spine surgery and now awaiting the promotion board (he is in the army) and finding out when we will be moving. I am 26 credits away from my BA in history. The coronavirus pandemic has been a pain in the ass and the 2020 presidential election was a complete dumpster fire. Yay 2020 and the best part was carol baskin and the memes from that world.

It was early October, and it was finally time for my long-awaited moose hunt. I had waited ever since I was a little girl for this opportunity, and it was finally here. So, my father, the one that looks after me, and I packed up our stuff and left our city in Alaska. We were heading to a place called Bethel, AK. After a six-hour long drive, we made it to our hunting unit. It did not feel like home to us but it was warm and cozy, like my bed at home.

As your parents age, you're probably spending more and more time caring for them. Even if they're still in good health, you may need to help them live a healthy lifestyle. Your parents may need help with everything from their health insurance to their diet. To avoid caregiver stress, taking care of yourself is also essential.

Staying home, reducing stress, and taking care of ourselves, both mind and body are more important than ever. That's why from beauty and personal care to everyday essentials and home cleaning – we've got you covered. "Avon"

Growing up, I loved the Wizard of Oz. There was something magical and timeless about the Yellow Brick Road and the passion of Dorothy to find her way home, Scarecrow to find his brain, Tin Man to find his heart, and the Lion to find his courage. All to find out that the man behind the curtain was just a man, whose hope and wisdom fulfilled all desires by encouraging everyone by exploring their own virtues.