A Stormi Day: Why Kylie—And The Kardashian-Jenners—Should Tone Things Down
They did WHAT for Stormi's first birthday?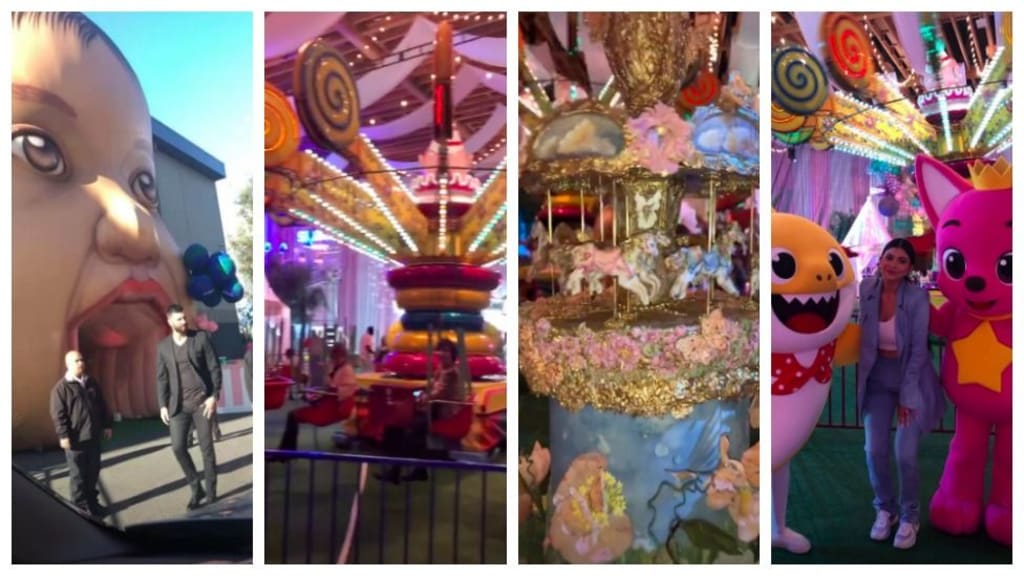 Source
Like many, I generally could care less about what the #Kardashian clan or the Jenners are up to. While I do applaud the fact that they seem to work hard and are apparently quite altruistic, the entire family generally grates on my nerves.
However, I do follow Twitter, and when I saw #Stormi was trending I have to admit, I was curious. What does a tiny tot do that becomes trend-worthy?
I should have known better. I really should have.
I was unaware that it was Stormi Webster's first birthday, as generally speaking, I have other things to worry about, such as my own two children (a teenager and a soon-to-be 10-year-old). However, #TravisScott and #KylieJenner are going to end up with serious issues if they continue down the road they seem to already be on for their daughter.
I get wanting to give your child the sun, the moon and the stars all in one neatly gift-wrapped box. It is quite normal to want to give your children a bigger experience than the one you may have had while growing up, and I'm sure that little Stormi, being one of the youngest of the Kardashian-Jenner clan, has captured many hearts already. There's something about little kids that make many of us smile, and it's pretty certain that Stormi has caused many smiles in her short time. Why wouldn't Kylie Jenner and Travis Scott want the absolute best for their daughter, and then some? Also, if they have the resources to do it, why wouldn't they go all out for the child's first birthday?
What did they do, you might ask?
They basically created an amusement park with her name on it. According to E! and several other news outlets, there were rides, a multi-tiered cake with a mini-carousel on top, an umbrella with pretzels attached, and gigantic stuffed animals throughout. There was a kids' show as well, featuring the musical stylings of Baby Shark and I'm assuming other kids-oriented performers. DJ Khaled himself gave the tot her first Chanel purse.
The child is one year old. One. According to PsychCentral, children around the age of 3 can remember many things that occurred prior to that age, but as they age, those memories begin to fade in a phenomenon Sigmund Freud termed "childhood amnesia." What does that mean for Stormi?
She won't remember anything, ultimately, from the insane experience that her parents set up as her first birthday party. Sure, news outlets and the family itself will be talking about how great the party was for some time to come, but how do you do subsequent parties when you've already set the bar so high?
What's going to happen is young Stormi is ultimately going to come to expect these sorts of events.
It's wonderful that the Kardashians, the Jenners and I'm sure Travis Scott himself have done so well for themselves. I don't begrudge them that level of success, and I definitely would probably not quite know what to do with myself if I ever achieved such wealth or celebrity. However, you've got to look at the potential effect on a child as young as Stormi Webster, or any of the kids in that family, of having such an over the top celebration for them, for that matter.
Kids definitely should be made to feel special because without a doubt they are special. However, we've all seen what happens when a kid is regularly spoiled, and there is no question that Stormi is a beneficiary of the ridiculous wealth the family is known for. This child will not remember their first birthday at all, and likely not their second or third birthday celebrations either. With such an over the top birthday celebration for the first birthday, Travis Scott and Kylie Jenner have established an outrageous expectation for subsequent parties within their family.
While I don't wish for bad things to happen, Travis Scott and Kylie Jenner definitely need to tone things down if they want young Stormi to not turn into a spoiled brat. Of course, it's just the first birthday and things can change, but unless they do, that's exactly what they're going to end up with.