A Few Weeks After
Becoming a Widow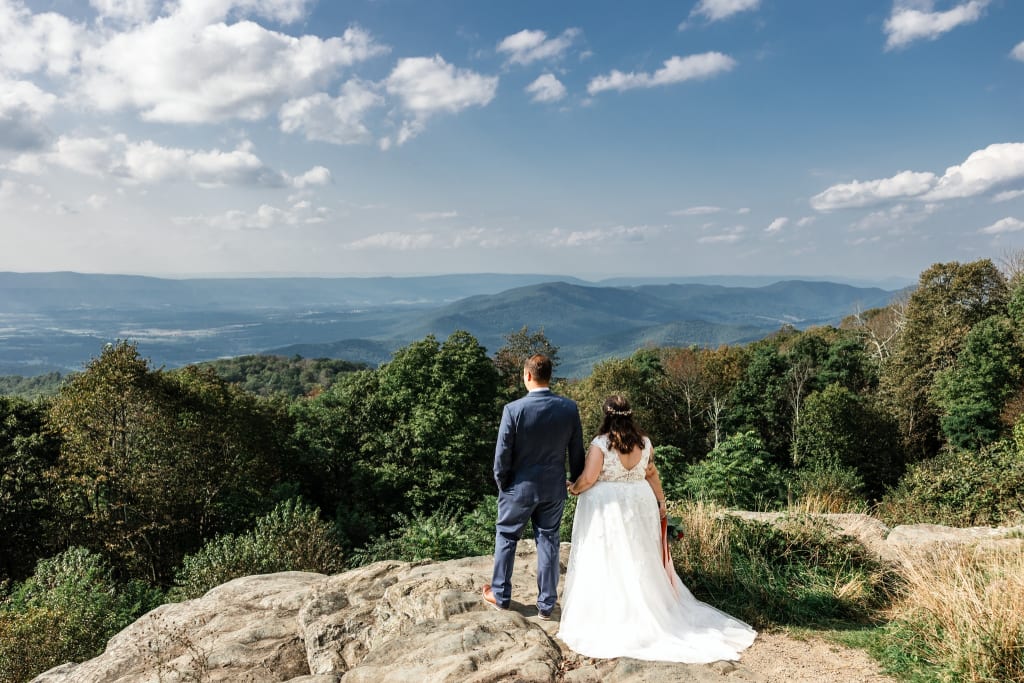 As we looked at the world, we knew we could conquer all of it.
A few years ago, I started to open up about my emotional battle. During these unfortunate circumstances, I am learning even more about myself than I had previously discovered. The biggest discovery this time, is self-acceptance. This is me. Raw. Uncut. My Life. …and that is Fan-Fricking-Tastic.
As of right now, I am still just coping. I am doing all the things that need to be done (parenting, paperwork, phone calls, veterinarian appointments, etc.). However, my internal battle is becoming more severe. I write to my late husband often (via email); I express my feelings, my day-to-day, anything exciting, frustrating, struggles I need to conquer, or whatever else may cross my mind.
I've intentionally closed the door on what other people think of me and as I told my sister and my best friend, "I had my bad life. I had my transitional life. Now is the time I have left to LIVE and to SHINE." You may find that odd to say after losing one's husband, but as you get to know me you will see that it all makes sense. Right now, I need to focus on my grief at hand and we can ease into all the details later one.
Last night, I posted on social media about the movie 'Cast Away.' I reminded my readers of the scene where Chuck is clicking his flashlight on and off to see the photo of his dear Kelly. Well, about a week and a half ago, an Ad for a "free" pillow through Canvas People popped up on my Facebook feed. I figured, why not. I thought it may be nice to have a pillow of my husband next to me so my king size bed doesn't feel quite so lonely.
I chose a picture I took of him sleeping from my view next to him and had that printed on the pillow. The night it arrived, I found myself turning over to click the light back on multiple times. I nuzzled up to "him" and closed my eyes, but I still wanted one more glance, over and over again. The last time I saw the clock before I went to sleep was in the 3 o'clock hour.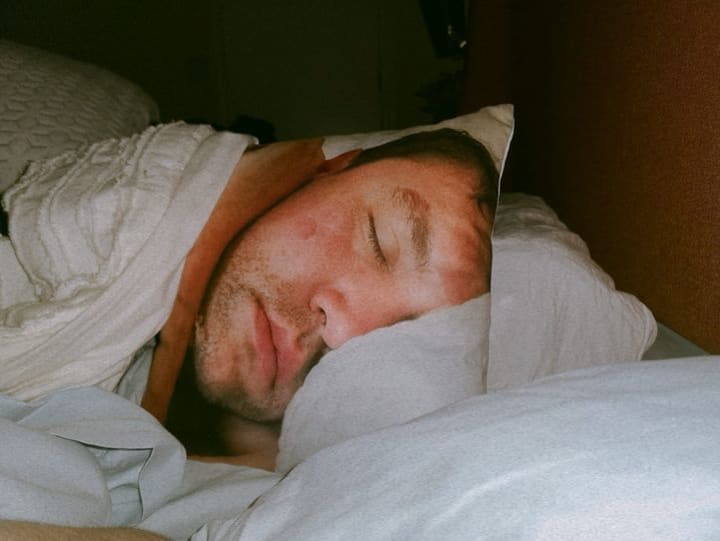 Often times, when I would wake before Jeff, I would gently stroke his temple and cheek. Sometimes, I would see a little smirk arise and hear, "good morning sweetie."
When he passed away, I kneeled next to him and folded over his body. I turned my head to face him and slowly ran my hand from his temple down his cheek repeatedly. Oh no no no no no. This can't be happening sweetheart. You can't leave me. I love you so much. I tried so hard. I tried so hard to save you. I really tried so hard. He was clammy and discolored. I will never forget.
Almost every time I get into the car to drive I start to feel my stomach twist and a feeling of panic in my chest. My mind races with "what-ifs" and flashes moments of when I tried to revive him. I get overwhelmed and sometimes I get so choked up that I feel like I can't get air. To be able to sit here and tell you in description is nearly impossible.
I do take a combination of prescribed anxiety and depression medication. Jeff would be so proud of me that I have only accidentally missed ONE dose since he has been gone. That was due to sleeping ALL day with only 2 short spells out of bed.
I was having a lot of terrible anxiety not too long before Jeff died and went to see my psychiatrist. We planned to switch my main antidepressant from Zoloft to Lexapro. Gratefully, I hadn't started the switch yet. I do not even want to imagine what I would be like if I was in the middle of a medication transition and losing my husband. That would have been a recipe for disaster.
Have I sought out grief counseling yet? - No
Will I? - Yes
This is a long haul journey and I can't expect this to all come together with a nose twitch. I have to take it step by step. Right now, that is coping, going through the motions, and accomplishing little tasks.
Queen Elizabeth II said, "Grief is the price we pay for love."
Her statement is very true and we loved so well. If I did not feel this agony, I'm not quite sure I could grace myself with saying I felt such a deep love. Grieving is a treacherous path, but one that Jeff provided me strength for. I will get through this with him as my additional conscience. Right now, that means I am telling myself, He would be so proud of me for writing this. He is so proud of how much strength I have for our children. He is beaming with joy seeing his daughter taking 7 steps today. It is a lot to handle, but overall, I got this.
About the Creator
𝑹𝒆𝒄𝒆𝒏𝒕𝒍𝒚 𝒎𝒂𝒓𝒓𝒊𝒆𝒅 𝖺𝗇𝖽 𝒘𝒊𝒅𝒐𝒘𝒆𝒅, 𝒂𝒕 34, 𝒘𝒊𝒕𝒉 3 𝒄𝒉𝒊𝒍𝒅𝒓𝒆𝒏. 𝑭𝒐𝒍𝒍𝒐𝒘 𝒇𝒐𝒓 𝒕𝒓𝒖𝒆 𝒔𝒕𝒐𝒓𝒊𝒆𝒔 𝒐𝒏 𝒂𝒃𝒖𝒔𝒆, 𝒅𝒊𝒗𝒐𝒓𝒄𝒆, 𝒓𝒆𝒎𝒂𝒓𝒓𝒊𝒂𝒈𝒆, 𝒑𝒂𝒓𝒆𝒏𝒕𝒊𝒏𝒈, 𝒂𝒏𝒅 𝒍𝒐𝒗𝒆.
Reader insights
Be the first to share your insights about this piece.
Add your insights