A Daughter's First Love
Part 2: The story of Thomas Hays Brigance, and the recount of my his last days—and the wisdom and hope he shared before he left.
I lost my father on December 10th, 2018, 14 days before my birthday, and two months and one day after his. I began telling the story the day he was diagnosed with cancer as a means to process the news, and saved it to go back to visit. Before I could work on it the next day, he lost his fight, and it would be ten months before I would be strong enough to complete it (Find Part 1 here). This will tell the story of his last days.
My father, Thomas Hays Brigance was the middle child of two middle class, southern parents, Velma Jean and Charles Edwin. Slate blue eyes, dark hair, and freckles with the prankster personality, which as an adult, I believe, may have been the way he coped with possibly being autistic. My dad was a very technical-minded, computer geek, and majored in computer engineering, and chose submarines when he enlisted in the Navy during Vietnam. He would play it off as nothing but cool stories to tell, and we knew no better, but while planning his funeral, my Uncle made us aware of his position being referred to as a suicide mission. He said with the close proximity to nuclear radiation and being stationed outside of the war zone to support aircraft carriers off the coast of Vietnam, there was a high risk of death if it was ever bombed or malfunctioned. He never bragged. That's who he was a human.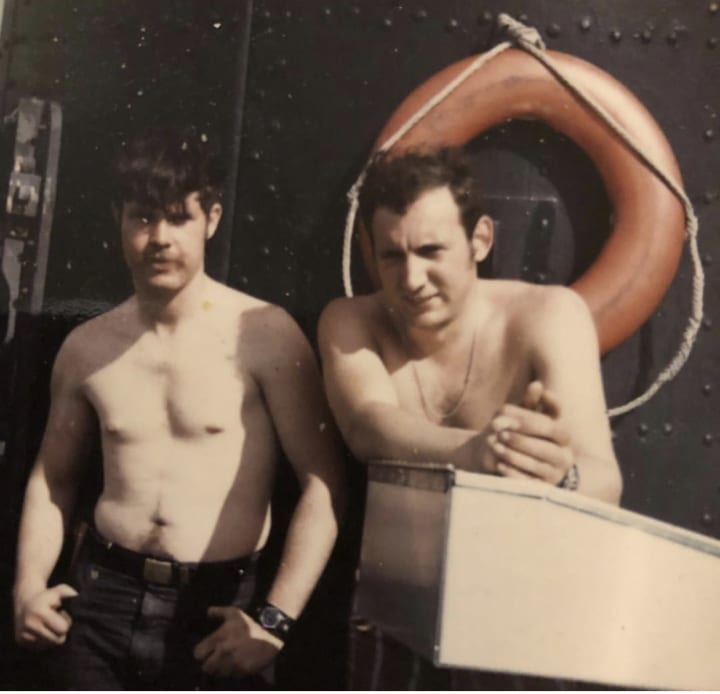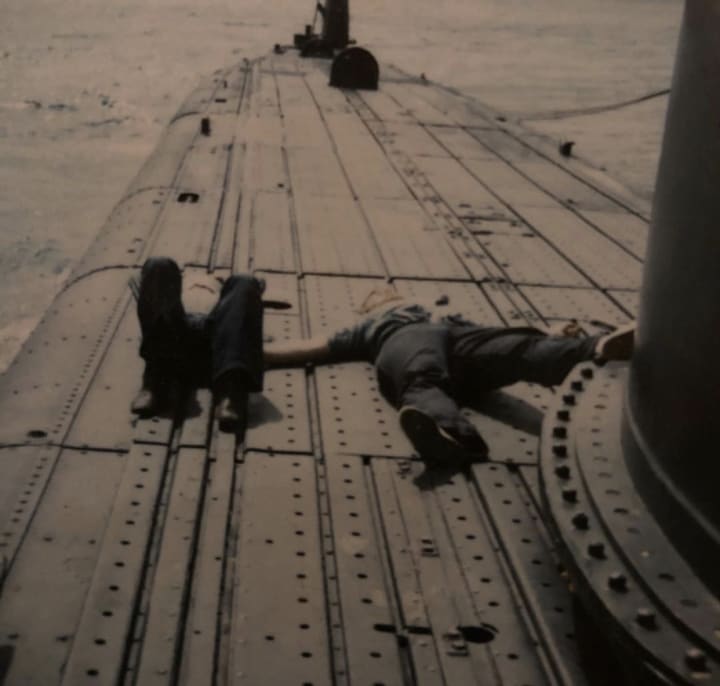 He married my mother who was a single mom of two children, and became their only dad, as their father had left years prior, and began a new family. I was born two years later and made it a full five top. I only saw my dad drink three times in my life, although he would tell stories of as a young bachelor in the Navy, he lived up to the "drinking like a sailor" adage with no qualms. He would tell my husband, a heavy drinker, that when he met my mom and became an instant father, drinking meant he wouldn't be prepared if his family needed him. That is who he was as a human.
My dad would hardly take a Tylenol, and even up until the day he died of cancer, he hesitated taking anything for pain. Before he was unable to talk anymore, I asked him why he wouldn't take something. His response, "I have seen what it can do to people." He was worried about how he would act on them, and not being able to be lucid his final hours, so he could be present and awake with us. That is who he was a human.
My father built the most beautiful, detailed miniature boats by hand when I was growing up; the kind you would find inside bottles in nautical décor shops. He would hand carve little holes to perfect scale for peep holes, with tiny masts for bow and stern, handmade sails with sewing thread in place of ropes, a perfectly detailed wheel, and some with even tiny cannons. He really was an incredibly gifted woodworker. His final years he spent drawing up plans for a house boat. Hours would pass and he'd pencil the details in his notebook, and would LOVE telling us about it. I should have noticed that he seemed to be desperate the last few months to make sure he left impressions, despite the way life seemed to be exhausting. He would always seek me out after I got home from work and simply want to talk to me about my day, the boat, a few movie ideas, and everything. That is who he was a human.
He would tell stories about his childhood with the fervor of an expert storyteller, speaking on what he loved, and daily life was riddled with history, which I hated in school, but he somehow made it so interesting many have stuck with me. He was so versed in history, and capable of speaking on it to actually make it memorable, hence I often wondered why he didn't choose teaching as his calling. He would've been an amazing teacher. He loved electronics, and computers, which were still new age technology when he chose his major, and he was intelligent enough and patient enough to be one of the best of his time at that. We were surrounded by the latest gadgets, personal computers, and it would be just like the history lessons, as he would teach us about them as he could. To this day, I am well versed in technology, and before he passed I was able to return the favor as I bought him and taught him how to use a smart phone and tablet. He seemed proud. As a matter of fact, he told me months before he died he was so proud of me, and the way I have handled life taking my husband, putting my child through cancer, and it killed me when he said, "... and having to take care of me." I got onto him a lot about smoking and eating healthy, and we even had some screaming matches the last few years as he adjusted to going from being the strongest person we all depended on to being almost incapable of caring for himself. I regret it now, and wish I had just let him eat the packs of cookies, smoke the cigarettes, and just enjoy himself. Had I known the future, I would have. That is who he was as a human.
My dad was a comedian. The happiest he looked the last few years was when he found a new audience to tell his phenomenal dad jokes to. We had heard them a million times, so he needed fresh ears. They were great... and people really enjoyed them most of the time. If we passed a parent in the store, he would say, "If you're looking for some real excitement in your life, you should let them drive (pointing at the kid)." They would giggle and sometimes you could tell that even if they were having a bad day, he made them laugh. That is who he was a human.
We never really went to Church after I was old enough to remember. I would go with my friends, and eventually I even went on my own as a teen, but my dad never did. I learned as a young adult that they went religiously during their early years at my mother's insistence, and were very involved with the Church, but when my mother hurt her back caring for her dad, and again when she suffered from mental illness, the church turned on them. All the time they had invested in growing their relationship was worth nothing when they were actually in need of Christ's love through His flock. He never spoke of that experience to me growing up because he wanted me to find my own way. In adulthood when my husband and I had a similar experience of falling out of love with the church, he said, "God didn't create religion... man did as a means to control other men," and I understand what he meant when I see the way modern day Christians use religion as an excuse to pass judgement, and behave completely un-Christ-like while, claiming it is in His name. I could tell that during the last decade or so, witnessing the way our little family was put through so much, he lost his faith, but during my childhood, he allowed me the freedom of never speaking ill of religion, so that his influence would never hinder my journey. This is who he was as a human.
The last day he was on this earth, I watched him work it out with God. You know that part of Forrest Gump when Lt. Dan makes peace with God during the hurricane, but beforehand is screaming "F U," and is flipping the sky off? It wasn't anything like that. He was holding my hand, and we were talking. I had accompanied him down to an MRI, and the tech pulled me outside and told me they had already found cancer in his lungs, liver, and lymph nodes. I cried and hugged him and we both said I love you so many times. He was crying, and I feel now like I may have made him worry about it more than he should have by my hysterics and despair. He was dying and was worried about me. We met him back in the room after the tests, and the girls all were able to say goodbye to him individually, and tell him thank you for stepping up when Ryan died as a stand in 'dad'. I sat beside him, holding his hand again, and he seemed to be talking to someone we couldn't see. He told us he saw Ryan, my husband standing there waiting on him. I overheard him saying, "You were my my son. I want to tell you that."
For the next several hours, he would drop my hand, reach up and scream, "Please take my hand. Why won't you take my hand? Please just take my hand!" Then, he would say, "It is what it is. It will always be this way. I don't know why it has to be that way, but it will always be." He would put his hand down and I held it again. This went on for a while, over and over again. The doctors claimed it was the medication and he was delusional. I believed the first few times, but I later learned that he hadn't had anything for hours. Once he was incapable of swallowing anymore, he was supposed to have been ordered an IV pain medication, but the nurse failed to do so. He hadn't had any medication since that morning at around 9 AM. It was now early evening.
I was holding his hand again, and he looked at me for the first time in hours, and his eyes were ice blue. He leaned up off the bed and screamed, "I'M BURNING IN HELL!" I saw the pain in his eyes, and all of us began crying and praying to God to give him another chance. He was screaming, and then began saying "PLEASE TAKE MY HAND!!! WHY WON'T YOU TAKE MY HAND! Take me with you! HELP ME PLEASE!" At this point the kids and I were frantically begging God to spare him and to please not send him to hell. A different nurse walked in when I hit the call button to ask if he was due something for pain, and she even looked completely shaken by what was going on. She sees death all the time and this wasn't normal. This wasn't a typical death. It was at this point I figured out the nurse hadn't given him medication all day as his actual nurse came in the room, and had to tell me he couldn't swallow so she would have to order an IV. This was absolutely not a medication induced delusion. The girls were still praying in the corner, and I was as well, in between talking to the nurses. The nurse was trying to ask him if he wanted something for pain in the middle of all of this.
"Daddy, are you in any pain?" I asked with tears still pouring down my face. He looked right at me and all of the sudden peace seemed to have come over him. "No baby. I'm not in any pain," he responded.
I quickly made it back to his bedside, grabbed his hand and kissed it. "It's going to be okay. It's going to be beautiful." Those were the last words he spoke to me. My uncle walked in and he told me I needed to get the girls home and that I could come right back. I reluctantly agreed as I looked over to see their faces, and thought about them being there when he takes his last breath. That walk out of the hospital which seemed like an eternity was so surreal. We had just seen him make peace with God. We had all lost faith over the years. Three generations were gifted this, after the loss we had endured; the years weighing on us, and beginning to question whether a God could exist and allow so much pain in the world, and the confusion of seeing Christians speak of get rich quick schemes through prayer, and tithing leading to salvation. Christianity seems more like a country club with exclusive membership and the perks of being awful but going to Heaven anyway. Then seeing the mercy He showed and the not giving up on my father until the very last minute. It wasn't the vengeful, hateful, fire and brimstone we were scolded about in Church and Sunday School of a southern Baptist upbringing. It wasn't a being who would let a great human being with a loving and caring soul burn in hell, because he had his faith tested.
I made it home with the kids, and fell into my bed drained and depleted. The phone rang. It was the doctor and I was the decision maker. My father was gone, but they needed my permission to stop CPR. He closed his eyes after we left and he went peacefully in his sleep. I gave permission, of course. I made it back to see my family around him and I kissed his head, and one tear was running out of his eye. I rubbed it away, and said, "I Love you, Daddy. See you soon." The lifelong jokester went out with the eloquence and beauty of a Shakespearean play, and we will be forever changed. That is who he was as a spirit.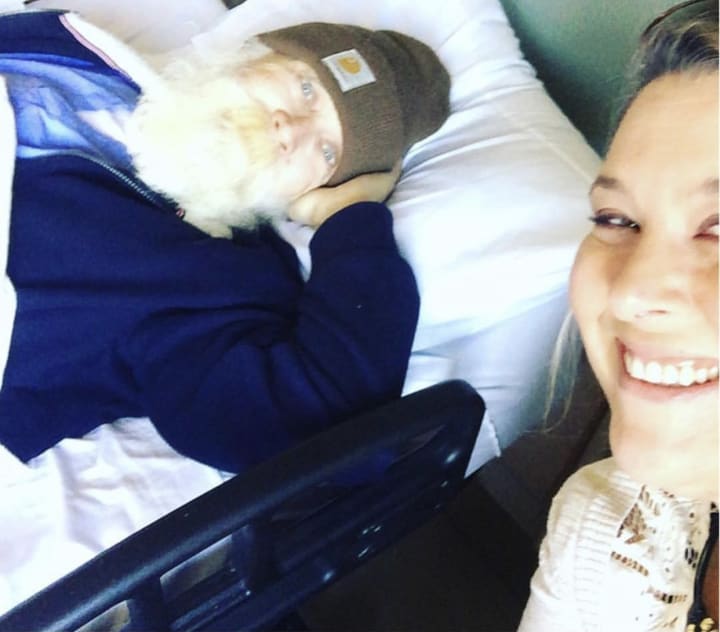 grief
About the author
Mother of four, navigating life post loss of husband. Co-host and Producer of NewVMusic vlog and owner of Virtuosity Agency, with a crazy life.
Reader insights
Be the first to share your insights about this piece.
Add your insights